Aston Martin's first-ever electric car promises to be both fast and exclusive.
A while back, Aston Martin announced its visions of an electric future. The Lagonda brand was to be revived as an all-electric nameplate and they promised an all-electric version of the Rapide. This week at the 2019 Shanghai Auto Show, they pulled the wraps off the production-ready Rapide E.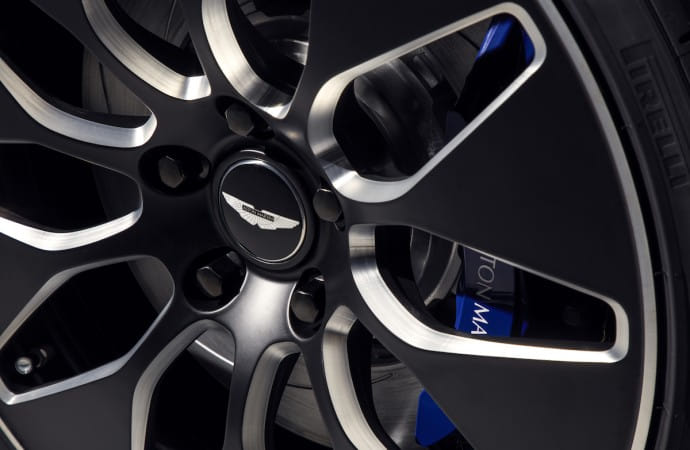 Outside, Aston Martin has used the decreased cooling demands and reduction in parts of the electric powertrain to massage the aerodynamics of the Rapide E. With no exhaust to get in the way, the rear diffuser is effective throughout its whole width, the front cooling openings have been minimized and the underbody has been smoothed out with new paneling. All these changes add up to a car that's eight per cent more aerodynamic than a standard Rapide S. Carbon fibre has also been utilized more heavily in the Rapide E's construction, allowing for a lower curb weight and enhanced range. Special low rolling resistance Pirelli P-Zero tires mounted on new aerodynamic forged wheels further enhance range.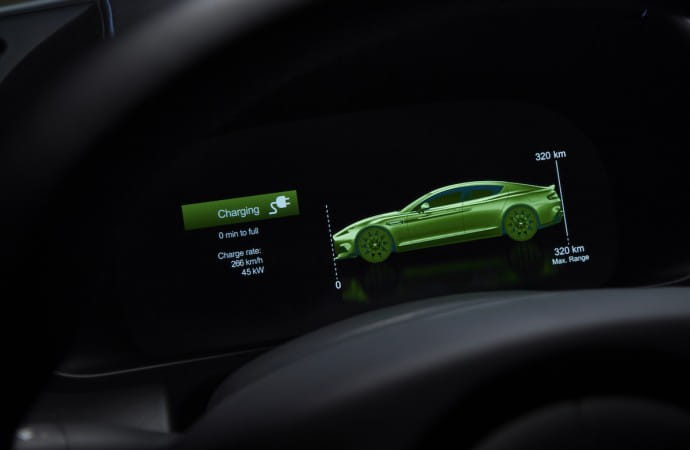 Inside, Aston Martin focused on technology. A ten-inch digital display replaces the analogue gauge cluster of the Rapide S and allows drivers to monitor all the important EV things like range and regenerative braking. Owners can also monitor everything from charging status to where they parked their Rapide E through a dedicated mobile app. The interior remains a lovely place to spend time, with plenty of handcrafted leather as per Aston Martin tradition.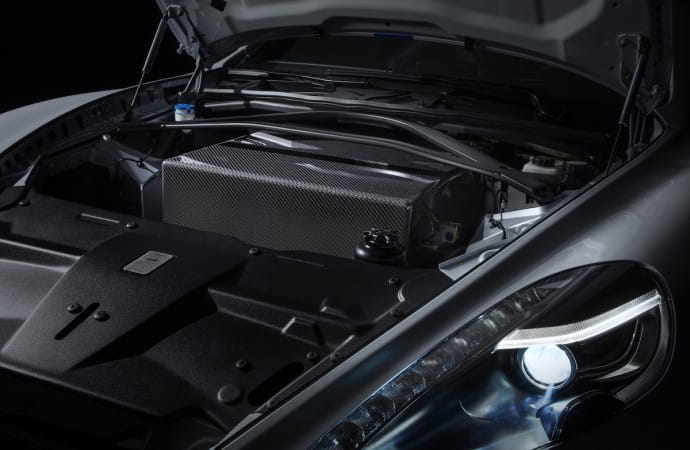 Co-engineered with Williams Advanced Engineering and built in Aston Martin's brand new St. Athan production facility, the Rapide E is poised to pack quite the punch. The 800-volt, 65 kwh, carbon-kevlar encased battery pack sits up front, where the V12 in a standard Rapide S would otherwise sit, as well as where the fuel tank in the standard car would sit. It allows for 100 kw DC fast charging and sends current to twin electric motors powering the rear wheels through a limited-slip differential. This whole combination is good for 602 horsepower and 701 lb-ft of instant electric torque, which should be quite exciting given the rear-wheel-drive layout. Aston Martin lists a top speed of 155 MPH and a 0-60 MPH time of less than four seconds. Total range is stated as over 320 kilometres and the EV system is capable of a full lap of the Nurburgring Nordschleife without any impact on EV system performance.
Aston Martin is only willing to give figures for price on application, and those wishing to order a Rapide E should hurry because worldwide production is limited to 155 units.