Hyundai has taken what was once a pipe dream and turned it into a full production vehicle.
Story and photos by James Engelsman
LOS ANGELES, CALIFORNIA – We've finally had the chance to drive the new hydrogen powered fuel cell 2019 Hyundai Nexo. And the news is good. In their attempt to effect change, Hyundai has taken what was once a pipe dream and turned it into a full production vehicle. This is no easy feat, and undoubtedly not a cheap one for them either. But hats off to them; for they've given it the old college try. What's more, in ways that I'm about to demonstrate, it seems to have paid off… theoretically.
At first glance, the Nexo isn't leagues away from the design of any modern crossover or SUV. Yes it has some lovely design elements, including flush-mounted door handles and an enviable LED headlight strip on the front (that actually reminds me of the Porsche 911's rear brake light). If your face had to look like the backside of anything, a 911 isn't such a bad dig.
But on closer inspection, you'll see the tell-tale signs of the future. More specifically, the little "Fuel Cell" badge on the rear and a lack of exhaust pipes protruding below the rear bumper. All of this, as well as the whimsical sound of a high voltage lithium-ion battery working its diligent muscles to propel its contents forwards with 161 horsepower and 291 lb-ft. of torque, for as far as 600km of range. This is no small triumph.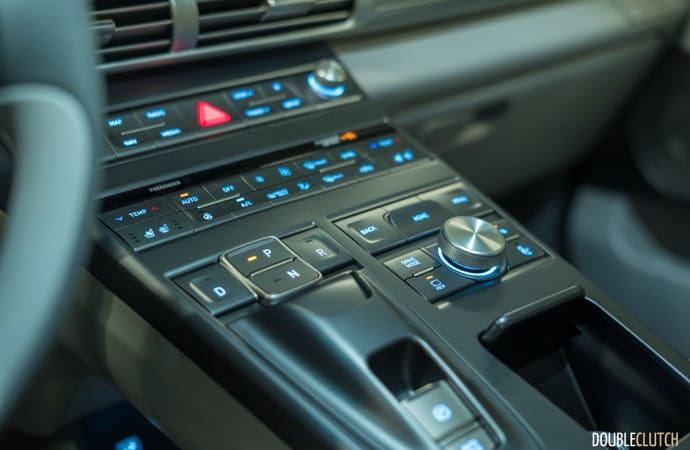 Is it fast? No. Does it need to be? Not really. When the folks in Korea decided to bring this technology to North America, they knew that the Nexo's mission wasn't going to provide supercar thrills, nor to do drifts under an orchestra of eight Mustangular cylinders. The idea of this car is to give us a glimpse into what could be; what potentially should be, and it tucks its shirt in and asks us politely if we are okay with making the world a better place.
It also does a fine job of making sure you're seated comfortably before delivering you its message. And it should, for Hyundai proudly presents the Nexo as their halo car of all things tech and luxury. The interior is something of a Hyundai executive's dream, and is particularly apt in a place like California. For it carries its message of renewable energy as a running theme throughout the cabin. Most surfaces are covered by eco friendly materials; including a headliner made of bamboo – be sure to keep Patrick the pet panda at a fair distance.
The dual screen setup on the dashboard is particularly of note, with an intuitive layout and navigation screen large enough to plot out your bearing with a sharp compass. But I wouldn't, for fear of upsetting the pixels on what is a surprisingly clear and high-resolution display. I'd also be remiss in not mentioning that as expected, it comes with Apple CarPlay and Android Auto.
But beyond the technology on the screen, the Nexo delivers a slew of welcome features. For instance, there is a blind spot video assistance that appears in the gauge cluster the moment you hit the turn signal. Beyond the usual battalion of advanced driver assists there's also the boastworthy Remote Smart Parking Assist. This is a feature in which the Nexo parks itself at the touch of a button. You don't even need to be in the car – it's  neat but borderline eerie, if you ask me.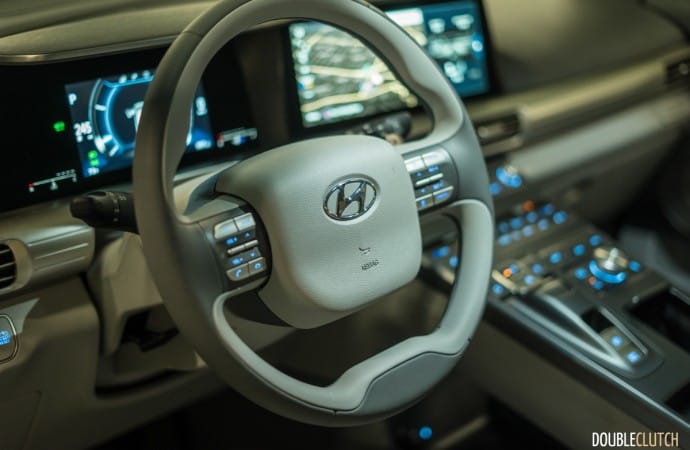 Sitting in the back while watching the steering wheel turn five feet in front of me without a driver in the seat is something of a recurring nightmare for me, but in reality it kind of made my inner child say "woah that's super cool!" This is a useful gimmick for sure, but a gimmick nonetheless. And why not? The engineers should have something fun to work on after staring at powertrains all day.
Fortunately, in an unjust world where we have to do some of the driving, the Nexo is no chore. The ride is smooth and luxurious. Road noise is markedly quiet and the torquey nature of the engine could even be accused of making the car feel nimble. Steering feel is adequate and just enough power is there exactly when you need it to be. We had the pleasure of testing it both on Los Angeles highways and canyon roads; the Nexo didn't disappoint in either terrain.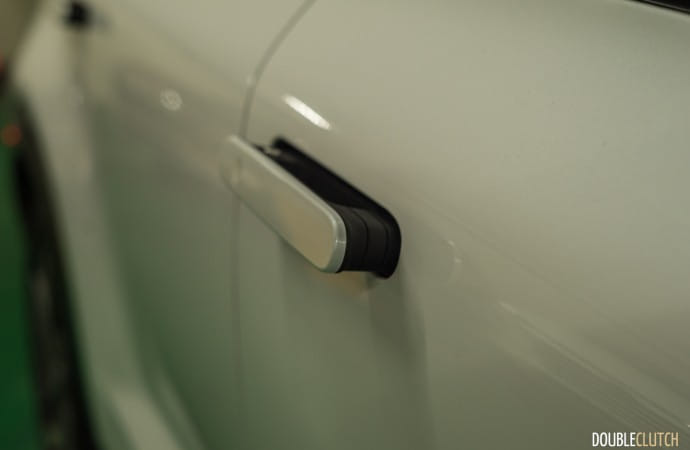 So where does that leave us? Well, we have a comfortable, quiet, luxurious Hyundai crossover that is just missing its superhero cape before it can save the world. Or can it? Alas, a bit like Da Vinci, the Nexo is before its time. It seems its biggest enemy is the infrastructure it needs around our country in order for it to make sense. Right now it's a beautiful marlin lying face-down in a doggy kennel, in a field. That is, it doesn't belongyet.
If you were to buy a 2019 Hyundai Nexo in Ontario, you'd be hard pressed not to run out of fuel before you reached the closest public fuelling station, which as of right now is in Québec. And in which case, you'd be vissé, as they would say. Or for anglophones: screwed. That's not the only asterisk at play here. The price is also an unknown, and given what we've seen, this thing is likely going to be around $75,000 in Canada. Regardless, the Nexo brings a proof of concept that is promising. It may not be there yet, but it will be.
See Also:
First Drive: 2019 Hyundai Santa Fe
First Drive: 2018 Hyundai Kona