The Kona Electric feels a lot faster than it has any business being.
Story and photos by James Engelsman
LOS ANGELES, CALIFORNIA – Hyundai flew us down to the beautiful west coast to give us the opportunity to test out the all-new 2019 Hyundai Kona Electric. That's right. We were forced to spend two horribly sunkissed 25 degree days on the best roads California has to offer so that our readers didn't have to do that yourselves. And don't even get me started on the gentle cool breeze that haunted the air. Yuck.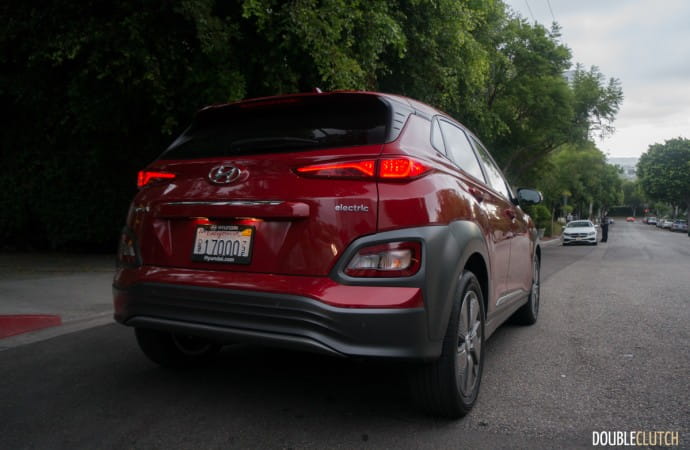 It wasn't all bad though, because the Kona Electric is actually something to write home about. It takes only a brief moment of exposure to the new Kona Electric to realize that it's an upgrade from its petrol counterpart (reviewed here). And so it should be, considering the expected price. But we'll get to that later. This is the car that can out-distance a Nissan Leaf (reviewed here) and downright embarrass an e-Golf. This thing boasts an all-electric range of 415km, and it's no slouch, either.
With 201 horsepower and 291 lb ft. of torque, the Kona Electric feels a lot faster than it has any business being. In fact, it's about as hard to keep traction at wide-open throttle from a standstill as it is to stop eating Timbits. That said, the torque from its 64-kWh lithium-ion battery powered motor is very welcome at higher speeds. Like its peers, it propels itself oh-so-silently, with just a pleasant muffled scream of battery-powered goodness. It's not unlike a supercharger, but without the normal accompaniment of combustion baritone.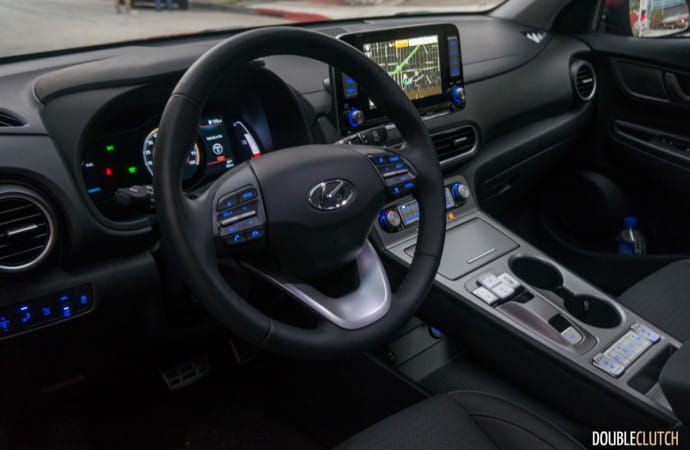 With 9.5 hours charge time to a full battery, it'll be ready for you by the time you've had your breakfast and filled the dog's water bowl. Or for the more enterprising among yourselves, (and Hyundai themselves admit their research shows this for many of the EV owners), you can charge it at your EV-friendly workplace, and save yourself a chunk off your electricity bill.
It looks the part of an eco-friendly premium crossover, too. The Kona Electric has a more futuristic design, helped much in part by a solid front bumper that will smooth out the front lines of the car in a way that only an EV can. The Electric model has also done away with the cascade of lights that ravage the front of the regular Kona. Gone also is that fake plastic vent above the Hyundai logo that was posing as an air intake.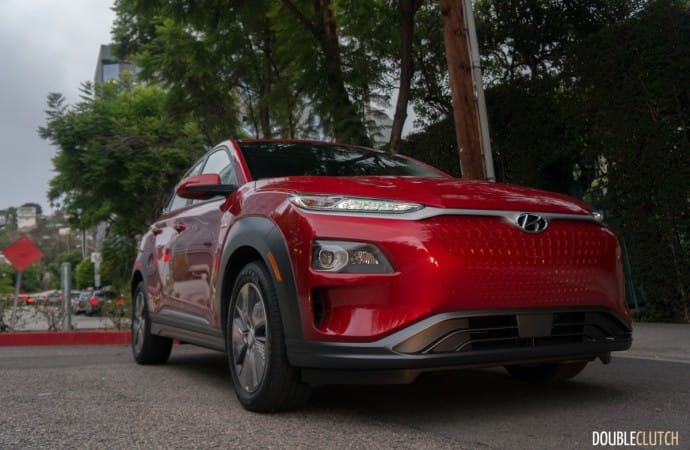 Does this mean the Kona, in its electric form, could be considered pretty now? That's up to you, but I think its aesthetic upgrades at least put it in the running for "most improved". The red colour on the model we tested cleans up pretty well too. Although Mazda's Soul Red Crystal (reviewed here) still takes the cake for cars in this price range. As for the wheel design, I think there's much to be desired there. Hyundai assures us that the design reflects an engineering decision based on drag, and thus efficiency.
Perhaps more importantly, the Kona Electric is extraordinarily easy to live with. The throttle is delightfully predictable, making the car easy to place on the road. It also does a mightily good job of feeling light on its feet, with perfectly acceptable steering feel. Driving the car around the canyons around Los Angeles, I was surprisingly bereft of a hunger for something else. Never did I expect it to knock on the door of "fun" the way that it did. Only a slight rap at the door, mind you.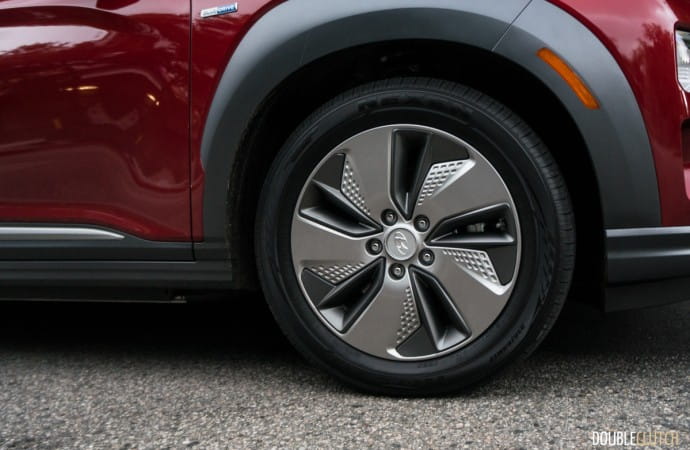 Comfort inside the Kona Electric tells a similar story to what we know already. The driving position is unchanged and still delivers as much height off the road as one has come to expect from a subcompact crossover. There is a wonderful and welcome deviation when it comes to what you see in front of you.
While still not the final word in interior quality, the new centre stack looks thoroughly more upmarket than that of the gasoline variant of the Kona. It is positively a lovely place to be. Couple this with the standard heated steering wheel and heated seats, and a Canadian winter doesn't seem such an intimidating prospect to the Kona Electric owner.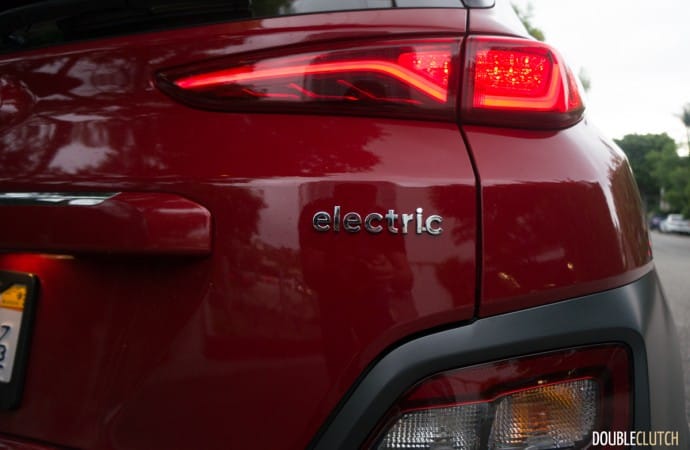 It kind of makes you wonder why you'd even consider this car's 1.6L turbocharged brother. Oh wait yes – the price. Officially, there's no word yet from Hyundai, but in all likelihood we'll see a number close to that of the Chevrolet Bolt EV (reviewed here). We expect something starting with a "4". This would add roughly $10,000 to the top-trim 1.6T Ultimate. But what good is all that extra cash to keep you warm at night if you're kept awake by the environmentalist on your other shoulder?
See Also:
First Drive: 2018 Hyundai Kona