The Ranger doesn't just represent a nameplate being revived, or a new entry to Ford's lineup.
SAN DIEGO, CALIFORNIA – The truck world is a particularly fierce one, with direct competition from all three of the North American giants being fended off by players from Japan. The compact to midsize pickup market has begun to pick up again, with the Chevrolet Colorado, GMC Canyon and Toyota Tacoma (reviewed here) models selling in full force. It was only a matter of time before Ford brought the ever-popular Ranger back to North American market. They invited us to sunny San Diego, California to test the 2019 Ford Ranger 4×4 in a variety of trim levels.
The Ranger starts at $30,969 in Canada for the XL SuperCab and pricing goes up to the high $40,000 range for a loaded Lariat with the SuperCrew cab. It's a great volume proposition, but more interesting here is the sheer versatility and ease-of-use of this smallest truck bearing the Ford name. It's worth mentioning that a version of this Ranger has been sold in other markets for quite some time now, so it's fairly tried and trusted, though there are many innovative technologies that are new to the North American market. The styling is on the conservative side and is pretty derivative, but our black Lariat SuperCrew tester absolutely did get some compliments in the rural surroundings of San Diego.
Ford has decided to keep things simple and offer one powertrain to North American Ranger buyers. A 2.3L turbocharged EcoBoost inline four-cylinder is the only available engine, and it pushes 270 horsepower and a segment-leading 310 lb-ft. of torque. This "class-leading" claim does exclude the diesel-powered Canyon (reviewed here) with its 369 lb-ft. number. This turbo-four is paired to a 10-speed automatic transmission, the same GM-Ford joint venture that is available in multiple other applications including the larger F-150. Power delivery is fairly good and the Ranger does feel quick, but the turbo lag is significant and can lead to some jumpiness when asking the Ranger to pass at highway speeds.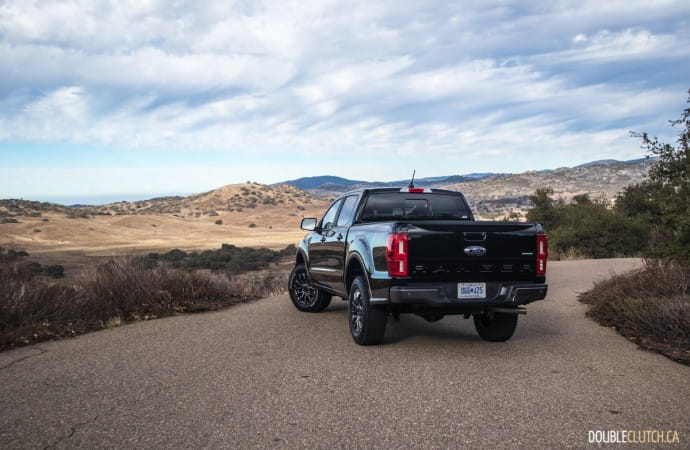 The 10-speed automatic is fairly good, but it does tend to hunt gears more than we'd like, something we haven't really experienced in the F-150 (reviewed here). The Ranger does have an electronic transfer case and 4WD is standard on all Canadian models. This does add weight for those looking for a basic work truck, but Canadian demand is significant enough for a 4WD system. We briefly sampled a US-spec 4×2 model and it feels notably faster than the comparable 4×4 thanks to the lightness.
Ride quality is better than the Tacoma and GM twins, and genuinely surprised both my driving partner and myself. The Ranger is exceptionally well sorted on the road for a body-on-frame pickup truck, and the rigidity of the chassis is significant. Its on-road personality is reflective of a more premium and expensive vehicle, or even a unibody one. Interior noise is minimal, and the Ranger feels a lot quieter than the Tacoma we drove back to back, and about on par with the last Colorado (reviewed here) tested.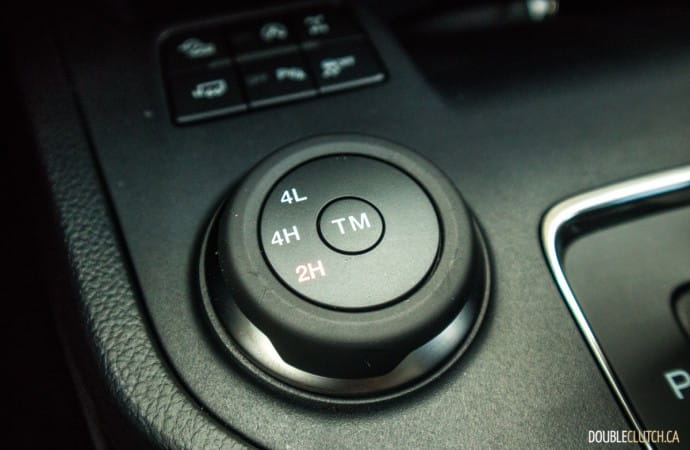 Ford's engineers were so confident about the Ranger's off-road capability that they set up a short off-road course for us to try. The truck handled it without batting an eye, and we were able to test features like the Trail Control technology. This is part of the FX4 Off-Road Package ($1,400) and modulates the throttle and brakes to work similarly to cruise control for the trails. With the transfer case set to 4HI, it can work at speeds up to 32km/h and in 4LO, 16km/h. Trail Control works seamlessly and is extremely effective for those wanting to traverse off the beaten path.
Other features included in the FX4 package are Dana AdvanTEK independent front and solid rear axles, an e-locking rear axle, frame-mounted front bash plate and skid plates, unique shocks and tires. Lastly, a Terrain Management System allows drivers to select between four drive modes for various terrain situations. The Ranger in all configurations can tow up to 7,500lb., which is more than both the Tacoma and Colorado, and can support a payload of up to 1,860 pounds. It's worth mentioning that this payload capacity is for 4×2 models, unavailable to Canadians.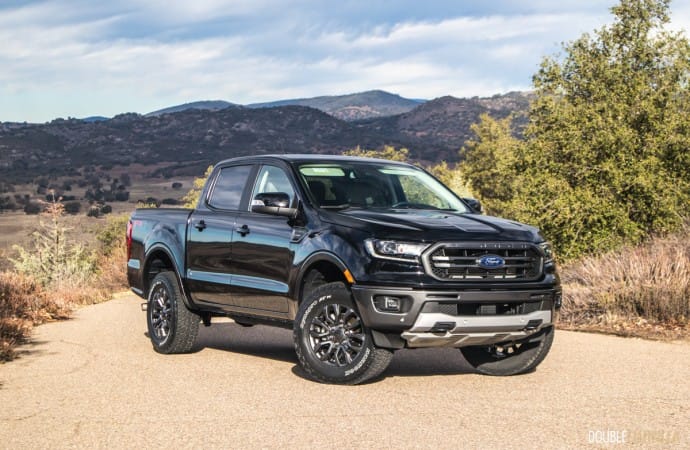 Ford's CoPilot-360 driver assist suite is standard equipment on the Ranger, and includes a lane-keep system, blind spot information system with cross-traffic alert, pre-collision assistance with automatic braking, and a rear-view camera. Other available equipment on the new truck includes adaptive cruise control, LED headlights and taillights, a remote start system, trailer sway control, and more. One curious omission that's particularly impactful to Canadian buyers is the lack of a heated steering wheel even in the top trim level.
The interior of the Ranger is decently equipped, with seats we found to be more comfortable than the competition for longer drives in both on and off road settings. The SYNC 3 infotainment system is compatible with Apple CarPlay and Android Auto as well, which helps with connectivity. However, the rest of the interior is very reflective of the Ranger's overall age. The instrument cluster is from the outgoing era of Ford vehicles, and the steering wheel design also shows its age. We expect a mid-cycle refresh sooner than later to bring the baby F-150 up to speed with its larger and more advanced sibling.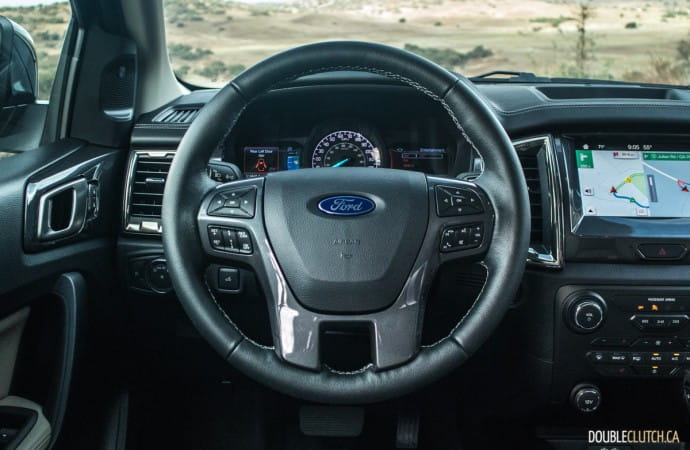 We observed fuel mileage in the 12L/100km range in mixed driving, with a heavy bias towards spirited canyon carving and an off-road course. This number should go down a little bit in the long run, and we would predict numbers closer to 11L/100km. Official ratings are 11.8L/100km city, 9.8L/100km highway, and 10.9L/100km combined. The Ranger does accept regular 87-octane fuel, in line with the other players on its team.
The "small truck" segment is moreso a mid-size one now, considering the size of the current crop (the Ranger has an overall length of 210.8"). The SuperCab can only be had with a six-foot box, and the roomier SuperCrew's five-foot box may prove difficult for those wanting to transport things like dirt bikes or snowmobiles. A bed extender is available as an accessory for Ford that can fix this, but availability of a longer box would be nice. Of course, if this were offered, we would find armchair critics on the Internet complaining that the truck is too big.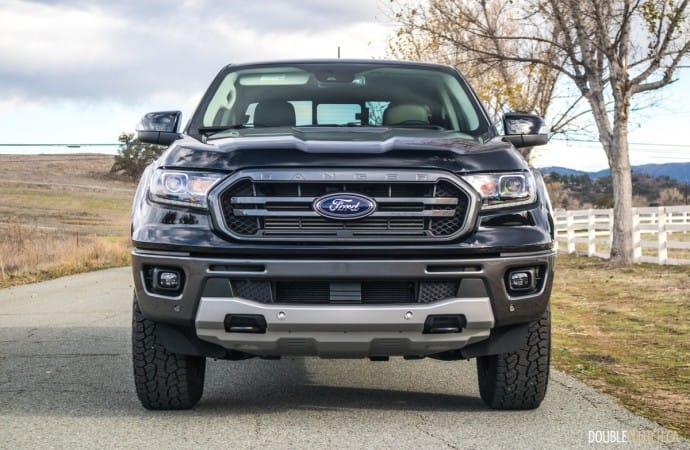 The 2019 Ford Ranger 4×4 doesn't just represent a nameplate being revived, or a new entry to Ford's lineup. It's more than that – our group had more than just a few onlookers during our test drive approach us to get a closer look at the new Ranger because of a story they had with an older one. Plenty of older, mint-condition Rangers were seen still working in the busy landscape of southern California. This new truck marks the return of a name that was once a contributor to the heartbeat of our continent. We've now seen it reborn, and we are excited to see it grow up once again.
See Also:
2017 Toyota Tacoma TRD Pro 4×4