There are a lot of changes inside and out, including most of the hardware under the skin.
OTTAWA, ONTARIO – When it comes to electric cars, more and more people are starting to think about them as a more realistic and viable form of everyday transportation. We have brands like Tesla in the spotlight with their unique celebrity appeal, but just about every automaker is working on their own form of electrified transport. Nissan has been in the EV (electric vehicle) game for some time with their Leaf (since the 2010 model year), and they invited us to Ottawa to check out the new, all-electric, second-generation 2018 Nissan Leaf.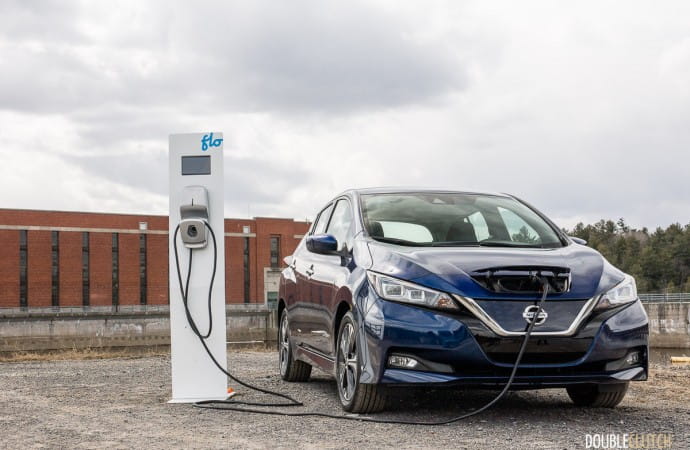 What's changed? There are a lot of changes inside and out, including most of the hardware under the skin. On the outside, the Leaf now sports new styling that feels less awkward, less "bubbly", and more in-line with Nissan's current design language, seem most on high-volume products, such as the Rogue and new Altima. One example is the blacked out C-pillar, producing the impression of a "floating" roof. Inside, every trim level other than the base Leaf S gets Android Auto and Apple CarPlay smartphone integration, so the infotainment is nicely up to date. Impressively, heated front and rear seats (the latter of which are activated on the front passenger seat), and a heated steering wheel are all standard equipment. Some notes about the interior: the steering wheel doesn't telescope, and taller drivers may have a hard time finding a comfortable driving position, as the front seats sit fairly high off the floor, due to the battery placement underneath. The Bose audio system also adds a subwoofer module in the cargo area, which eats up precious space, and gets in the way.
What people may be most interested in, are the improvements to the electric driving hardware under the hood, and under the floor. The most important number to the new Leaf is the overall estimated driving range: 242 kilometres. When put into simple terms, this is a 40% increase in overall range, which is nothing to sneeze at. The new electric motor is now rated at 147 horsepower, and 236 lb-ft. of torque (at zero RPM), which are improvements of 37% and 26%, respectively. How did Nissan achieve these improvements? The power inverter is smaller, thanks to a redesigned cooling module, and a faster processor allows for the 110kW electric motor (previously 80kW) to more finely extract power from the now-larger 40mWh battery (previously 24kWh and then 30kWh). Nissan has also changed up the battery chemistry (Nickel Metal Cobalt), allowing for that increased power density.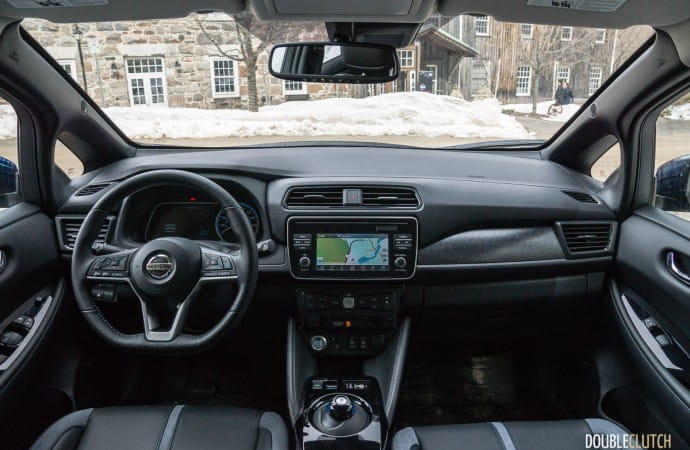 When it comes to real-world performance, Nissan says the 0-100km/h run is completed in the low 8-second range, which roughly translates to a 15% improvement in acceleration. First-generation Leaf owners were surveyed, and some of the common responses included: a desire for more range, and to build on the feel of an EV, which generally means quick response, and low noise, as opposed to a traditional vehicle powered by an internal combustion engine. The new Leaf won't win any drag races against anything from Tesla, but the get-up-and-go response is there, and passing power is ample.
Charging happens with a standard J1772 Level 1 and Level 2 (120V and 240V) charger. There's also the mostly-Japanese CHAdeMO port that can pump electricity into the battery at a rate of 125A at 50kW. Utilizing this form of charging will see you get to 80% capacity in 40 minutes. Otherwise, if you only have access to a 120V household outlet, charging an empty battery to full could take up to 35 hours. The Leaf also has the interesting ability to supply power in a bi-directional manner. This allows the Leaf to deliver power back to your house (or the grid), especially when time of use rates may make sense for household consumption to come from the battery reserves in the car.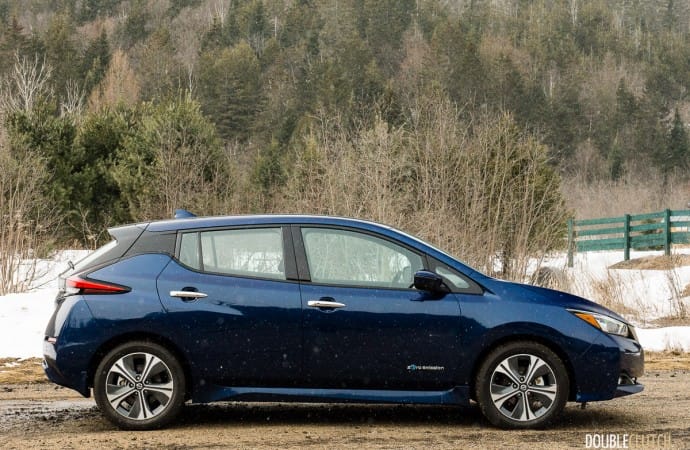 Nissan is particularly proud of the "e-Pedal", which allows the driver to control the powertrain with mostly the accelerator pedal, informally called a "single pedal mode". Taking your foot off the accelerator engages a more aggressive regenerative braking program, allowing you to slow down, eventually to a complete stop without having to rely on the standard service and friction brakes. Some electric vehicles already offer a single pedal mode, and they all change the way we control electric cars, but it's an input method that makes sense. It is a function we've seen on other EVs, such as the Chevrolet Bolt, BMW i3 (reviewed here), and Hyundai IONIQ Electric.
In keeping with most new vehicle introductions for 2018, Nissan has included their ProPilot Assist system. This isn't a full, "Level 5" autonomous driving system, but a package that focuses on "single-lane" assistance. There's the usual adaptive cruise control, and a follow-mode which can dynamically keep up with urban traffic, up to 100km/h. Its focus on lane centering is particularly impressive – the Leaf won't bounce around between lane lines like some lesser systems will.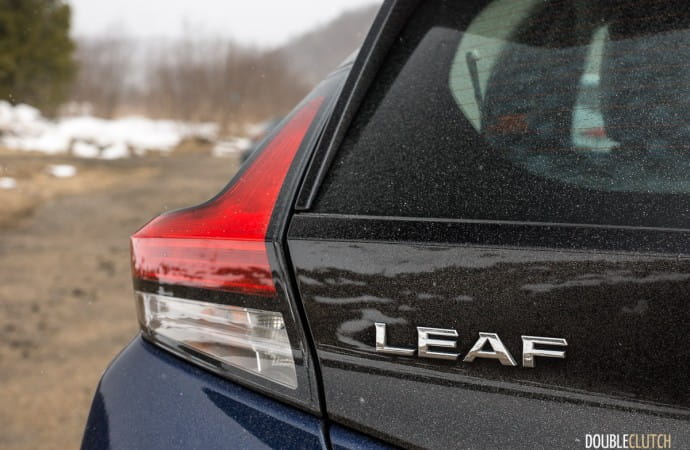 Being a full electric vehicle, there's nothing in the way of fuel consumption. One just needs to keep an eye on the overall range available. Range anxiety still means you end up keeping an eye on the remaining range, with concern leading to panic as you get closer and closer to zero. The 242 kilometre range is more than enough for most everyday urban commutes, but it's not near the best in its class, namely the Chevrolet Bolt, which boasts almost 400km of range. The Nissan Leaf plays in the same range as the Hyundai Ioniq EV, which also claims an approximate 225km range, with a hatchback design and is an otherwise good effort from the new Korean players.
The new Nissan Leaf starts at a suggested subtotal $35,998, which is not inclusive of any rebates that your local jurisdiction may be offering. As of right now, the Ontario government is offering a whopping $14,000 off the price of the Leaf, which means the Leaf can be priced as low as $21,998, before you dip into the options list. Just under $22,000 for a full-electric car is certainly attractive, but it's important to consider your typical use case, and if it fits in with the all-electric lifestyle. We'll be sure to revisit the Nissan Leaf, once we get our hands on one for a full week-long evaluation. In the meantime, consider it a worthy competitor that brings the Leaf up to today's standards, now in a much tighter marketplace.
See Also: