There is a lot of value to be had here, so the Kicks has a lot going for it in this regard.
MONTRÉAL, QUÉBEC – "Kicks" just might be the strangest automotive name I've heard in quite some time. The latest subcompact crossover from Nissan, this entry is a loose successor to the awkward and controversial Juke. First launched to the public in the summer of 2016 and assembled at the Mexico plant, the 2018 Nissan Kicks was penned at the Nissan design studio in Brazil. We traveled to Old Montréal to spend a day driving this smart little crossover and determine just where it fits into Nissan's expansive lineup.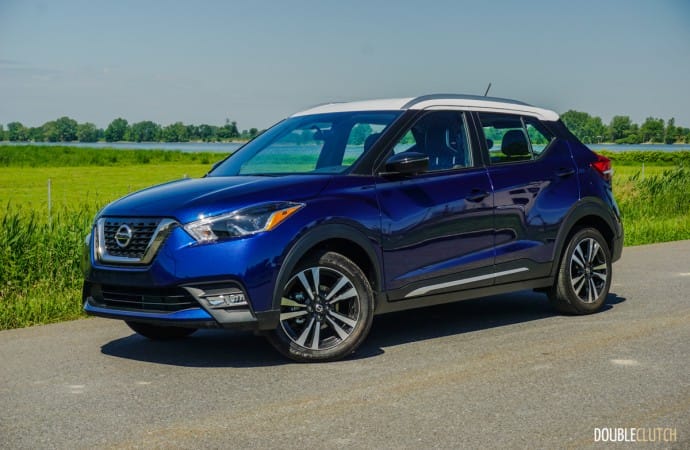 As a back-to-basics crossover, the new Kicks takes pride in its simplicity. There is plenty of style for millennials as well as on-board technology, but it really is a very straightforward formula. No all-wheel-drive, no turbocharger, and genuine versatility in its ability to haul your weekend gear. Despite its minimalism, the Kicks takes pride in its clever colour schemes, which include five unique two-tone combinations. The fascia is unmistakably Nissan, with their signature V-Motion grille.
There is a lot of value to be had here, so the Kicks has a lot going for it in this regard. Power comes from Nissan's HR16DE 1.6L inline four-cylinder, the same engine seen in the subcompact Micra and Versa Note (reviewed here). It's not a powerhouse by any means, with its 125 horsepower at 5,800RPM and 115 lb-ft. of torque at 4,000RPM, but this engine will ensure the Kicks stays out of its own way. Power delivery is fairly linear, but it does run out of breath at higher RPMs and wheezes when asked to pass at highway speeds.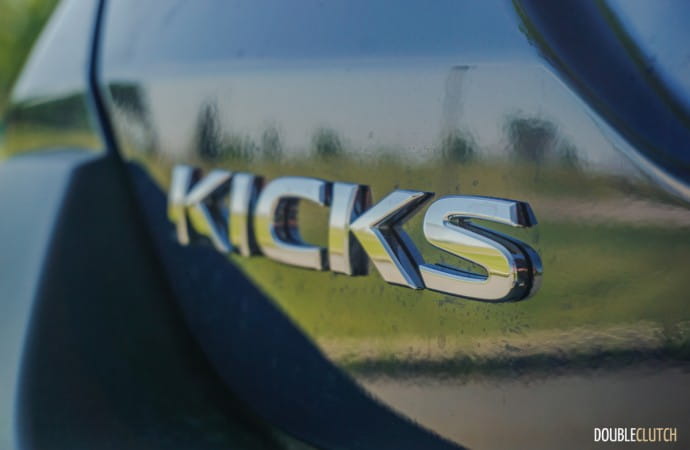 Perhaps the biggest disadvantage Canadians will point out is the lack of all-wheel-drive. With a front-drive only setup, the Kicks lacks that one feature that push many buyers into a crossover or SUV to begin with. This oversight may convince some directly into the Qashqai (reviewed here) or even the larger Rogue, but it's worth mentioning that both of those are more expensive, especially when equipped with AWD. The only transmission available on the Kicks is Nissan's Xtronic CVT, which does an adequate job of keeping power where it's needed.
A small displacement four-cylinder and front-wheel-drive come together to give the Kicks one serious conversation point – a very light overall weight of 2,639 pounds (for the base S model; the top-trim SR is 2,679 pounds). The updated transmission does work well, and the lightweight Kicks is very compliant on the pothole-ridden streets of Montréal. Ride quality is decent, with independent struts in front and a torsion-beam suspension in the rear. Steering feel is light but fairly direct, and it's actually somewhat fun to push the little crossover around at low speeds. A tight turning radius means parking is an absolute cakewalk.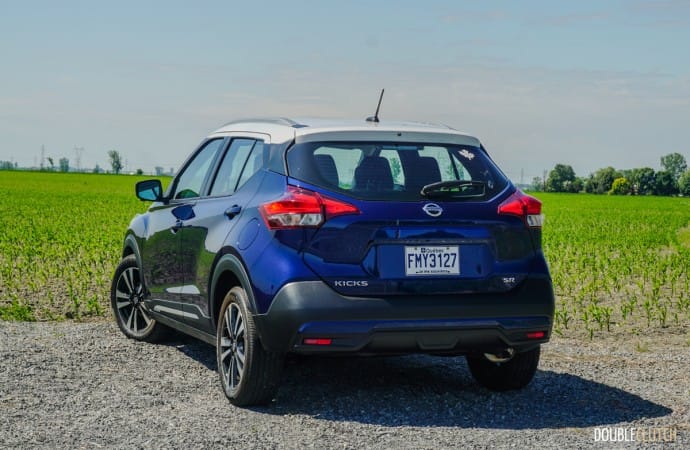 The overall package also helps the new Kicks stay extremely efficient, with official ratings of 7.7L/100km city and 6.6L/100km highway. Our initial test isn't necessarily a good metric of what buyers can expect, but we still managed to achieve 7.3L/100km combined with zero effort. The Kicks doesn't have or need any additional fuel-saving measures such as an idle start/stop system, and this is genuinely appreciated as with a value-proposition like this, it's just more stuff to go wrong down the road. The 41L fuel tank also accepts regular 87-octane fuel with no issues.
Perhaps most surprising about the Kicks is just how nicely appointed the cabin is – it shares almost nothing with the Versa Note it's based on. The materials are quite nice, with minimal hard plastics. Contrast stitching is available that steps up the car's game a little bit, and a Bose "UltraNearfield" feature adds speakers to the front headrests. We noted just how good the sound quality from this upgraded Bose stereo is. The 7" touchscreen is also quite responsive and the CarPlay integration is seamless. Lastly, the Intelligent Around View Monitor brings a 360-degree camera to the SR trim level – a segment exclusive.
It's not just all-wheel-drive that drives Canadians into small crossovers over similarly sized sedans and hatchbacks. Many appreciate the slight height advantage, taller driving position, increased visibility, and most of all; ease of ingress/egress that crossovers offer. The Kicks works wonders in this regard – its small size is deceiving. The relatively large doors open wide, and the interior is markedly more spacious than the exterior dimensions would suggest. The rear seats will accommodate adults for shorter rides, but children will fit just fine. Cargo capacity is 716L with the rear seats in place, and this expands to 915L when they are folded down.
The biggest strong point to the Kicks is the price. Starting at $17,998 in Canada for the base S model, it's significantly cheaper than the Juke it replaces. Even at this base price point, the Kicks offers a 7" touchscreen display with Siri Eyes Free, a rear-view camera, push-button start, and intelligent emergency braking. Stepping up to the SV that most Canadians will choose brings us to $20,898 and adds heated front seats, Apple CarPlay and Android Auto, and 17" alloy wheels. A $22,798 top-trim SR adds a Bose sound system, faux-leather seating, blind spot warning and rear cross traffic alert.
Though priced a little bit lower than the Qashqai, the Kicks still remains competitive with other subcompact crossovers in front-drive spec. The most obvious comparison, however, is with Toyota's C-HR (reviewed here), which also sells well simply based on its quirky styling and strong reputation for reliability. Subjectively, I'm more a fan of the Kicks' more conservative looks, and the fact that it remains much easier to get in and out of than the Toyota. The Kia Soul (reviewed here) is also a wildcard competitor for the Kicks, capitalizing on a combination of its quirkiness and versatility.
The 2018 Nissan Kicks will sell significantly more units than the now-dead Juke, and that's because of two very obvious reasons. The first is the price point – the $17,998 base price is drastically lower than the C-HR's $24,690 cost of entry. Secondly, the conservative styling will work for many that overlooked the Juke's sharp driving dynamics and turbocharged engine simply because it had a face only its mother could love. The Kicks changes things up quietly and firmly, and is a welcomed addition to the crossover movement that's beginning to dominate the North American automotive landscape.
See Also: