Ample new tech to lure in new buyers that would otherwise be attracted to the competitors.
ANN ARBOR, MICHIGAN – In a close race to produce the finest and best-selling pickup truck in the world, the three big American automakers are constantly competing with one another. Ram leads the pack (arguably) in overall interior design and luxury, and the GM twins have always been sitting up there in reliability ratings. The Ford F-Series has consistently outsold the others, and been offered with a series of punchy powertrains, trim levels from basic to luxurious, and with an added sense of style. We flew to Ann Arbor to evaluate the latest models in the 2018 Ford F-150 lineup.
The F-150 gets a styling refresh, though it's simply an evolution and refresh over the outgoing model. Keep in mind that this isn't an entire platform overhaul, but a significant mid-cycle refresh. The new model gets a redesigned fascia with updated headlights and re-sculpted bumpers. It still looks like an F-150 (reviewed here) should, but a bit more aggressive overall and with new wheel designs that are unique to the trim level selected. More luxurious Limited and King Ranch models will get larger, chrome wheels that suit the nature of the trucks.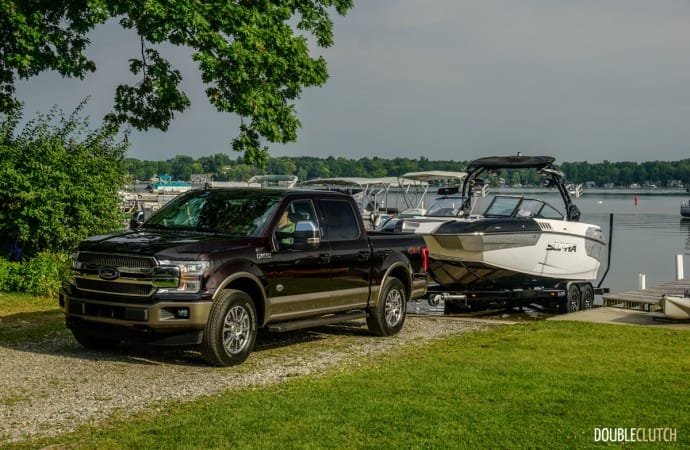 Perhaps the most talked-about part of the new F-150 is the availability of a diesel motor, joining the Ram 1500 EcoDiesel (reviewed here) in the light truck segment. This will be added to the lineup in the spring, and is the same 3.0L turbodiesel V6 motor seen in the Range Rover Td6 (reviewed here). A buttery smooth motor with a peaky torque curve, this will change the game with regards to fuel economy in the F-150. Also new this year is an entry-level 3.3L V6 with dual port and direct-injection, which replaces the now-discontinued 3.5L naturally aspirated mill. It pushes 290 horsepower at 6,500RPM and 265 lb-ft. of torque at 4,000RPM.
But wait, there's even more news on the powertrain front! The only V8 available on the F-150 is the rather dated 5.0L, which also gets a power bump to 395hp at 5,750RPM and 400 lb-ft. of torque at 4,500RPM. Ford is pushing buyers towards the two EcoBoost engines available, but many F-150 customers who use their trucks for work duty still opt for the classic versatility of the naturally aspirated engines. The F-150 is still available with a segment-exclusive ten-speed automatic powertrain, which offers two more gears than the GM and Ram equivalents. The 10-speed is a joint venture between Ford and GM, so it's inevitable that the next generation of Silverado and Sierra will also receive it.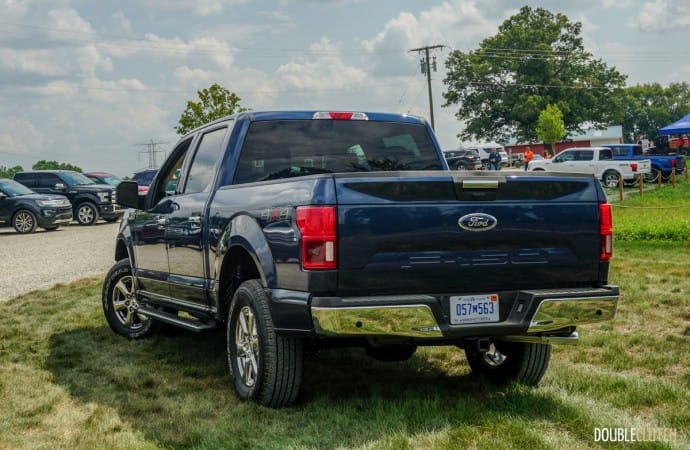 Those looking to tow either occasionally or regularly with their F-150 will be pleased to know that the 2018 model has a best-in-segment tow rating of 13,200lb. when equipped accordingly. It also can offer payload capacity of 3,270 pounds. Both of these are possible with the 5.0L V8 and 3.5L EcoBoost V6, so customers aren't limited to a specific trim or engine choice when wanting their truck to have this enhanced capability. The F-150 is still built on the military-grade high-strength aluminum body, which minimizes its overall weight without compromising proficiency in heavy-duty tasks.
Stepping into the new F-150, those who know their way around the outgoing model will immediately familiarize themselves. The large and comprehensive instrument cluster is still easy to read and very nice to look at, while upper-trim models get a screen in the middle of it that can be configured with various vehicle diagnostics. The SYNC3 infotainment system with its touchscreen is more intuitive than ever, still offering Apple CarPlay and Android Auto. Ford has now caught up with GM and offers a 4G-LTE hotspot for added connectivity, allowing up to 10 devices to connect to the Internet at one time. Upper trim levels also get a B&O Play audio system. Materials overall are still fairly good, though some plastics are visible on all trim levels that remind you that as nice as it may be, you're still driving a work-ready pickup truck.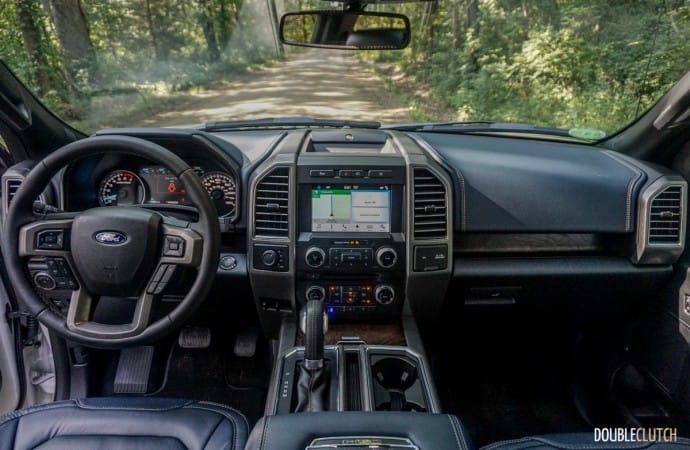 Plenty of advanced driver assist and safety technologies are available on the F-150, including Pre-Collision Assist with Pedestrian Detection, which assists in preventing collisions where possible. Also offered is Ford's very cool Blind Spot Information System with trailer tow assist, which can adjust the blind spot monitoring to factor in a trailer up to 33 feet long. Adaptive cruise control with stop and go functionality is also a segment exclusive, and on board certain trim levels of the F-150. Parking the behemoth is made very easy with the availability of a 360-degree camera.
The 2018 Ford F-150 offers a ton to the truck buyer, with enough capability to keep existing customers in the dealership when the time comes to replace their vehicles, and ample new tech to lure in new buyers that would otherwise be attracted to the competitors. Built at the Dearborn Truck Plant just outside of Detroit, Michigan and the Kansas City Assembly Plant in Missouri, Canadians can look forward to the F-150 arriving in dealerships later on this fall.
See Also:
2017 GMC Canyon SLE Diesel 4×4