This is a car that offers the ultimate in luxury with a surprisingly dynamic driving experience.
MALIBU, CALIFORNIA – Dreams are an interesting thing – one can have the same recurring example many times and never see it become a reality, whereas hard work, determination, and strokes of good luck demonstrate many seeing their dreams come true. Superficial as it may be, wealth is in the dreams of many, and for car guys, that means expensive cars. Rolls-Royce, with a name dating back to 1906, is indisputably one of the perennial names in the ultimate luxury automobile. The Goodwood-based manufacturer has produced, decade after decade, hand-built cars lusted after for style, impeccable ride quality, and of course, the status associated with owning a Rolls-Royce.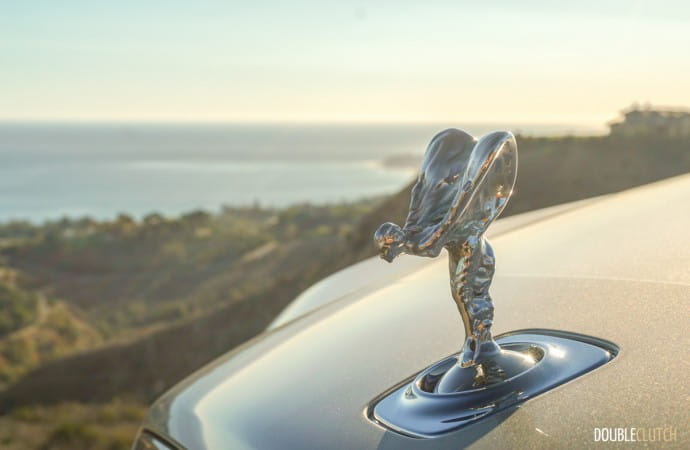 As a subsidiary of the BMW Group since 1998, a huge chunk of today's Rolls-Royce lineup shares some components with the Bavarian "ultimate driving machines". This isn't necessarily a bad thing, as Rolls-Royce electrics have had questionable long-term reliability records. We were invited to spend a few days in Los Angeles, California and experience the all-new 2017 Rolls-Royce Dawn, a drophead version of the stunning Wraith (reviewed here), and see what a car like this actually is like to live with on a daily basis.
Unmistakably bearing the styling of a Rolls product, the Dawn (all new this year) is far more usable and livable than a supercar. Its size may suggest difficulty maneuvering, but it's deceptively easy to park (after you've gotten your bearings and learned where the four corners are). The blocky design language that debuted on the Phantom limousine just over a decade ago has been freshened, modernized, and works beautifully on this car. LED lighting front and rear is crisp and illuminates the road ahead nicely. The center caps on all of the wheels are calibrated to stay upright independent from the wheels, ensuring the Rolls-Royce logo is always legible, and the Spirit of Ecstasy hood ornament is lit at night and tucks away into the hood when the car is locked.
Opening the rear-hinged doors (they have a power-closing feature, too) and stepping into the interior for the first time is a bit of an experience in itself. The Mugello Red leather upholstery is exquisite, and the floor mats are, of course, lamb's wool. They're so deep and luxurious that you will find it difficult to resist the temptation to remove your shoes upon entry. Matte wood paneling in "Tudor Oak" lines the dashboard and is complemented by delicate chrome-finish switchgear. Everything fits together nicely and oozes of quality and luxury – even the headliner for the convertible top is dark grey Cashmere, an option.
Interior space is typically at a premium with regard to convertibles, and we weren't sure how the Dawn would address this, especially considering it sort of "replaces" the much-larger Phantom Drophead. However, we decided to take the car out for dinner after a day of testing, and our editorial team of four clambered into the car and we ventured into Beverly Hills for a longer drive. Front seat leg and headroom is ample, but the most surprising thing was the comfort level of the rear-seat passengers. Two full-sized adults were able to sit behind two six-footers and be comfortable – try pulling that off in any other two-door droptop.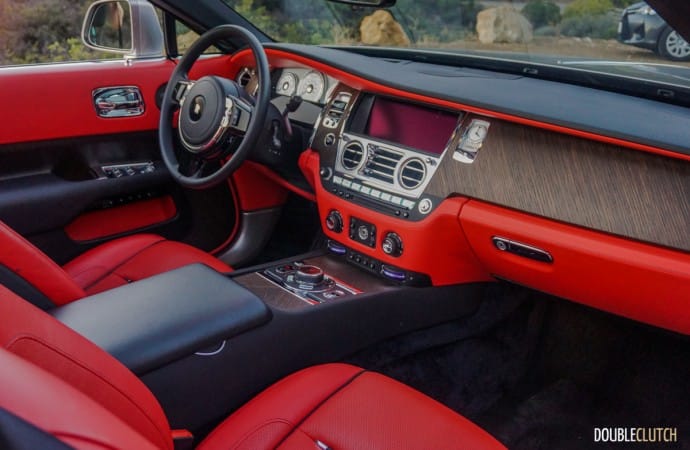 Rolls-Royce hasn't skimped on technology either, in the effort to maintain their traditional implementation of luxury. There's a 10.3" LED screen that's controlled by what they refer to as a Spirit of Ecstasy rotary controller. Keen enthusiasts will observe that this is a lightly disguised version of the BMW iDrive infotainment system. This isn't a bad thing – iDrive is the best in the business and has proven itself to be an easy system to master. The instrument cluster uses classic white-faced gauges with chrome accents, and the actual needles look like luxurious silver stirring sticks. There are quite a few buttons, but the climate control and all of the major switchgear is easy to use. Oh yes, and we can't forget about the umbrellas hidden away in the door frames that slide out at the press of a button.
The Dawn may be notably smaller than the mammoth Phantom and now-discontinued Phantom Drophead, but at 208.5" in length with a 112.5" wheelbase, it's still a very large car. It's no surprise then, that Rolls-Royce has employed a 6.6L twin-turbocharged V12 with an all-aluminum block to hustle the car effortlessly to speed. Horsepower is 563 at 5,250RPM and torque is 575 lb-ft at 1,500RPM. This power is sent to the rear wheels via ZF's eight-speed automatic transmission, also the best in the industry. Gear changes are made with imperceptible smoothness, and there is of course no manual shift mode or paddle shifters. This is a Rolls-Royce – you let it do the shifting for you.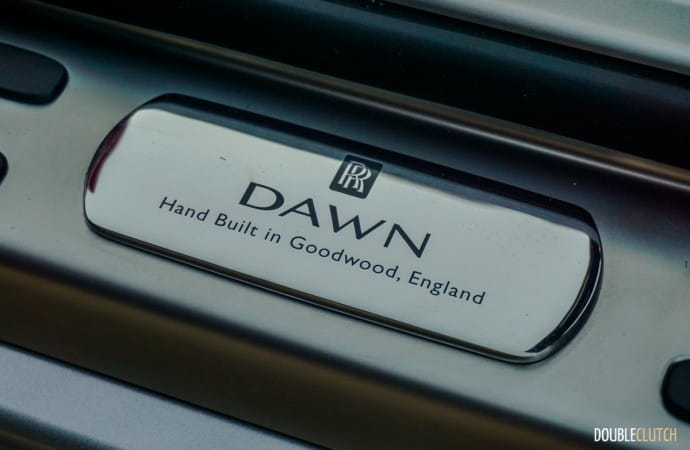 What we liked is that the V12 makes the Dawn a deceivingly fast car. 100km/h arrives in just 4.4 seconds, and it arrives with more tranquility than in literally anything else on the road. With the top in place, the car is insanely quiet thanks to extensive sound deadening measures and double-pane glass on the windows. Stepping on the accelerator and pushing the car will cause it to surge forward with an excellent degree of confidence, never once stopping for a breath or hesitating. The V12 makes itself heard on wide-open throttle, but realistically, the Dawn will never ever require you to push it very hard.
It handles nicely too – the 21" wheels on Continental ContiSportContact5 tires aren't made for performance, but spinning the large steering wheel to change direction brings out adequate response from the Rolls. The electric power steering is calibrated for comfort though, and there isn't much in the way of analog feel. That's not what this car is about – it handled our drive routes through the roads of southern California admirably and painlessly. Ride quality is like riding on butter, and potholes or road imperfections are commendably absorbed by the suspension. Out on the open highway, the Dawn swallows up the miles without skipping a beat, and the fantastic seats (with massage feature) ensure that fatigue is kept to a bare minimum.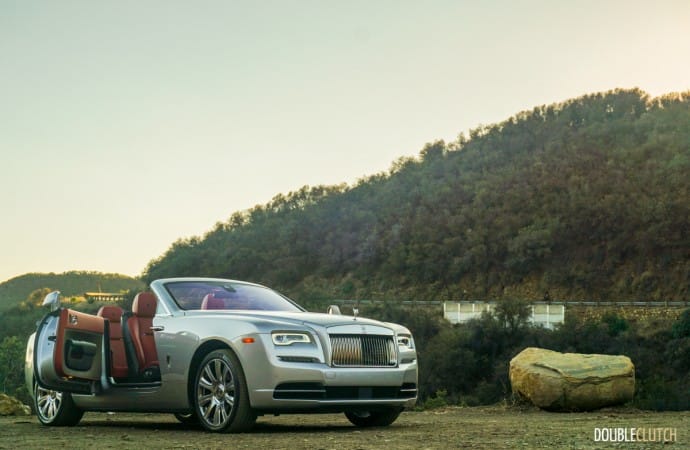 With its twin-turbo V12 and 83L fuel tank, the Rolls-Royce Dawn isn't made for economy. There's no start/stop system, and why would there be, because it would disrupt the serene behaviour of the car, nor is there any cylinder deactivation technology. This is a good old-fashioned V12, and the fuel efficiency reflects it. We averaged 14.2L/100km over about 400km of driving, plenty of which included sitting in stop and go traffic on the Pacific Coast Highway in Malibu. It's no secret that Los Angeles traffic is some of the worst in the world, but the Rolls handled it with poise and delivered with regards to comfort.
The pricing structure for this car is quite interesting – no two Dawn models will cost the same since no two will be equipped the same. The "base" sticker in Canada is $442,600, though Rolls-Royce estimates that most buyers will opt for between $75,000 and $100,000 worth of bespoke options. Our car was a US-spec vehicle, and was equipped to the tune of about $605,000 Canadian. Unique touches on our specific tester include contrast stitching, lit Spirit of Ecstasy, open pore wood, piano black interior accents, lambs wool floormats, Rolls-Royce embroidery on the headrests, and many other items.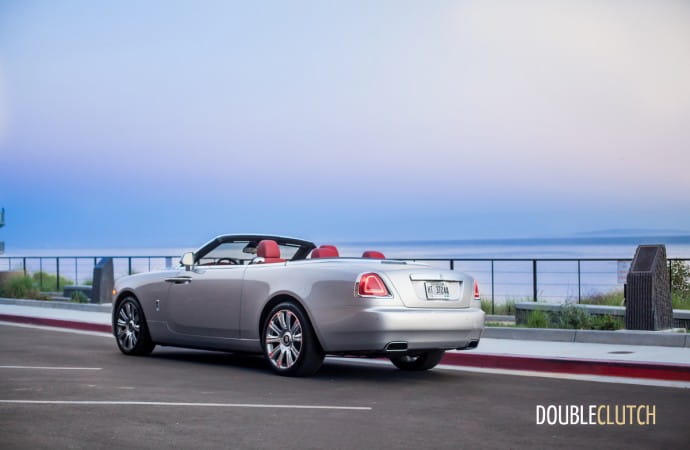 With the Phantom Drophead having been discontinued, the 2017 Rolls-Royce Dawn is the only open-top vehicle remaining in the lineup, and that puts it in a very good position. This is a car that offers the ultimate in luxury, with a surprisingly dynamic driving experience when it's asked to. Those who don't live in a climate where convertibles can be used more than a few months of the year may want to opt for the fixed-roof Wraith, but the new Dawn is absolutely worlds better than the lesser-priced Bentley convertibles and just about anything else that attempts to rival it.
First Drive: 2017 Rolls-Royce Dawn Gallery
*Some photos contributed by Steve Hayward @ ShootMyCar.ca and our very own Theron Lane*
See Also:
2016 Rolls-Royce Ghost Series II