The new Rogue is sure to engage a new generation of first-time crossover buyers.
LAKE OCONEE, GEORGIA – Nissan's Rogue has been their bestselling crossover in the Canadian market for a while now. The outgoing model, new for 2014, was acceptable, but its competition quickly surpassed it in features, efficiency, and overall feel. If the current Murano (reviewed here) is any indication, we know that Nissan has the resources to produce a truly good crossover. Earlier in September at the Miami International Auto Show, it was announced that the 2017 Nissan Rogue will be receiving a heavy facelift, and Nissan flew us to Georgia to try it out.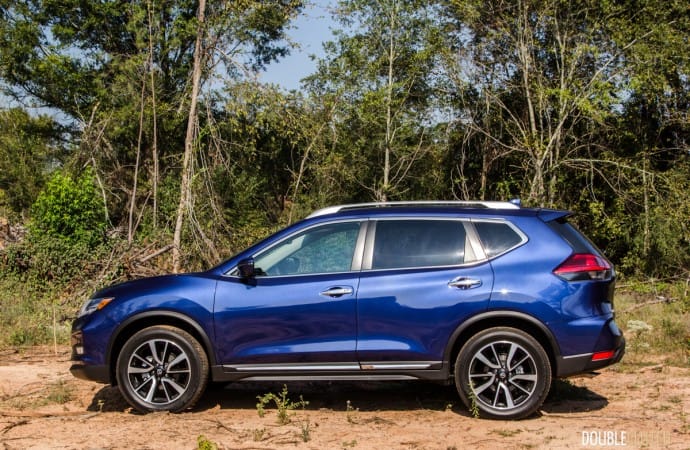 The compact SUV segment is the number one volume segment in Canada, with 408,000 crossovers sold in 2015. Growing each year, the Canadian industry has a 22% share taken exclusively by the compact crossover/SUV. As baby boomers begin to retire and the market trends more towards crossovers as a whole, this is expected to grow even more. The Nissan Rogue currently sits at an 8.99% share of the Canadian compact CUV market, being outsold by only the CR-V, the Escape, and the RAV4. Targeted towards small families as well as empty nesters with an active lifestyle, the Rogue is a very relevant entry in Nissan's Canadian lineup.
The styling of the last Rogue was conservative but almost to a point of blandness. For 2017, the fascia has been completely redesigned. There's a new grille styled using the V-Motion design, new headlights that are quad-element with LED daytime runners, and a redesigned front bumper. The side profile on our top-trim test vehicles had a sharp chrome stripe set off by new 19" alloy wheels, and out back there are new taillights that almost appear smoked, and a new bumper. It's not a huge departure from the outgoing model, but it's just enough to attract some new buyers and retain existing ones whose leases are coming to an end.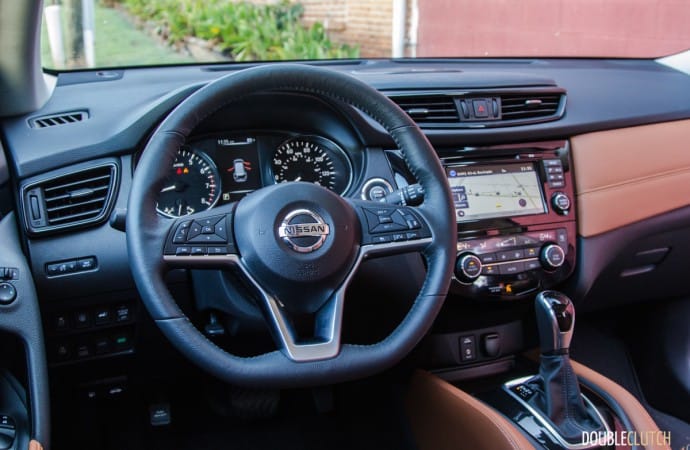 Inside, the Rogue has received exactly what it needs – the old car had way too many plastics and wasn't exactly the most pleasant place to spend a lot of time. New features include a heated steering wheel (with a flat bottom!), a fully updated center console, a new shift knob with a leather boot, new cloth materials on lower trim levels, and quilted leather options on the higher trims. There's also a first-ever "Platinum Reserve" interior package, which, like the Titan XD (reviewed here), is the highest available trim.
Safety features are all on board, including a rear-view camera, rear-cross traffic alert, and electronic stability control. Higher trim packages now get adaptive cruise control, emergency braking with pedestrian detection, radar-based blind spot warning and rear cross-traffic alert. With competitors like Subaru now offering full driver assist technology (like EyeSight), the new tech in the Rogue is going to go a long way in keeping buyers loyal. Technology like the motion-activated liftgate is also now available on Rogue, along with remote engine start.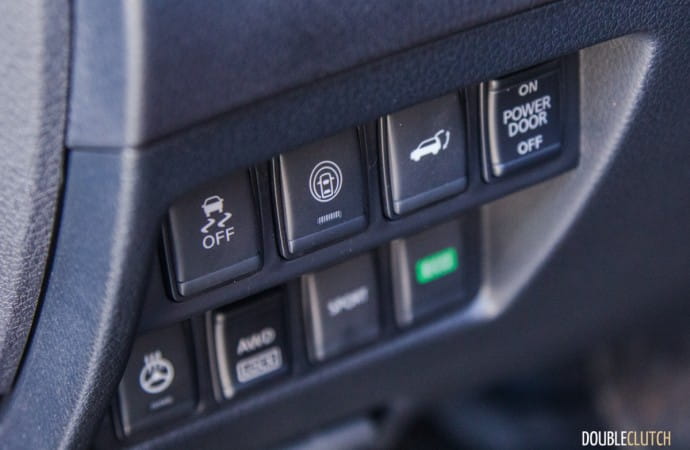 Canadian Rogues maintain the 2.5L inline four-cylinder, which is the same QR-series motor in the Altima (reviewed here). Unsurprisingly, no manual transmission is available, though Nissan's Xtronic CVT has become more and more refined over the years. The Rogue pushes 175 horsepower and 170 lb-ft of torque, which is right where it should be with rivals like the CX-5 (reviewed here) and the Honda CR-V. Power delivery is linear, though the Rogue isn't exactly peppy. A little bit more horsepower or a turbocharged engine (even the 1.6L in the Juke) would go along way – the Kia Sportage is a prime example of this.
Of course, there is more than one powertrain option, and going in this direction might be the smarter move for Nissan right now. 2017 marks the introduction of the Rogue Hybrid, available in both SV and SL trims. It's hustled along by a 2.0L naturally aspirated four-cylinder good for 141 horsepower and 144 lb-ft, not the supercharged one in the Infiniti QX60. Hooked up to a 40 horsepower electric motor, the combined output is 176 horsepower. Unfortunately though, the Rogue Hybrid will not be available in Canada, at least for now. The Toyota RAV4 (reviewed here) needn't worry at this point.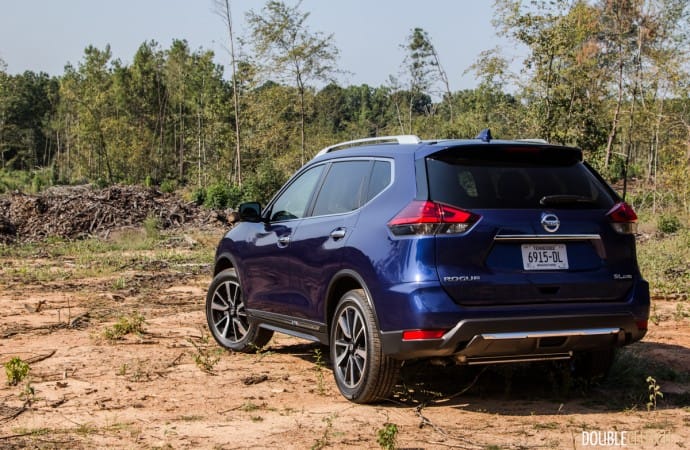 A class exclusive on the Rogue is the third row option, which carries forward to the 2017 model. It's a 50/50 split seat with a very usable 9.4 cubic feet of cargo space behind the third row. This is very important, because none of the Rogue's rivals offer this – the RAV4 in the late 2000s offered a third row, but that option has since vanished. In the cargo area is Nissan's Divide 'N Hide two-tier cargo organizer. It has up to 18 different combinations for configuration and is easy enough to be operated with one hand.
Canadian pricing starts with the base Rogue S , and goes through the mid-level SV (intended to be a volume model) and the top-level SL Platinum. There are a series of packages available on SV and SL models that add technology, third-row options, and additional premium features. The base S is priced aggressively already, while equipped with a series of standard features including heated seats, LED taillights, and Bluetooth connectivity. S and SV models are either front-wheel-drive or all-wheel-drive, while SL Platinum models are AWD only.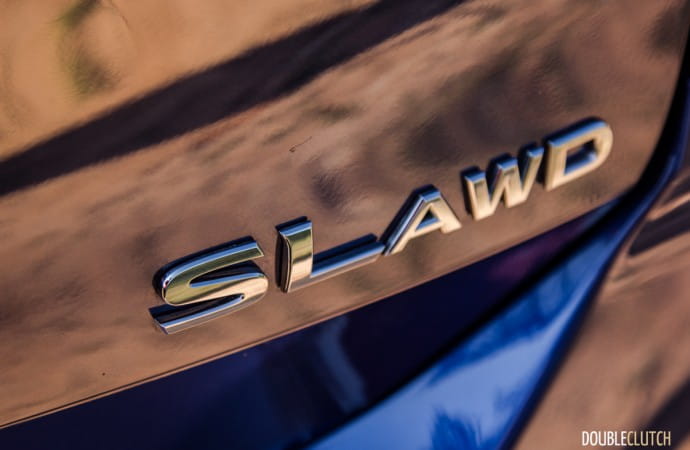 Fuel economy – no powertrain changes, but car is heavier slightly so that… Reuglar grade fuel and Xtronic CVT
The past year has seen updates on almost every competitor, such as the Ford Escape and Kia Sportage. The updated 2017 Nissan Rogue is a smart choice that has the necessary features and upscale interior appointments to make itself relevant again. Plus, the option of a hybrid model in some markets gives the Rogue a notable advantage, considering the only other player in this segment is the RAV4, new for 2016. Already a popular choice furthered by strong fleet sales, the new Rogue is sure to engage a new generation of first-time crossover buyers – those with a fresh list of priorities.
First Drive: 2017 Nissan Rogue Gallery
See Also:
2017 Kia Sportage SX Turbo AWD