As more examples begin to hit our streets, the Bolt is going to redefine commuting.
PALO ALTO, CALIFORNIA – Tesla has now collected more than 500,000 deposits for their "forthcoming" Model 3, which has been promised to enter production by late 2017. Now, at the time of this writing, that timeline is only a few months away, and we have yet to see what the production version will look like. Meanwhile, announced around the same time as the potentially fictional Tesla is something a bit more special; something from a brand with decades of proven reliability and success. We were invited to the Bay Area to drive the 2017 Chevrolet Bolt EV, the latest in green technology from General Motors, and evaluate just where it fits into the green car market in Canada.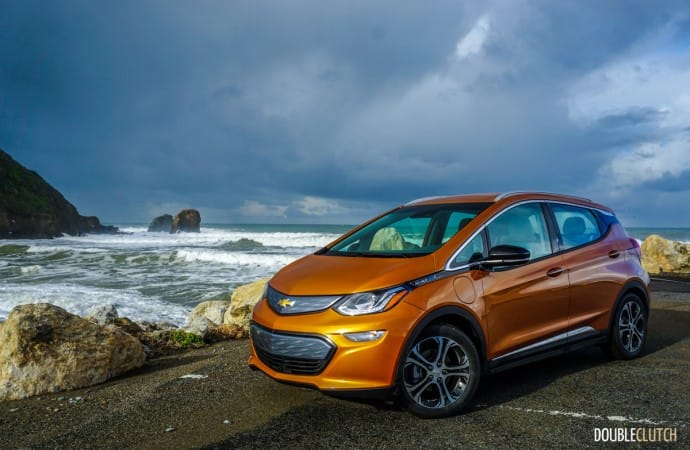 Unveiled at the 2016 North American International Auto Show in Detroit in near-production form, the Bolt has all but arrived in Canadian dealerships, exactly as promised. When it was first announced, GM estimated a starting price in the vicinity of $30,000 US, and a battery range of 200 miles. Green vehicle incentives for green vehicles are also in play in Canada, including a $14,000 rebate in Ontario which brings the $44,495 starting price for the LT model down to a palatable $30,406. The top-trim Premier starts at $49,495 before rebates, and also qualifies for the same provincial rebates. Quebec buyers can count on $8,000 including taxes, and British Columbians will receive $5,000.
Chevrolet's new Bolt doesn't scream "I'm saving the environment" like other EVs, namely the Nissan Leaf. Even traditional hybrids like the the new Toyota Prius (reviewed here) and the upcoming Hyundai IONIQ are designed to make a statement – the Bolt is not. Its styling optimizes aerodynamics while ensuring space efficiency on the interior. It's a five-door wagon that can best be described as a larger Spark (reviewed here) with trendier design cues, sharp LED taillights with a stunning design, and modern wheel styles. A B-segment car on a fully proprietary platform, the Bolt has been designed in GM's Korea studio.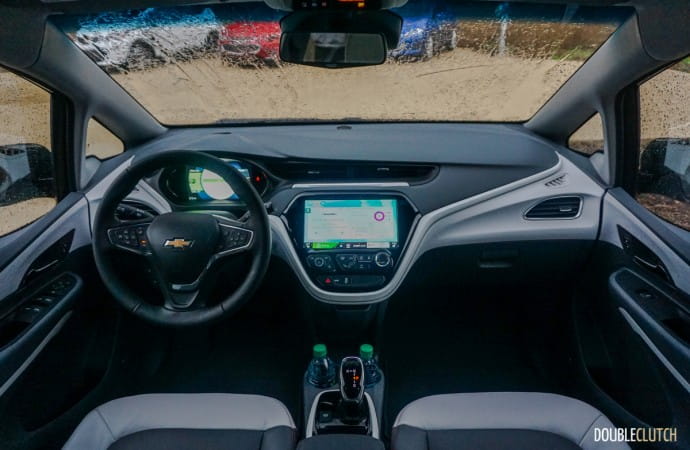 The interior layout is nice too, with a large 10.2" touchscreen representing a unique version of the MyLink infotainment system. A 8″ configurable instrument cluster sits directly ahead of the driver, with crystal clear graphics prominent even in direct sunlight. Visibility out of the Bolt is very good, thanks to large windows and minimal blind spots. The low beltline and attention to ergonomics ensures that the car has a greenhouse-like feel and this does its part to minimize fatigue and claustrophobia. Bolt's cabin is based on maximizing interior room, with ample legroom front and rear. The taller nature of the car means there's segment-leading headroom as well, and the floor is flat. The rear seats fold down to reveal 56.6 cubic feet of very usable cargo space.
The Bolt's electric motor produces 150kW (200 horsepower) and 360Nm (266 lb-ft) of torque. Seeing as this is an electric vehicle, all of this torque is available immediately and instantly, giving it the urgency that city drivers want. It's capable of hitting 100km/h in well under seven seconds, which isn't slow by any standards. We noted power delivery to be more than adequate for both city and highway use. Those craving gobs of highway passing power are looking in the wrong place, but the Bolt will satisfy the needs of most.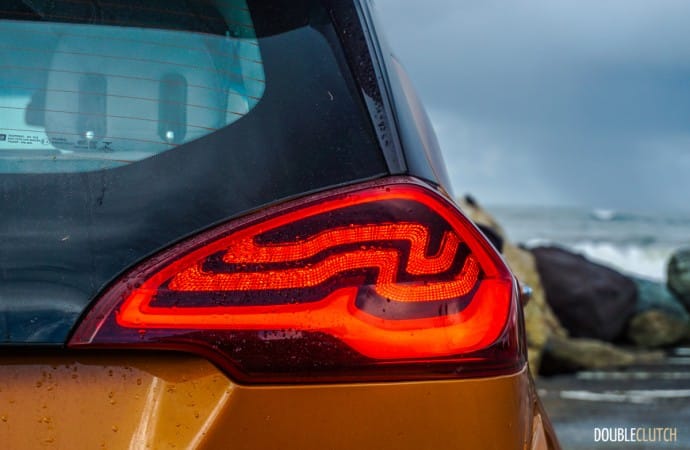 Like some other EVs we have sampled, the regenerative braking feature on the Bolt allows you to theoretically drive it with one pedal (the accelerator). This system is called Regen-on-demand, and can be engaged by pulling a paddle on the left side of the steering wheel. With the shifter in the "Low" setting, Regen-on-demand is particularly aggressive, almost too much for everyday use. The brakes themselves have a bit of an on/off feel, which is typical for this segment. When coming to an emergency stop, the weight of the car is all but forgotten as the system brings the Bolt to a halt in a deceptively quick manner.
Official ratings for the 60-kWh battery are 255 miles in urban use, and approximately 217 miles of strictly highway use. The neat thing we found with the Bolt is that the range estimate is actually realistic, just like we experienced with our last road test of the new Volt (reviewed here). The "average" estimate of 238 miles equates to 383 kilometers for us Canadians, which obliterates anything else in the EV market currently for sale in this price range. From our experience with EVs, the fuel range will suffer slightly in colder weather, but it shouldn't be more than 10-15%.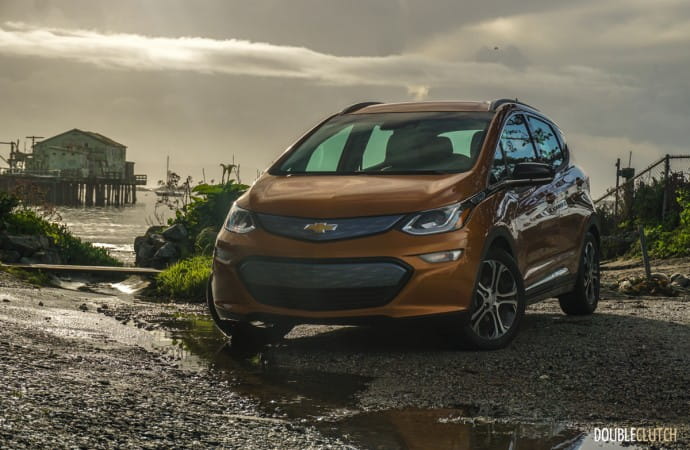 The Bolt is equipped with a 7.2 kilowatt charger on-board the vehicle. Using a 240V charging unit, Chevrolet estimates a charging speed of 40km of range gained per hour charged. A DC Fast Charging system is standard fare on Canadian models, which uses the SAE combination connector and can charge the car to 80% of its capacity in just one hour. Buyers should arrange for 240V power to be routed to their garage or parking area, as conventional outlets will simply not charge the car quickly enough (6.4km of range per hour).
Safety on board the new Bolt includes ten airbags and a rear-view camera on all trim levels. The body structure is also made of high-strength steel that is lightweight to optimize efficiency without compromising anything in the safety department. Almost a requirement for a current production vehicle is the suite of active safety aids, which include Forward Collision Alert with Pedestrian Alert, Side Blind Zone Alert, Rear Cross Traffic Alert, and a few other gizmos. We didn't get a chance to try any of these features out in the flesh, but we've sampled them on other current Chevrolet products and they function well. On board technology also includes a 4G-LTE hotspot and compatibility with Apple CarPlay and Android Auto, all standard across the GM lineup for this model year.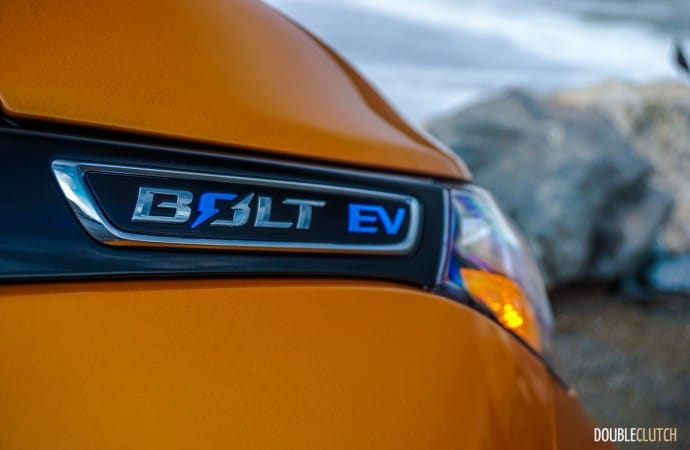 The 2017 Chevrolet Bolt EV just won the honour of North American Car of the Year, along with Motor Trend's Car of the Year, not to mention a spot on Car & Driver's 10Best list. As more examples begin to hit our streets, this car is going to redefine commuting for those who fit the lifestyle. With fantastic use of energy, actual day-to-day practicality, and usable interior space, the Bolt is changing the commuting game in a serious manner. The 8-year/160,000km warranty doesn't hurt things either, with a guarantee that the battery will hold 65% of its original capacity at the end of this warranty. Canadian models are hitting showroom floors by the time you're reading this, while the Tesla Model 3 is nowhere in sight.
First Drive: 2017 Chevrolet Bolt EV Gallery
See Also: