Move over Disney, Ferrari coming through well in Spain they are, with a second theme park.
As a child, Disney World in Florida was always on a child's list of places to go, but if kids love cars, why not go to Ferrari World – or soon, Ferrari Land instead. The automaker is set to build another theme park so the number of locations will expand to two. Ferrari, which is partnered with PortAventura Entertainment have put together a deal to build another park named Ferrari Land. The new park will be located near Barcelona, Spain, whereas the first park – which is named Ferrari World, is located in Abu Dhabi.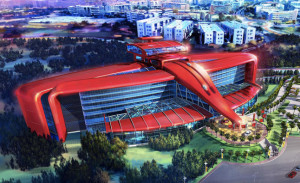 Ferrari Land will have a driving simulator, and will include a record-setting roller coaster that will be the fastest and highest in Europe. The park will span across 807,000 square feet and will also be connected to a Ferrari-themed resort with 250 rooms. The project is estimated to cost about 100 million euros and Ferrari Land is set to open in 2016. The pre-existing PortAventura already sees approximately four million visitors every year, 50 per cent of which are from outside of Spain.
Source: Autoguide