No one wants to spend money they don't have to, but rustproofing can make your car look better.
In this day and age, cars are virtually a necessity. Almost all of us own at least one vehicle with many households often owning two or more. Although most car manufacturers are constantly improving the materials and process used to manufacture their products, rust and metal corrosion is still a major issue especially on our salt-covered roads during the winter here in Canada.

Described by some as the "rust belt" the strip across southern Canada and the Northern United States is one of the most corrosive automotive rust inducing environments in the world. Each winter, we're reminded of the extreme temperatures that are possible in this part of the world. In addition, the abundance of de-icing chemicals and salt used on our roads is a recipe premature rust, especially when combined with the high humidity we experience in warmer months.
Rust proofing is most recommended for those living in Central and Eastern Canada. In Western Canada salt is still used, but not as widely on most the highways (as it becomes less effective in extreme cold). It is also not used in the much warmer climate of British Columbia.
Krown Rust Control sprays about 250,000 cars a year in Canada, so we caught up with rust-fighting expert Craig Shuttleworth of Krown to find out the truth on rust proofing in Canada. Does it really work? Is it worth the money? Let's find out what rust proofing method is right for you…
Chemicals like Magnesium chloride and calcium chloride are extremely effective at keeping our roads safe but unfortunately are far more likely to cause rust on your vehicle than the typical road-salt of yesteryear.
Your vehicle may look great now, or even next year but if left unprotected virtually every vehicle or piece of equipment will eventually rust. Taking steps now to protect against corrosion is not just proper vehicle maintenance but will also give you peace of mind knowing that you have done all you can to protect your investment. Corrosion of vehicles shortens their lifecycle, can cause the failure of various mechanical and electrical parts and can even compromise the vehicle's safety. Proper maintenance of a vehicle including the use of a rust protection product brings numerous benefits listed below:
A Better-Looking Vehicle – Although "beauty is in the eye of the beholder" no one would argue that a clean, rust free vehicle isn't more attractive than one that is rusty. Pride of owning something that still looks good years down the road may be subjective but is still one of the benefits of rust protection.
Higher Resale Value – Vehicles that are free of rust will sell quicker and for more money at both the retail and wholesale level.
Last Longer – Cars are expensive and many of us would like them to last longer. Vehicles that don't rust, last longer both mechanically and from a body panel standpoint. It's estimated every additional year you can keep a vehicle on the road you could save as much as $3,000 to $4,000.
Reduced Repair Costs – Vehicles that are properly protected against corrosion will generally have fewer maintenance issues. Annual "active" rust control products keep moving parts like brake cables and lock mechanisms lubricated resulting in less seize-ups and quicker repair time if components do need to be replaced. In addition many of the costly repairs on computer chips and electronic components are actually caused by corrosion of these electrical parts. A properly formulated rust inhibitor can also prevent corrosion of these sensitive areas, drastically reducing these repairs as well.
Safer Vehicle – A rusty vehicle will eventually have its structural integrity compromised. Rusty vehicles do not fare as well in collisions as the corroded parts often cause the panels to collapse in ways the manufacturer had not intended. From a general "frame strength" standpoint, a rust-free frame is stronger than a corroded one.
Environmental Impact – Each year millions of vehicles are sent to the "scrap yard" or recycled as they come to the end of their life. By protecting a vehicle from corrosion, more of the vehicle's metal and components can be recycled and reused, reducing the amount of waste that is created. In addition by lengthening the lifecycle of vehicles in general, reducing corrosion can prevent millions of vehicles from retiring prematurely. One more car on the road instead of in the "scrap yard" benefits the earth and we are talking about millions of vehicles that could be on the road for even 2 or 3 additional years before they need to be recycled. The positive environmental impact to this is staggering.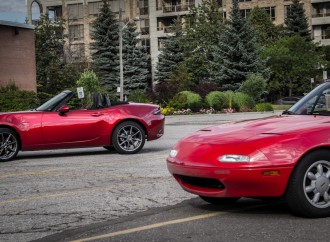 As with any automotive product or service, you should always shop around before you buy. So beware of any 'rustproofing' deals that seem too good to be true or overpriced rust inhibitor services and third party corrosion warranties (always read the fine print) offered by some car dealerships when you buy a new or used vehicle. The average cost to have a car oil sprayed is $120 for a car and $140 for a van or SUV.
Your best bet is to look up respected and experienced rust control service in your area and search online for any customer reviews or feedback. Make sure to call around or visit a few websites to price out what basic rust proofing should cost and what's included in as part of the service.
There are several different approaches to rust proofing, but some methods work better than others. The Canadian Automobile Association (CAA) recommends the oil spray method if you want to try and keep your car in pristine shape.
OIL SPRAY: The oil spray is applied to a vehicles underside as well as inside doors and fenders. It has a creeping agent which allows it to seep into seams and other hard-to-reach areas. Many car owners are concerned about the oil spray process because holes are drilled into a vehicle's fenders, doors and other areas, but according to CAA, it's the best way to get the creeping spray into all of a vehicle's nooks and crannies.
TAR BASED SPRAY: You can also have a tar based product applied to the undersize of your vehicle. This is often offered when a car is new and is done at the dealership, as it works best when applied to a new car before it hits the road. The tar based spray applied to the underside of a vehicle does offer protection and can also make a car's ride quieter. However, overtime water can get in behind the tar based product and corrosion can still take place.
ELECTRONIC RUST CONTROL: There are also electronic rust control devices which some car dealers and automotive supply stores sell, but these often overpriced electronic devices offer limited protection and are not recommended.
No one wants to spend money they don't have to, but rustproofing can make your car look better over time, help keep your repairs down and could help with resale.
Feature: The Truth about Rustproofing
*News Credit & Photos by Craig Shuttleworth / Krown Canada*