The action is quick, intense, and the music produced by those six-cylinder Porsche racecars is wonderful.
Motorsport, in its many forms, is often considered a big achievement for enthusiasts. The great thing about it is that there are so many different avenues one could consider, from autoslalom, to time attack, to full-on road racing. All of them come with their own pros and cons, though the biggest real differentiator may be the costs associated with each. There are so many variables when it comes to serious door-to-door road racing; what does a spectator or driver look for when choosing an action-packed series to chase?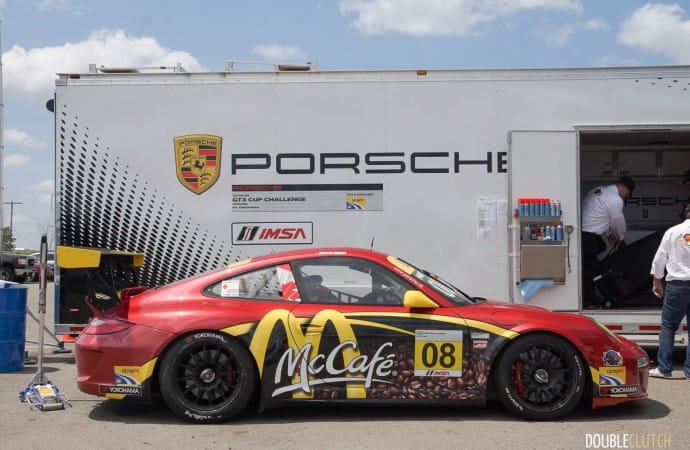 Spec-series racing has got to be one of my favourites, mostly because it attempts to reduce some of the variances often seen in the field. Put simply: spec-series (also known as one-make racing) requires all entrants to be in identical (or very similar) cars, with strict regulations on what teams can change or adjust. This typically means all drivers must use the same chassis, tire, and engine specification. By making all the cars more or less the same, the emphasis on driver skill becomes much more apparent. It's a good recipe for great action on the track.
Porsche has been deeply involved in spec-series racing for quite a long time, since the mid-'80s. For 2016, Porsche Cars Canada invited me to spectate the Ultra 94 Porsche GT3 Cup Challenge Canada by Yokohama, taking place at the storied Canadian Tire Motorsport Park (still informally known as Mosport). This two-race event is a part of the Victoria Day SpeedFest Weekend that also sees various touring car and Canadian Stock Car racing happening throughout the three-day long weekend.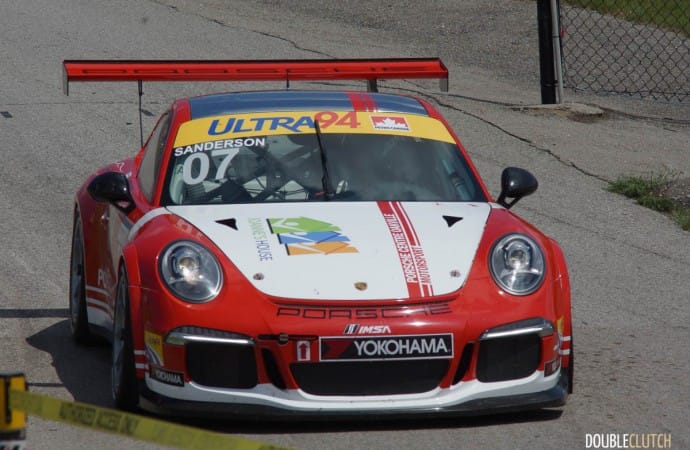 The series revolves around the Porsche 911 GT3 Cup, but is actually broken up into three classes: Platinum, Gold, and Silver. The flagship Platinum class is the fastest, consisting of the current-generation "991" GT3 Cup, produced from 2014 onwards. The Gold class steps it down very slightly by specifying a "997" GT3 cup, produced from 2010 to 2013. The Silver class actually changes things up by specifying a new 2016 Cayman GT4 Clubsport. While there are subtle speed differences between all three classes, all three classes race together all at the same time, making traffic management a very crucial aspect that can make or break your race.
Fifteen cars were entered into two 45-minute races, with one on Saturday, and one on Sunday. Qualifying saw Scott Hargrove (#28, Platinum) take pole position, but ultimately losing out to Daniel Morad (#17, Platinum) by only 0.308s. Sunday's race was more interesting, with first-lap contact between both front-runners from Saturday's race. This contact allowed third-place (and rookie!) Zacharie Robichon (#78, Platinum) a chance to squeeze through the carnage unfolding in front of him and open up a commanding lead of over 20 seconds. In the Gold class, Saturday's race saw Shaun McKaigue (#34) took the win over Bruno Chapinotti, with a gap of just half a second. These results would be swapped on Sunday, but with a larger four-second gap in between P1 and P2. The Silver class was clinched by Andrew Danyliw (#38), taking both races in his Cayman GT4 Clubsport.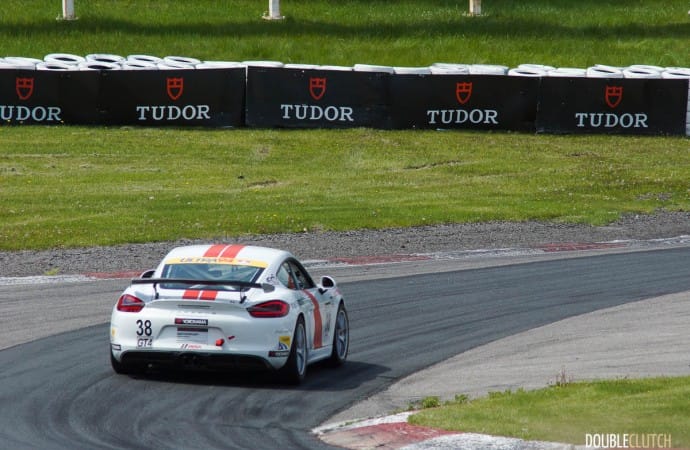 The takeaway after watching these two races is that the action is quick, intense, and the music produced by those six-cylinder Porsche racecars is wonderful. The 45-minute race format ensures you'll be paying attention for the entire duration, with none of the typical processional (read: little to no passing) races you often see in F1 these days. Hanging out between turns 5 and 6 (Moss Corner) is excellent not only for all the passing opportunities, but sitting on the grass really allows you to see the massive elevation change as all the cars come down, then back up the hill after turn 4. Turn 6 is especially important to get right, because the long Mario Andretti Straightaway sees the cars hitting very high speeds. One small mistake could mean several lost positions. Canadian Tire Motorsport Park is a road course full of that "old-school" character, and is a delight for drivers and spectators alike.
As serious as the racing is on the track, the paddock off the track is where a lot of the real magic happens. A quick stroll around shows how surprisingly relaxed the atmosphere is. The (mostly) open-door policy is welcome to see, and I was able to get very close and personal with some of the cars. Used tires and fuel containers lay neatly on the ground, steps away from a folding table lined with sandwiches and bottles of water. I was directed to check out the brake calipers on the Cayman GT4 Clubsport, and found myself looking at a temperature-sensitive sticker, allowing crews to quickly collect data. When you're racing in 2016, data is everything. After the race, drivers sit down with their engineers to pour over, analyze, and crunch all sorts of telemetry in an effort to find more time. Any possible advantage is worth exploring, in this case.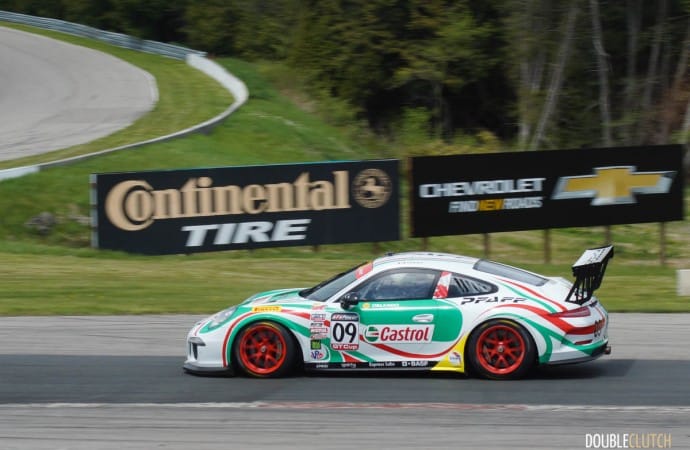 The Victoria Day SpeedFest Weekend at Canadian Tire Motorsport Park is a great way to spend a long weekend. There's literally something for everybody, whether it's sport compact racing, stock car racing (think NASCAR), and touring car racing (think Nissan GT-Rs and McLaren 12C). Even if you're not looking to keep your eyes glued to the track, the venue offers so much to do. Taking a quick look around, many opted to lay claim to some land and camp for the weekend. Tough racing, the sounds, and the smells (BBQs everywhere!), all come together to make for a memorable experience that's worth the farmer's tan.
Ultra 94 GT3 Cup Challenge Canada Gallery
See Also: