The skills I learned have already become helpful, and made me a more confident rider.
As a kid, growing up in the country, I always wanted to ride dirt bikes. In a small town a lot of other kids had them, but being in town, and having an overprotective mother, I was neither allowed to have one, nor could I justify it to her as my "method of transportation". Suffice to say, I had to get by with my mountain bike and some nearby trails "until you're old enough to buy your own dirt bike".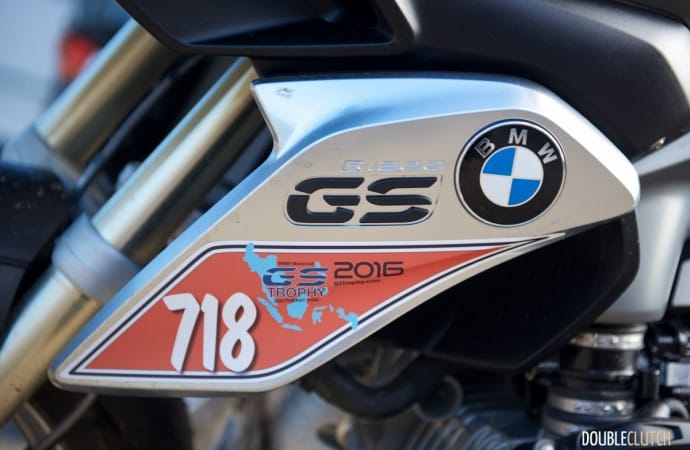 As you might imagine, by the time I was old enough to work a job that paid enough for me to actually afford a dirt bike (and all the necessary gear that comes with it), I bought a road-going motorcycle instead –those had a seat for girls on the back. While I could never shake my desire for off-road riding, as the pavement kilometers racked up, the thought of riding on gravel, dirt, and sand became significantly more worrisome – loss of traction really isn't ideal on pavement.
So, when I was given the chance to participate in the S.M.A.R.T. BMW GS Performance Program at Horseshoe Valley, I had my reservations. Reflecting on it, I think that this is a problem which can plague many road riders who are looking to step into enduro/adventure riding – moving from the road to dirt is intimidating. It is a scary thing, and I'd like to think that there isn't too much shame in being afraid of dropping your (or in my case, BMW's) brand new GS because you don't know what you're doing when traction disappears. Thankfully, with the right instruction (and some excellent build-quality on the bikes), my fears were almost entirely unfounded… until I tried my hand at some trials riding, but more on that later.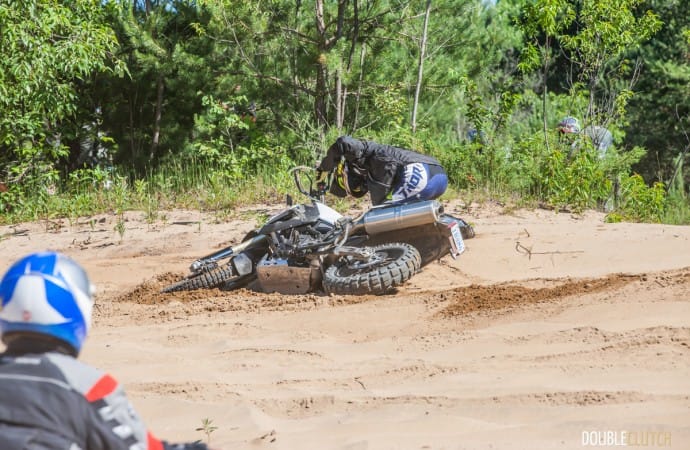 The GS program offered at S.M.A.R.T. by head instructor, Clinton Smout, is geared perfectly to riders who are either transitioning from road riding to dirt for the first time, or those who have just bought their first GS and are a little nervous about dropping it. Rental bikes are available for a very reasonable fee, which is great if you haven't invested in some nubby tires for your GS yet, or don't want to get it dirty, or you simply don't have one… yet.
The GS course isn't your only option either, there's lots for the less experienced riders, or new riders, or children 6 and up – dirt bikes, trials bikes, ATV's. But, if you want to test your limits a bit, and improve your pavement riding skills to boot, go for the GS program. If you're worried about equipment – they have it all, so I didn't even get a speck of dirt on my new gloves.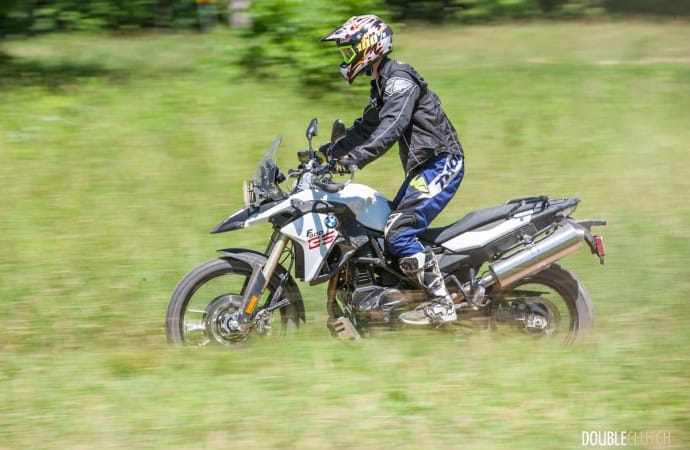 The first half of day one consisted of the basics; getting everybody comfortable riding on a surface other than pavement, clutch control techniques, and off-road riding positions. The hardest part of this was breaking my road-habits – everything off-road seems backwards to what we practice on pavement; you lean away from your turns, turn ABS off, and riding slowly is encouraged. Clinton and his staff make a point of giving each rider patient individual attention and feedback when it comes to each lesson, which especially makes a big difference when learning the ropes.
As the day progressed and our skills developed we set out on a ride through a few of the many trails surrounding Horseshoe Valley, which is when things started to get challenging. We rolled through a few twisty forest trails, gravel paths, and eventually found ourselves riding through a clearing, just as the skies opened up on us. Perfect timing, since Clinton was just about to start his lesson on hill climbing. After plowing through a few puddles we found ourselves back in the forest, staring down a steep, muddy, rocky, root-y, hill. At the bottom of it? A short flat patch and then up another steep, muddy, rocky, root-y, hill.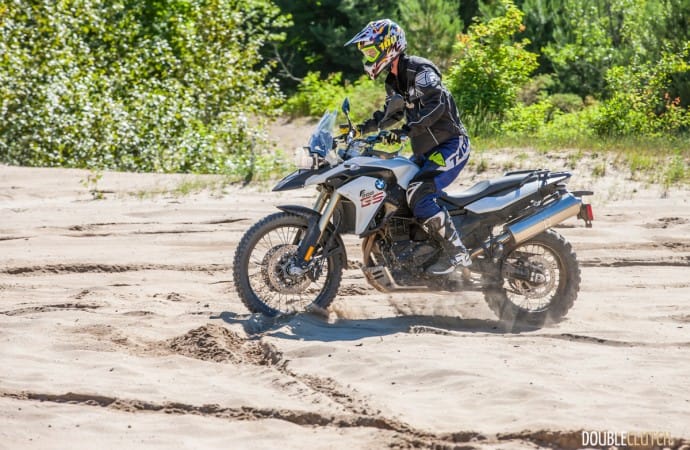 This was our first major obstacle of the day, and like any other major obstacles we would later encounter, the group stopped to get a rundown of how to handle it, a demonstration of what to do, and a demonstration of what not to do (those were always my favorite demonstrations). After that, Clinton posted himself just at the bottom of the first hill, and began coaxing us down one at a time, providing coaching and feedback during our descent. When I hit the flat patch, I could hear him yelling "Light it up!!!!" – getting stuck halfway up a muddy hill would be quite shit – so I did, and after a screaming, sliding, fishtailing ascent, I found myself at the top of the hill and intact.
After another hour or so of trail riding we were all exhausted, soaked, and covered in mud. So we rode back to horseshoe, where our hosts from BMW had arranged for an off-road Segway tour for us. I won't tell you too much about the Segway tour aside from how fun they can be once you get over looking like a mall cop. But I will tell you about the fact that after day one, you aren't going to feel like riding an hour and a half back to the city, which makes the convenience of staying at Horsehoe pretty attractive. After day 2, it's highly unlikely you'll have the energy to ride home.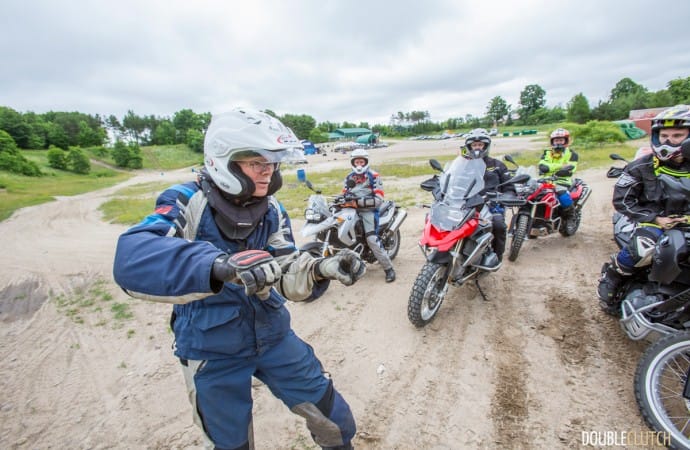 Speaking of, day 2 consists of some much more advanced riding, starting off with my nemesis: sand. To summarize the sand: it put me in check, I fell a lot, and it beat the shit out of me. It's completely unpredictable and turning is something you just sort of hope for, forget picking your line. Thankfully with all the falls our instructors were at the ready, heading our way on an ATV and on a trophy GS (which seems to conquer everything in its way… when I'm riding it) to pick us back up. After I'm sufficiently defeated, we break for lunch.
With full stomachs we head back to the training grounds to try some trials bikes. I won't go into too much detail on these bikes other than that they're a great challenge and that when you throw the clutch on them you can probably backflip in place – I almost did something similar when traversing an obstacle made of a few wooden skids and a storm drain pipe. They were a ton of fun and spending just a couple hours on them has helped my low-speed skills improve drastically. They felt like mountain bikes with engines, which is the stuff my childhood wet dreams were sometimes made of.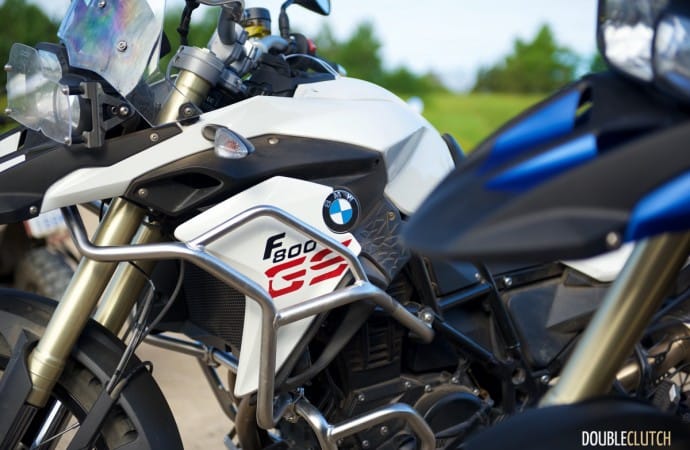 Two days, 5 different bikes, and plenty of kilometers later it is time to stuff myself into my car and make the trip back home. I was sore in places ex-lovers didn't know I had, donned an odor resembling the lovechild of a gym bag and expired cheese, but I felt a sense of satisfaction and achievement for just having survived. The skills I learned have already become helpful on the road, and made me a much more confident rider. No longer do I feel panic when a pack of road-snakes appears in a corner, no longer must I change my pants after riding through unavoidable gravel, and no longer am I able to say "I've yet to drop a motorcycle". So, to Clinton, S.M.A.R.T Rider Training, and BMW – thanks for that.
More details on the program, including schedules and pricing can be found here
S.M.A.R.T. BMW GS Performance Program Gallery
See Also:
Event: Honda Flat Track Experience