GM has arranged for a wide range of performance cars to be on-hand to show that you don't need to spend a fortune.
Over the, we've been fortunate enough to spend a fair amount of time at Canadian Tire Motorsports Park (CTMP), a track with a very rich racing history dating back to 1960s Formula One. The main 3.96km road course is regarded as one of the fastest in the world with quick sweeping corners and aggressive elevation changes. It is a world-class track, supported by equally impressive facilities and currently serves host to the International Motor Sports Association (IMSA) championship series, NASCAR Truck Series and a slew of other local and private events. In fact, during the driving season it's nearly impossible to pick a day where there isn't something exciting going on at CTMP.
As of this year, the track also plays host to the Ron Fellows Driving Experience. Ron is a famed racing driver with multiple sports car racing championships to his name, including wins at the 24 hours of Le Mans, and even a few wins in various NASCAR series. In 2008, he established the Ron Fellows Performance Driving School at Spring Mountain in Nevada, and quickly earned a place as the official performance driving school of Corvette, training over 5500 new Corvette owners each year on how to get the most out of their Corvette. With his connection to CTMP and GM Canada, Ron has now built a similar program centered around GM's performance lineup, and we were fortunate enough to be invited to experience the program.
Typically setup for corporate groups, the team at Ron Fellows Driving Experience took a select group of media members through the full five hour evening program with the Chevy performance fleet of Camaros and Corvette Z06s. Upon arrival participants are greeted and fitted with the latest safety equipment that is kept in impeccable condition. From there, there is a quick half hour presentation focused on track safety, driving instruction and finally some information on the cars that will be used.
The team worked quickly and efficiently to get everyone into pit lane and assigned to their cars for the first round of track time. Boasting a full two and half hours of dedicated track time, the Ron Fellows Experience really allows participants to begin to learn the track and cars, at a relaxed and comfortable pace. Track sessions are led by professional drivers in the Camaro SS 1LE (reviewed here). While being led by the pace car, participants receive instruction via two-way radios in the cars on turning, braking, acceleration and racing line. That type of feedback can be invaluable to honing ones skills, and is definitely one of the highlights of the total experience. Those who are able to keep up with the pace drivers will find themselves lapping at an increasingly quicker pace, while still remaining well within the limits of the cars.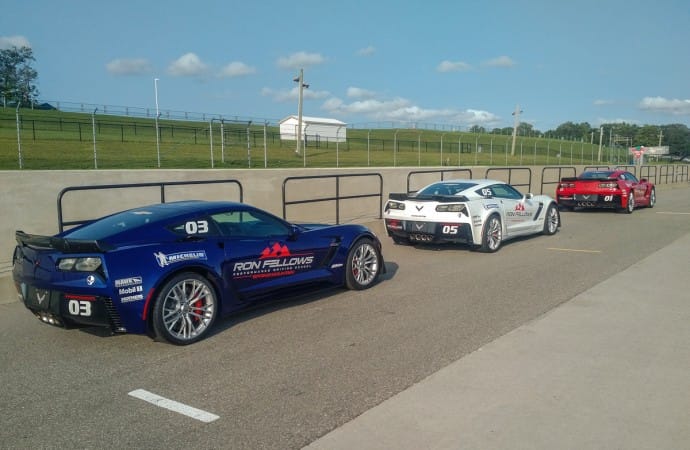 While being led by a pace car might not initially seem like the optimal experience for everyone, it felt a lot more controlled, safe and educational. Following the driving sessions, participants are offered a few hot laps. It's very cool to experience first-hand the speed and levels of grip that these cars deliver while going all-out at the hands of an experienced driver. If you like roller coasters, this is a similar thrill.
GM has arranged for a wide range of performance cars to be on-hand to show that you don't need to spend a fortune to own a truly track capable car. The fleet of Camaros included a fairly basic 275 horsepower 2.0L turbo four-cylinder model and a 3.6L V6 car (reviewed here), both available for well under $40,000. Next were a few Camaro SS models with the 1LE performance package, an option that takes the already aggressive 455 horsepower 6.2L V8 and upgrades the handling, braking and tires for driving dynamics that are more targeted towards track use. The fastest cars on Chevrolet's performance fleet are represented by the Corvette Z06s, all with Z07 performance packages – all boasting 650 horsepower from the 6.2L Supercharged V8.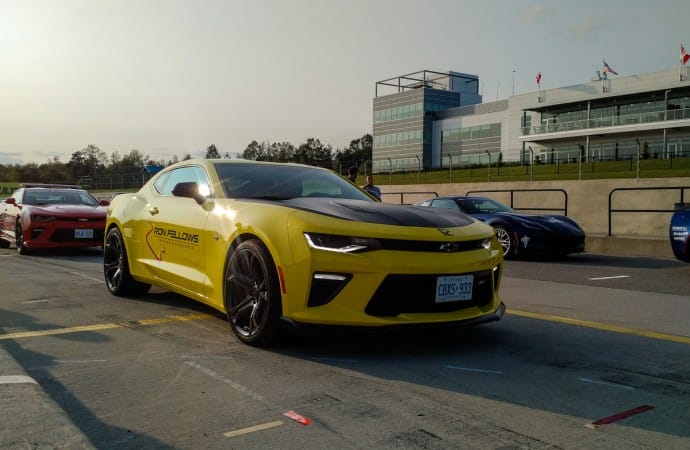 In the Camaro SS 1LE it quickly became apparent that I would be the limiting factor on the track, and certainly not the car. The 6.2L V8 hustles the big muscle car around with authority and the car remains incredibly well balanced and controlled even when being pushed hard. Graduating to the Corvette Z06 and its massive 650 horsepower and equal 650 lb-ft. of torque is a completely different experience. The Corvette accelerates like an absolute animal and what feels like just endless power and a beastly howl from the quad exhaust pipes. The carbon ceramic brakes on the Z07-equipped Corvettes are equally aggressive and capable of hauling the car down to a stop in an instant.
After a fair bit of seat time with both vehicles it's hardly a fair comparison between the $140,000 Corvette and the Camaro SS 1LE at less than half of the price. The Camaro isn't without its merits as it does feel better balanced and thus significantly easier to control on the track, whereas the Corvette does easily get light in the front end powering out of corners and even a little squirrely under hard acceleration.
The day ends with a fantastic dinner together in the large and upscale Grand Prix event centre overlooking the track, where you can review the day's event and relax with a great glass of wine from the on-site bar. There isn't enough that can be said about the professional team running the Ron Fellows Driving Experience, and the combination of a team like that, a world-class track, and the high performance machines from Chevrolet, mean that this is one corporate event option that is sure to deliver on all metrics.
See Also:
First Drive: 2016 Chevrolet Camaro