Spectating the Rally of the Tall Pines was an exhilarating experience that won't soon be forgotten.
There is little more fun than getting a car completely sideways on a deserted, unpaved backroad. When it comes to rally racing, add into the mix triple digit speeds and copious amounts of horsepower, and you have a recipe for an adrenaline rush and a chance for the ultimate bragging rights – but only if you are the winner. Every year, the Rally of the Tall Pines takes over the Town of Bancroft and pits racing teams against the terrain of the area.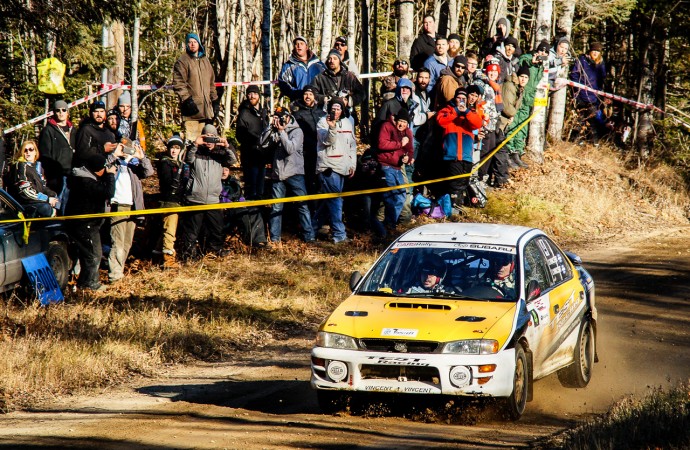 As the sixth and final event of the Canadian Rally Championship (CRC), Tall Pines is often a last chance for drivers and teams to clinch a championship. In some cases, competitors are vying for a perfect season, as the Subaru Rally Team Canada did in 2014 with driver Antoine L'Estage and co-driver Alan Ockwell. While the flawless result wasn't repeated in this year, L'Estage and Ockwell still fought their way to bring Subaru an overall championship win in the CRC.
On the weekend of the event, Subaru Canada invited DoubleClutch.ca to attend and provided a 2016 Subaru Outback 3.6R Limited to get us there. The Outback effortlessly made the three-hour trek from Toronto to Bancroft, and the two-lane highways in between made for a relaxing getaway from the city. It was a fantastic vehicle in which to spend time, thanks to its quiet cabin, torquey powertrain, and smooth ride. The EyeSight technology was a boon, providing lane departure and adaptive cruise control assistance.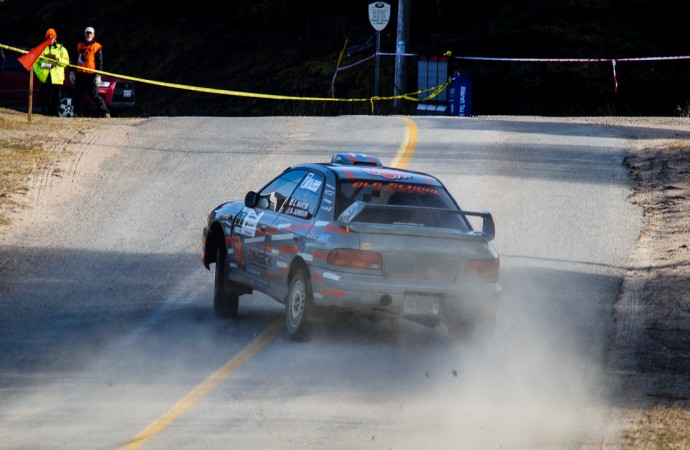 Upon arrival, the entire day was spent being around the several stages at Tall Pines. Getting an up close and personal look at each of the competitors' cars was a real treat, and taking in all the sights, sounds, and smells of a rally car reminded everyone in attendance about their passion for motorsport and all things automotive. Drivers needed to carefully thread the needle through each stage, with the narrow roads bringing many opportunities to lose focus and wind up in the ditch. The weather has always been a variable issue at Tall Pines, with temperatures hovering between freezing and well below freezing. Some years see significant amounts of snow and ice covering the course. For 2015, the racing happened on dirt interspersed with icy mud, with a very occasional excursion onto dry pavement.
There was a wide variety of vehicles entered into the Rally of the Tall Pines, and they were broken down into four classes – Production and Open classes denoted the level of modification and preparation, and both were further broken down into two-wheel drive and four-wheel drive. Subaru Canada's entry was a 2015 WRX STi, driven and co-driven by the aforementioned L'Estage and Ockwell. Unfortunately, engine problems forced their retirement early on in the day. Other entries included the likes of older Imprezas, older Volkswagen Golfs/Jettas, Ford Fiestas, a fully-prepared four-wheel drive and turbocharged Mitsubishi Mirage, and even a 1995 Plymouth Neon. Even though there was a grand total of twenty-nine entries, only approximately half managed to finish the rally without retiring due to mechanical failure or a crash.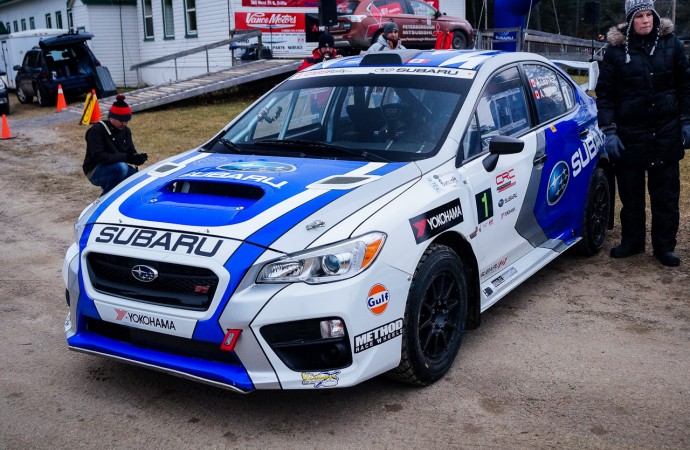 In between stage runs, racing fans were able to watch as each rally team used their allotted amount of time to make repairs and adjustments to their cars. Because each car must report to the next stage's starting line without being late (or risk incurring time penalties that will end your day), team mechanics and engineers scramble to disassemble, inspect, and reassemble various steering, suspension, and drivetrain components inside their very short time window. Any body damage related to off-course excursions or impacts must also be fixed during this time.
The overall victory for the Rally of the Tall Pines went to the father and son duo Sylvain and Simon Vincent of Terrebonne, Quebec, in their 1994 Subaru Impreza. As a veteran in the Canadian rally scene with many podium finishes, Sylvain's victory was actually his first, and he intends to retire after this season. The Impreza was seen being pushed to its limits all day, including moments where it was several feet in the air – photos of which can be found in the gallery.
Even in temperatures approaching ten degrees below freezing, watching the Rally of the Tall Pines was an exhilarating experience that won't soon be forgotten. The passion for motorsport is contagious, and it was plain to see that every single person in attendance was feeding off the energy and buzz at the scene. In addition to watching some race cars go around the course as fast as they can, the Tall Pines weekend could be seen as a giant block party the size of the Town of Bancroft, Ontario. It takes a special (in a good way) type of racing fan to stand outside in cold, rain, sleet, and/or snow to watch a single car zoom by every few minutes. On paper, this may sound slightly insane, but the thrills and comradery built up with fellow spectators has a value that cannot be measured. The rally has been an annual highlight in the DoubleClutch.ca calendar in recent years, and next year's running will be surely be just as amazing.
Event: Rally of the Tall Pines Gallery
See Also:
Event: Rally of the Tall Pines 2014