Porsche's Camp4 Canada should be on the bucket list of every single auto enthusiast in the country.
Estérel, QC – As a diehard auto enthusiast and purist, the Porsche brand stands out to me more than others. On top of making cars that excel in almost every regard, more specifically providing the ultimate in precision, athletic driving dynamics, and overall precision, Porsche's philosophy extends much further. The brand takes pride in providing owners and enthusiasts with lifestyle experiences of a lifetime, which includes events that teach skills that aren't attainable anywhere else. I was invited to Porsche's Camp4 Canada, which takes place at Mecaglisse – a stunning full-functionality motorsport complex located near Mont Tremblant.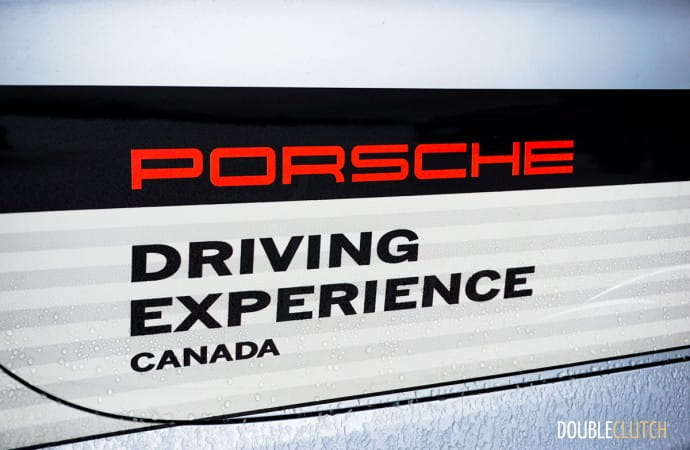 I'm almost allergic to cruise ships – they don't appeal to me in the slightest with regards to a vacation choice. This year alone, two members of the DoubleClutch.ca team are getting married, and the rest of our team has been entrusted with planning bachelor parties. While clubs and all-inclusive resorts don't appeal to any of us in the slightest, the idea of driving a series of powerful sports cars in a winter setting is something that tugs at all of my heartstrings. Okay, maybe it's just me, but it's still my idea of a dream trip.
Located right in the Laurentian mountain range, the Mecaglisse complex is surrounded by forest and boasts just over 15 kilometers of racetrack. The track itself has two full circuits, two skidpads, dedicated handling courses, and is the perfect environment to test out Porsche's lineup of segment-leading cars in snowy, winter conditions. On our trip were the rear-wheel-drive 2016 Porsche 911 Carrera GTS, the rear-wheel-drive 2016 Porsche Cayman GTS, and the all-wheel-drive 911 Carrera 4 GTS. Each car was equipped with Nokian's best studded winter tires. This selection ensured that drivers get ample seat time with vehicles with varying drive wheels and varying dynamics, though all boasting Porsche's impeccable steering, engine mapping and needle-threading precision.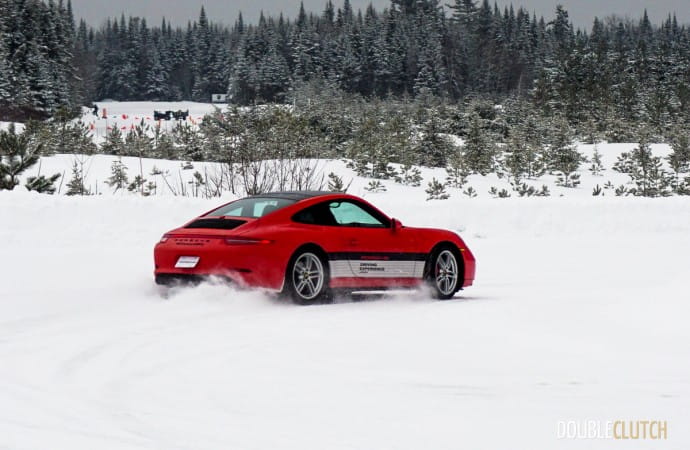 All instruction was provided by Porsche's hand picked team of instructors, each with their own skillset and extensive experience both in performance driving as well as instruction. They started out with some in-class briefing, which included simple concepts such as seat position, hand placement on the steering wheel, and how the laws of physics affect the behaviour of your Porsche, especially in winter conditions. Things then moved out to the track, where we were shown the proper methodologies behind spirited winter driving, including slalom, oversteer and understeer, and best of all – finding and maintaining the correct racing line.
Despite the legend Ferdinand Porsche having been gone since 1951, his spirit lives on in these cars. The Porsche Doppelkupplung (PDK) transmission is the most advanced dual-clutch transmission in the industry, and doesn't even compare to Audi's S-Tronic or Volkswagen's DSG systems. The 911 Carrera is a dream car of mine, and I hope to someday pick up a pristine air-cooled classic example. Even the modern one though, is something delightful. The GTS' steering is telepathic, seemingly making maneuvers before my brain could even send the signals to my hands and feet.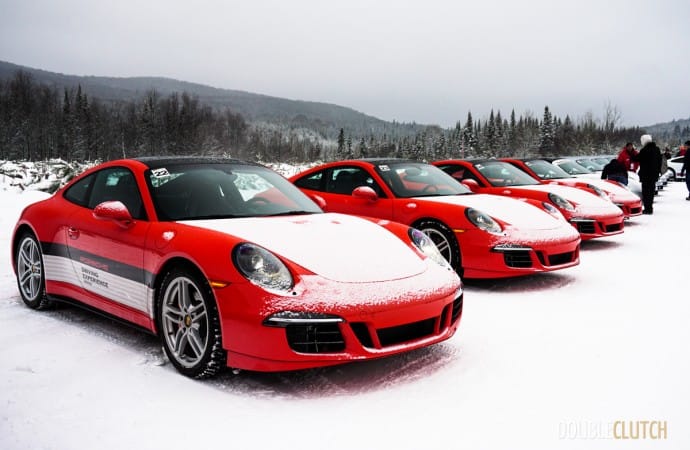 Induced oversteer is one of the most satisfying parts of winter driving on a closed course. Both 911s as well as the Cayman were remarkably controllable when employing the valuable skills taught to us by the Camp4 instructors. When the car is in a skid, they say, it's important to lightly counter-steer into the same direction causes the wheels to regain grip, and the vehicle will effortlessly go exactly where pointed again. The instructors insisted multiple times that the typical instinct is to hop onto the brakes, which is exactly what you shouldn't do in a skid. Not only is each of these lessons valuable on the track; they easily translate to real-world training.
Something that I found particularly exciting was using the rear-drive Cayman to perform the old racing technique known as the "Scandanavian Flick". This uses a combination of a quick jab of the throttle and a counter-steer of the wheel to snappily tackle corners. The Cayman's near-perfect balance came to light here as every single driver on our program exited that corner with a priceless smile. This car is so incredibly dynamic that it's sensational to drive quickly. What's the point in winter storing a sports car when it can be just as enjoyable in the colder six months of the year?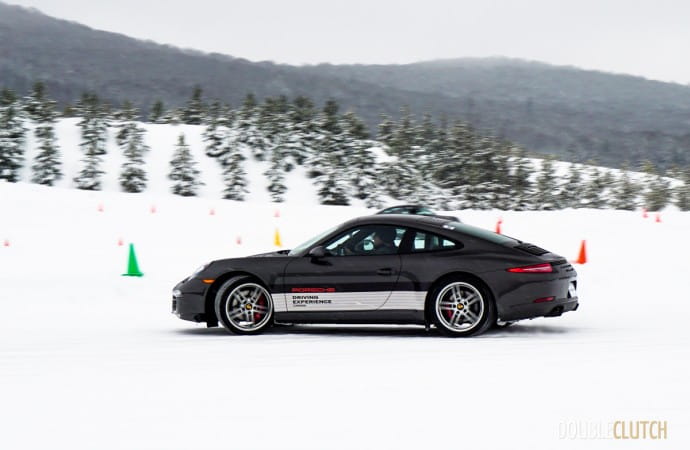 The Camp4 package had its debut in snowy Finland in 1996 as a media launch event for the Carrera 4. It was such a success with the media that it became a premium experience offered to the public, expanding to Switzerland, Italy, China, and Canada. At $5,295 CAD pre-tax (our weak Canadian dollar doesn't really help things right now), the event isn't cheap by any standards. I consider the cost to be nominal though, when considering the lifelong skills the program hard-wires into every single driver that 'graduates' from it.
Porsche Cars Canada offers this program to Canadians through select dates each winter – dates fill up extremely quickly so be sure to book your slot early Those wanting to take their driving prowess to the next level can also take advantage of Camp4S and Camp4RS, which, for a little bit more money, offer more advanced training.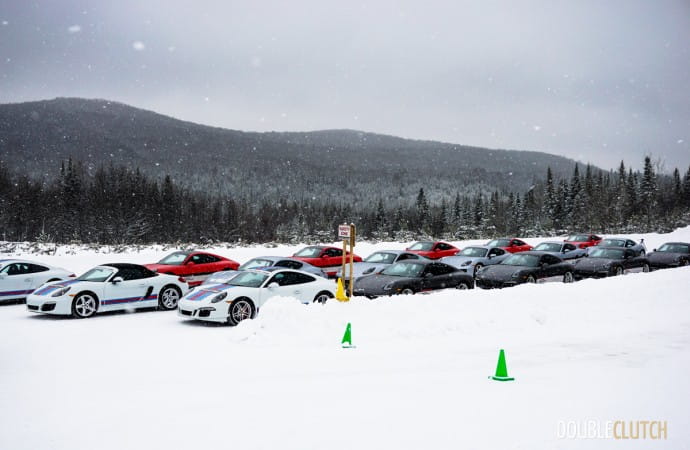 After my experience, it's easy for me to say that Porsche's Camp4 Canada should be on the bucket list of every single auto enthusiast in the country. The cars are just the start of it – it's one of the most tiring yet ultimately rewarding experiences I've ever had in my life. Despite having done a variety of advanced driver training schools over the past decade – including those offered by well-reputed manufacturers and racing academies, none of them planted the same grin on my face. This grin didn't fade as I boarded my flight home, and as I sit here writing this, it still hasn't faded in the slightest.
Registration for Camp4 and other Porsche Driving Experience events can be found here.
Event: Porsche Camp4 Canada Gallery
See Also: