There's no worrying about who comes first, who's following their line the tightest.
Perspective is a wonderful thing. You can go your whole life looking at something only one way, never discovering its true potential, never getting the full experience. Only now do I fear that this may have been the case for me with regards to motorcycling. My entire experience with motorcycling had been confined to the paved road, to the feeling of having my two wheels planted and gliding over smooth ground. I've been on dirt bikes, sure, but I had never had what I would consider a true dirt experience; sliding around a track, or flying through a forest on a trail. That was until September 30th, when I had my first Honda flat track experience thanks to our friends at Honda Canada.
My last track day at Cayuga was not graced with any glamorous victory, nor did I go particularly fast – at all. Perhaps a small portion of this lack of blinding speed was a result of poor track conditions; it had recently rained, and the track was cold and damp. Around one particular corner, I lost my rear tire for a fraction of a second. I felt my eyes widen as far as they could possibly open. I stayed upright, but that was not a comfortable experience for me.
I can only remember one other time that my eyes widened to that extreme; watching Doug Beattie, Steve Beattie, and Doug Lawrence rip around the flat track at the Paris Speedway in Paris, Ontario. These three pros had been racing flat track since childhood, and you could tell. I stood there, leaned against the wall of the track, my mouth slightly agape with awe. Of course, before coming to the event, I did my due research regarding flat tracking. The sport was quite new to me, as I simply had not had any exposure to it in the past. YouTube helped.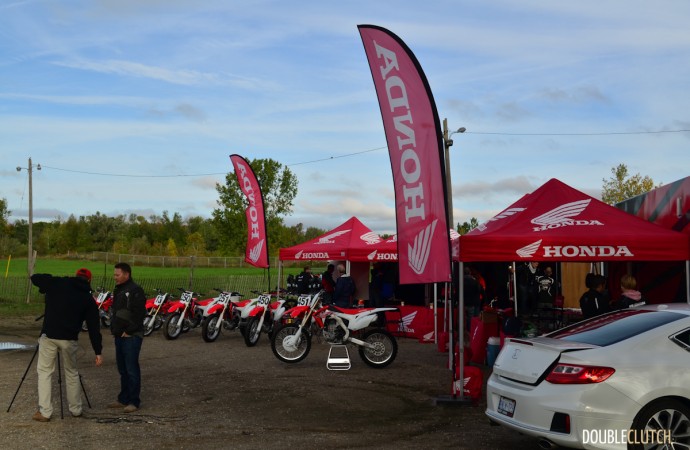 I devoted one entire day to watching videos of people drifting their motorcycles around a dirt track and I was definitely impressed. Still, watching a video and seeing something in person are two very different things. Being able to hear the sound of their perfectly tuned engines churn and then drop in revs, seeing them lay their bikes over and scrape the dirt with both wheels: what an incredible experience. Nervousness set in, but Honda had gathered some inspirational, knowledgeable, and experienced riders to alleviate this stress.
Aaron Hesmer, President of Flat Track Canada, took the reins on the instructional front, debriefing us on the specific body positioning required for riding flat track. Among the 8 or so other journalists at the end, I was not the only one who was new to this sport. In fact, the majority of us had never set two wheels on the dirt track before. This further eased my worried mind. Perhaps I wouldn't be the only one crawling around the track today.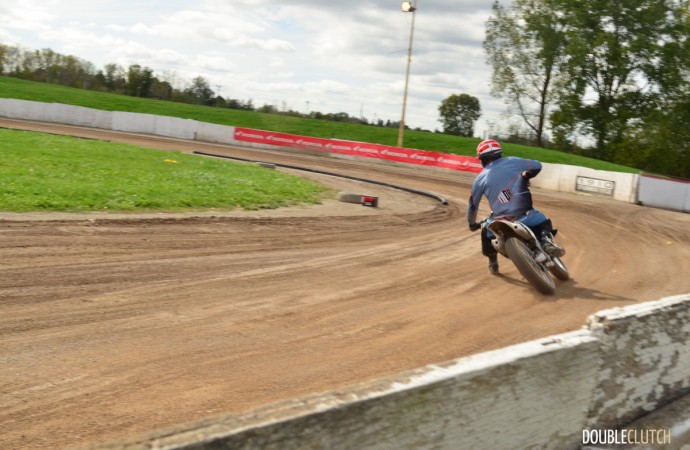 It then came the time to explore the technical aspects of the Honda bikes that 26 Suspension had set up for flat tracking. Available to us were the Honda CRF 125R, CRF 250R, and CRF 450R, all brand-spanking-new 2016 models. The 250R and the 450R were both fitted with knobless flat track tires, while the 125R was knobbed. Still, each and every one of the bikes performed splendidly on the dirt.
As I mentioned earlier, I've ridden a dirt bike before. On the street, they're not the best. They're a little squirrely, a little too soft in terms of suspension, and a little too… simple. In their natural environment though, they're the wildest of animals. They sprint around eagerly and with conviction, diving into the corners with ease. Watching the pros fly around the track, I could see the suspension deeply compress as the bikes were thrown into the corners. And these bikes truly can be thrown, seeing as how they weigh 185lbs, 231lbs, and 243lbs going up in displacement; Honda's dirt bikes are unprecedentedly agile and manoeuvrable. Of course, they're exactly as reliable as you'd expect them to be. I mean, if I did drop the 250R three times, it would have just kept on chugging on without any hiccups. That is, if I dropped it.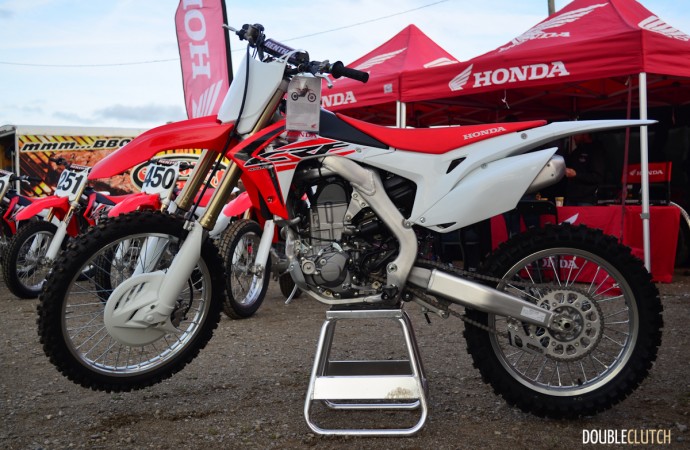 Truth be told, a lot of us dropped a bike at least once during this experience. That's simply the nature of the sport. And what a beautiful sport it is. Among all the technical wisdom Aaron bestowed upon us, he spoke a lot of the community formed around flat track racing. At the Paris Speedway itself, on Friday nights, a whole host of different people come out to ride and fill the spectator stands. Even as we were riding on this crisp Wednesday morning, we garnered a small group of spectators who sat up on an overlooking hill and watched us ride in circles on dirt.
No matter who you are, no matter where you're from, you can come and watch or race flat track. "It's like NASCAR, but on dirt, and with no structure," I explained to my friend. That lack of structure in non-professional races is truly a defining and differentiating characteristic. In flat track racing, it seems as if people just ride to have fun. There's no worrying about who comes first, who's following their line the tightest; it's just people racing bikes to race bikes. That brings people together, and that is a beautiful thing.
Event: Honda Flat Track Experience Gallery
See Also:
Kawasaki Ninja Experience Tour 2015
*Some photos courtesy of Honda Canada & Bill Petro Photography*