An afternoon of fun that will satisfy the cravings of almost any adrenaline junkie out there.
BOWMANVILLE, ONTARIO – At the fabled Canadian Tire Motorsports Park in Bowmanville, Ontario, there exists a vast amount of racing history and pedigree that few tracks in the world can compete with. Originally opened in 1961, the 3.96-kilometre road course circuit can claim the honour of being one of the fastest racetracks on the planet in terms of average speed. It's been home to Formula One races in the 1960s and 1970s, and also boasts a 2.9-kilometre driver development course and 1.5-kilometre kart track. The facility is currently home to various International Motor Sports Association (IMSA) championship series, and is often used by local car clubs for lapping days and driver education.
The ownership of the track falls under Canadian Motorsport Ventures Limited, a company whose ownership includes the likes of Canadian racing legend Ron Fellows. With a long tenure with General Motors' Corvette Racing factory team and victories at the renowned 24 Hours of Le Mans, Fellows went on to purchase CTMP in 2011. Currently, he runs the Ron Fellows Driving Experience there, which allows corporate groups and speed demons to drive high-performance GM vehicles on the Grand Prix course.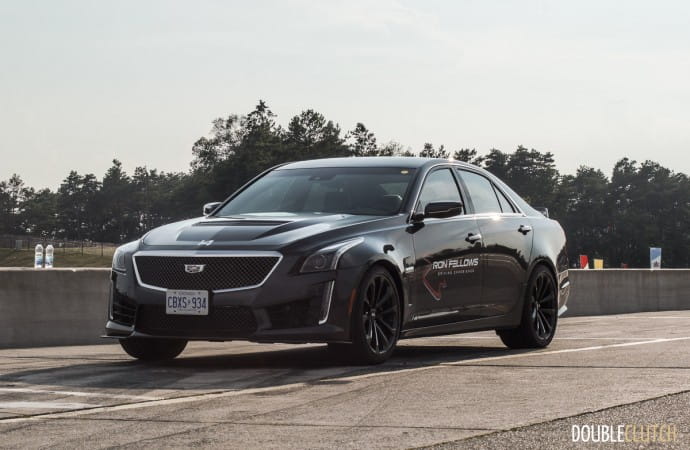 Cadillac recently invited DoubleClutch.ca Magazine out to get a first-hand look at the whole driving experience, with the same itinerary and event layout as would be seen with regular attendees. On the agenda would be driving experiences with a series of performance-oriented Cadillacs, including the CTS-V, ATS-V (reviewed here), CTS V-Sport, and regular ATS all-wheel drive coupe. Following a brief stint of classroom instruction, a lead-follow driving format (also known as 'alligator lapping') was used to lead drivers around the track.
When behind an instructor, drivers are led around the track and given pointers about turning, braking, and acceleration points. Those who are able to keep up will find themselves going around the track at an incrementally faster pace, while still maintaining full safety and keeping the car within its limits. After about two and a half hours of track time, drivers are then given the opportunity to sit shotgun in a hot lap with an instructor. With a trained professional behind the wheel of the same cars, it becomes immediately apparent that the Cadillacs are seriously capable machines on both the road and at the races.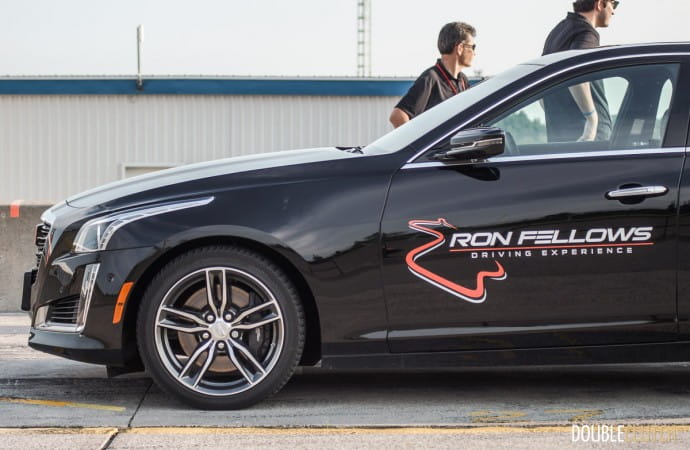 With the fire-breathing CTS-V, a 640-horsepower 6.2-litre supercharged V8 does business under the hood. Canadian Tire Motorsports Park is a great place to stretch the big Caddy's legs, especially when zooming up back straight, better known as the Mario Andretti Straightaway. The 464-horsepower 3.6-litre twin turbo V6 in the ATS-V is also an excellent pairing, with sharp handling and a magical chassis that listens to your every command, be it with an eight-speed automatic or six-speed manual transmission. Both V-cars are excellent choices for a day of fun at the track – and they're wonderful luxury vehicles on the street, too.
For those who are more inclined to have a milder Cadillac, the CTS V-Sport borrows a similar turbocharged V6 as the ATS-V, and was no slouch on the track either. For the ATS, a 3.6-litre naturally aspirated and all-wheel drive version was also present, and was a very pleasant surprise. With only 335 horsepower (what a time to be alive!) the ATS coupe's chassis still remained a delight. Even though it was equipped with all-season tires, putting the coupe through its paces returned much of the same flavour and road feel as the top-dog ATS-V, but with a little less sense of urgency and mechanical grip.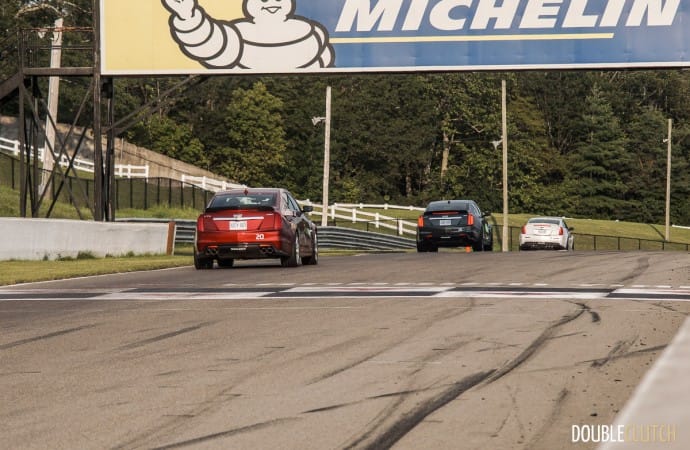 After the on track sessions and hot laps with the instructors, attendees return to the newly-built Grand Prix Event Centre for dinner and a debriefing of the day's events. Overall, a consummate team of professional staff are able to offer an afternoon of fun that will satisfy the cravings of almost any adrenaline junkie out there. Paired with the high-horsepower offerings of General Motors' Cadillac division, no punches are pulled when it comes to taking the cars around Canadian Tire Motorsports Park. When looking for a corporate group event that checks off all the boxes, the Ron Fellows Driving Experience is most definitely worth a look.
See Also: