Move over GT-R!Chevy's new super-vette has us astounded
Like the Rihanna and Eminem song: Chevrolet is friends with a monster that they have been hiding under their bed. With 620 horsepower, 650 pounds feet of torque — it is a bit of an angry kind of monster.
Yes, the American giant GM is ready to leave the 2014 Corvette Stingray in the dust with the creation of another 'Super-Vette': the 2015 Corvette Z06. The previous generation (C6) aforementioned 'Super-Vettes' included the previous Z06, which had 7.0 liters of naturally aspirated madness, and of course the fantastically supercharged 638 horsepower Corvette ZR1. Following suit, Chevrolet did not wait long to reveal the higher trim model on this new platform – they seem to have a chassis that works. Nissan and Porsche beware, I think this Z06 could very well be finished lapping and eating a German schnitzel sandwich by the time a GT-R or a Porsche crosses the finish line at the famous Nurburgring.
Amazingly, just one week prior to the Detroit Auto Show, Chevrolet has given us just a little taste of what is to come. All of this leaked from a Google search when you type in "2015 Corvette Z06 Supercar Reveal". Funny thing is, Chevrolet themselves were the ones who leaked it. It is as if they are just making sure no one has a coronary when they reveal this beast.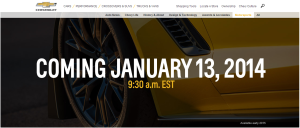 "This has to be supercharged!" Yes, if you were thinking that, you would be right. The 120 horsepower increase over the previous 7 liter beast Z06 and a healthy 165 horsepower increase over the current Stingray, thanks to the all new Supercharged LT4 engine by GM. Honorable mention goes to the fact that this engine also makes more head spinning torque than the GT-R-beating ZR1.  We got this sneak peek when a leaked image of the engine was posted on Instagram. With all the advancement in social media and the auto industry, I would not be surprised if we get to see car designs before CEOs even get a chance to get a glimpse.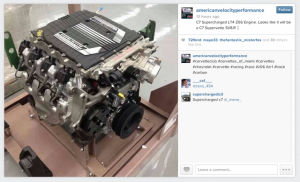 This is a step in a really good direction for Chevrolet. They seem to be leaving their American Muscle rivals, such as Ford, behind and stepping into a room where it can compete, and perhaps even beat,  European and Japanese supercars. We can only hold on to the edge of our seats until January 13th when we get to finally see the beauty under the veil. Corvette lovers can only dream of whats next, maybe an 800 horsepower ZR1? Well until we get official word, we can only hope that Chevrolet has some more leaky pipes in its house.
Source: Jalopnik