BMW's all new 2015 X4 is sportier than the X3, and will begin production this spring.
BMW has unveiled their all-new X4 online instead of the Geneva Motor Show – where it was originally supposed to be revealed but now will debut at the New York Auto Show. BMW is calling it a Sports Activity Coupe, and like the X5 and X6, the X4 will be a sportier model.
It will be offered in two trims for the North American market – the X4 xDrive28i and the X4 xDrive35i. The powertrain options will be the same as the X3. The first option, the xDrive28i model will have a 2.0-litre turbocharged four-cylinder engine good for 240 horsepower and 260 pound-feet of torque. Whereas the other model, the xDrive35i will push 300 horsepower and 300 pound-feet of torque. Both engines will send the power to all four wheels through an eight-speed automatic transmission using BMW's own xDrive.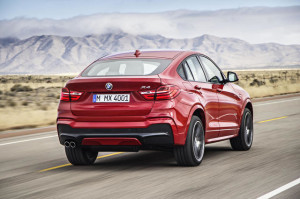 The X4 is 0.6 inches longer than the X3 and 1.5 inches lower to the ground that resembles the X6 model. Drivers will have an option of either 19 or 20-inch wheels. Inside, the X4 has from 17.7 to 49.4 cubic feet of cargo space. BMW says that even though the roof slopes down towards the rear, the X4 can still accommodate 3 passengers in the back. The X4 will also have a standard power-operated liftgate – and with BMW's optional Smart Opener system it can be opened by the movement of your foot.
BMW has not yet announced Canadian pricing for the X4, but pricing in the United States for the xDrive28i will be $45,625, and the xDrive35i will start at $48,925. The X4 is set to hit dealers this spring.
Source: Autoguide