Bentley says it will change the market forever. The SUV will boast 575-hp from a v12!
After months and months of speculation and rumors, Bentley has finally published a teaser image that officially lets us know that it is time for the arrival of its first-ever SUV.  The company states the still-unnamed SUV will create a brand new market segment when the SUV lands in showrooms in 2016. Details are still scarce, but the automaker previously revealed that this SUV will be the world's most expensive and luxurious SUV. This SUV was previewed by the EXP 9 F concept that debuted at the 2012 Geneva Motor Show. The show car's design was poorly received due to its square front end, Bentley hopes to correct that by boasting a new and more fluid like front end that will share design language from its Mulsanne and Continental brothers.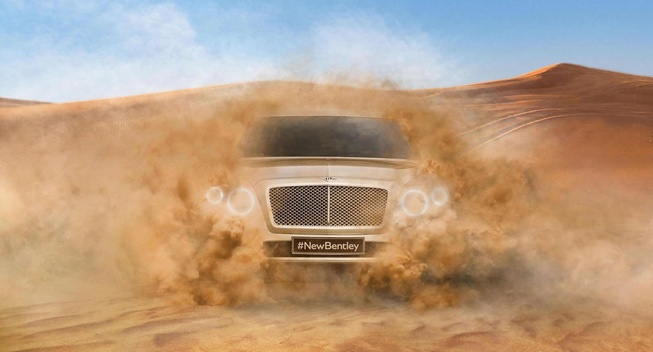 The SUV will have the same platform also used by the next-gen Porsche Cayenne and Audi Q7. It will be available in configurations of four, five, or seven seats, however Bentley suspects that many buyers will not opt for the seven-seater configuration. This new SUV will have a 12-cylinder 575-horsepower power plant that will feed to all four wheels via an automatic transmission. Unlike many other crossovers and SUVs in its class, Bentley's iteration will be able to serve in a serious off-road capacity and the company expects it will be as capable over difficult terrain as the iconic Range Rover.
Pricing information is not available just yet, but Bentley has hinted in the past its first-ever SUV will retail for a hefty 180,000 Euros (~$279,000 CAD) and that is before options and taxes are factored in, obviously. In spite of its gargantuan price tag, the Volkswagen-owned automaker believes it will likely sell anywhere between 3,000 and 4,000 vehicles a year with one-third of production going to the United States and the rest will be spread throughout the world. We can expect Bentley to debut this SUV sometime in the next year.
Source: LeftLane