Hand-picked by everybody on the team! All of our staff writers and editors were given the opportunity to select one car (or motorcycle!) we have had in calendar year 2014.
Each year, we do our Annual Awards, consisting of our entire team taking nominations from readers as well as our own reviews, then voting. However, there are always a few cars that are left out of the spotlight for various reasons. We've decided to start doing a supplement to our awards; a compilation of hand-picked vehicles. All of our staff writers and editors were given the opportunity to select one car (or motorcycle!) we have had in calendar year 2014 that stood out to them, and instructed to explain why it was so special. Here goes:
2015 Audi S3 – Adi Desai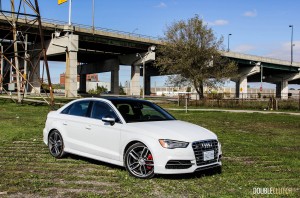 Despite not having won any awards, the all-new Audi S3 is one car that continues to stand out in my eyes. Its bigger sister, the S4 has been a longtime favourite of mine; a car I can't get out of my head no matter how hard I try. However, this new car is a hot little rocket from Germany that's lighter and faster than the S4 despite having a four-cylinder engine. My job requires me to test new vehicles weekly and therefore have no real need for a daily driver. However, if I needed a daily driver, this would be it. The S3 can be had for $46,000 nicely-equipped, and boasts numbers nearing 300 horsepower with standard all-wheel-drive. The LED headlights, Bang & Olufsen sound system, and decently comfortable interior help it remain a very livable sedan for year-round use. As a petrolhead in my twenties, I have a bunch of friends that are either young executives or entrepreneurs looking for a car in the mid-$40,000 range that'll fit their urban lifestyles. I was asked at least ten times this year whether I would pick the S3 or the Mercedes-Benz CLA45; my answer should be pretty clear by now.
***
2015 Subaru WRX – Louis Vo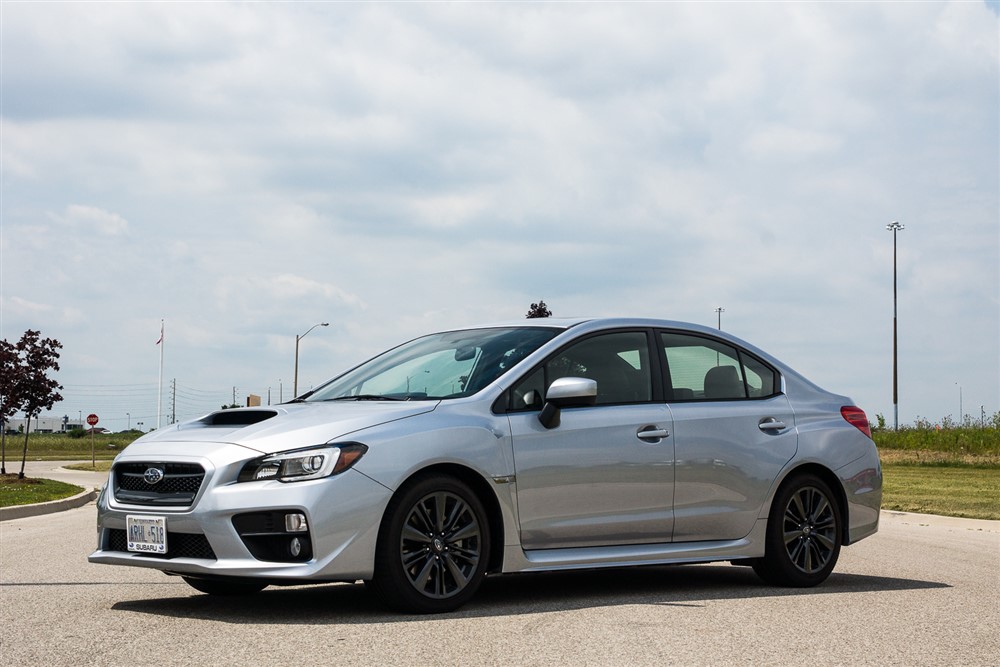 I would have the 2015 Subaru WRX, with the standard six-speed manual transmission, and the Sport package, painted in Crystal White Pearl. I like the black-on-white contrast the white body colour provides against the dark gunmetal coloured wheels and rear exhaust diffuser. The Sport package provides better lighting by way of upgraded LED headlights and sunroof. I also prefer cloth seating to the leather surfaces in the Sport-Tech package. I've actually been casually shopping for something to replace my (still excellent) Lexus IS300. While it excels at providing refined and reliable transport, I've been looking for something a little more involving to drive on a daily basis. The Subaru WRX does a better job meeting my needs than most choices out there. It'll be more fun and capable (right out of the box), and I won't even be giving up a lot in terms of "luxury" features that my IS300 didn't have (Bluetooth integration, for starters). There are many more valid choices for me out there, but they often come with a much heavier price tag attached. I've been fortunate enough to spend a good amount of time with many different cars throughout the year. To be able to integrate all of them into my daily routine is a significant perk. I can't wait to have one on my driveway that I can call my own.
***
2015 Cadillac ATS Coupe – Zack Zeraldo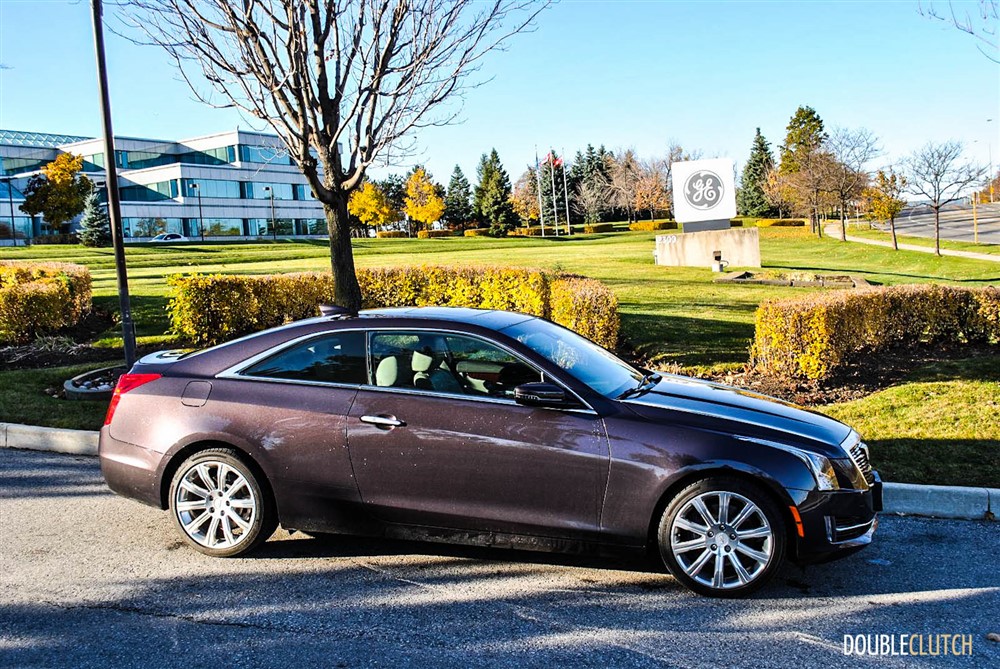 I always do my best to write about cars from the perspective of a car enthusiast shopping that particular segment and the lifestyle they might lead. However, when it came time to choose my favorite test car of the year I had to pick something that represented a perfect fit for me; my needs and my passions. With that in mind the choice was easy; the 2015 Cadillac ATS 3.6L AWD. I am a huge sucker for the sleek lines of a coupe, and the ATS's refinement, comfort and gorgeous interior make it perfect for my long commutes. Driving into the city ever morning are loads of other young professionals behind the wheel of their German coupes, but the ATS's character seem to break through the crowd; it's different, it's edgy and it's special. As an enthusiast though, it was the ATS' driving dynamics that sealed the deal for me. Powered by the corporate 3.6L v6 and equipped with magnetic ride control the ATS's rigid chassis handles everything from curvy back roads to downtown potholes with absolute grace making it not only comfortable but also exhilarating to drive. My reasonably priced tester came with optional AWD making it a perfect no-compromise year-round daily driver for me.  I'll take mine in black please.
***
2014 Chevrolet Corvette Stingray – Krish Persaud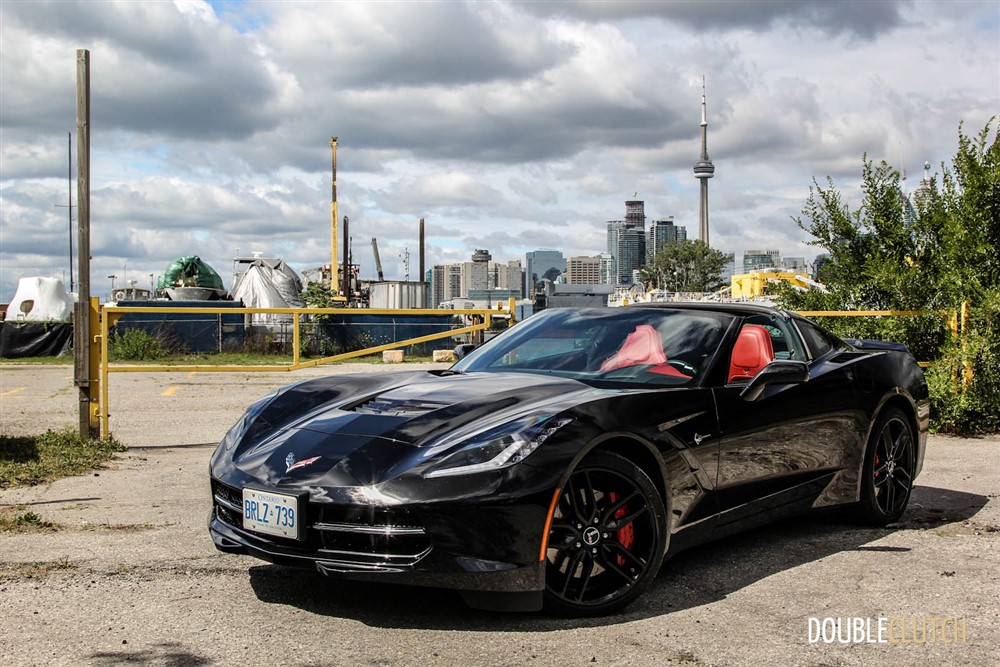 Those who read my editorials should have expected me to pick something along these lines. I'm a muscle car enthusiast, and have a classic Camaro Z/28 in my personal garage. Cars with a significant American pedigree, a big honkin' V8 under the hood, and poor fuel economy typically interest me. I was insistent on hogging some seat time with the Camaro 1LE we tested this year, but nothing could have prepared me for the new Corvette Stingray. The 7-speed manual transmission and the Z51 Performance Package combine to make this car driving nirvana. The throttle response is perfect, the driving position is unbeatable, and the styling… I can't get over how much I love this car. When we attended the Stingray launch party in Detroit a couple years ago, I was given a memento; a Stingray logo on a plaque for my desk. This memento sits on my desk at the office, no longer a memory from that event. Now, it takes me back to the few days we had this Z51 3LT Stingray in our garage: quite possibly my favourite week this past year.
***
2015 Honda Civic Si – Stephen Spyropoulos
Disclaimer: I haven't gotten to experience nearly as many cars as the rest of my colleagues, as my job description has me spending more time at a desk than behind the wheel. That being said though, my personal pick this year would be the 2014 Honda Civic Si. Although I may have only driven it briefly during an evaluation and comparison test, the Civic Si left me with an impression that would last for the remainder of the year. Compared to other cars in its price range, I did not find any to be as engaging as the Civic Si. While the Miata, Fiesta ST, and the FR-S/BRZ twins are worthy contenders, what sold me on the Si was its inherent ability to be both a daily driver as well as something that can provide some excitement without sacrificing cargo space or refinement. The Civic's bang-for-your-buck attitude, its sexy looks, its godly shifter and clutch combination, and the feeling you get when i-VTEC kicks in…each of these factors individually attribute to the Honda Civic Si being my favourite car this year.
***
2015 Hyundai Genesis Sedan – Don Cheng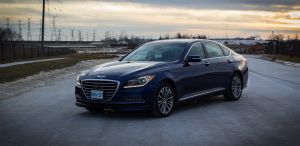 With the year all wrapped up and a new one already on its way, now is a better time than any to think back on all the outstanding cars we've had at DoubleClutch.ca in 2014. Perhaps for me the biggest stand out would be the Hyundai Genesis sedan. It was a very close toss up for me between this vehicle and the all new MK7 Volkswagen Golf. I don't think anything could quite compare to the revolution that Hyundai performed on the Genesis sedan. The first-generation car was Hyundai's entrance into the luxury market. Looking back, the styling hasn't aged well and even at its prime the first generation looked bland. Although the company offered many gizmos to rival its German and Japanese competitors, the interior design was still quite tacky. However, all was not lost as the car drove very well considering its size. All in all a great first step for the Korean automaker. But with the second generation comes a full revolution rather than evolution of the Genesis, and of the value-oriented luxury car as a whole. Interior quality is sublime, and the layout is fantastic. The car handles well and is still miles cheaper than its competitors. Remember that moment for the Lexus LS400 26 years ago? This is Hyundai's.
***
2014 BMW R nineT – Jeff Wilson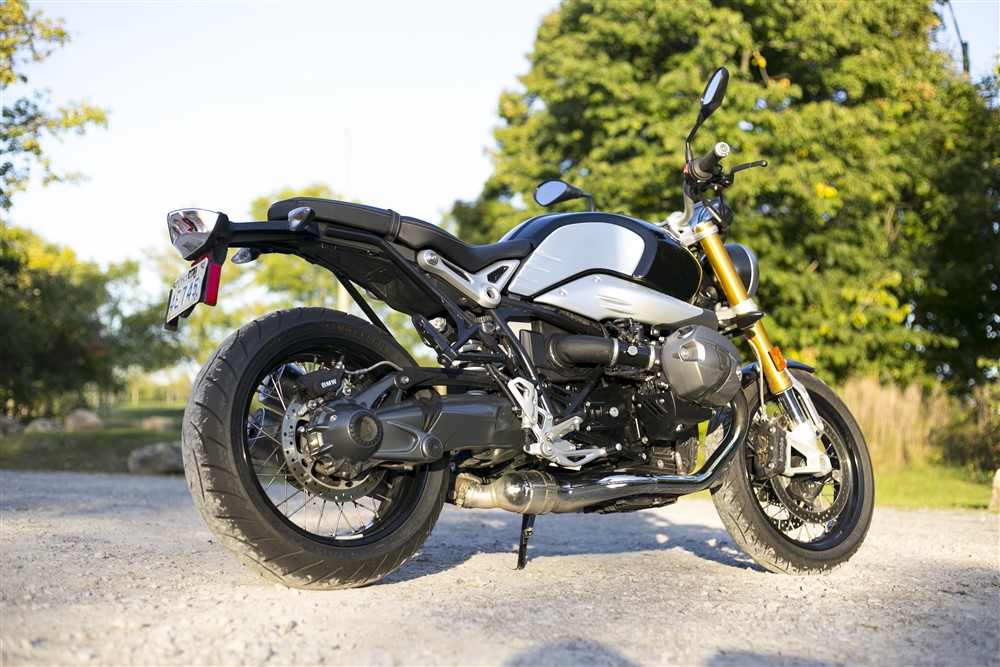 This year, we had the privilege of straddling some truly exotic machinery, as well as some far more accessible – but no less brilliant – rides. BMW's R nineT is the bike that captivated every rider who threw a leg over the seat this year. Not only does the big Beemer look sensational in a modern-interpretation-of-a-classic sort of way, but its stunning appearance does not detract from its performance one bit. With BMW's expertise in "Boxer" engines dating back several decades, it's no wonder the R nineT's 1170cc flat twin engine is a real honey, delivering an absolutely effortless 110 hp and a well of torque that never runs dry.   The riding position is comfortable, yet there's ample ground clearance to really throw the big BMW into corners with gusto. Despite costing more than 16-grand here in Canada, the R nineT was sold out in short order, proving that we're not the only ones who became completely smitten by BMW's most stylish offering. With its stunning looks, well-crafted quality and impressive (and accessible) performance, BMW's R nineT is unquestionably our top choice for my personal Bike of the Year.