Audi is pulling out all stops with the new TT concept and hopefully something to look forward to in the new TT-RS.
Audi is showing off their new concept TT that is booming with more power. The 2015 TT with the best performance numbers is the TTS with 310 horsepower. But the show car, named the TT Quattro Sport uses a high-output version of VW's turbocharged 2.0-litre four-cylinder that is good for 420 horsepower and 331 pound-feet of torque. The power is sent to all four wheels via a seven-speed dual-clutch automatic. Audi claims the TT Quattro Sport is capable of going from 0 to 60 kilometres per hour in just 3.7 seconds.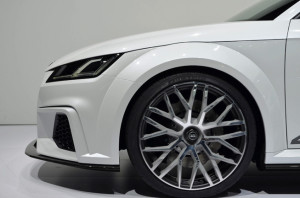 The look of the new concept is definitely more bold and aggressive, especially with the grille. The side intakes are larger and it teases for what is under the hood. The suspension is lower to the ground and the 20-inch rims help with the sport factor. Inside the car, Audi has removed the armrests and speakers and the standard seats have been replaced with racing ones accompanied with four-piece belts.
Source: Leftlane