Geneva will be getting two new special edition cars from Aston Martin and are sure to catch eyes at the auto show!
Aston Martin will be revealing two new special-edition cars at the Geneva Motor Show. The V8 Vantage N430 will be available in both a coupe and roadster body style. It will push out the same 430 horsepower of the 4.7-litre V8 Vantage S. The car will be offered with a six-speed manual transmission as standard or a seven-speed sequential gearbox. From a stop, the car should be able to hit 96 kilometres per hour in 4.6 seconds, with a top speed of 305 km/h.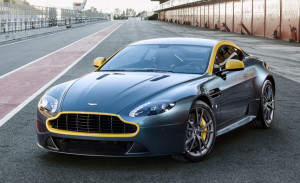 Aside from the speed, the car will have a carbon fibre body trim and 10-spoke alloy wheels. On the inside, it will be equipped with kevlar seats, magnesium paddle shifts and some carbon fibre trim pieces. Buyers will also have an option of a 1,000-watt Bang and Olufsen sound system.
Aston Martin will also have Carbon Black and Carbon White editions of the DB9 that are equipped with additional carbon-fibre trim to compliment or contrast the exterior paint. Auto enthusiasts will have to travel to Europe to see the new Vantage V8 or DB9 Carbon editions because both are not available in North America.
Source: Autoblog