On the road, the 2019 Silverado is the most comfortable Chevy truck yet.
With each successive generation of half-ton pickup truck, the main players (General Motors, Ford, Ram, Toyota, and Nissan) all try to one-up each other in terms of things like towing capacity, payload, fuel economy, luxury amenities, and comfort. The 2019 Chevrolet Silverado High Country 4WD is another great example of this, and is all new for this year. Built upon the freshly developed GM T1XX platform, it makes use of aluminum on several body panels (doors, hood, tailgate), and still maintains its fully boxed ladder type frame. Overall, it's up to 204 kilograms (450 pounds) lighter than the outgoing 2018 Silverado, is more aerodynamic, and comes with a fuller glut of engine options ranging from a 2.7-litre turbocharged four cylinder to a 6.2-litre V8.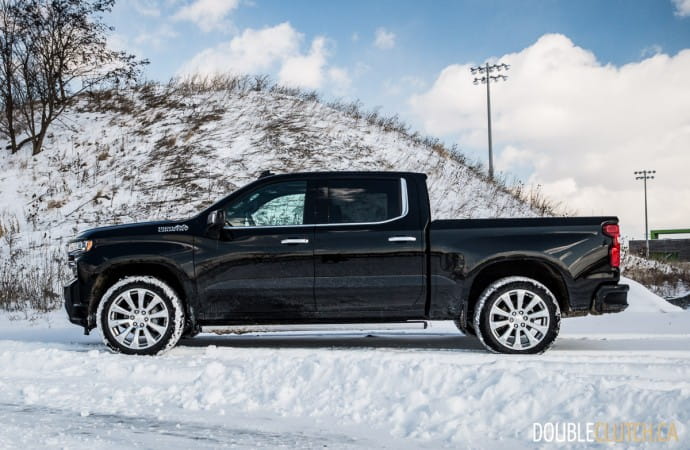 As the top trim, starting at $65,800, the High Country comes standard with eight inch touch screen infotainment with navigation and Bose audio, heated and ventilated (perforated leather) front seats, heated steering wheel, a 5.3-litre V8 with Dynamic Fuel Management and eight-speed automatic transmission, front and rear park assist, a blind spot monitoring system, LED headlights, spray-on bed liner, 120-volt bed-mounted power outlet, and power folding side mirrors, and pushbutton start with remote start capability.
Options on the test car included the $4,245 High Country Deluxe Package, which adds 22-inch wheels, forward collision alert with low speed autonomous braking, front pedestrian braking, lane keep assist, auto high beam headlights, and a driver's safety alert seat. There was also the upgraded 6.2-litre V8 engine with 10-speed automatic for $2,895, the Technology Package (HD surround cameras, rear camera mirror, and head-up display) for $1,995, and power retractable running boards for $1,140. With $175 black bowtie emblems as the cherry on top, the total as-tested price came to $76,250. Yes, this is a pretty penny for a pickup truck, but is right in line with other competitors' offerings on the market at this equipment level.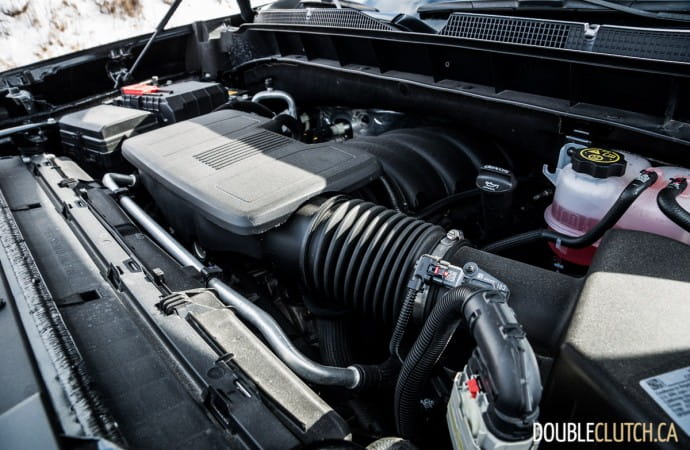 While the base 5.3-litre V8 engine makes 355 horsepower at 5,600RPM and 383 lb-ft of torque at 4,100RPM, the optional 6.2-litre pumps out 420 horsepower and 460 lb-ft of torque at the same peak RPM. With this comes a few extra hundred pounds of towing capacity, and both engines feature GM's latest Dynamic Fuel Management technology. Unlike the older Active Fuel Management (still available on more base trims) which shuts off the same four cylinders, DFM can shut off cylinders in seventeen different ways in order to save fuel.
In layman's terms, it can shut off any of the V8's cylinders, seamlessly skipping one cylinder's turn in the firing order. Chevy says that it's imperceptible, but keen drivers may notice a little more vibration (no extra noise) when DFM is active. When more power is needed, the return to firing on all cylinders with an excellently smooth soundtrack happens without drama.
With the 6.2-litre engine, the transmission is upgraded from an eight to a ten-speed unit (5.3-litre base models with AFM make do with a six speed). Developed jointly with Ford – similar units are seen in the F-150 (reviewed here) and Mustang – the road bicycle's worth of gears means that the Silverado is always in the right gear ratio at the right time, which optimizes both performance and fuel economy. Shifts are smooth and quick, and there is minimal gear hunting to be found. When the throttle is stamped down, downshifts are immediate and the transmission doesn't waste time by changing one gear at a time – it can skip as necessary.
The wide ratio spread and Dynamic Fuel Management combine for the most fuel efficient V8 Silverado yet, with ratings of 14.1L/100KM in the city and 10.2L/100KM on the highway for 5.3-litre/8-speed equipped trucks. With the 6.2-litre, economy takes a bit of a hit, with ratings of 15.0L/100KM in the city and 12.0L/100KM on the highway. With a conservative right foot and an unloaded truck, it's not hard to beat these numbers on the highway, but as is to be expected, consumption will be greater when using the truck as a truck. Fuel tank capacity is 91 litres (24 US gallon), down from last year's 98 litres (25.9 US gallon), and one word of caution – the 6.2-litre engine recommends premium fuel. Observed economy over a week of testing returned 14.1L/100KM in cold wintery weather with a bias toward highway driving.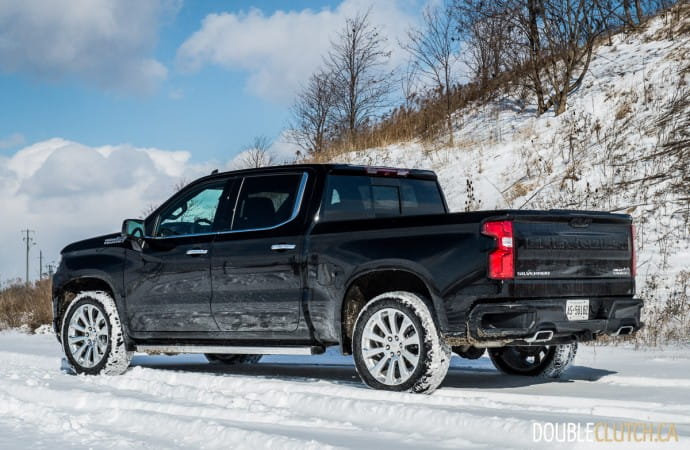 In Crew Cab, short box, and four-wheel drive form, the Silverado can tow between 4,218 kilograms (9,300 pounds) with the 6.2-litre engine and its integrated brake controller. 5.3-litre versions are rated to tow a few hundred pounds more due to gross vehicle weight restrictions, and a 6.2-litre truck with the $945 Max Trailering Package can do an impressive 5,488 kilograms (12,100 pounds). Payload capacity is 757 kilograms (1,670 pounds) without the Max package, and improves to 953 kilograms (2,100 pounds) with it.
During the week of testing, a yard's worth of patio stones got moved in the Silverado's bed, and the spray-in bedliner was a godsend when it came to avoiding damage. The powered running boards (adjustable rearward to the bed with a kick of a button) were also very useful, as were the rear corner steps on the rear bumper. The Chevrolet's tailgate party trick with power up and down functionality is neat, but isn't quite as cool as platform-mate GMC Sierra's six-function Multipro Tailgate (reviewed here).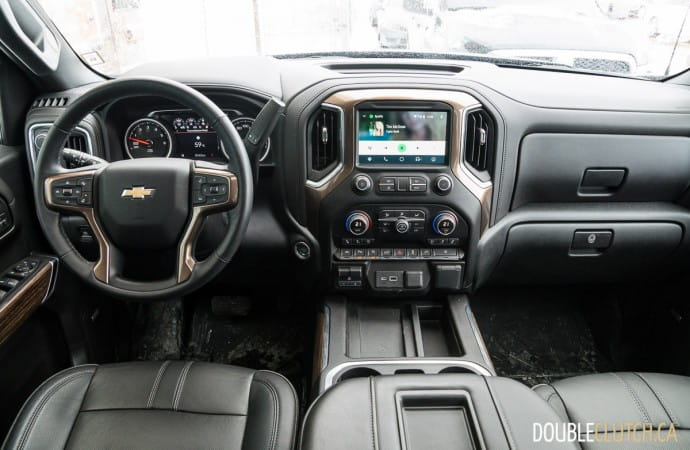 On the road, the 2019 Silverado is the most comfortable Chevy truck yet. The cabin is whisper quiet on the highway, and the seats are supportive for even the longest of drives. People of all shapes and sizes will probably find themselves a comfortable seating position, and the power adjustability with memory of the High Country helps, too. A rear facing child seat should be no problem in the Silverado, with ample legroom and space behind the front seats. The High Country gets heating on the outboard rear seat positions.
Technologically speaking, the Silverado gets GM's well-designed infotainment system, which includes full 4G LTE Wi-Fi hotspot capability if you have an OnStar subscription (though truth be told, cellular data plans and tethering is probably cheaper). Android Auto and Apple CarPlay integration are standard equipment, and the Silverado is one of the first vehicles to get USB Type-C ports. Silverado's tech also includes several camera assist systems, including Hitch Guidance with hitch area lighting, which makes one-person hitch hookup much easier.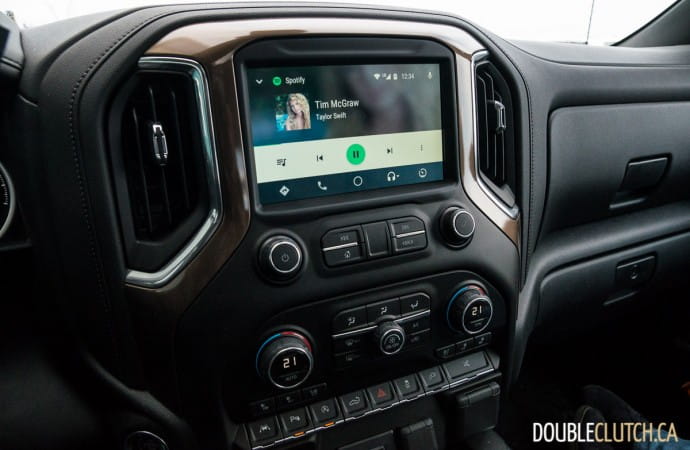 If equipped with the Technology Package, the rear view mirror can be operated either conventionally, or with the flip of a switch, as a screen and camera combination. It takes quite a bit of getting used to, as the driver's eyes refocusing on the screen mirror can cause some disorientation. Make sure to adjust the zoom and height of the camera first.
As is expected in the pickup truck wars, the 2019 Chevrolet Silverado High Country 4WD is the latest gauntlet thrown down in a very competitive segment. Other competitors can sometimes sell their trucks for a bit cheaper, especially when incentives are concerned, but the Silverado is definitely a case of you get what you pay for. The use of state of the art technology, continuous improvement on fuel economy, and an overall very pleasant driving experience make for a truck that that is fantastic for both work and play. While more base versions will miss out on a lot of content, they still get all the same chassis development and rugged design underneath. It's what has made them a great choice for more than half a century, and there's no signs at General Motors that this is changing any time soon.
See Also: