Its road presence, comfort, refinement and versatility make it hard to match.
We get to test a lot of SUVs, but few of them are able to make an impression quite like the full-size Range Rover. There's just nothing out there with the legacy and class that comes with this machine, but with formidable competitors out there like the Cadillac Escalade, and the all-new Lincoln Navigator (reviewed here), we wonder whether the Range Rover still reigns the SUV segment. We were sent a 2018 Range Rover HSE Td6 for a hot week in July to see if it could live up to its street cred.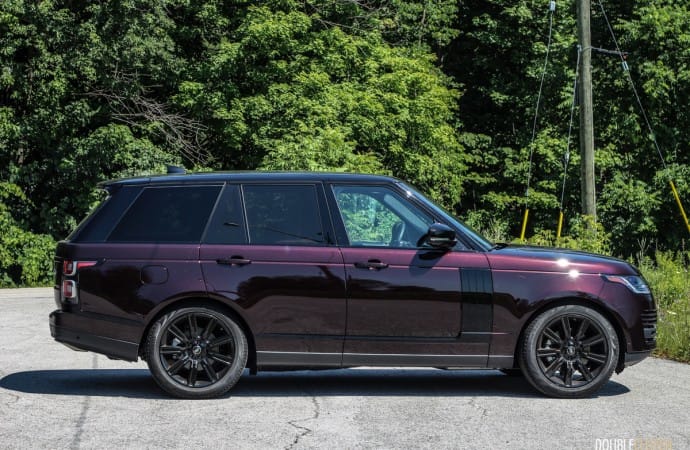 One of the nice things about the Range Rover is that there is a wide range of colour, wheel and trim options available, so you can make your Range Rover unique right out of the factory. Our HSE, which is actually the base model, came finished in what JLR calls "Desire", a deep Ultra Metallic Purple (a $4,590 option) and sports the Gloss Black Exterior Package which includes gloss black trim, emblems, side vents and 21" wheels. Coupled with a black panoramic sliding roof, our tester had a really cohesive and almost custom look that attracted a ton of attention out on the roads.
While I'd probably opt for a more traditional Black, White or British Racing Green, the unique color does a good job of highlighting the cleanliness of the Range Rover's lines. The Range doesn't play into trends – unlike many SUVs it has retained and embraced its boxy persona. The lines are crisp and deliberate, proportions are perfect, and best of all there is no mistaking it for anything but a Range Rover. It's my opinion that this is one of the best looking SUVs available today. Not only that, but the exterior fit and finish is superb, and stands up to Range Rover's legacy of solid refinement.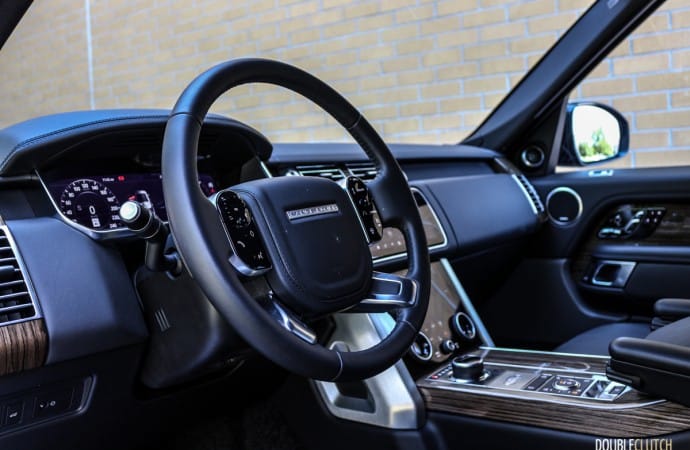 That same level of attention to aesthetics and refinement is evident inside the Range Rover HSE as well. The materials used are superb; the soft black leather used on the 20-way adjustable heated seats is carried onto the door panels and dashboard, and is accented with generous amounts of your choice of wood veneer and real polished aluminium. Our tester came with the Kalahari wood, which looks great against the black leather and bright aluminum. It really is the top-notch materials and craftsmanship that make the interior special.
The Range Rover is a true five seater, with plenty of room for three in the second row bench, but there is no third row available even if you opt for the long-wheelbase version. The cargo area is massive, and the second row can be configured to seat one, two or three depending on your requirements. The cargo area itself is beautifully trimmed with thick loop carpeting; it's nice touches like this that add to the refinement. I am also a big fan of the split rear tailgate; the upper portion opens upward like a traditional hatch, and the lower falls flat for easier loading, or a nice bench, or table. Comfort is the name of the game throughout, and second row passengers are pampered with their own climate control and ability to control both rear windows and the overhead sunshade from door-mounted controls. Rear passenger entertainment is available with two 10" screens.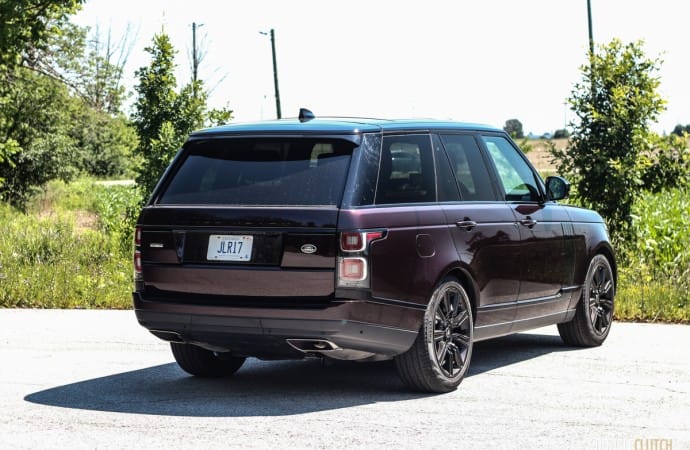 Technology up front isn't forgotten, and the Range Rover makes a heck of an impression with its almost entirely digital center stack. The lower screen, which incorporates the new InControl Touch Pro Duo system. The steering wheel mounted controls are "hidden until lit", which is pretty slick, and can even be configured to your preference; similar for the fully digital gauge cluster. It all looks incredible; but the system remains the Range Rover's Achilles heel. The steering wheel controls are not consistently responsive, and the upper infotainment screen is frustrating to use as well. The system also remains glitchy, refusing to start up once during our test, requiring a full reboot. This is sure to bring on an onslaught of British electronics.
What does work quite well however is the Td6's powertrain, a 3.0L turbocharged six-cylinder diesel. The grunty six cylinder puts out 254 horsepower and a very healthy 443 lb-ft. of torque at 1,500RPM. The immense torque makes the Range Rover feel like a proper powerhouse, easily merging or blasting past slower moving traffic on the highway with the grace and elegance that you'd expect, all the while sipping fuel. From the cabin the engine is silent, and there's hardly a hint that you're in a diesel. From outside you'd need to be paying close attention to hear the slight clatter from the torquey diesel. It's paired with an eight speed automatic which is a happy match, providing smooth shifts without any quibbling.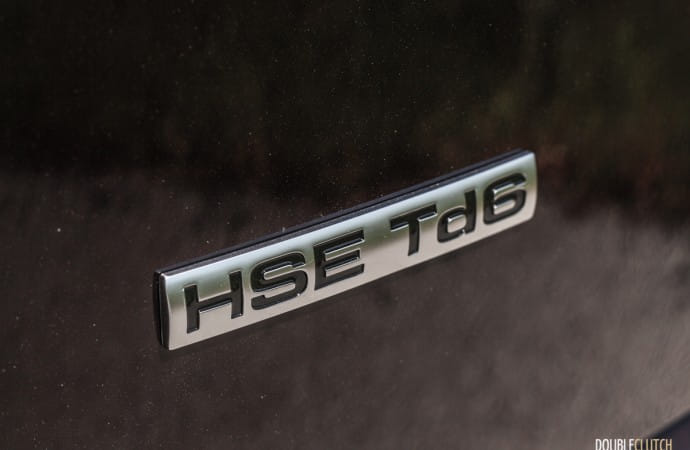 Thanks to the efficiency of the diesel we averaged an impressive 9.2L/100km over a week of rush hour commuting with heavy A/C usage. This is absolutely outstanding for a vehicle of this size, caliber and performance. With the engine's refinement I am not sure why anyone would opt for the larger 5.0L supercharged V8. One thing that is a bit unfortunate is that the diesel is only available on the base line HSE trim leaving only the V8 or a new plug-in hybrid option in the high trim levels.
The ride is everything you'd expect from a proper luxury SUV such as this. The Range Rover remains library quiet inside at all speeds, and the adaptive suspension seems almost magical as it effortlessly floats over even the worst of city streets, only to firm up just enough while cornering. The air ride system self-adjusts based on conditions, and hunkers down at highway speeds for added efficiency and confident steering feel. Of course, being a Range Rover, if you ever decide to take it off-road, it comes equipped with every bit of technology possible to help you keep moving safely. Even if you never get far off the beaten path, come winter time the Range Rover would hardly be phased by even the worst storms.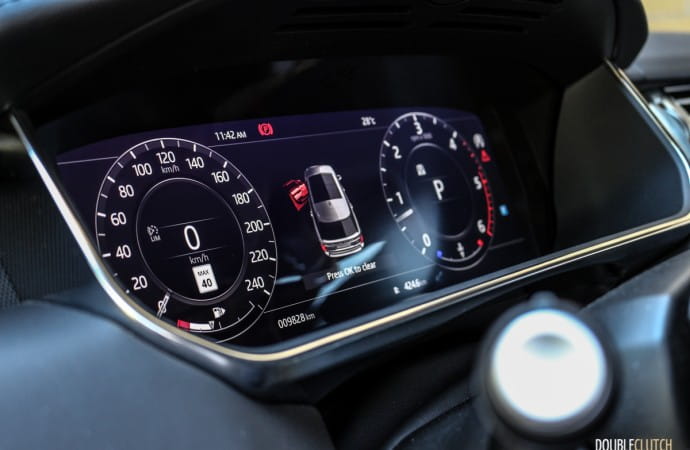 All this luxury and capability doesn't come cheap – at its most basic trim the Range Rover starts at $113,000. The MSRP on our tester came out to around $132,000 with the largest add-ons being the ultra metallic paint ($4,590), black out trim package ($2,140), 21" wheels (2,860), Meridian 13 speaker sound ($1,940), plus the 10" rear entertainment package ($3,309) and the vision assist package ($2,720). Even at $132,000, the tester was missing some luxuries that you might expect at this price, notably cooled or massaging front seats and electronic driving aids such as lane keep assist, all of which are available as options.
Truthfully, a Range Rover is an emotional purchase. It has an uncanny way of making every trip feel special, and its road presence, comfort, refinement and versatility make it hard to match. This car is an expression of excess, even in basic HSE form and sporting the thrifty diesel like our tester. There are many SUVs to choose from that do all of the things the Range Rover does almost as well, for considerably less money. There is no practical justification for something like this; you buy it because of how it makes you feel. If you can afford and justify it, the Range Rover is still absolute royalty.
See Also:
2017 Range Rover Sport HSE Td6
2017 Range Rover Autobiography L