The Qashqai can hold its own amongst this crowded segment by offering a well-damped suspension.
The compact crossover utility vehicle (CUV) continues to remain a hot segment for automakers, with most offering a stretched out, raised version of their compact car onto an all-wheel drive platform. With the cancellation of the Juke (reviewed here) as a player in this segment, Nissan has appointed the Qashqai to carry forth the torch. Whilst new to North America, it is actually a second generation vehicle to other markets, originally launched back in 2006. I was looking forward to finding out what keeps this segment so hot especially after a less than stellar experience with the Mazda CX-3 (reviewed here). With the bumper crop of CUVs on the market such as the Honda HR-V, Toyota C-HR and others, the Qashqai has stiff competition on the road ahead.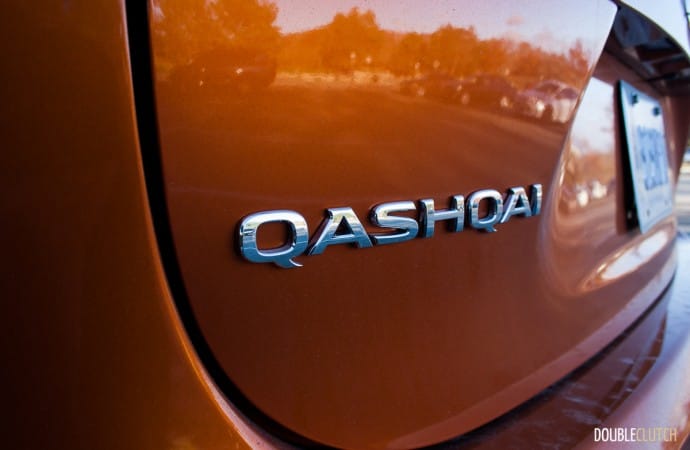 Orange was never a color I envisioned on any of my own vehicles but upon seeing the 2018 Nissan Qashqai SV (in front-drive trim) tester dressed in Monarch Orange, I must say it's rather handsome. It takes on a slight burnt orange look in low light conditions but shines quite well as a golden orange in full sunlight. It is very encouraging to see something other than your typical white, silver or black colors being offered by manufacturers these days. Eschewing the rather polarizing angles, shapes and stance employed by the Juke, Nissan has opted for a more mainstream look. 
As you slide into the cabin of the Qashqai, it all continues to look familiar. A liquid crystal display screen is nestled between two dial hubs: tachometer to the left, speedometer to the right. The steering wheel that meets with your hands feels slightly too thin for its own good but will manually tilt and telescope to give drivers of various sizes better seating positions. I must point out that telescope travel seems a little on the short side so be wary of that. Lining the center console is a rather simple infotainment system with a five-inch color display.  This six-speaker system will sync to your iPod (via USB) or your Bluetooth audio source. Everything is functional but don't expect any frills here.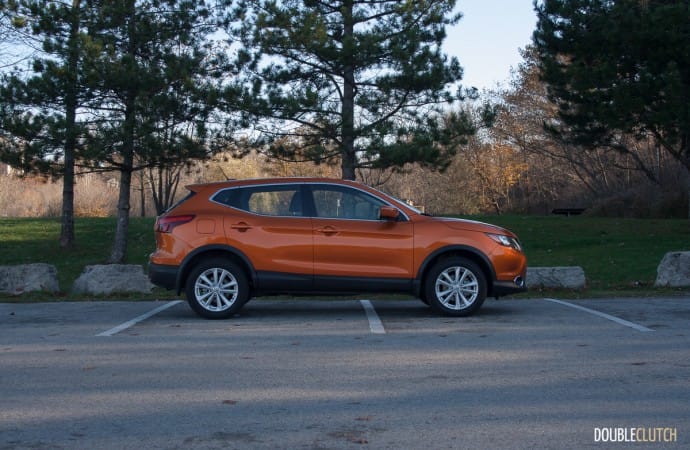 The seats are comfortable and supportive enough, given that most of the buyers for this vehicle are likely to be using this vehicle to scoot around town as opposed to any off-roading exercises. The moonroof is rather small and while it doesn't cut heavily into the headroom, its size can sometimes make you forget there was one. Rear seating is roomy enough for two full size adults but while there is a third seat belt, its best to relegate this penalty box seat to shorter folks. When it comes to rear storage space however, this vehicle does quite well against its competition with a cavernous 566L with the rear seats up. Drop those babies down and it expands up to a whopping 1,500L giving this vehicle tons of space for those IKEA trips.
From the driver's seat, sight lines are quite good with a good frontal view thanks to the sloping hood bulges. Looking over your shoulder on either side is easy but I was surprised to learn that even on the highest trim of the Qashqai (the SL trim), blindspot monitoring is not available standard but instead, a $2,700 upgrade. This will then provide Blind Sport Warning, Intelligent Cruise Control, Lane Departure Warning and Prevention, Automatic Emergency Braking and Rear Cross Traffic Alert systems. Given that most of its competition offers some if not most of these systems standard on the high-end trim levels, this puts the Nissan at a disadvantage in the bang for buck category.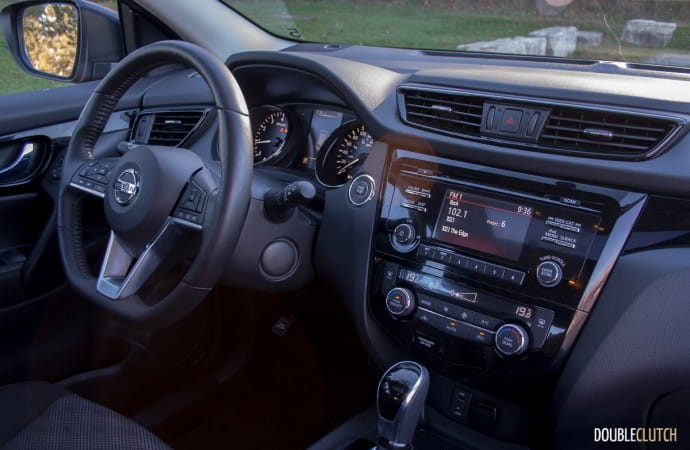 Equipped with Nissan's MR20DD 2.0L engine mounted to the Xtronic CVT (continuously variable transmission), the Qashqai is capable of generating 141 horsepower at 6,000RPM whilst pushing out 147 lb-ft. of torque at 4,400RPM. On paper, this might seem to be worrisome given how high up the revs come to full song, but thanks to the CVT, the car is capable of hustling along. Even though it is supposed to be a continuously variable transmission, the gearbox still performs simulated shift ratios and to get the car moving, second 'gear' is held for a very long RPM swing. To the point where on my first few drives, I had to actively look down and make sure I didn't have it stuck in manual mode. The engine's song isn't the greatest and this long second shift almost makes the car sound like it's moo-ing.
Otherwise, the road noise on the Qashqai is for most part quite well insulated and if you're engine deaf, the car does feel somewhat torquey (for its class) and will feel adequately powered. Though Nissan rates fuel economy at 7.3L/100km highway and 8.8L /100km city, I only managed to get roughly 8.9L per 100km in my week of it with most of the seat time in mixed driving. This puts the Qashqai near the bottom of the competition and one of the few cars where I was unable to meet or beat the rated numbers.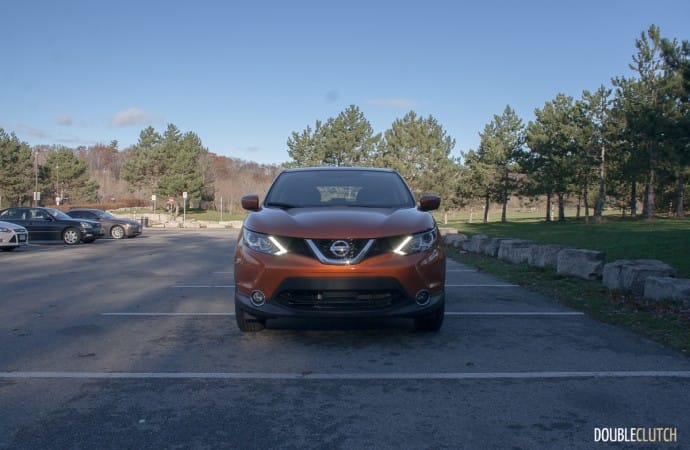 Handling wise, the Qashqai can hold its own amongst this crowded segment by offering a well-damped suspension that can soak up some of the bumps and bruises from road imperfections. As per class standard, at the limit understeer was present in our tester and while it may initially feel somewhat responsive, the car never truly seems to truly want to dance but lumbers forward in a robotic manner. This is no 370Z (reviewed here) and whilst it may not aspire to be, I was looking for at least some athleticism but was sadly mistaken.
As a consumer, one must rank what you truly want out of your vehicle. Is it storage space? Is it fuel economy? The ride? Fit and finish? Once you rank all of these as priorities, you can then make a proper decision based on your criteria. The 2018 Nissan Qashqai SV at $24,598 is a relatively uninspired but adequate choice for those of us looking for comfortable and reliable transportation. Given the fact that the well equipped base Toyota C-HR (reviewed here) rolls in at $25,479, the Honda HRV EX 2WD at $25,150 and the similarly equipped Mazda CX-3 GS at $24,725, one has to seriously pay attention with the rest of the playing field.
See Also: