The expression "there's no replacement for displacement" holds true in the Frontier.
The 2018 Nissan Frontier Midnight Edition is one level below the top Pro-4X trim, and even though it's high up, the features remain fairly utilitarian, which isn't necessarily a bad thing. It's back to basics with the Frontier, missing most of the creature comforts that are standard features on many vehicles today. Things like automatic headlights, one-touch lane changing indicators, lumbar support or even a transmission with more than five gears are missing. While every other small pick-up truck has been overhauled in recent years, the Frontier has remained basically the exact same since its second generation debuted in 2004, making it a new truck that's effectively 14 years old.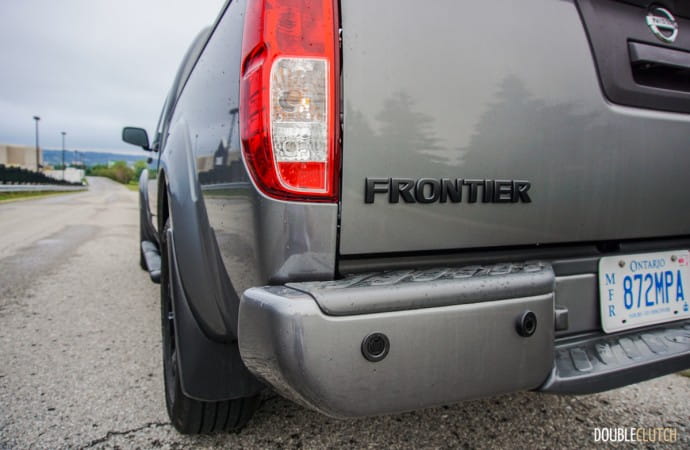 While the Frontier is out-dated, this isn't a bad thing depending on your outlook. While manufacturers are starting to include features, Nissan has literally proven over time that classic saying "if it isn't broken, don't fix it". Words that could describe the Frontier are proven, simple and reliable. In a way, Nissan has found that the Frontier has been such a dependable vehicle for so many years, why bother changing anything.
Even though the Frontier's interior is clearly from a decade ago, not everything is outdated as such. You still get things like cruise control, keyless entry, a well-utilized backup camera, Bluetooth phone connectivity with audio streaming, and a very responsive infotainment unit. There is little to no delay when switching between pages on the infotainment unit, which I should mention is not a touch screen unit. Also what helps modernize the Frontier's classic styling is the Midnight Edition. This is effectively a blacked-out version of the regular Frontier, with black 18" alloy wheels, side view mirrors, step rails, badging and front grill.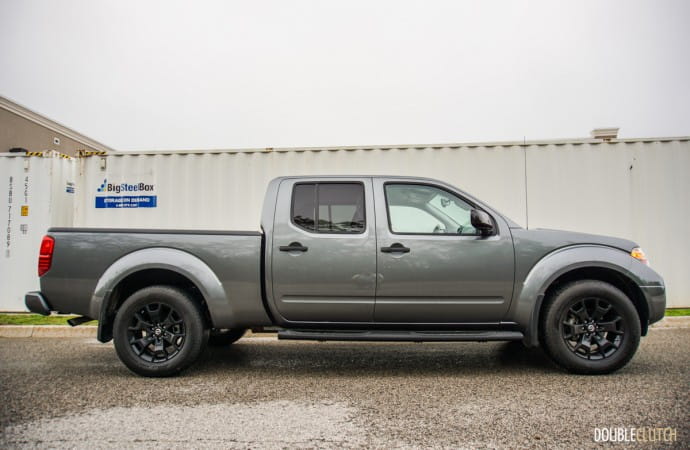 The obvious appeal for a truck both large and small is functionality. The bed of the Frontier is appropriately large coming in at six feet. Also in the box is a factory applied bed liner, a removable tailgate, and most notably the Utili-Track channel system. This system is comprised of five aluminum rails; two on the bed floor, one on each side wall, and one on the front header portion. In the rails are little grooves which allow you to pick exactly where you wish to place the anchor that your ratchet straps mount to. This is a functional idea considering the different things hauled in the bed of a truck. The best part about the Utili-Track system is that there are no tools required. You can tighten and loosen each anchor bracket by hand, and better yet, the rail and anchors are made of aluminum which won't rust.
The Frontier is fairly spacious both inside and out. While the cloth seats are fairly bland, there's no shortage of comfort as they as very plush and forgiving. Cabin noise is surprisingly quiet, and the ride is very smooth. Rear seating is moderately comfortable, and about what you'd expect in a truck of this size. The seating position in the rear is rather upright, and these seats expectedly have zero adjustability, This rear bench will seat two, and even though there's room for a third, three adults is definitely a crowd.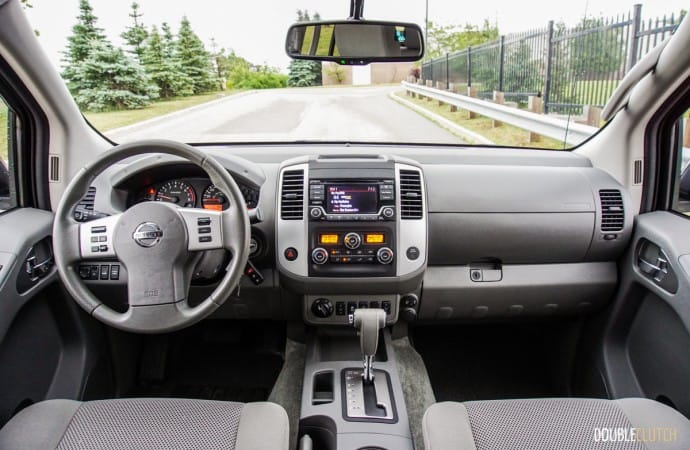 There are no surprises in the handling department, and the Frontier handles like a truck. The steering wheel feels nice and heavy, an engaging throwback to the world before electrically-assisted power steering. Surprisingly, the turning radius is quite terrible for this segment, bested by the Colorado (reviewed here) and the Tacoma. This is especially surprising considering that one of the most appealing factors of a truck of this size is manoeuvrability.
The expression "there's no replacement for displacement" holds true in the Frontier. A proper 4.0L V6 is on board, making 261 horsepower and 281 lb-ft. of torque. These are numbers that are certainly enough to get the job done. This displacement needs to be fed somehow, and that gets reflected in the rated fuel consumption numbers. Ratings of 15.8L/100KM city and 11.5L/100KM highway those numbers aren't the easiest to swallow, but about on par with the gasoline V6 Canyon and Colorado.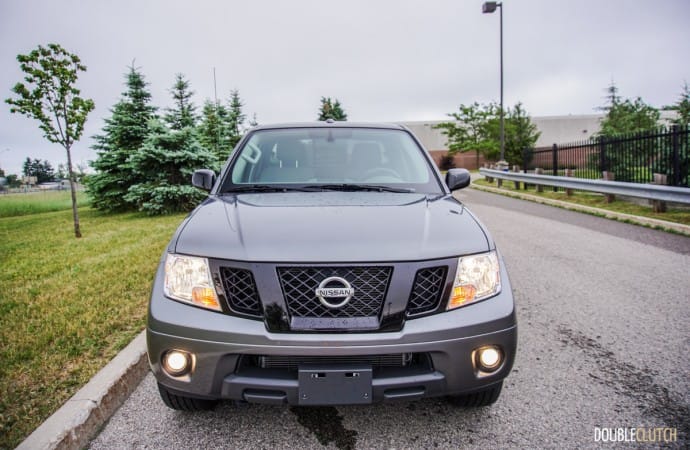 It's not all bad though, because having a big V6 is excellent. It's very smooth, and power delivery is very linear, not to mention the very loud clutch fan that turns on when needed. It may not be everyone's cup of tea, but that sound screams of the Frontier's substantial and powerful personality.
Even though the SV trim level doesn't come with the Rockford Fosgate audio system that can be found in the Pro-4X and SL models, The stock sound system actually sounds quite nice once you tweak the sound settings. Even at higher volume levels there was little distortion. Another great touch is the removable cup holder liners are in the Frontier; when on a big job site with a large soda, this would be extremely convenient and helpful.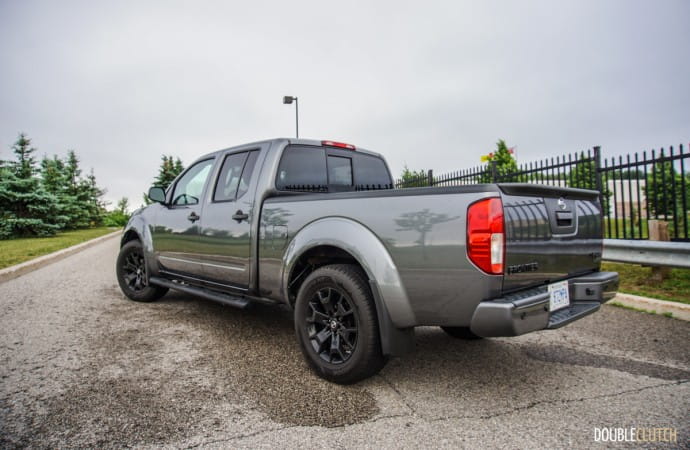 It's only fitting that the small pickup truck market is small in itself. In North America the Frontier has only four rivals to compete with. These are the Honda Ridgeline (reviewed here), Toyota Tacoma, Chevrolet Colorado and GMC Canyon. One would think that the cost savings Nissan has made by not redesigning the Frontier in over a decade would translate to cost savings for the consumer. The Frontier is cheaper than comparably optioned rivals at its MSRP of $37,328 for this Midnight Edition model.
The 2018 Nissan Frontier Midnight Edition could easily pass for a 2004 Nissan Frontier minus a few subtle technology updates. The fact that the Frontier is dated just tells me that it's proven and it works. If you're in the market for a truck strictly for the purposes of owning a truck, then the Frontier is certainly a contender. If you're more inclined to have that modern styling, and technological features, perhaps the Midnight Edition is the truck for you.
See Also:
2017 GMC Canyon SLE Diesel 4×4