The interior, at first glance, really seems like it delivers on Armada's luxurious mission.
I have always been a pretty die-hard fan of two-door coupes, and for many years I never really saw any reason to drive anything else. Over the years though, I've come to appreciate the charms of a capable and luxurious full-size SUV. There's something about a proper SUV that can take seven people on a weekend getaway in comfort and style, haul a car trailer and blast through snow storms all in stride. General Motors has, by a good margin, owned this market for years. Curious to see how it stacks up to its big competition I spent a week with a fully loaded 2018 Nissan Armada Platinum Reserve.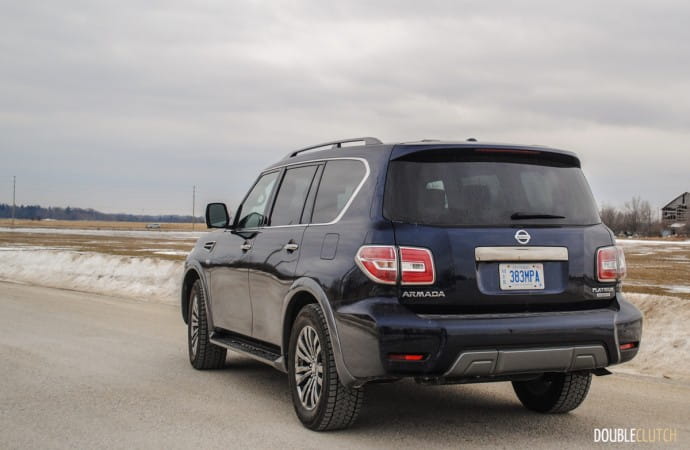 If there's one thing about the Armada that jumps out, it's the sheer size. It is simply massive in every dimension and in the driveway makes even our own Cadillac Escalade look rather small. The size gives the Armada a strong presence on the road, even though the styling is fairly conservative and traditional. The top-line Platinum Reserve gets great looking 20" black chrome wheels, which complement the charcoal gray accents on our Heramosa Blue tester. A chrome vent and a predominant V8 logo on each of the front fenders make it clear that this Armada represents both flash and substance.
The Armada's oversized dimensions carry inside as well, with a cabin that is best compared to a small living room than a car. Head, leg and shoulder room is in abundance in all three rows, and the Platinum Reserve trim comes equipped with quilted two-tone leather seats that are a work of art with contrasting stitching, piping and embossing that carries onto the centre console and door panels. The upscale leather really gives the space a rich feeling. In the second row you'll also find dual entertainment screens built into the headrest, each with their own set of wireless headphones and remote. Another big plus inside the Armada is the centre console, while dominated by a big chrome dial to control the 4×4 and traction systems, the console is wide enough to offer two massive cup holders and two separate covered storage trays.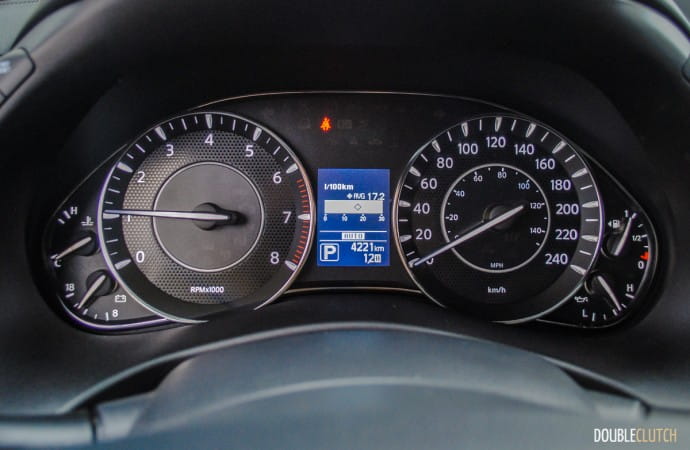 The interior, at first glance, really seems like it delivers on Armada's luxurious mission, but spend a little time with the SUV and it does start to fall short in some areas. Firstly, the steering wheel looks and feels like it's straight out of a basic Nissan Altima and seems out of place in such a well-appointed interior. The centre stack controls, while clear and easy to use, also feel low-rent compared to the rest of the space. Nissan's infotainment also needs some work as it is a bit clumsy to operate, and most of the control buttons immediately below the touchscreen are redundant. It's the little details that distract from the strong efforts that Nissan has put into making the Armada really feel like a true luxury offering; even the stop-start button with its orange glow looks similar to the one found in a 2007 Altima.
The Armada is powered by Nissan's 5.6L direct-injection V8 which delivers 390 horsepower and 394 lb-ft. of torque at 4,000RPM. These are impressive numbers and put the Armada right up there with some of the most capable full-sized SUVs, including its 8500lb. tow rating. It's mated to a seven-speed automatic, and like a proper SUV the Armada rides on a fully boxed full length frame, meaning it doesn't just look tough – it is tough. The V8 and seven-speed combo are fairly smooth and quiet, but the transmission occasionally struggles to find the right gear. The naturally aspirated V8 pulls hard, but the direct injection system makes it sound a little diesel-like from the outside.
That sort of power, size and capability does not come without its costs and in the case of the Armada you will pay dearly at the pumps. After a week of commuting and one 200km highway trip, the truck's average fuel economy sat at 16.6L/100km. That's even slightly worse than the average on our 10-year old Escalade. Luckily, it is happy on regular fuel, but make no mistake, this is a thirsty SUV.
What it costs in gas the Armada gives back in overall ride quality and comfort. It is hands down the smoothest riding full-frame SUV I have piloted, and thanks to copious amounts of sound deadening and acoustic glass, the Armada is library-silent inside too. The Armada's tall seating position, soft ride and light steering make it very pleasant to spend hours in. Despite its size, it's also fairly easy to maneuver around thanks to a tight turning radius and lots of help from the 360-degree camera and radar parking sensors.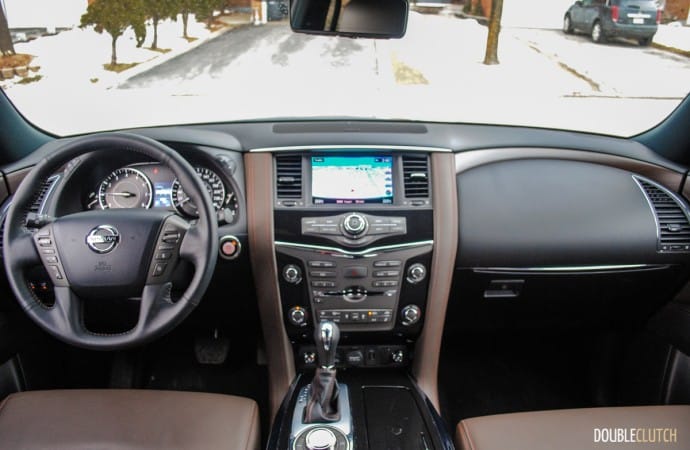 The Armada starts at a palatable, at least within this segment, $64,998, and at that price you get just about everything that you'd want in an SUV. Stepping up to the Platinum at $71,498 gets you the full gamut of electronic safety and driving aids, the rear entertainment screens, and cooled front seats. Finally, stepping up to the Platinum Reserve like our test truck for $74,998 delivers the gorgeous two-tone leather seats and the upgraded exterior trim and wheels. A similarly equipped Tahoe (reviewed here) or Suburban LTZ would be a few thousand more, so from a pricing perspective the Armada is right where it needs to be.
As much as I enjoyed the Armada's comfort and capability during this miserable February week, I do understand why it just hasn't caught on with buyers as well as other full-sized SUVs. At this price point, it just isn't quite as polished as it competitors and as a result comes off feeling just a bit out-classed. This issue might be resolved by considering the Armada's sister truck, the Infiniti QX80 (reviewed here), but even that wouldn't resolve the fuel economy issue. That said, if you need the capability of a full size SUV and don't want to feel like you're paying for a brand, or want something a little different than the neighbours, the Armada isn't a bad choice and definitely delivers in all the most critical areas of luxury and capability.
See Also:
2017 Chevrolet Tahoe LTZ Premier
First Drive: 2018 Ford Expedition