As a luxury vehicle, the Navigator eats up the miles with ease, with great ride quality.
For years, the domestic full-size luxury sport utility market has been dominated by two players – the Cadillac Escalade and the Lincoln Navigator. These two are the big daddies of the baller truck world, and countless sightings in music videos and in more affluent places make for vehicles that are synonymous with excess. More recently, the Caddy has been hitting it out of the park with elegant style and the notion of status. Lincoln has fallen a bit more behind in recent years, letting their products become a bit longer in the tooth. Enter the 2018 Lincoln Navigator Reserve, the latest and greatest from the American luxury marque.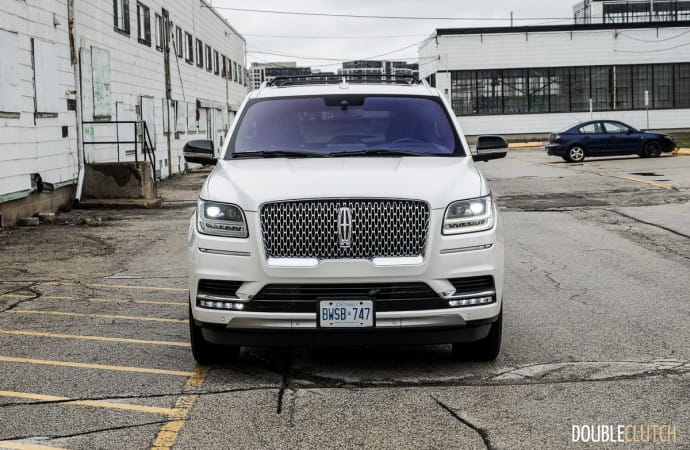 New from the ground up and sharing underpinnings with the also-new Ford Expedition (reviewed here), the 2018 Navigator presents itself with bold styling that is a bit taller looking compared to the Escalade. As always, there's plenty of chrome and bling in the way of accoutrements, and even the giant grille's Lincoln badge lights up at night. Some of the touches are a little reminiscent of the olden Art Deco era of design, but still show as being very modern and relevant.
With body on frame construction, the Lincoln has full truck capabilities, including a 3,765 kilogram (8,300 pound) towing capacity, which is actually slightly a couple hundred pounds less than the outgoing model. There's seating for seven, with bucket seats (captain's chairs) in the second row with your choice of either a centre console or easy access to the third row. The third row itself is power-foldable, and three people can sit there in reasonable comfort. The rear liftgate is also powered, although the relatively early-production test vehicle seemed to want open and close the hatch at its own will when parked with the proximity remote within earshot.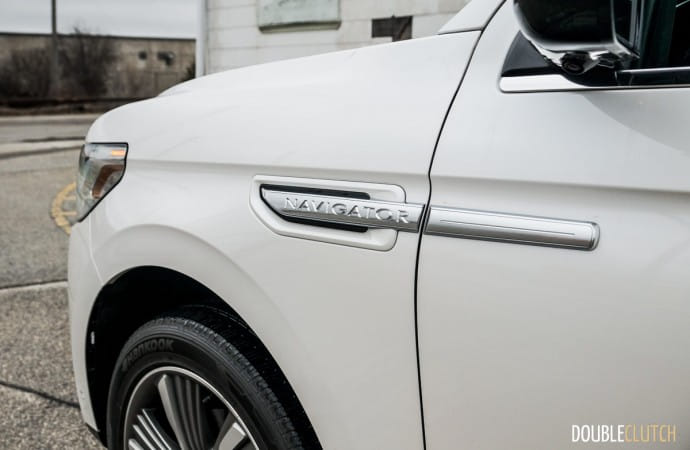 Base Navigators start at $88,150, but the upper level Reserve trim starts at $91,150. At this price point, buyers get 22-inch alloy wheels, power illuminated running boards, awesome Revel audio, panoramic sunroof, adaptive suspension, four-wheel drive, a 4GLTE hot spot ("Lincoln Connect"), and head-up display. For those who need more room behind the third row, there's also a longer wheelbase Navigator L available, which offers similar seating legroom, but drastically increases the rear cargo space.
On the test vehicle, options included the White Platinum paint for $700, Heavy-Duty Trailer Tow Package for $2,000, Technology Package (Active Park Assist, Adaptive Cruise with Stop-and-Go, head-up display, and a lane keep assist system, among other things) for $3,000, and the 22-inch six-spoke alloys were $1,000 extra. Inside, the Perfect Position 30-way seats with massage were $1,000, and the Lincoln Play rear seat entertainment was $2,350. All told, the as-tested price broke the six figure mark and came to $101,200.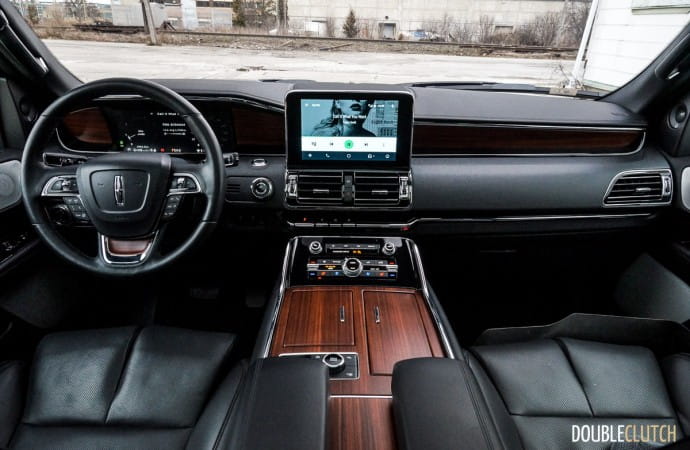 As a luxury vehicle, the Navigator eats up the miles with ease, with great ride quality and very little noise transferred into the cabin, be it from the wind or from the tires. Impacts over potholes feel a bit less jarring than its General Motors rivals, but successive bumps and undulations end up causing more unsettled secondary motions versus an Escalade or GMC Yukon Denali (reviewed here). Part of the Navigator's good ride is thanks to an independent rear suspension, combined with adaptive damping. In any case, there isn't quite any feeling like piloting the body-on-frame American luxury SUV down the highway; one of the highlights is the sheer amount of road isolation compared to the average car. It doesn't feel like you're riding on a cloud, but rather like everything else beneath you becomes insignificant.
Steering is done by electric power assist, and while effort is light, the steering ratio is comically slow at nearly four turns lock-to-lock. As a result, handling feels clumsier than it should, and a faster steering ratio should not adversely affect higher speed stability. Braking performance does admirably well in terms of stopping the equivalent of an aircraft carrier, thankfully. For those who tow trailers, the Heavy-Duty Trailer Tow Package adds Electronic Traction Assist, which more finely tunes the four-wheel drive for stability, and also adds Trailer Backup Assist, which makes reversing trailers much easier and almost automatic.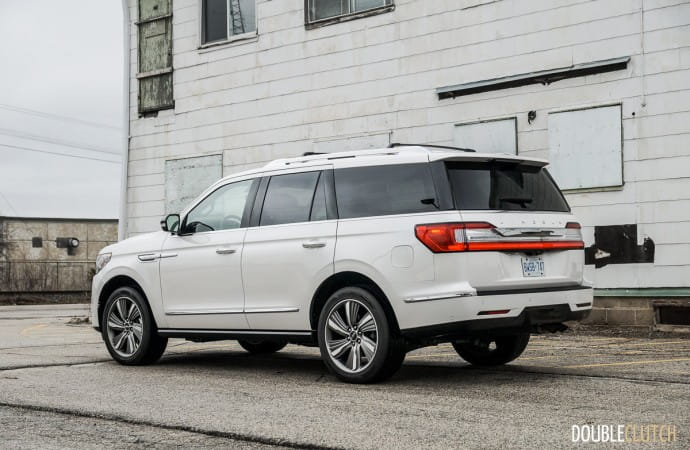 Powering all trims and wheelbases of the Lincoln Navigator is Ford's workhorse truck engine, the 3.5-litre EcoBoost V6. With twin turbochargers, peak output is 450 horsepower at 5,500RPM, with a healthy 510 lb-ft of torque at 3,000RPM. For the most part, it's a smooth operator, with a bit of a gruff engine note being piped into the interior. Turbo lag is minimal and throttle response is good, with plenty of torque down load to get things moving. In this regard, it does trump the 6.2-litre V8 in the Escalade, although it doesn't offer the same visceral feeling of winding out and listening to a naturally aspirated V8. The Ford may be more practical day-to-day, but the Caddy has more personality.
Coupled to the turbo six is the same GM-Ford joint venture ten-speed automatic transmission being used on cars and trucks, including the likes of both the Navigator and Escalade, as well as sportier cars like the Camaro, Corvette, and Mustang. P-R-N-D controls are buttons on the centre stack, which takes some getting used to and may run the risk of accidentally selecting the wrong gear.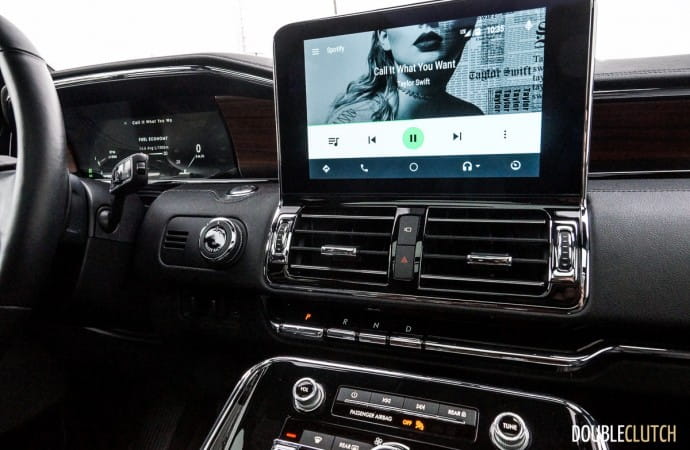 Shifts from the ten-speed are fast and smooth, and while upshifts can be a bit more frequent, there's no hunting between ratios, and the gap between each gear is only a couple hundred RPM, making each cog change less disruptive overall. Cramming in this many ratios was likely the easier way to reliably hold the 510 lb-ft of stump-pulling torque, as continuously variable transmissions (CVTs) haven't quite made the passenger car mainstream for high output applications.
With the smaller turbocharged displacement and extra gears in the transmission, rated fuel economy is expected to be better. With the previous generation's six-speed automatic and EcoBoost V6 good for 15.9L/100KM city and 12.0L/100KM highway, the 2018 Navigator is rated for 14.9L/100KM city and 11.3L/100KM on the highway. Relative to its 6.2-litre GM rivals, the Lincoln wins the city, but loses on the highway. Observed economy over a week on test returned a more disappointing 13.5L/100KM with a significant bias towards highway driving. It seems that the trick to get the rated figures involves keeping revs low and staying out of the turbo's boost, which is easier said than done.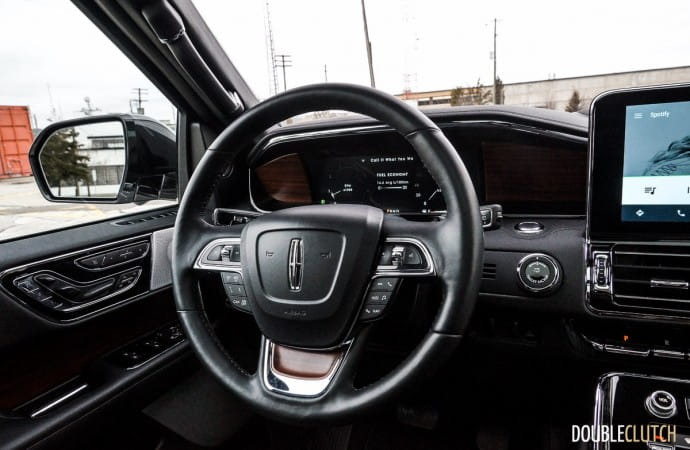 Inside, the Lincoln Navigator has plenty to write home about. The test vehicle's interior design pretty well beats out that of the Escalade, with more angular lines, better attention to detail, and a more cohesive look overall. The Ebony interior combined with Santos Rosewood trim was wonderful, and the Perfect Position 30-way seats are superbly comfortable with plenty of adjustment and massage. The chrome bezel surrounds throughout the cabin really amp up the bling factor, but do create glare when in direct sun.
The climate control's hard buttons fare better than confusing touch screen (Range Rover) or smooth button (Cadillac) inputs. Additionally, the pushbutton ignition is placed in an odd location on a horizontal surface, which leads to frequent accidental presses of the trailering backup function, which is located where a traditional ignition button would be. Aside from this, Lincoln has done a great job on interior execution.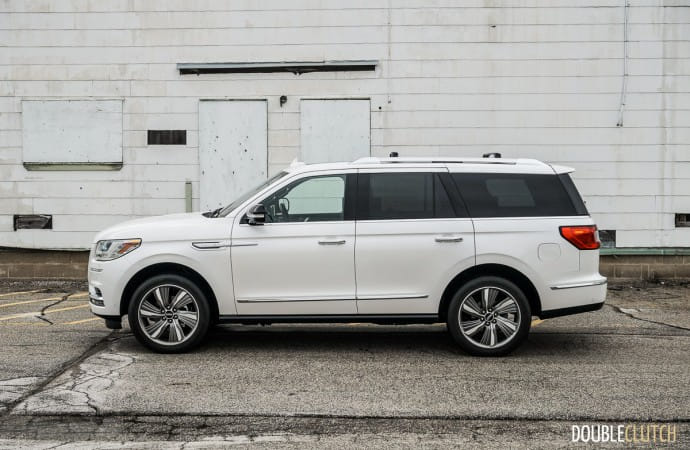 In terms of connectivity, there's a massive ten-inch touch screen showcasing the Ford-Lincoln Sync 3 setup, which has been tweaked for the Navigator. Sync 3 is a generally good interface, with most functions found intuitively. Android Auto and Apple CarPlay smartphone pairing is included, but Sync 3 has a bit of trouble remembering menu contexts in regular use – at least, for Android Auto.
When Navigating (quite literally!) using Google Maps, using functions such as the seat massagers or climate control do not return the user to their last function in Android Auto. Instead, the user is returned to Android Auto's home page, which needs a distracting extra touchscreen press to get back to maps. When the massagers time out and automatically shut off after a few minutes, the same problem happens. This annoyance doesn't appear to happen on other automaker setups.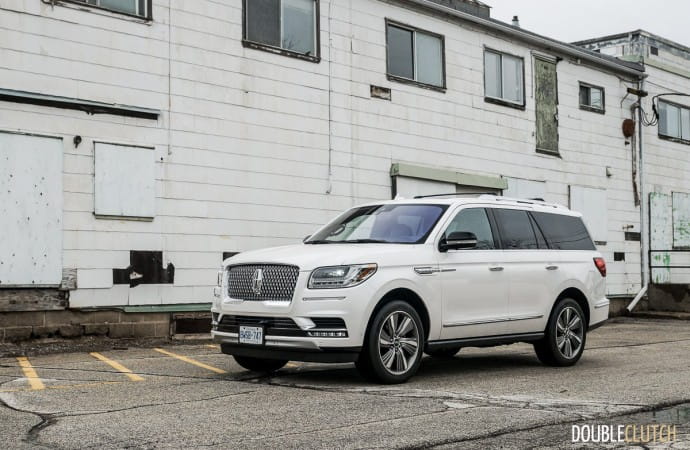 As an all-out luxury sport utility vehicle, the 2018 Lincoln Navigator Reserve is a good effort. The powertrain makes it a practical torque monster, even if it doesn't quite live up to its rated fuel economy numbers. The interior is a nice place to be, with great comfort at all seating positions, and the ride isn't too shabby, either. The technology and gadgetry make it a real luxury ride, and families that need to tow and haul would be served well by a Navigator. It's very competitive against the likes of archrival Cadillac Escalade in its current form, but with a new GM truck chassis on the horizon (Chevrolet Silverado and GMC Sierra are already there), the Lincoln's long-term relevance will remain up in the air with the continual catching up with the Joneses in this segment.
See Also:
First Drive: 2018 Ford Expedition
First Drive: 2018 Lincoln Navigator