With fuel prices continually on the rise, we begin to look towards thriftier alternatives.
The typical consumer mind levitates toward cars such as the Chevrolet Volt and the Toyota Prius (reviewed here), both of which are great at what they do. For those that aren't entirely frugal and would like to be pampered by their automobile, there are some great options out there. If you aren't quite ready to get into the full-electric game (range anxiety is a real thing), blending in has become much easier even within the premium car market.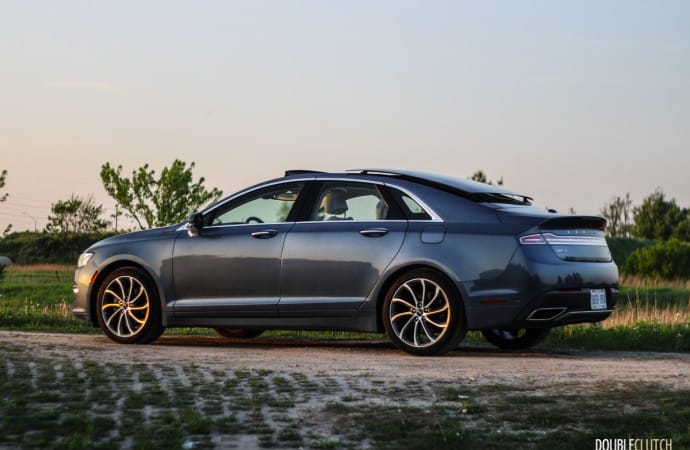 Cars like the 2018 Lincoln MKZ Hybrid offer everything expected of a luxury sedan, with the added bonus of fuel savings for the long haul. Cargo space is also plentiful, as there is no huge battery pack taking up 70% of the trunk as in some other alternatives. This upscale sedan from the Ford Motor Company is a low-emissions hybrid vehicle that offers an excellent alternative to strong and established players such as the Lexus ES 300h (reviewed here) and Infiniti Q50 Hybrid.
Sharing a platform with the Ford Fusion, the MKZ Hybrid is equipped with a plethora of upscale features. Highlights here include a wonderful-sounding 20-speaker Revel Ultima premium audio system paired to a Lincoln version of SYNC 3, 19" aluminum wheels, and leather seats with heat, ventilation, and massage features. Take one glance at the MKZ's sharp edges and futuristic lines and its Fusion (reviewed here) roots are easily forgotten.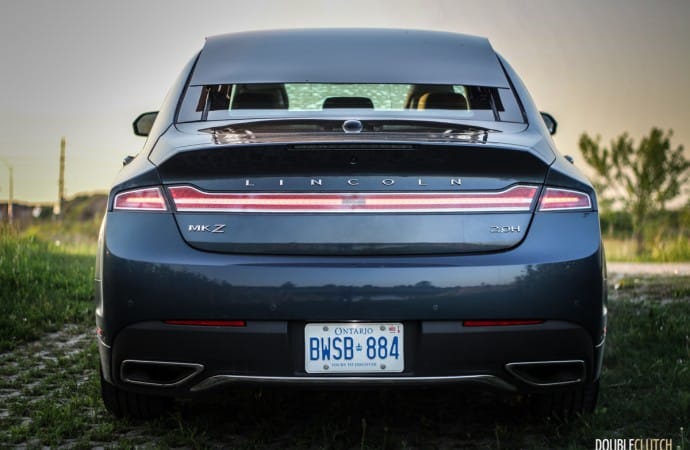 The fuel-sipper under the hood here is a 2.0L iVCT Atkinson-Cycle inline four-cylinder engine, naturally aspirated. It is paired to an 88kW electric motor as well as an electronic continuously variable transmission (eCVT). Combined numbers are 188 horsepower and 129 lb-ft. of torque to the front wheels. It's worth noting that those who want all-wheel-drive from their MKZ will have to opt for the traditional gasoline-powered variant. Response is adequate and acceleration is linear, but the engine sounds strained under full-throttle acceleration or highway merging – this is an issue that the 400-horsepower twin-turbo MKZ doesn't have.
This combination is actually quite good, switching seamlessly from electric to gasoline power. As with other conventional gasoline hybrids, the MKZ can operate very briefly on EV-only mode, but not nearly as much as a plug-in electric would be able to pull off. Regenerative brakes help restore energy to the batteries, but a penalty here is that they are devoid of any real feel. It's an on-off sensation rather than modulation, and this will take some getting used to for most drivers.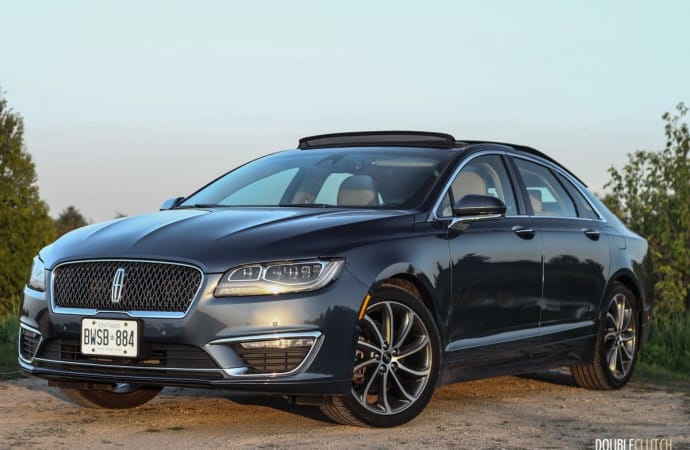 The trade-off in power delivery and brake feel more than makes up for itself at the fuel pumps. Driving carefully and paying close attention to the economy numbers, we observed 6.0L/100km in combined driving. Lincoln rates this model at 5.7L/100km city, 6.2L/100km highway, and a combined 5.9L/100km. Helping with this is a "leaf system" game hidden in the instrument cluster that almost coaches you to drive more frugally and conserve as much fuel as possible.
When piloting the Lincoln down the open road, the electric steering remains fairly predictable but rather lifeless. It's a very obviously electric setup that is geared towards driving comfort and lightness rather than any sort of driving engagement. This is fine, because the MKZ Hybrid makes no claims of athletic prowess. Curiously though, the suspension is a bit on the sporty side. Ride quality is stiffer, almost reminiscent of the Cadillac CTS (reviewed here) – more luxury-firm than sporty. On longer highway runs, the MKZ is smooth as butter, and road noise is isolated from the passenger cabin thanks to dual-pane glass on the front windows as well as sound deadening throughout the cabin.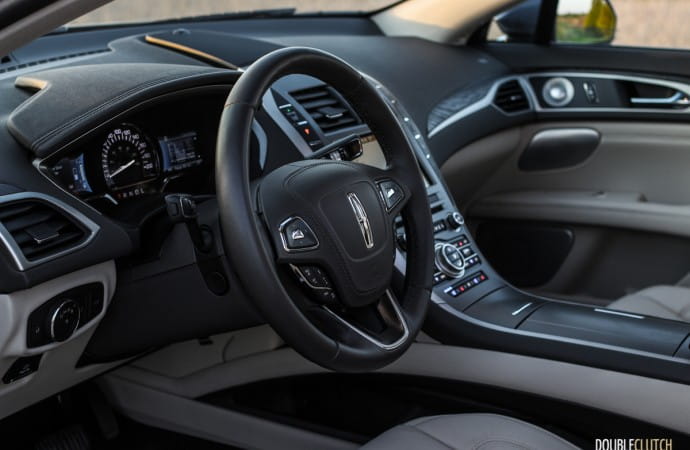 One of the strongest points in the current MKZ's interior is the ease of use with the SYNC 3 infotainment system. All of the buttons are easy to find and after the initial learning curve, become second nature to use. Apple CarPlay and Android Auto connectivity are standard, which is on par for the segment, along with Bluetooth connectivity and a series of Lincoln apps. The aforementioned 20-speaker Revel audio system is a real treat, reproducing all sounds without issue. Sound calibration ability is right on the button and will not require much fine-tuning for most ears.
With hints from the Fusion especially in certain aspects of the interior, the MKZ still finds a way to distinguish itself from its cheaper sibling. There is a notable upgrade in quality from the Fusion, with top-notch attention to detail and nice materials throughout. There are some soft-touch plastics visible, but most of the commonly touched areas are lined with leather or wood trim. The climate control is extremely easy to use, as well.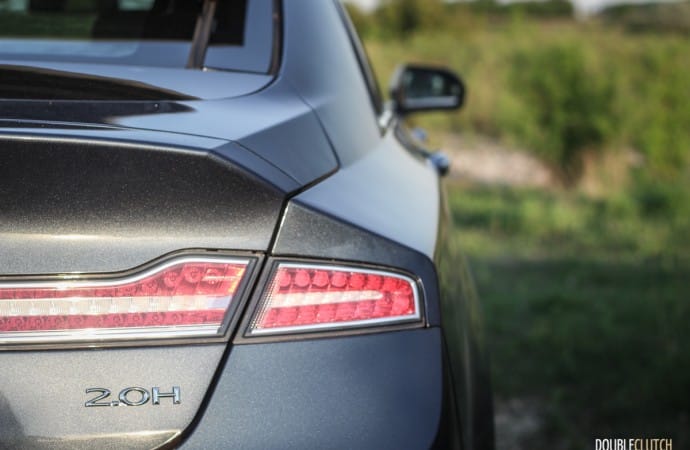 The MKZ comes in four distinct models, starting at just $33,890 for the MKZ Select. The Hybrid Select starts at $34,153, with the top-trim MKZ Reserve Hybrid tested here coming in at $42,527. Our test vehicle had a few added features including Adaptive LED headlights, a lane-keep system, panoramic sunroof, and adaptive cruise control with stop and go technology. The as-tested sticker here comes in at $48,450. Like the MKZ, the Lexus ES 300h is coming up for a full redesign, but a comparable trim would be over $55,000, making the MKZ a value proposition.
Lincoln has done a fantastic job at differentiating the MKZ from its Fusion underpinnings. What's noteworthy includes an interior that exudes class, comfortable seats that are bolstered just right, and a whisper-quiet interior regardless of whether you're driving in the city or on the highway. With the added bonus of hybrid technology, the 2018 Lincoln MKZ Hybrid is a car that will not only appeal to the local country club, but younger buyers that are willing to give the brand a shot. Competition from Lexus is fairly fierce, but the price point would suggest the budget-conscious to give the MKZ Hybrid a good look.
See Also: