The looks are boxy with a side of strange, yet it all flows together pretty well.
With all the recent hype around CUV sales, I can't help but wonder whether buyers really need everything they're paying for. Flexible cargo space, increased ground clearance, tall seating position and available all-wheel-drive seem to be the priorities right now. But what if you took two of those factors away; does a compact hatch, such as this 2018 Kia Soul Turbo, make sense? A more economical tall hatchback definitely does make sense, and with few vehicles fitting the bill, the Kia Soul has enjoyed a fairly prosperous run over the last nine years.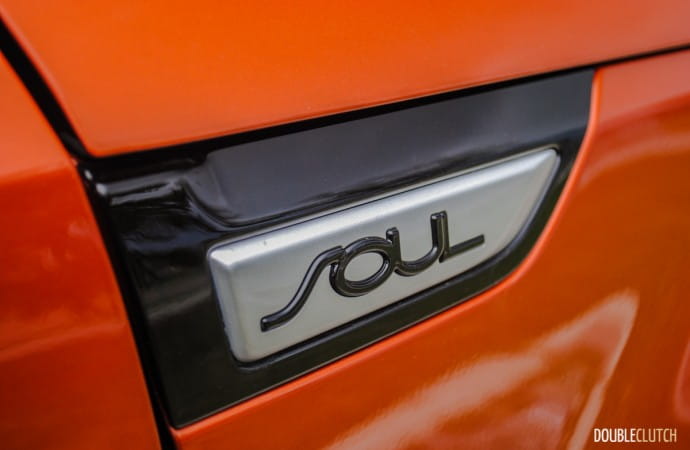 Now getting towards the end of its second generation, the Soul was updated for 2017 with a new Turbo trim level. The big news is the available 1.6L turbocharged four cylinder engine generating 201 horsepower, a healthy bump over the 2.0L naturally aspirated 161-horsepower motor and an even bigger step up from the base 1.6L 130-horsepower unit. The transmission in the Soul Turbo gets an update as well, with the seven-speed dual clutch automatic unit replacing the standard six-speed automatic.
Powertrain updates aside, the Turbo trim gets unique red lower body accenting, 18" sport alloy wheels, sport seats (cloth and leather), orange interior stitching and a big beefy leather-wrapped flat-bottom steering wheel. Our tester came finished in Wild Orange, which seemed to attract a fair bit of attention out on the road, even from a couple other Kia Soul drivers who gave a smile or a wave – a friendly bunch, these owners. The looks are boxy with a side of strange, yet it all flows together pretty well. The Soul's styling is either something that you love or you hate, and if you love it, then the top-line Turbo is surely the best looking with its extra flare.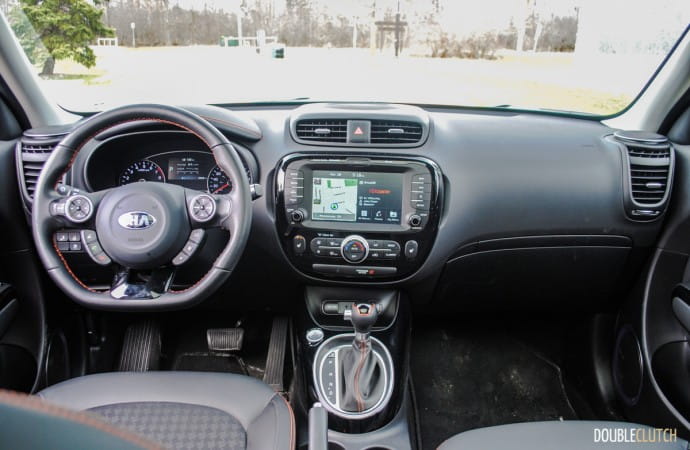 The interior falls into a similar camp where the Soul's tall and boxy roofline makes the most out of every inch of interior space, meaning the Soul is a very capable little vehicle. The split rear seats fold flat, and the tall hatch makes for easy loading; a great setup for urbanites who frequently find themselves moving bulky items. With the rear seats up, the Soul has plenty of head and legroom for adult passengers, once again thanks to its tall roofline. Up front, the dash and centre console layout is admirable with everything placed intuitively and easy to understand and operate. Don't expect luxurious fit and finish in this segment, but overall the interior shows well with liberal use of tasteful soft-touch matte black plastics, glossy piano black accents, and of course the prominent orange stitching.
It's not all utilitarian though and the Soul Turbo boasts a hearty list of creature comforts; starting with the sport seats which are trimmed in a premium cloth and leather. After a few hours in the Soul, I did find my back getting a little tired, but they remain above average for seats in this segment and price range. The big leather steering wheel feels great to hang onto, and the Turbo comes standard with Kia's Supervision LCD gauge cluster which is pretty slick and displays everything in a similar fashion to much higher-end vehicles. The SX Turbo also comes standard with heated front seats and a heated steering wheel; both must-have features for daily drivers in Canada. You'll also get automatic climate control, Android Auto and Apple CarPlay, all standard on the Turbo trim.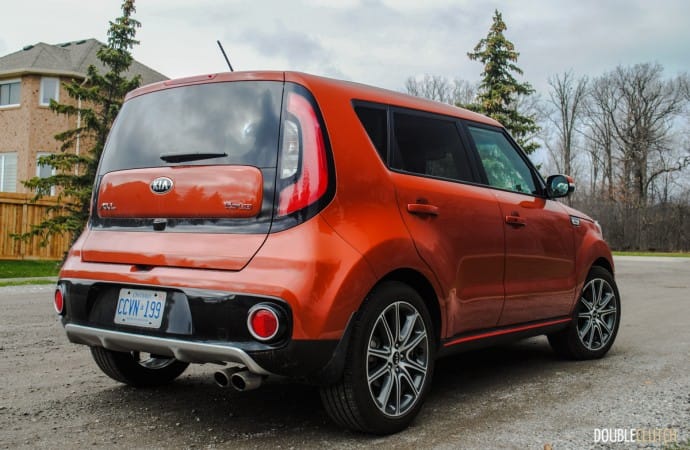 If you want to make your Soul a little more special, stepping up to the top-line SX Turbo Tech like our test car adds some pretty upscale features. This list includes a full-length panoramic sunroof, Harman Kardon sound system, 8" touchscreen with navigation, rear cross traffic alert, heated rear seats, and full power adjustability on both front seats. The Tech also comes with "sound reactive speaker lights"; these are mood rings around the front door speakers that can be set up to pulse to the music or slowly rotate through a variety of colors. With all of this, the as tested price came to an arguably high $29,995. If you can go without some upgrades, the standard SX Turbo starts at a much more palatable $25,995; only a $6,000 upgrade from the entry level Soul LX.
One little annoyance I did have with the tech in the car is the blind spot monitoring system. It's a little over-cautious and if there's a car anywhere within about 10 car lengths of your blind spot it'll loudly warn you. The problem is that in Toronto, that means the blind spot warning comes on just about every lane change, which gets annoying fast. You can disable it, but then you won't have it that one time when you do want it.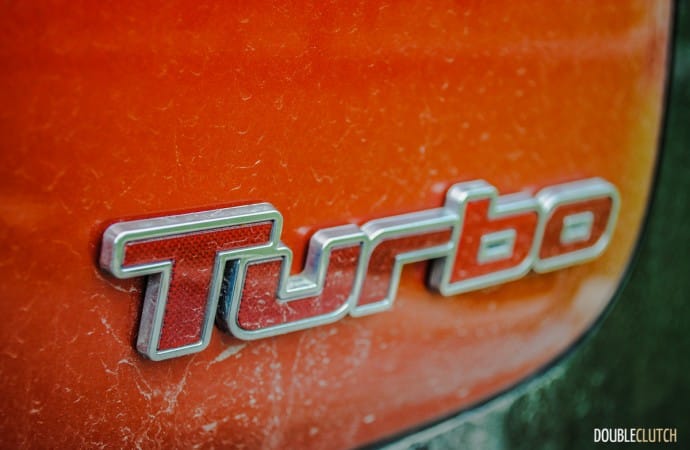 If you're spending the extra money for the Turbo, you'd be right in thinking that it's much quicker than the naturally aspirated options. In fact, despite its boxy dimensions and unassuming looks, the Soul Turbo can get up and pass with gusto. Where it does let down a little bit is in its lack of refinement in delivery. The dual-clutch transmission tends to be jittery and slow to respond in certain situations. Inching along in traffic can have a tendency to throw it into a fit where it'll jerk in and out of gear. That said, when the transmission is working well, such as under hard acceleration, shifts are impressively quick. Throttle response is another weak point in that the first quarter-inch or so of throttle movement can, at times, result in almost no response from the engine, at which point it'll suddenly come to life with a burst of power. Bottom line here is that it's decently quick for a utilitarian compact hatch, but it's not a refined experience by any means.
It's a similar story for the car's road manners; the ride is actually fairly comfortable and agreeable, but handling leaves a lot to be desired as the steering is a touch slow, lacking in feel and the Soul has a tendency to lean through quick corners. These characteristics mean that it's comfortable for running around in the city, but when I got a chance to play with the peppy Soul on the back roads, the lazy handling took most of the fun out of the experience. Being so boxy, the Soul is a little out of its element on the highway, but the Turbo comes through with plenty of passing and merging power. The downside is that the wind and road noise levels in the cabin are on the high side.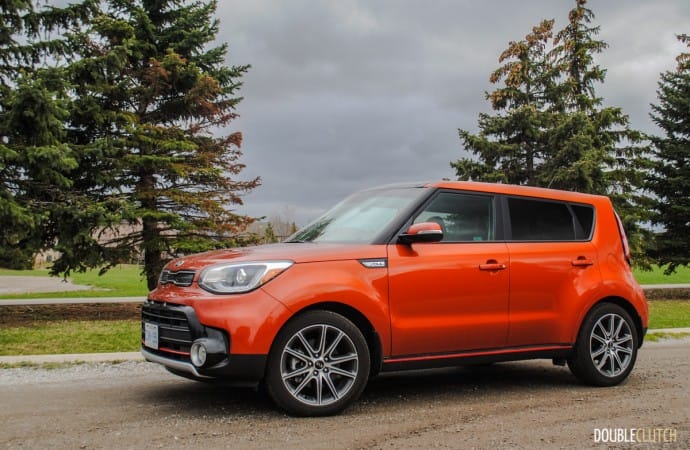 Fuel economy is one area where the naturally aspirated versions of the Soul likely outshine the Turbo. After a week of rush hour commuting, and even a decent highway run out of town, the average sat at 8.5L/100km on regular fuel. This isn't dismal, but I tend to expect a little more out of a small four-cylinder FWD car. Naturally, the turbocharger and lack of aerodynamics are having an impact here.
Opting for something like the 2018 Kia Soul Turbo instead of a needlessly high crossover or small SUV can really be a good option, especially for someone looking for a practical and affordable city runabout. The tall roofline allows for the flexible cargo space, easy ingress and egress and high seating position that draws many buyers to CUVs, without the added costs and operating expenses of an AWD system and ground clearance. If that sounds appealing, then the quirky, peppy and practical Soul Turbo might just be your fit.
See Also:
2017 MINI John Cooper Works Clubman