As a driving enthusiast I'm having a hard time coming to terms with the ends justifying the means.
On top of spending my time wrenching on, and writing about cars, I'm also an avid rock and ice climber. Each and every time I've been out on a mountain, I, or a guide, has had to make a choice on weather or not to cross a section of terrain. The goal (the peak of the mountain) is always alluring, but often the risk of crossing the snow bridge over that crevasse just isn't worth it. We aren't willing to cross that obstacle to get to our goal. This just popped into my head when I was driving the 2018 Infiniti Q50 Sport 3.0t. Certain parts of the driving experience feel like a bridge into an (admittedly) desirable future that I don't want to have to traverse.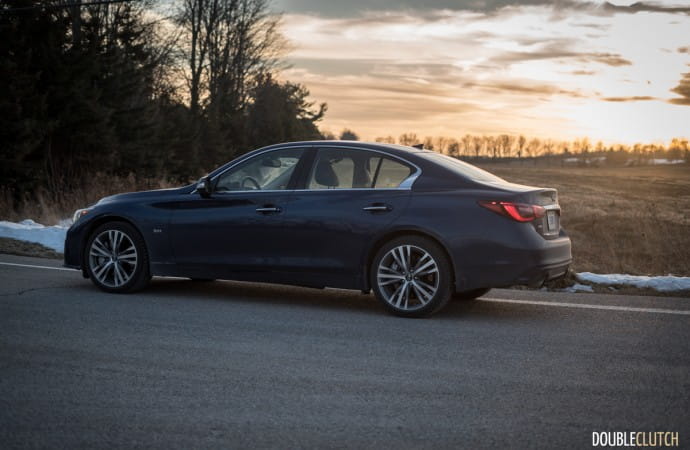 Before I explain what I mean, I want to express that I loved the drivetrain in this vehicle. A 300-horsepower twin-turbocharged 3.0L V6 that wails to 7,000RPM? Yup. All day, every day please. Plant your right foot, and just like a sprinter taking a deep breath at the start line, the engine will take a moment for boost, and you will be whumped to speed with surprising effectiveness for what is impressively, not the fastest in Infiniti's line up. The car has power on tap, and the shifts from the seven-speed automatic are fast.
I found manual mode to be acceptable, if not lighting-fast, but it didn't detract from the engine, which always inspired you to drive a little quicker. I also greatly enjoyed the sound. Personally I think V6s are one of the most underrated engines for noise. I love the sound of a high-revving V6 and even though this isn't as throaty and raw as the older naturally aspirated VQ engines, it still produced some satisfying tone.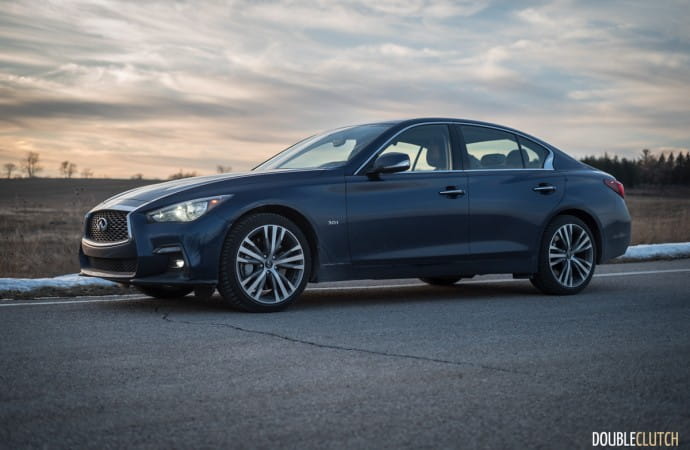 A part of the Q50 that also gets check marks from me is the styling. The front end shape is excellent without trying too hard, and the taillight design is top notch. This is the Q50 Sport ($47,995), so it has some extra flourishes on the front and rear bumpers. These make for a more aggressive exterior but there is a little section of styling at the C-pillar base that might not have been necessary. The Q50 Sport also comes with 19" alloys that complete look of this sedan. Overall, I love the way it looks. And as it should, the Q60 Coupe (reviewed here) looks even better.
Other features of the Sport are some excellent sport seats with thigh extensions. I tend to butt heads with seats these days, but I got along with these buckets just fine. They're well bolstered, supportive in all the right places and extensively adjustable. They added a definite feeling of luxury to the interior. Other parts of the interior didn't impress as much.  As a whole, it doesn't exactly look that expensive. Look closer though, and you will find nice stitching and good materials. I also felt the cabin to be a bit cramped. The steering wheel looks great, is well built, and the driving position is bang-on right.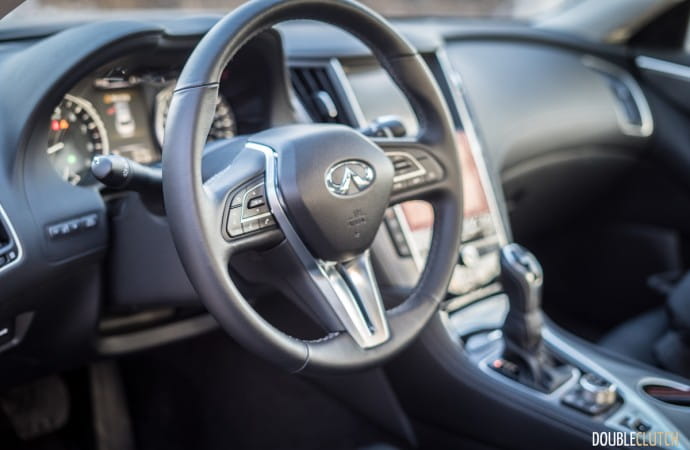 Controls in the interior are alright, but do feel a bit outdated. There is a dual screen setup going on, much like Acura, and one screen looks modern, and one almost looks like a GameBoy. They both can show you similar information, so it was difficult to figure out which screen to look at and when. This was one of those vehicles where when needing to change the radio station, I would look down at the controls and wonder how to do it. The interfaces were somewhat laggy, and parts of the climate control were done through the touchscreen.
However, none of these issues bothered me like the Direct Adaptive Steering, which as many of you might already know is fully steer-by-wire. This means that there is no physical connection to the wheels. For a regular consumer, this honestly won't be an issue. For what it is, Infiniti has done an excellent job of making it feel real. There is an obvious on center feel, and some artificial weight in the corners. But when you start to push a little harder, and exploit the "Sport" portion of the Q50, it falls flat.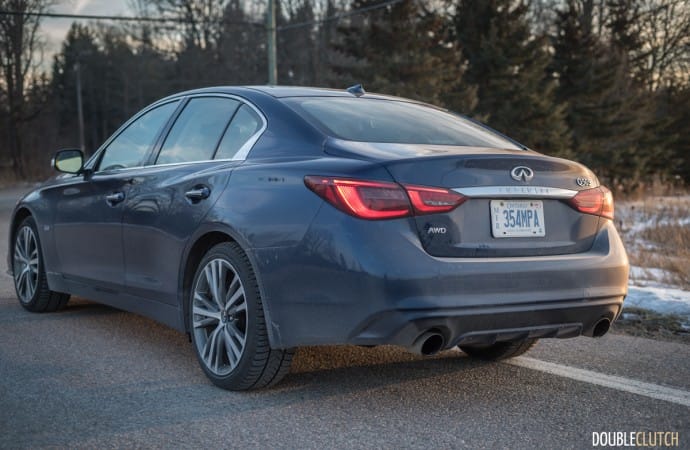 I found it very difficult to discern where my tires were pointing in the middle of a corner, and very minimal amounts of feedback came through when the car approached the limit. I also found it vague and imprecise during parking maneuvers. "Weird" is the way I would describe it at low speeds. It's my understanding that steering developments like this are necessary for the future of driverless cars and all that, and so that brings me back to my original point.
I understand where the future is going. Autonomous cars may eventually be the norm, and so vehicles will need full control over things like steering. A steer-by-wire system like this has its advantages in this respect, as well as the ability to able to change the weight and ratio on the fly, so I fully get where Infiniti is going with it. As a driving enthusiast I'm having a hard time coming to terms with the ends justifying the means. I don't think I'm ready to let go of good mechanical control over my tires. I don't think I'm ready to cross over that crevasse, no matter how alluring the peak of the mountain is.
See Also:
2017 Infiniti Q50 Red Sport 400