An impending fight between the incumbent hybrid king and the stalwart new gun in town.
With the race for lower tailpipe emissions and fuel economy a mainstay factor in most car consumers' purchase decisions, manufacturers have been forced to look at alternative energy sources. Electrification makes sense: we all use it and at the least, the infrastructure is there. The real question becomes how do you make it a reliable form of transport for those of us who have to survive long commutes and travels without requiring multiple hours to charge the vehicle at each destination?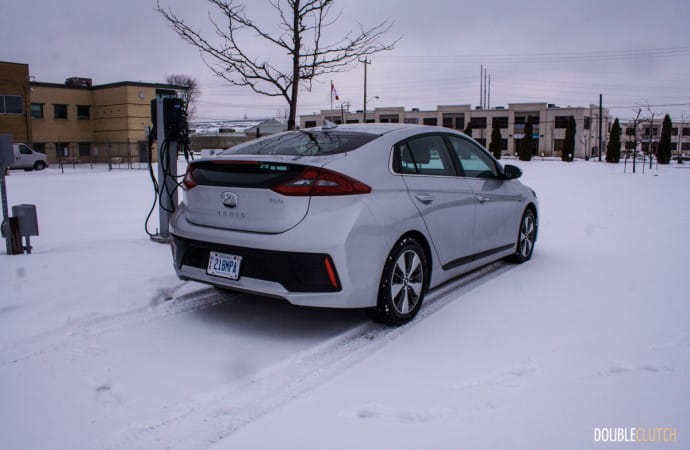 Like others, Hyundai has offered the 2018 Hyundai IONIQ Electric Plus PHEV, which combines both the positives of being a plug-in electric vehicle with the added bonus of having a gasoline engine. With the onset of some of the coldest weeks in winter – the nemesis of all electric vehicles as it tends to sap battery storage and efficiency levels – I was genuinely interested to see how well this plug in hybrid electric vehicle (PHEV) would fare. Adding to the long list of things for this car's to-do list was a 340km commute to Buffalo for one day and some of the worst bumper-to-bumper city traffic.
From a looks perspective, the IONIQ offers a subtle and inoffensive but sleek and mature design. As one bystander pointed out to me – it looks like he would have imagined any Hyundai to look like. He's totally right – there are cues from the rest of the Korean family DNA in this vehicle. In fact, it totally has multiple cues from the Elantra GT (reviewed here); the grill is very similar and the side profile of the liftback-like design is a hybrid (pun intended) of the Elantra GT hatch and the Elantra sedan. While it is no true liftback, this still blends the storage capability of a hatchback but offers the aerodynamics of a sedan. From a looks perspective, this IONIQ is the Toyota Prius (reviewed here) for those who find the Prius too wacky in its styling.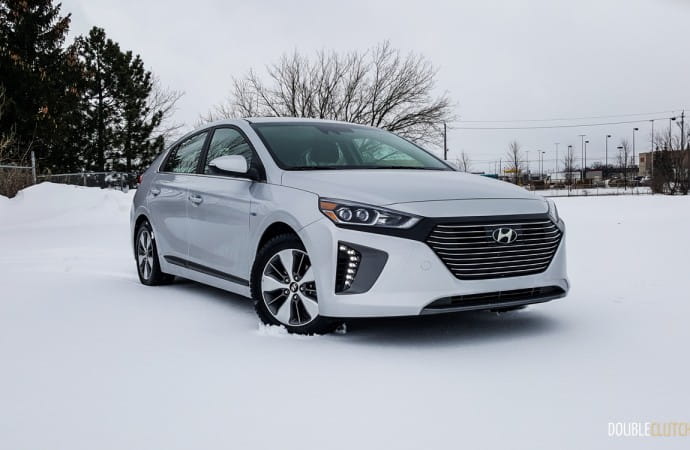 Ingress into the IONIQ's cabin is effective and simple thanks to good placement of seats and consoles. As soon as the door closes, the world's noises are sealed off quite well offering a sense of serenity. The steering wheel (manually adjustable in both tilt and telescoping action) offers a welcome and thick grip which fits my hands very confidently. The slightly sporty bucket seats have some bolstering but it is very subtle and will likely not cause any discomfort for most body types. Adding to this are the eight-way adjustable settings making it very likely you will find a good driving position.
What did give me pause for thought is the fact that both front and rear seats and the steering wheel have heat functions. As someone who prioritizes efficiency over interior comfort, I had no issue in not utilizing any of these functions knowing that it would eat into IONIQ's 8.9 kilowatt-hour lithium-ion polymer battery storage and thus reducing my electric only range. For those of you who appreciate these functions, at least it's there and will work extremely well.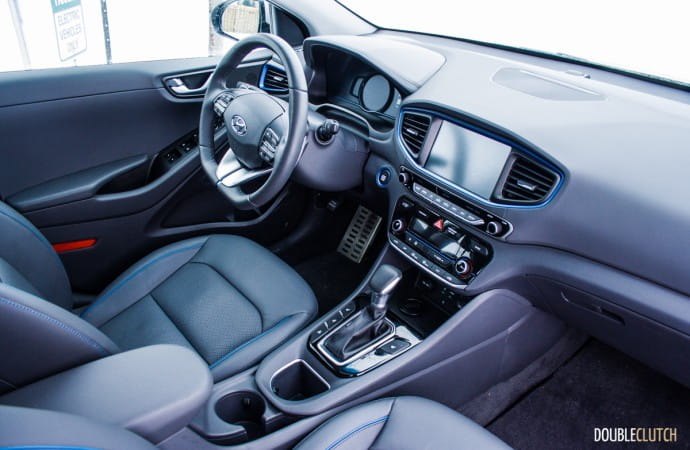 One gripe that I had with the climate controls is that the defogging and defroster options appear to be engineered to just barely do the job. Driving back in one of the thickest snow storms of the year, I had to blast the fans at full speed in manual mode while engaging the A/C (for dehumidifying purposes) in order to defog the windows. The automatic mode was simply not keeping up. If the car was loaded with four adults instead of just me alone, I would think this might be just at the limit and may pose to be a slight problem for those who do not know how to engage full defogging capabilities manually. I must also point out for the hyper-miling crowd; if defogging is activated (either in auto or manual modes), this will engage the gasoline engine.
The aforementioned battery, in theory, should offer up to 47km of electric only range. During my week of -18 degree Celsius weather, the battery diagnostic readouts showed a maximum of 27km on a full charge. Charging at my conditions was ranging from just under two hours at 240V up to just under eight hours at 120V. For most part, this is actually quite good given the extreme weather we saw. With proper hybrid driving techniques and a charging station at work, it is quite possible for most city commuters to easily live off electric charge only.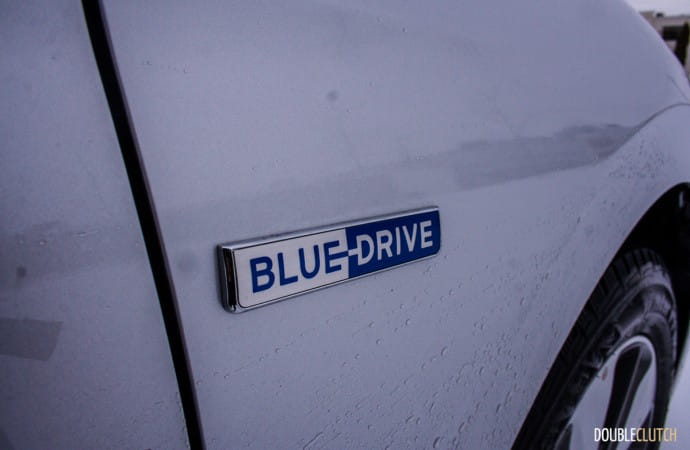 In full electric mode, the IONIQ's 60-horsepower electric motor offers a delectably smooth and ultra quiet takeoff. This is particularly noticeable in the heavy snow as the power delivery never seems to upset the available tire grip and thus, for most part, not require any traction control on launch. Hyundai has elected to marry a 1.6 liter four cylinder, gasoline (GDI) 'Kappa' engine (good for 105 horsepower) with this electric motor; coupling both to a six speed EcoShift Dual Clutch Transmission (DCT). The latter is particularly interesting given that most if not all other PHEVs utilize a continuously variable transmission (CVT).
With the DCT come the now market-standard paddle shifters. When manual shifting is engaged, the centre speedometer (which is a circular full LCD display) morphs into a more aggressive red backlit tachometer and the gasoline engine is engaged. The shift speed is nothing particular to write home about, but instead is carried out very smoothly and when in auto mode, you will easily forget this is actually a DCT. One thing to note is that the computers will shift for you if you try to hold a redline RPMs. A sports car this is not.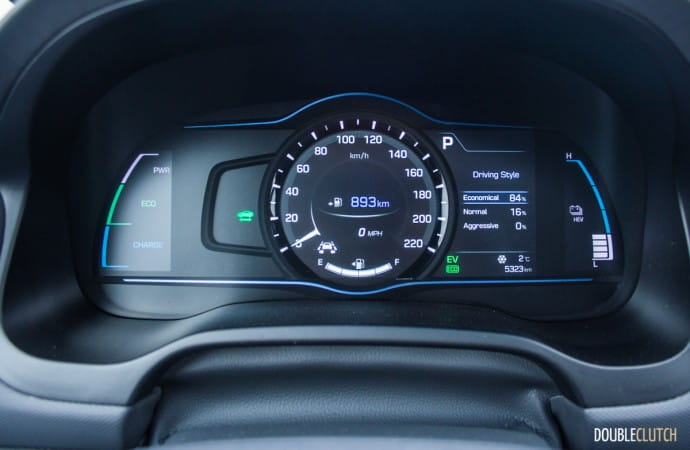 But what about the gasoline side of things? Let's just say that as it kicks in, it really reminds you of how little noise electric motors generate. The engine is raspy and can be heard quite readily in the cabin. On gasoline only mode (which kicks in when the battery is drained below the 20% mark), the IONIQ returned a modest 6.0L/100km on my drive to Buffalo and back. The engine is sufficient enough to move the car up to highway speeds competently. Adequate is the phrase of the day here.
Natural Resources Canada (NRC) has rated this IONIQ PHEV at 4.4/4.6/4.5L per 100km (highway/city/combined). When I reintroduced charging back to the car's daily intake, I did see my week's average fall to approximately 4.5L/100km by the time I returned the vehicle. Given the extreme weather, I'd say it would be quite possible to exceed the NRC's numbers in ideal circumstances.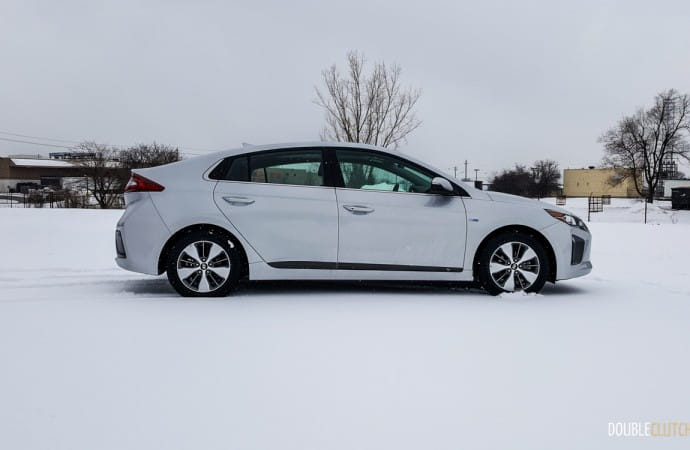 From a driver's perspective, the IONIQ is fully loaded with a host of active and passive safety features like Lane Keep Assist System (LKAS), Blind Spot Detection with Lane Change Assist and Rear-Cross Traffic Alert as well as Autonomous Emergency Braking with Pedestrian Detection. This keeps the car well in line with the rest of the competition but a few gaps in the passive feature designs need some improvement – namely rear visibility. The rear windshield of this vehicle is split into two thanks to the liftback-like design.
The real rear windshield is actually so small that the engineers designed the top half of the trunk to be another windshield allowing better visibility without the camera engaged (eg: when driving forward). Neither have a wiper and the trunk's unit is such that it gets most of the splash-back formed via wind currents at speed. This means that for most part, it remains impossible to see out of in anything other than perfect conditions.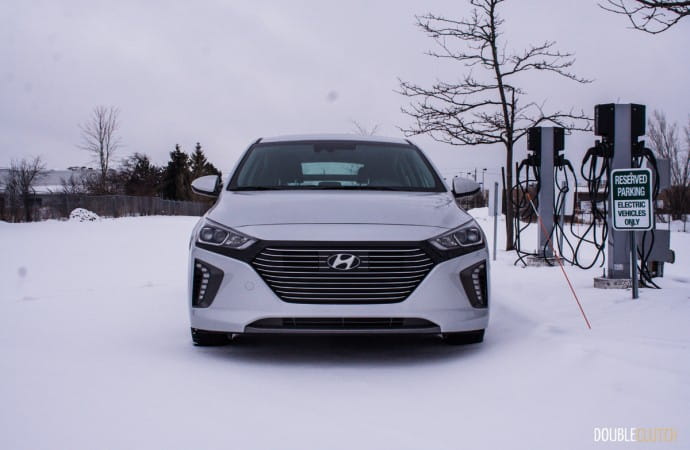 At a MSRP of $36,773 for this 2018 Hyundai IONIQ Electric Plus PHEV, it puts a target squarely on Toyota well ahead of their upcoming release of the Prius Prime, their own PHEV. Both will be battling for consumer's hard earned dollars and both are eligible for the Ontario Electric Vehicle Incentive Program. As of February 2018, the IONIQ PHEV can net up to $8,095. A fight between the incumbent hybrid king and the stalwart new gun in town means consumers now have plenty of viable options that don't involve the big T.
See Also: