This is a car that tries to be the mature one out of its competition but can still play ball.
The 2018 Hyundai Elantra GT Sport is South Korea's latest foray into the "hot hatch" market (with its previous entry being the eccentric Veloster Turbo). It is being ubiquitously billed as a considerably more athletic iteration of the Elantra badge with a marketing campaign that heavily emphasizes both the strength of Hyundai's Superstructure™ and the Nürburgring testing that this car has undergone. This is to convince the general public that the Elantra is a vehicle, which an enthusiast could love to get in for some spirited driving.
Starting from $20,449 for the base GL with manual transmission, the Elantra can scale the price range up to $30,499 for the fully loaded Sport Ultimate armed with a dual-clutch transmission. Our test vehicle is just two notches down from that, at $27,126 for the Elantra GT Sport. This puts Hyundai's entry as second lowest cost against cars of its ilk – the Mazda3 Sport GT (reviewed here), the Ford Focus ST and the granddad of all hot hatches: the Volkswagen Golf GTI.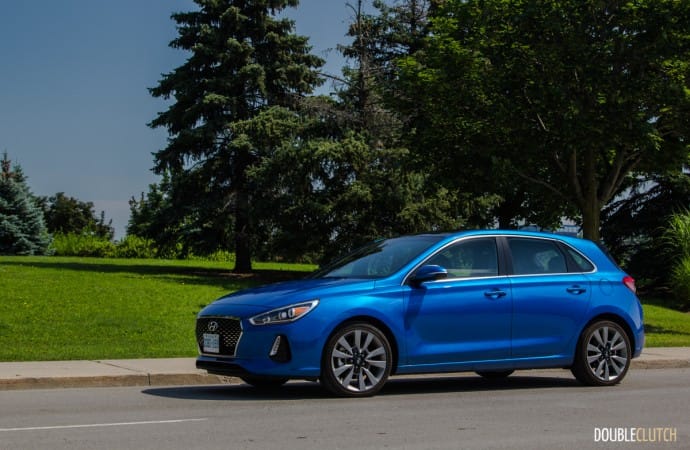 At this price point, Hyundai provides a rather punchy 1.6L turbocharged Gasoline Direct Injected (GDI) four-banger producing 201 horsepower at a peaky 6000 RPM but providing a healthy 195 lb-ft. of torque from the 1500 to 4500 RPM range. Load the car up with three passengers and the phrase "no replacement for displacement" really hits home: it can feel lethargic coming out of a dead stop. The car and its transmission really come alive north of 2500 RPM and will rev quite happily to redline, making highway passing quite simple and confident.
The caveat to all of this is that the fuel economy is advertised at 10.7L/100km and 8.1L/100km for city and highway driving, respectively, with a combined rated fuel economy of 9.6L/100km. In my week with the vehicle, I averaged 8.6L/100km with almost 75% of my driving time spent in the city. 53 liters of regular gas is all that is required to keep the tank full and the turbo spooling. Needless to say, if fuel economy is in your top three things to look for in a vehicle, hot hatches are not really the car for you.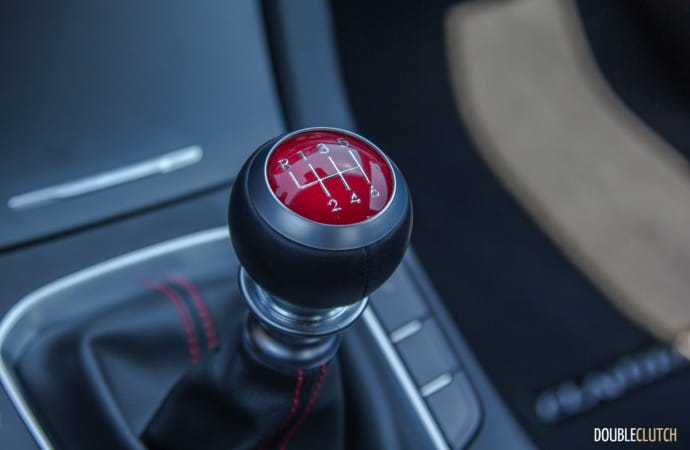 With the six-speed manual transmission, the driver's hand falls squarely on a rather large red-topped shift knob that fits the palm quite comfortably and naturally. Rowing through the gears however, reveals a severe disconnect between what is actually going on with the car versus what you think you should be feeling. The shifter almost feels like it is getting sucked into each gate with the slightest push towards each gear, as if the car is saying to you "Look, I got this, let me do this." Gates are positioned decently and there isn't an ambiguity to where each gear should be, but everything feels rubbery and almost video game-like.
Coupled with an extremely light-feel hydraulic clutch, the Elantra GT makes the manual transmission an oxymoron. One is supposed to feel more connected to the car by rowing its gears yourself, yet there is hardly any sensation of engagement points when letting the clutch out, let alone engagement overall when rowing through the gears. Throttle tip-in position to get the car moving was abrupt, thanks to the drive by wire system, which seemingly gave a different response with each similar throttle tip in. The save-the-manuals activist in me dies a little to say that the available dual-clutch transmission is the better choice with this car.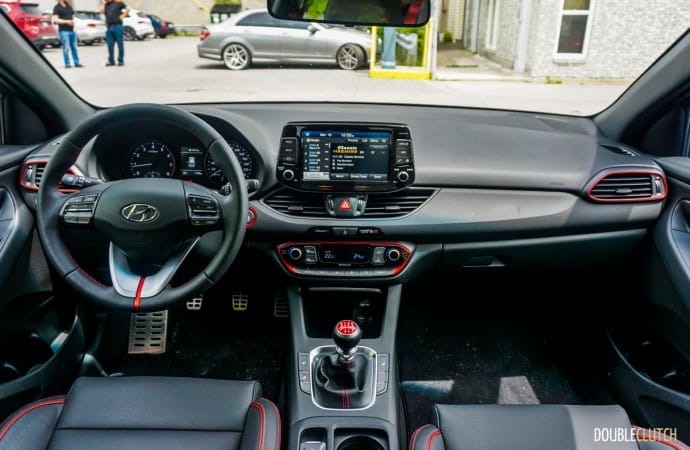 Armed with leather on all touch surfaces: the seats, the steering wheel, door elbow rests and center arm rests, the Elantra GT Sport is a very nice place to be in – borderline posh for its price point. The seats are firm and supportive with enough side bolstering to let you know that you will stay planted in heavy cornering. The suspension is taut, but still soaks up city bumps and uneven pavement very well. Throw it into a corner and the GT can pull off remarkably good manners mid-turn. After a few aggressive on ramp exercises, it becomes clear that the Elantra's suspension and seat combination does a great job letting you hug a turn.
In fact, the Elantra turns well at all speeds thanks to a one-two punch of a tight turning radius (5.3m) and very good sightlines from within (a backup camera is standard on all trim levels). The only regret I have with the car's handling dynamics is that the electric power steering is over-boosted and like the manual transmission, hardly gives any feedback whatsoever. Yet again though, I'm nitpicking.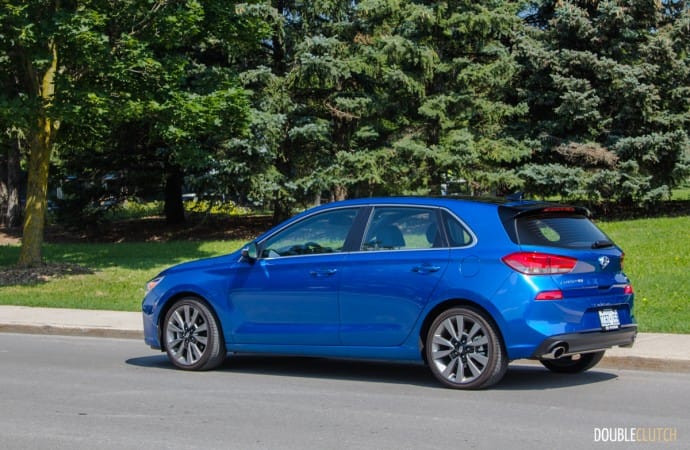 Accenting the interior are various not-so-subtle dashes of red splashed all over: stitching on the wheel and its center stripe, seat accent lines, the HVAC control frame and even the air vents. While it may sound slightly gaudy (and it might very well be for some), this car also comes with crimson red seat belts. It's a rather nice look that pairs well with the Marina Blue paint that wraps this test vehicle. It's worth noting that all eight available paint options come with the same red accents. The rear hatch unfolds to present a cavernous 705L cargo area, more than enough to haul a small family and gear.
The standard 8" touchscreen infotainment system is readily equipped with Android Auto and Apple CarPlay and makes integration with your smartphone a breeze, especially with the available wireless charging mat located next to the USB ports. If a breeze cresting the top of your head is what you so desire, the panoramic sunroof can pull back past the driver's seat and provide your dose of sunlight and open air to bring a smile to your face. On the flip side, if you want to shut yourself in from all the noise and hub-bub of the city, the Elantra's cabin is extremely quiet, and coupled with a respectable six-speaker sound system, allows you to cocoon yourself whilst doing your commute.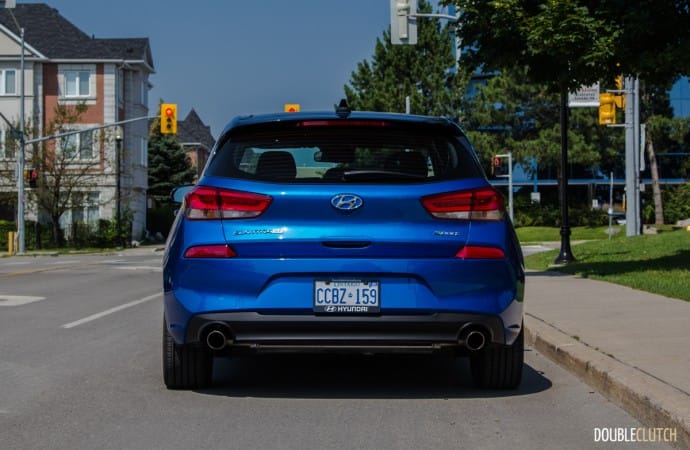 With its strong body lines, well sorted out suspension and great interior, the 2018 Hyundai Elantra Sport GT stands out as a well-assembled vehicle with plenty of character and features. This is a car that tries to be the mature one out of its competition but can still play ball on weekends when it comes to sportiness. It may lack the purity that some enthusiasts will complain about but for a large chunk of the masses, this vehicle will be a solid choice for someone who wants to be able to go places, enjoy a quiet ride and still be able to punch it and go both down the straight and in the turns as needed.
See Also: