The Accent wins out on design simplicity and a lower cost of entry.
Canadians like their small cars. They're cheap, cheerful, and are easy to maneuver and maintain. The 2018 Hyundai Accent GLS Sedan is the Korean automaker's latest generation in a popular product line that's been around for almost a quarter of a century. While the crossover SUV is rapidly gaining in popularity to replace a compact or midsize car, the subcompact remains one of the lowest points of entry in the new car market. Nowadays, they tend not to be the penalty boxes of the 1980s and 1990s, and come with most of the creature comforts that much more expensive cars get. They come with perks like a new-car warranty, new-car smell, and usually more years of motoring with less repair and maintenance costs of something older.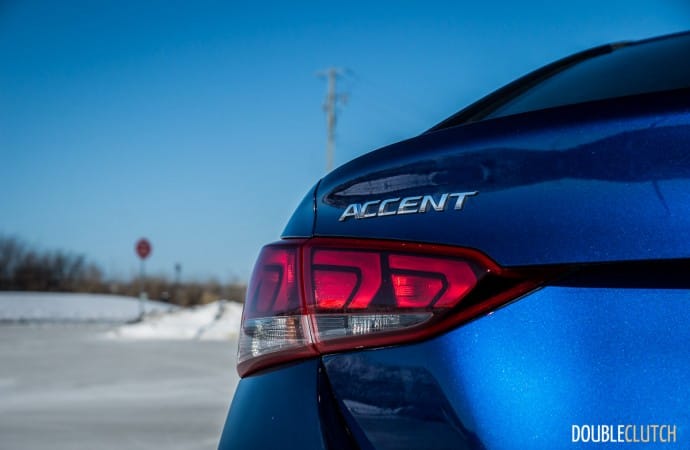 With the Accent GLS coming in at an as-tested price pushing the $20,000 mark, it approaches the point of cannibalizing the middle trim levels of the larger Elantra. That said, standard features include single-zone automatic climate control, projector beam headlights, fog lights, heated front seats, a heated steering wheel(!), cruise control, and full Android Auto and Apple CarPlay integration via a touchscreen, albeit without navigation aside from the smartphone connectivity. Although not equipped on the test vehicle, today's modern safety suite features are optional and include forward collision warning with autonomous braking, and blind spot warning.
Compared to other subcompacts such as the Nissan Micra, Toyota Yaris (reviewed here), and Honda Fit, the Accent's interior is well-built without squeaks and rattles, but isn't quite up to the same material quality standards as the Honda or Toyota. There's still a bit of tinny feel that reminds you that you're in a subcompact, but thankfully, the rest of the ride and handling feels much more premium. Rolling down the highway, wind noise is very minimal and the Accent stays fairly planted in its lane.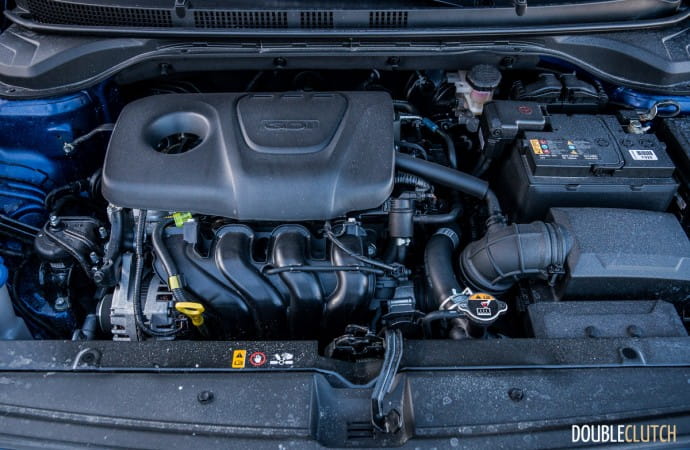 With less curb weight to contend with than the average larger-sized car, the Hyundai Accent is a bit light on its feet dynamically. Steering inputs are light but accurate, but like its peers, minimal feedback for road feel makes it back to the driver. The GLS gets disc brakes in the rear, although aside from fade resistance from repeated hard stops, there is little performance benefit over a drum style design when there isn't a lot of mass to stop. Ride quality with the GLS' 205/45R17 wheels is quite firm with the thin sidewall – electing for a cheaper package should improve things by adding more cushion by way of smaller but more pedestrian-looking wheels.
When piling people and cargo into the little Hyundai, there's a surprisingly good amount of rear seat legroom and trunk space. Those relegated to the back enjoy generous amounts of legroom. Seat comfort is about expected in the subcompact class, with flat seats with hard foam and the bare minimum in terms of support. The larger Elantra does better here. Five adults can squeeze into the Accent with minimal hip room to spare. Out back, cargo capacity in the trunk is a cavernous (relatively) 387L.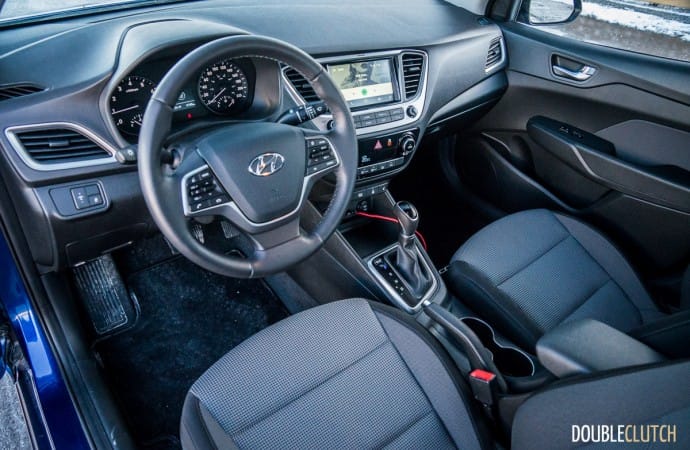 To get the Accent moving, a newer version of the previous 1.6-litre inline four cylinder engine is used. Curiously, horsepower is down by eight, to 132 horsepower at 6,300RPM , and peak torque is 119 lb-ft. at 4,850RPM. While the reasons for the power loss are unknown (Fuel economy? Emissions?), the direct injected power plant still does its job adequately and without fuss. While there's a bit of a deficit in terms of low-end torque, winding out the revs doesn't result in too much noise and vibration. Paired to the engine is either a six-speed manual transmission, or in the case of the test car, a six-speed automatic with manual control. Like the engine, the gearbox does its job without complaint, giving drivers smooth and predictable shifts, even if it has to kick down one or two cogs to get the desired thrust.
For its efforts, fuel economy is nominally rated at 8.3L/100KM in the city and 6.2L/100KM on the highway. Observed consumption after a week of testing netted 7.5L/100KM with a bias toward highway use, combined with snowy winter weather that causes poorer economy. Fuel capacity is 43 litres, and regular fuel is acceptable. Of note – the larger Elantra (reviewed here) with a conventional port fuel injected 2.0-litre engine is rated just about the same as the Accent, losing out on the highway rating by only 0.2L/100KM and matching the combined rating of 7.4L/100KM.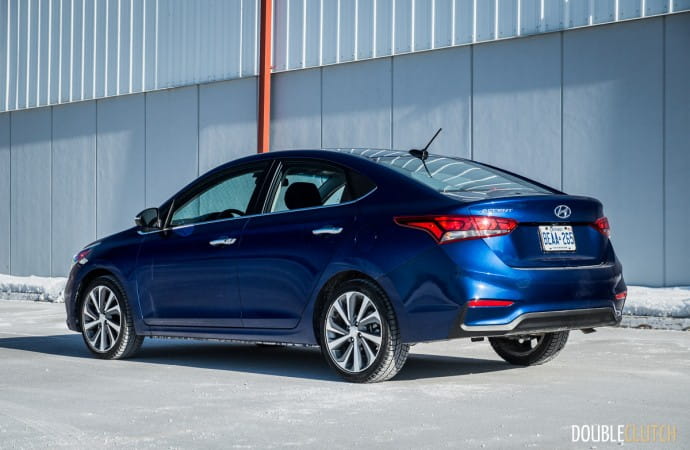 Compared to similar cars, the 2018 Hyundai Accent GLS sedan stands out as a good performer. It's still very much a small car loaded up with options, and its price point rapidly approaches that of a mid-trim Elantra. While the Elantra may give you more car for your money, the Accent wins out on design simplicity and a lower cost of entry for the lower trim levels. To get the best bang for your buck, a more modestly equipped example is likely the best way to go. Do get a heated steering wheel and Android Auto/Apple CarPlay smartphone connectivity, and scale back on things like 17-inch wheels. In doing so, you end up with one of the best cars available under $20,000.
See Also: