The Challenger GT is a very comfortable modern take on a timeless classic.
The 2018 Dodge Challenger GT AWD is a modern day muscle car that is sure to turn heads whereever you go, even getting the occasional thumbs up from passers-by. With 12 Challenger models to choose from, there's sure to be one to suit your needs. The GT model comes with Chryslers's versatile award-winning 3.6L Pentastar V6 engine that's used in several other vehicles such as the Ram 1500, Jeep Wrangler, and Chrysler Pacifica (reviewed here) to name a few. It's a variable valve timed (VVT) engine, which is a newer engine technology that adjusts the timing of the air intake and/or exhaust valves to improve the engines efficiency.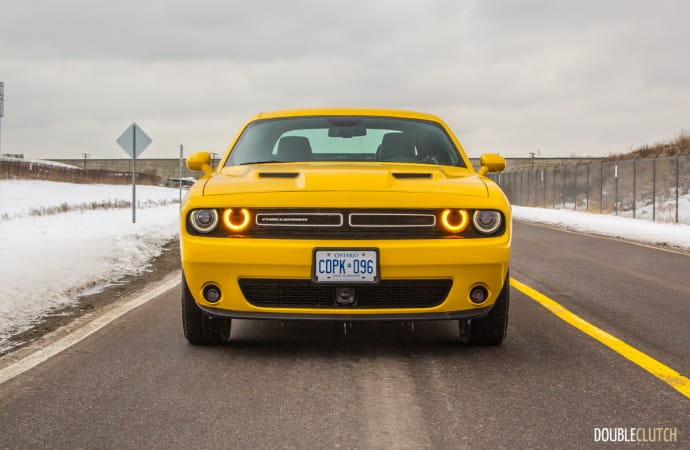 The engine is paired to an eight-speed Torqueflite automatic transmission that can improve fuel economy by up to 9% compared to traditional automatic transmissions. With all of this technology geared towards fuel economy, you'd expect performance to be sacrificed. With 305 horsepower and 268 lb-ft. of torque, this engine is no bone rack, giving this muscle car a good amount of power with a rated 11L/100km (combined). One of my favourite things about this proven engine is the fact that it doesn't require premium gas, meaning enthusiasts don't have to pay a penalty at every fill up.
Standard equipment worth mentioning includes Android Auto/Apple CarPlay through Uconnect, keyless go, TPMS (tire pressure monitoring system), rear parking sensors, and Parkview reverse camera. The GT model comes with all-wheel drive as standard fare, which isn't traditional in a muscle car purist's point of view. But if we kept everything "traditional", we'd still be driving heavy fuel-sucking cars that lack the modern technology and performance we're now so accustomed to. AWD is a modern twist to the conventional muscle car, which is favourable in inclement Canadian weather, giving you the ability to leave those front/rear wheel drive cars in your rear-view mirror, where they belong.
I found the Challenger to be very comfortable, and very quiet, with just enough of a nice exhaust note that leaves you pressing the accelerator more often, just so you can hear that crisp noise one more time. Don't get me wrong, it's nowhere near loud or obnoxious like its larger-displacement siblings. The GT is a surprisingly nimble car given its size and curb weight of 4108lb. It moves around quite well and feels very sure-footed. This particular Challenger comes equipped with the Technology group, Driver Convenience group, Premium Sound Group, and the upgraded Uconnect 4C NAV with 8.4" touchscreen display.
The two most notable options I would highly recommend are the sound pack, and the Driver Convenience package. The Premium sound group is an 18-speaker Harman/Kardon audio system; while $1500, the sound is loud and crisp, has no distortion and a very good punch of bass. The second package is a must have due to the rather large blind spot. It also includes blind spot/cross-path detection, high HID headlights, and a remote start system that any Canadian will truly appreciate. The aforementioned blind spot is thanks to a rather large C-pillar, which makes blind spot monitoring is more of a necessity here.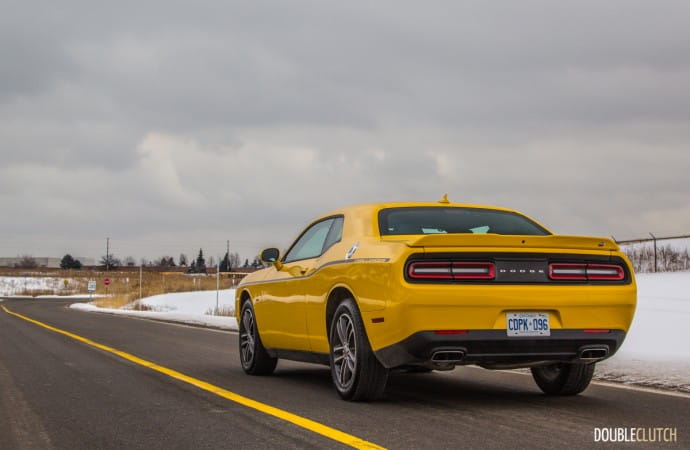 The eight-speed Torqueflite transmission is very smooth and puts the power to the wheels nicely, and I found myself surprised at the cars acceleration given that it's "just a V6". Engaging "Sport" mode firms up the shifts, giving an aggressive kick. The large 8.4" touchscreen Uconnect screen is well laid out and easy to use, and is especially handy when reversing as the back-up camera displays a very clear picture with a wide-angle lens, making it easy to see cross directional traffic.
For a sports/muscle car, the rear seat has ample space for adults. Though getting back there is a bit of a chore, but then again, most people who are looking at a two-door muscle coupe aren't planning on having rear seat passengers on a regular basis. Even still, those in the rear quarters won't feel punished. A heated steering wheel and heated/cooled seats come standard – which are a godsend. The steering wheel gets hot lickety split, but the heated seats are less than desirable.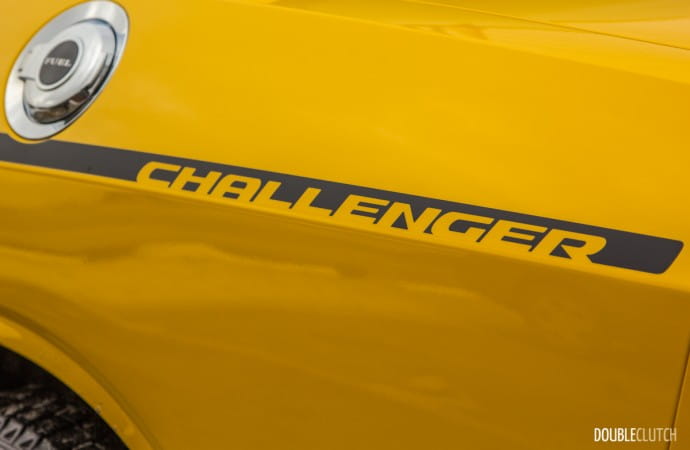 I couldn't quite fathom why aside from temperature and fan speed, the majority of the climate controls are on a menu in the Uconnect screen rather than physical buttons. The heated seat/steering wheel controls are hidden in a submenu that can be hard to find. When considering that the Challenger's main target demographic is the aging Generation X, this seems like a bit of an oversight. This model starts at $38,895, and adding on some options brings our particular tester to $45,275 – more than reasonable and right in line with the Camaro V6 (reviewed here) and Ford Mustang with the EcoBoost.
The 2018 Dodge Challenger GT AWD is a very comfortable modern take on a timeless classic. It has more than enough power and cargo space to get you through your weekly errands, commute and even those cherished weekend getaways. With all-wheel-drive it's the only muscle car that is truly perfect for our harsh Canadian winters, so be sure to check one out if you're in the market for a comfortable coupe that'll be sure to turn heads.
See Also:
2018 Chevrolet Camaro LT Coupe