The Equinox Diesel will continue to attract those specifically looking for that unique oil-burning propulsion.
When the mainstream two-row crossover utility vehicle happens to be the very definition of today's family vehicle, how does an automaker stand out? Most fit into that same cookie-cutter dimension, with four-cylinder engines and all-wheel drive for the Canadian market. It'll be hard to de-throne the heavy hitters like the Honda CR-V (reviewed here) and Toyota RAV4, but there's one powertrain option that is becoming increasingly scarce: the diesel. Volkswagen no longer offers diesel propulsion in anything they build for North America, for reasons that should be obvious by now. Chevrolet has been steadily making inroads with their new diesel-powered Cruze (reviewed here), capturing the market left hanging by VW's sudden exit from their niche market. Chevrolet has now dropped that same diesel engine into their crossover. We were sent a 2018 Chevrolet Equinox Diesel Premier, painted Summit White, for a winter evaluation.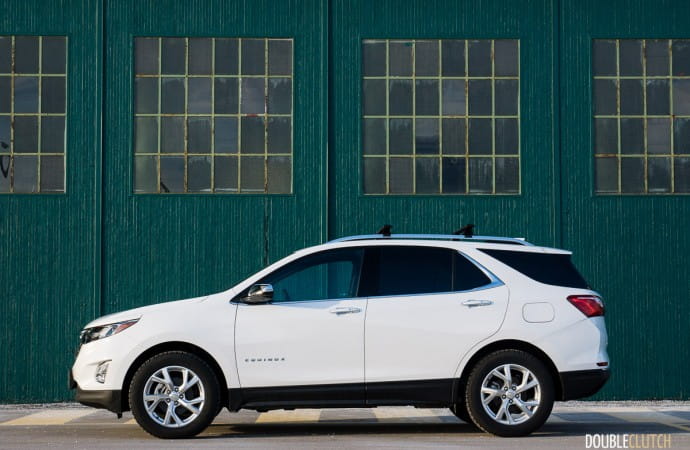 The Cruze was fairly specific in its goal: capture the attention of people who would otherwise only look at a Volkswagen Jetta TDI, because of its excellent highway efficiency and overall range. The Equinox, by default, features a much broader and more mainstream appeal, simply by being in the crossover market that everybody looks at, nowadays. Chevy makes the diesel powertrain option available in the higher-end trim levels – starting at the $36,600 LT. This particular Premier 3LZ tester also came equipped with the $4,000 "Premier True North Edition" package, which sees the MSRP jump to $43,895. This option package, presumably named by Chevy's Canadian product planning team, adds a larger 8-inch touchscreen infotainment interface, and additional active safety technologies, as part of the "Confidence and Confidence II" packages.
The only way you'll be able to tell apart a diesel-powered Equinox from its standard gasoline-powered counterparts is the little blue "TD" badge on the rear tailgate. If you've got a trained ear, you may be able to hear the quiet clatter of the diesel engine, but other than that, it's a very low-key addition, aesthetically. Displacing 1.6L, this all-aluminum turbodiesel produces 136 horsespower at 3500-4000RPM, and 236 lb-ft. of torque at 2000RPM. Thanks to a variable geometry turbocharger (providing up to 27psi of boost) and a selective catalyst reduction system (under the AdBlue name), this is a thoroughly modern little engine.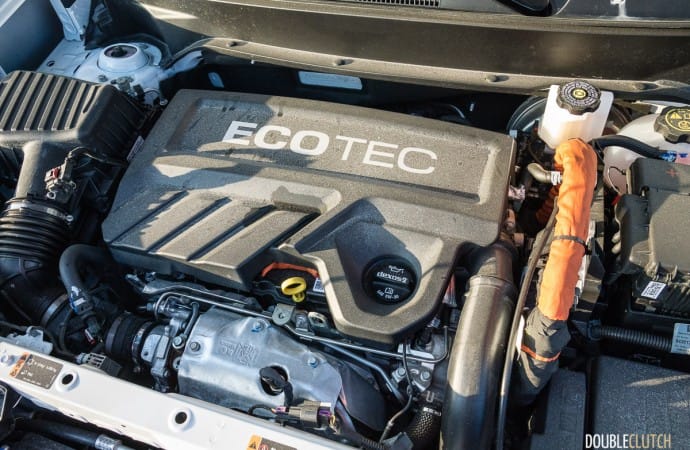 In terms of torque, this puts the diesel somewhere in between the base 1.5L Equinox (reviewed here), and the up-level 2.0L option. Power is routed through a six-speed automatic transmission, and sent to all four wheels, on-demand. The Equinox is somewhat unique in its ability to allow the driver to disable the all-wheel drive system, which helps reduce mechanical drag and improve fuel efficiency when the additional traction isn't needed.

One sticking point: the Equinox Diesel is only equipped with a six-speed automatic transmission, rather than a nine-speed automatic as seen in the Chevy Cruze. We suspect it comes down to hardware packaging, because the additional ratios of the nine-speed automatic would surely help improve acceleration and high-speed efficiency. From the driver's seat, the diesel "swell" of torque is handy for passing, but the Equinox Diesel should not be regarded as a quick vehicle. As is typical for diesel engines, horsepower and torque output drops sharply at the top of the rev range, towards the 5000RPM redline.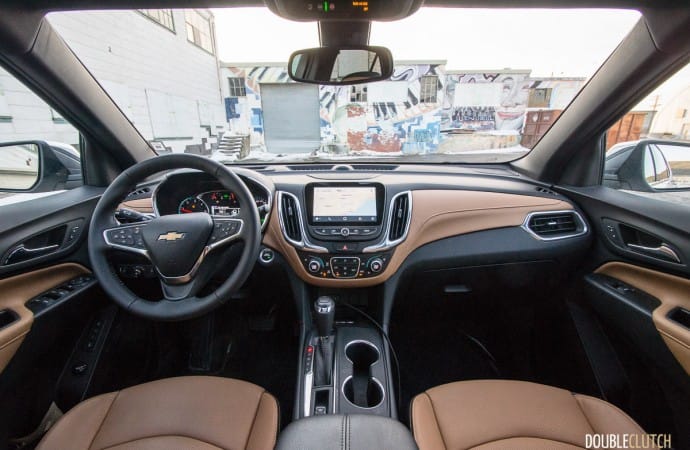 Inside, this particular Equinox Premier features a handsome two-tone (called "Brandy") leather-trimmed interior. Heated and ventilated seats, a heated steering wheel, and a remote starter help you cope with the tough Canadian winters. The interior is otherwise similar to gasoline-powered variants, complete with a standard 4G-LTE hotspot, as well as Android Auto and Apple CarPlay connectivity. For the most part, it is an inoffensive place to be, though the front seat bottom cushions may seem a little short for taller drivers.
Ultimately, the engine and its promised high-speed efficiency is what will attract buyers to the Equinox Diesel. Chevrolet Canada doesn't actually post full fuel consumption figures, but Natural Resources Canada quotes the Equinox Diesel at 8.5L/100km in the city, 6.1L/100km on the highway, and 7.4L/100km in a combined cycle. After a very cold week of mixed city and highway driving, I ended up with an indicated average of 7.6L/100km over a distance of about 700km. The fuel tank will hold up to 58L of diesel, and it's worth noting you'll have to keep the Adblue Diesel Exhaust Fluid reservoir topped up every so often – usually at scheduled service intervals.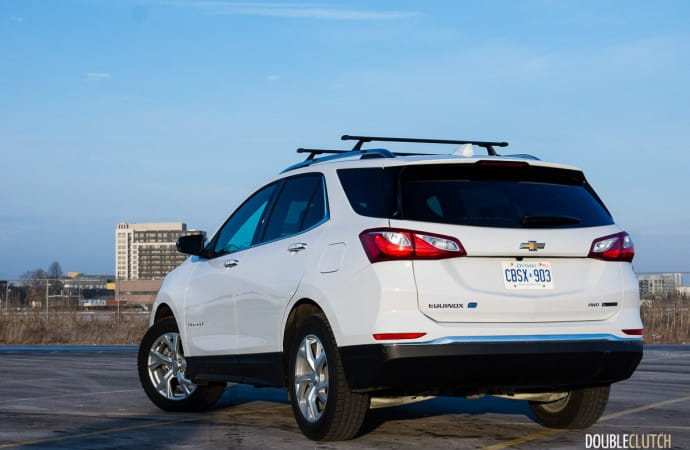 The Chevrolet Equinox Diesel will continue to attract those specifically looking for that unique oil-burning propulsion, wrapped up in a practical package that works for the vast majority of the motoring public of today. It flies in the face of not only various environmental regulation organizations, but also against the tide of hybrid electrification. Toyota's RAV4 Hybrid is an incredibly effective way to improve efficiency, but its gains are most tangible in the urban environment, rather than the open highway. Other than these two, the rest of the market is focused on big volume, and that means gasoline.
The question now is: would I opt for the diesel option in the Equinox? Probably not. My personal driving cycle sees a good mix of city and highway speeds, and the up-level 2.0L gasoline turbo-four delivers more torque and all-around performance for a modest penalty in fuel consumption. If I was spending the vast majority of my time cruising at highway speeds, the diesel engine becomes more attractive. And that's the thing – those who already know, know. It's good to see General Motors continue to develop the diesel engine for the mainstream market, because to some, the benefits greatly outweigh the quirks of this alternative fuel and how it is all managed.
See Also: