Strong points include a wonderfully designed and finished interior and a plucky 3.6-litre gasoline V6.
When looking for a midsize crossover, there are quite a few options in the segment, complete with a wide range of pricing. There are countless niches to be filled, whether it's driving dynamics, fuel economy, styling, off-road prowess, or just plain bang for the buck. On the lower end, offerings like the Jeep Grand Cherokee and Toyota 4Runner are good family vehicles and weekend rock crawlers; on the opposite side of the spectrum, options like the Acura MDX or Volvo XC90 (reviewed here) are the cream of the crop. The base models of the BMW X5, Mercedes-Benz GLE, and even corporate mates Audi Q7 (reviewed here) and Porsche Cayenne figure into this mix as well, making the choice amongst the sea of options a challenge no matter how you slice it.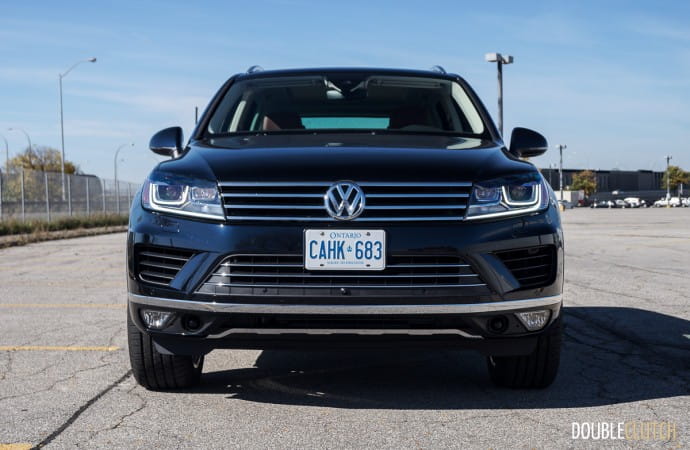 In its current form, Volkswagen's Touareg has been a pretty good choice, aside from a bit of milquetoast styling. However, with the absence of a diesel version and a body style that's been around since 2011, the Touareg has its work cut out for it. To see if it's still up to the task, Volkswagen Canada lent us a 2017 Volkswagen Touareg Execline 4MOTION in Moonlight Blue Pearl for a week to try out.
With the top end Execline trim level starting at $65,460, the big daddy Touareg finds itself placed smack dab in the middle between the base X5, GLE, Q7, and Cayenne. The catch here is that the base trims of the BMW, Mercedes, Audi, and Porsche are going to be fairly Spartan. The Execline gives the Touareg 20-inch wheels, 360 degree area view cameras for parking, power tilt/telescoping steering wheel with memory, a 620-watt Dynaudio sound system, heated front and rear seats (front ventilated also), panoramic sunroof, lane keep assist, and adaptive cruise control, among other options. An R-Line Package is available, but was not included on the test vehicle, which changes the style of the 20-inch alloy wheel and adds a sport suspension alongside other visual enhancements – mainly chrome exhaust tailpipes, a skirt package all around, and aluminum trim inside.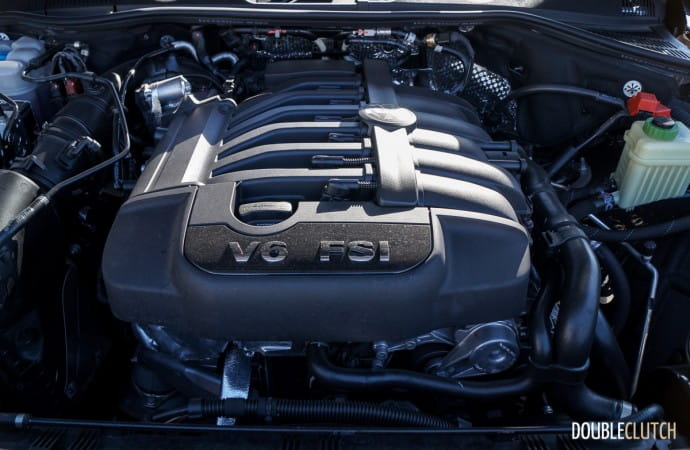 With the absence of the wonderful TDI engine option, the only powertrain available on all trims of Touareg is a 3.6-litre gasoline V6. It makes 280 horsepower, accompanied by 266 lb-ft of torque between 3,000 to 4,000 rpm. On the road, this V6 is a smooth and confident performer, and the Touareg won't ever feel underpowered. Midrange punch, as evidenced by the peak torque output, is especially strong, and the gasser V6 gives off a sporty yet refined exhaust note from idle all the way to redline. Paired with the 3.6-litre engine is an eight-speed automatic transmission. Also known as the ZF 8HP seen in a multitude of other vehicles in this class, it's the gold standard when it comes to drivability and refinement in an automatic transmission. While each automaker has its own calibration, it's always a confident, smooth, and fast shifting gearbox; the Touareg is no exception. While there are no paddle shifters (you'll need the optional R-Line Package for that), manual override control is available on the console shifter.
With a curb weight of 2,130 kilograms (4,696 lb), the Volkswagen is no featherweight. Fuel efficiency takes a bit of a hit as a result, with city economy rated at 13.8L/100km, and highway economy at 10.4L/100km. With eight forward gears, one might expect better highway fuel economy. Observed test economy over a week of driving split the two numbers, returning 11.9L/100km. Premium fuel is recommended, but not required. For those who like to take extended road trips, the Touareg gets a 100-litre gas tank, which greatly helps to stretch out distance and time between fuel stops. Of course, the big elephant in the room is the lack of a diesel – if it still existed, the range on a full tank would approach or exceed 1,200 kilometres. Instead, we now have to make due with about 900 kilometres of range (at rated highway economy) with the gasoline V6. This is still a great number in itself, but there's a bit of sting in knowing how good it could have been, and knowing how good it once was.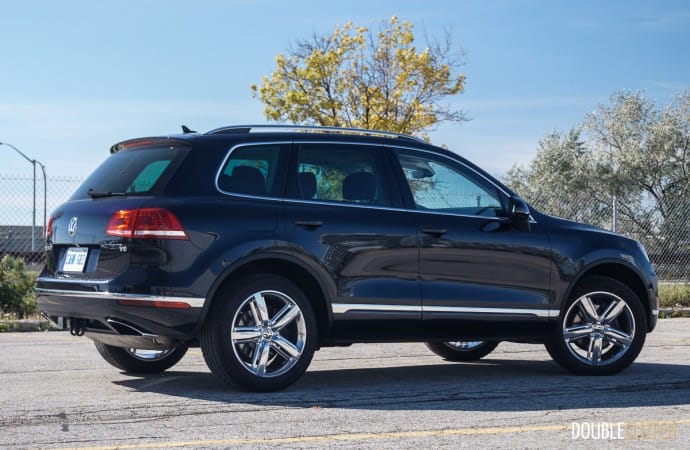 When in the cabin, the Volkswagen Touareg is at least a nice place to spend time, even if the platform is getting on a bit in age. The power steering is hydraulically assisted – almost a rarity nowadays – and features decent weighting and a little more feedback than modern electric assist systems. Don't be fooled into thinking that this makes it a sports car, however – the system is still tuned primarily for comfort. Ride quality is typical European firm, but soaks up the bumps extremely well, leaving no secondary motions often found on Japanese competitors. The Touareg stays planted in the corners and has strong traction thanks to the 4MOTION all-wheel drive system, which makes full use of the factory comfort-oriented Goodyear Eagle LS2 tires. It inspires more confidence than one might find in a Jeep Grand Cherokee, while not quite matching up with the BMW X5. All in all, it seems to place itself right in the middle of its competition, striking a good balance of ride and handling without particular being particularly harsh or offensive.
The rest of the interior of the Touareg is a great example of design and fit and finish. It manages to stay fresh and modern with a Titan Black and Moonrock Grey colour palette, and traditional Volkswagen plastics and materials are top notch, as always. Seat comfort is excellent for both front and rear seat occupants, and with only two rows, the back seat passengers don't have to endure any compromises when it comes to packaging for a third row. When folded down, the seats are mostly flat, allowing for larger cargo to fit fairly easily. There are also tie-down loops to help secure precious cargo.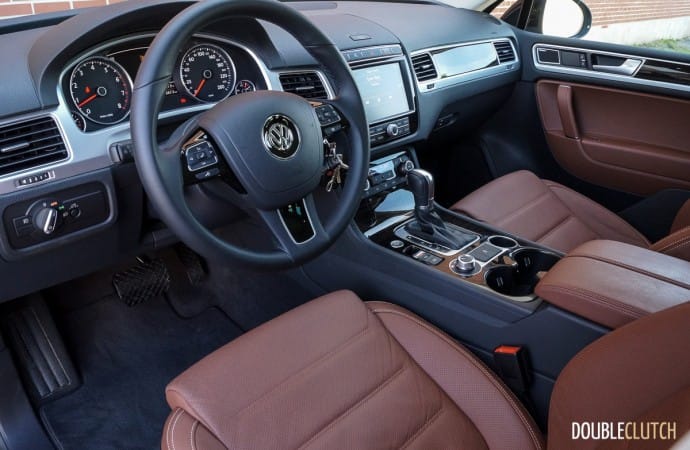 When it comes to the centre stack, the eight-inch touch screen looks right at home above the well laid out climate controls. Complete with navigation and Bluetooth connectivity, the system happens to be similar to the older Volkswagen setup used up until 2015 in the Golf and the Jetta (reviewed here). For 2016, every vehicle in the Volkswagen fleet except the Touareg received the new multimedia system, which brought with it the fantastic Apple CarPlay and Android Auto phone connectivity suites. Even for 2017, the Touareg doesn't get that luxury, likely because it's later on in its model cycle; expect a replacement to come soon, which will include the latest and greatest Volkswagen multimedia.
All in all, the 2017 Volkswagen Touareg Execline 4MOTION is still a good vehicle, when considered by itself. Strong points include a wonderfully designed and finished interior and a plucky 3.6-litre gasoline V6, and when paired with the great ride quality, the Touareg has managed to stay as relevant as could be expected in a crowded segment. The lack of a diesel engine option (the woes of which continue to haunt Volkswagen to this day) is very unfortunate, as the torque, fuel economy, and range on the hundred-litre fuel tank were three distinct competitive advantages over its peers.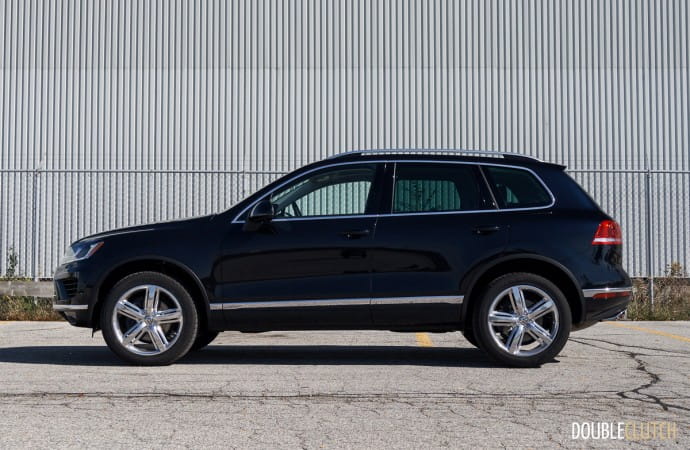 Even so, if you're considering a Jeep Grand Cherokee (Overland or Summit trims), Lexus RX350 (reviewed here), or Acura MDX, you owe it to yourself to at least take the Volkswagen out for a spin. Against the more premium options like X5, GLE, Q7, and Cayenne, the Touareg still represents a better value when considering features versus price, but won't have the brand cachet. If the current car is any indication, the next Touareg (or even the upcoming Atlas) should set the bar quite high, especially after successes like the Golf and the small-car MQB chassis. Expect it to make a big splash soon.
2017 Volkswagen Touareg Execline 4MOTION Gallery
See Also: