The e-Golf poses a big threat to the rest of the competition.
The days of big block V8s is coming to an end. Large displacements and naturally aspirated wonders are being phased out as a measure to reduce carbon footprint and improve overall efficiency. We are amidst a revolution that will forever change how we get around. Electric vehicles are starting to rise over the horizon, slowly accumulating on our roads and highways, little by little. Many of these electric vehicles being introduced are fresh off the press, and while some of these cars offer impressive autonomy, their styling and performance come less than appealing.
With the Tesla Model 3 becoming a reality and the Chevrolet Bolt EV (reviewed here) already here, it's time for automakers to kick it into high gear to get more electrifying competition out there. Instead of creating an independent model for the race of the electric car, Volkswagen has opted to use a very familiar pre-existing platform, the Golf. By doing so, they've added a reasonable level of comfort for buyers looking to adopt the EV lifestyle. With a solid platform, the 2017 Volkswagen e-Golf is ready and willing to make its mark.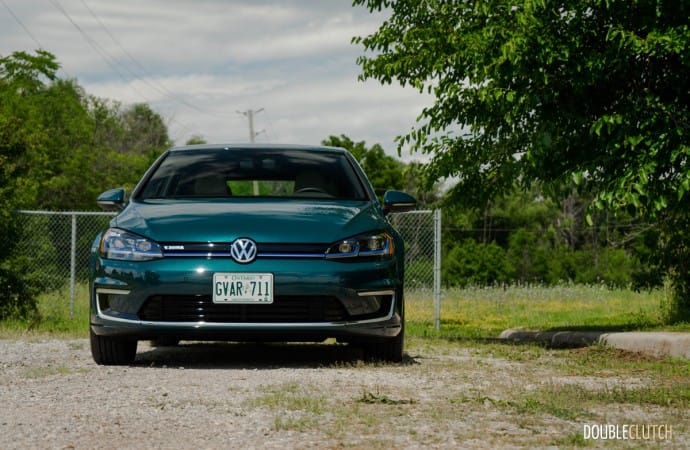 The 2016 iteration of the e-Golf had a range of roughly 133km on a full charge; not bad, but not great. Said e-Golf was not made available to the Canadian market. For 2017, things have changed. Not only is the car now available to Canadians, it has also received a performance upgrade. Total range is now rated around 200km, or 201km to be exact if we follow the VW Canada website. Of course, as with any electric vehicle, range relies on so many varying factors.
Let it be wind direction, temperature, cargo and passenger weight, driving habits, so on and so forth. While this figure falls short of the truly excellent Chevrolet Bolt, it does stand in line next to the Hyundai IONIQ (reviewed here), and out-lasts the Kia Soul EV, BMW i3, and Ford Focus Electric. Drivers can toggle between three driving modes, Normal, Eco, and Eco+, increasing the range by reducing performance and limiting extra equipment like air conditioner use.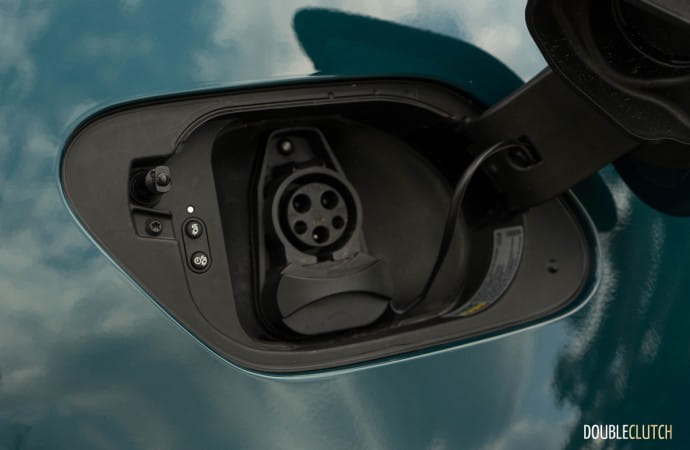 Charging the e-Golf is as easy as plugging in your IPhone. Of course, it takes just a tad longer than what your cellular device might. Using DC Fast Charging can fully charge the e-Golf in just 30 to 45 minutes, however using a standard 120-volt outlet will take a considerably longer amount of time to power up. It's reported that a 120V outlet will take 26 hours, while a 240V outlet shortens that time to just 4.5 hours. Regenerative braking can be toggled on or off with four levels of adjustability while in motion, and while it does help keep power levels steady, don't expect it to be the saving grace in tight situations.
One of the first questions that came to mind was would an electric version of the Golf still feel like the traditional Golf (reviewed here) we've come to adore. Surely the absence of gasoline would be noticeably obvious, but would it be so different to the point of bizarre? Well, it did not disappoint. It drove like any other Golf, very solid for a car in this segment. Driving along in pure silence surely does take some getting used to, though the peaceful hush makes for a nice touch for those times when all you want is a little bit of quiet. That said, the silence of the electric motor makes road and tire noise much more apparent, even though it really is not all that bad inside the cabin.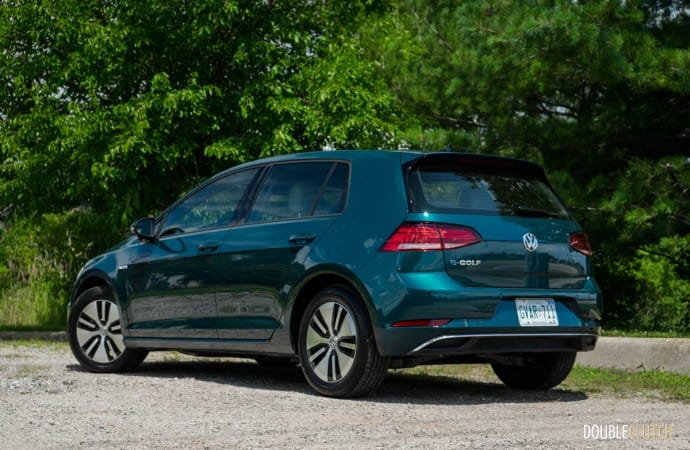 Acceleration proves to be impressive, with the 100kW electric motor producing 134 horsepower and 214 lb-ft. of torque. The giddy up of the e-Golf is instant, though it does quickly run out of breath as highway speeds approach, with a rated 0-100km/h time of 9.6 seconds. The lack of engine noise does take away from the sensation of speed, so it's very easy to lose track of how fast the car is accelerating without taking a peek at the cluster.
A standard interior comes with cloth seating, although an upgrade to the Leatherette Package ($360) ups the e-Golfs appeal to a more luxurious level. The Shetland Leatherette found in our tester was plush, comfy, and blended well with the black soft touch eco-friendly materials used throughout the rest of the cabin. The Technology Package ($2,305) adds an immense 9.2" touchscreen display that spans the width of the centre stack. This giant screen modernizes what is otherwise a dated interior space. Because of its size, the screen allows for multiple bits of information to be displayed at once. For example, the home screen presents a large window with the navigation map on the left, with two smaller windows stacked on top of each other with media and telephone information.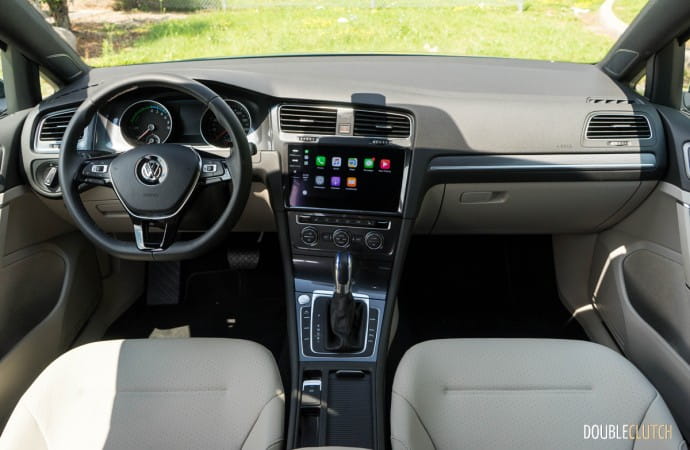 The downside of this tech is that it makes things just a little more complex than one would hope. A touch interface for volume replaces a tactile knob, which requires the driver to lose focus on the road to ensure the right section of the touch screen is being tapped to manipulate the volume settings. Luckily volume can be adjusted on the steering wheel as an alternate option. Apple CarPlay makes an appearance as well, along with Android Auto. A neat little feature also found within the interface is VWs e-Manager, a system that allows you to plan charge times and pre-condition interior temperatures so that the vehicle gets ready while plugged into the grid. Why waste battery power cooling down or warming up the car when you can have it set before stepping foot inside?
The e-Golf comes with its own set of design cues that differentiate it from the rest of the Golf lineup (reviewed here). The most notable of the bunch are the C-shaped signature LED daytime running lights integrated into the front bumper. They shine bright both during the day and at night, adding a signature look to this electric drive. Blue accents can be found on grill, leading to within the headlight assemblies, and the e-Golf badging emphasizing the electric nature of this car. The 16" Astana aerodynamic alloy wheels play a role in helping with airflow around the car, minimizing drag within the wheels themselves. The Peacock Green is an acquired taste that takes a bit of staring to get used to.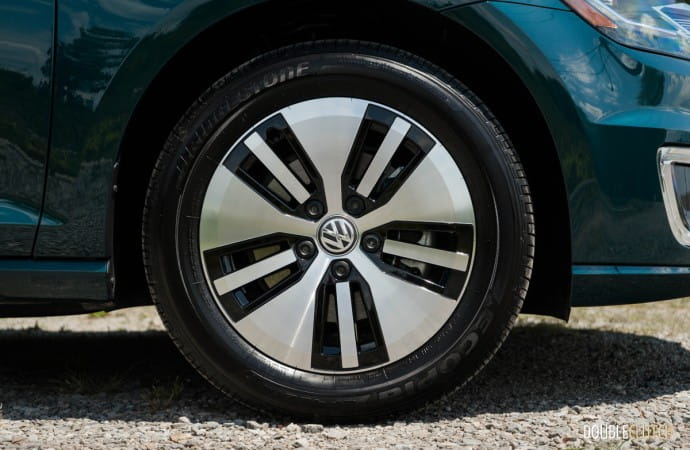 With plenty of luxury amenities, one of the largest touchscreen displays in this segment, a handful of standard colours and a remarkable selection of 30 custom colours available, the 2017 Volkswagen e-Golf poses a big threat to the rest of the competition. With a base price of $35,995 and an as-tested price of $38,660, it does however come with a bit of sticker shock. Fret not, because the Ontario government will offer you a $14,000 rebate, turning the e-Golf into a $24,660 car. If in the market for a stylish EV that doesn't require a reservation, this e-Golf should top the list.
See Also:
First Drive: 2017 Chevrolet Bolt EV
First Drive: 2017 Hyundai IONIQ