Under the hood is what allows Subaru to stand apart from the rest of the industry.
All-wheel drive has really become a big deal in Canada. It's certainly not a new phenomenon – the family crossover craze, whether we love it, or hate it, is here to stay. Thanks to the winters we love to complain about, all-wheel drive has become a staple for essentially every automaker. Put it this way: the BMW 3-Series and Mercedes-Benz C Class, long time stalwarts of the rear-drive performance sedan segment, can really only be had with all-wheel drive nowadays. If you want a rear-drive sample, you'll have to special order it – if they'll even sell one to you.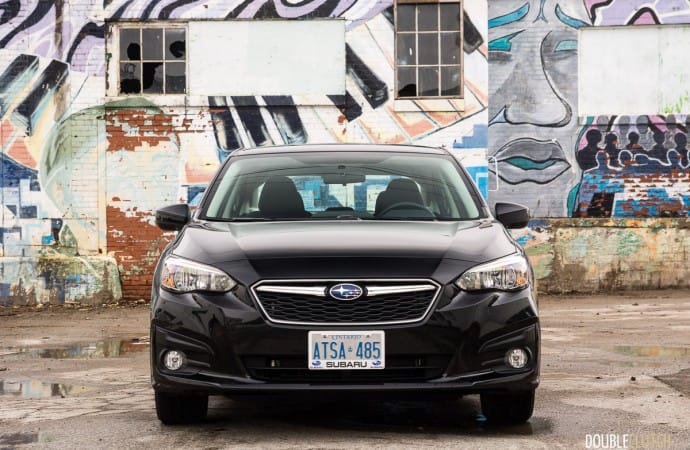 This plays well into Subaru's hands, being the long-time traction masters that they are. Nearly every vehicle they build offers all-wheel drive in some form (except the BRZ), and Canadians have been buying them all up. While Subaru has devoted a lot of focus to the Forester crossover, one has to remember that even their basic cars at the bottom range, still have all-wheel drive as standard equipment. Cars like the hot-selling Honda Civic and Hyundai Elantra (reviewed here) do a fantastic job of representing the best in the compact car segment, but both of them lack the one feature that makes the Subaru Impreza so attractive: all-wheel drive. We were sent a 2017 Subaru Impreza Sedan Touring, with the CVT automatic, painted in a shade of Crystal Black Silica for evaluation.
We've come to generally accept that Subaru is more of a company made up of engineers, rather than designers. For about as long as we've known, the brand has rarely produced a design that could be considered pretty – perhaps save for the Subaru Legacy GT from about 2004 to 2008. Their designs since then have been considered fairly inoffensive – but just not very attractive. This all-new Impreza is built on their new "Subaru Global Platform" (SGP), a modular architecture that will be the basis of all new Subaru vehicles, going forward. It's a familiar approach – the Volkswagen Group is seeing great flexibility and success from their transverse MQB platform.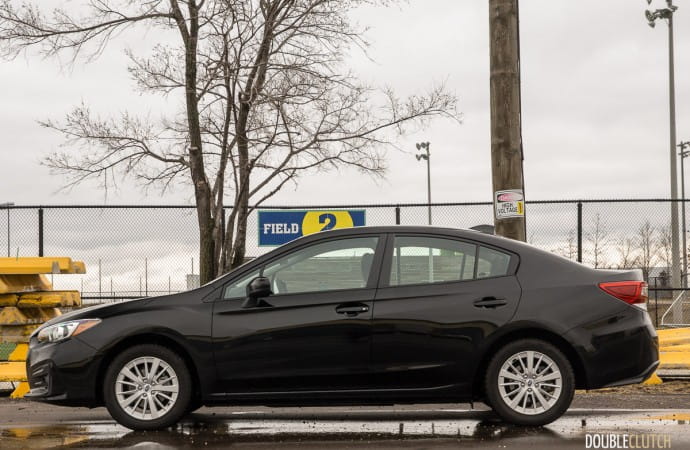 As far as the Impreza is styled, it remains inoffensive, but also somewhat generic. If you hide the badges, it may be hard-pressed for the untrained eye to pick the car out as a Subaru. The five-door hatchback is the better-looking variant to these eyes, with its practical rounded two-box design. This particular Touring model rides on 16-inch aluminum wheels, and comes with standard reflector halogen headlights. Stepping up into the Sport and Sport Tech trims will get you larger wheels and LED headlamps – both of which significantly enhance the look of the Impreza, all around.
Inside, the new Subaru Impreza features their latest and greatest interior. The star of the show, is Subaru's new Starlink infotainment interface that lives on the centre stack. Android Auto and Apple CarPlay integration now becomes standard equipment, and though Subaru's built-in software is significantly improved over the previous generation, we are welcome to see the new integration take over. What hasn't changed is how good the visibility is from the driver's seat – the generous glass area and low sills continue to brighten up the otherwise all-black interior (some more silver contrasting trim would be welcome). At the top of the centre stack, is an evolution of Subaru's triple-gauge driver information centre. It can be configured to display fuel efficiency info, all-wheel drive system status, or even readouts for engine oil temperature.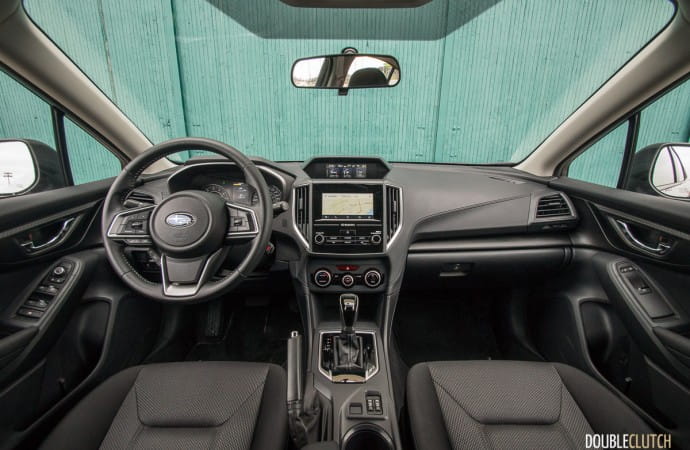 Like the exterior, the Impreza's interior shouldn't win any design awards, but it delivers in a practical sense, with commonly-used controls all falling easily to hand, and there's still a volume knob for the audio system. The base Impreza Convenience and this Impreza Touring do not come equipped with Subaru's camera-based EyeSight active safety system – nor is it an option at that price point. EyeSight is an active safety suite made up of numerous driver assists, such as adaptive cruise control, forward collision warning with braking, lane keep assist, and the list goes on.
Under the hood is what allows Subaru to stand apart from the rest of the industry. Their continued allegiance to the horizontally-opposed "Boxer" engine allows them to pair up the powertrain with a full-time all-wheel drive system. This time, an updated version of the FB-series engine provides the motivation. Gaining direct injection and numerous incremental updates, the 2.0L gasoline engine is good for 152 horsepower at 6000RPM, and 145lb-ft of torque at 4000RPM. Subaru still offers buyers the choice of a manual transmission (albeit with only five forward ratios), or a continuously variable automatic transmission (CVT). This particular tester was equipped with the CVT, and to cut it short: the CVT is the better transmission between the two. Not only is it significantly more efficient (thanks to a much wider overall gear ratio spread), but the five-speed manual still suffers from poor shifter feel and rev-hang, in between gear changes. For those who still insist on a manual transmission, the fact that it is simply available is good news.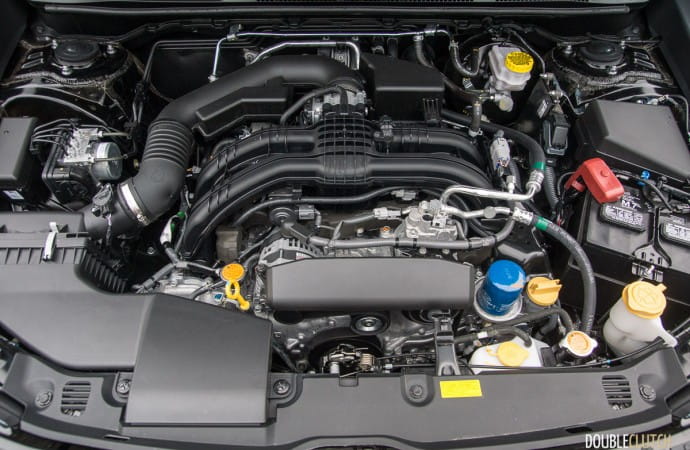 The CVT automatic sends its power to all four wheels through Subaru's symmetrical all-wheel drive system. In this application, an electronically-controlled clutch can send more power to the rear wheels when needed. Otherwise, the system defaults to a 60% front and 40% rear split. In practice, the CVT automatic mostly stays out of your way, though a sensitive throttle tip-in can make for some jackrabbit launches when the traffic light turns green. At highway speeds, the CVT automatic does a good job keeping engine speeds down – 100km/h will see the tachometer indicating at about 1900rpm. By comparison, the manual transmission Impreza will be spinning at about 2500rpm.
Overall NVH (noise-vibration-harshness) is noticeably improved over the previous-generation Impreza, with high-speed wind and road noise being better controlled than before. The slightly-gruff nature of the Boxer engine still makes its existence known – its quirky warble is audible nearly all the time. Ride quality is also agreeable – not too soft, and not too firm. The Impreza's low centre of gravity also helps improve handling – it's no WRX or STi (reviewed here), but the basic Impreza turns in well and generally obeys your commands without complaint, even on high-profile winter tires. One downside to the CVT is the noise generated by the transmission itself: as you slow down to a stop, the transmission needs to gear down, and this process produces some whining noises that can be heard from within the cabin.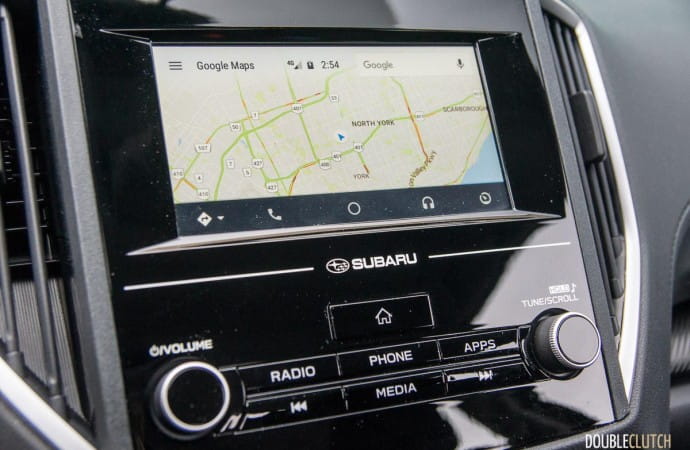 The Subaru Impreza, regardless of the transmission you select, shouldn't be considered a fast car, by any means. While the 152hp rating is competitive, acceleration can only be described as average, at best. The additional weight and drag of the all-wheel drive system, coupled with the way the CVT automatic works, allows for leisurely acceleration figures, at least from the seat of the pants. For comparison's sake, the Mazda3 (reviewed here) with the base 2.0L engine and six-speed automatic, delivers a more dynamic feel, thanks to its well-calibrated conventional automatic transmission. Subaru Imprezas built up to 2011 were powered by a larger 2.5L boxer-four, and that additional displacement would be welcome.
Subaru Canada rates the Impreza at 8.3L/100km in the city and 6.4L/100km on the highway. During our week-long evaluation, which consisted of mixed driving in wintry conditions, we ended up with an indicated average of 9.1L/100km, which is somewhat disappointing. These figures are obviously higher than the best of what the front-drive competition can manage, but it's fairly easy to attribute the additional consumption to powering all that additional all-wheel drive hardware. The Impreza will hold 50L of regular 87-octane fuel.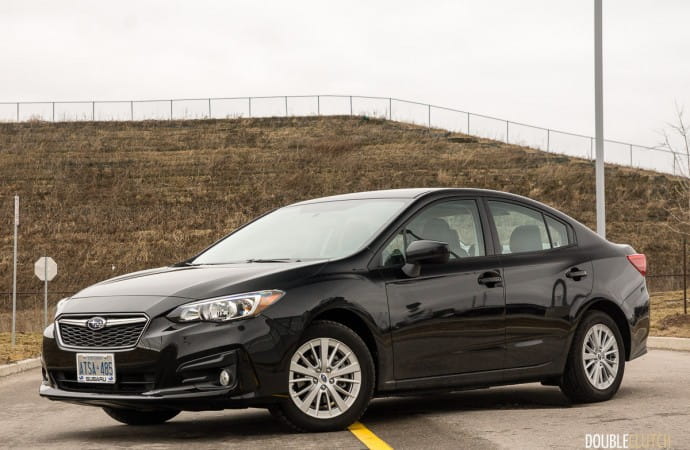 The Subaru Impreza starts at just under $20,000 for the base 2.0i Convenience with four doors, a manual transmission, and that all-important all-wheel drive. Stepping up to the five-door hatchback sees the price jump by $900. The Touring model tested here adds a CVT automatic, 16″ aluminum wheels, fog lights, heated front seats, single-zone automatic climate control, and a leather-wrapped steering wheel, among other items. Total price as-tested: $23,195. The next step up is the $24,395 Sport model, which adds larger 17-inch wheels, LED headlamps, power sunroof, power driver's seat, and the option for Subaru EyeSight. The fully-loaded Sport Tech 5-door hatchback tops the range at $30,095, and it adds 18″ wheels, integrated navigation, leather seating surfaces, dual-zone automatic climate control, and a heated steering wheel. If you'd like the CVT on any trim, add $1,300. Any Impreza equipped with the optional EyeSight package is only available with the CVT.
The 2017 Subaru Impreza continues to be a unique player in the compact four and five-door segments. While its competitors are chasing maximum feature content for your dollar, the Impreza soldiers on with a decent set of fundamentals, improved ride quality, new infotainment options, and of course, all-wheel drive. Canadians really value their wintertime traction, and Subaru continues to welcome loyal customers, both returning and new, to the family. If practicality and all-wheel drive are high on your priority list, the Impreza lineup is more than worth a look.
2017 Subaru Impreza Touring Sedan Gallery
See Also: