The Cayenne stands out from its rivals and is a true reminder of the "sport" part of the sport-utility-vehicle.
Porsche has sort of hit a home run with their Cayenne. Built to the chagrin of many enthusiasts who were mortified at the thought of Porsche building something that isn't a sports car, it's important to know the reason for the sport-utility's initial conception. Volume sellers such as the Cayenne and now the Macan (reviewed here) are the breadwinners for the brand, which in turn allows the brand to continue building the stuff that truly makes the Porsche crest special. Now in the second cycle of the second generation, the 2017 Porsche Cayenne S E-Hybrid Platinum is a green alternative without leaving the Porsche family.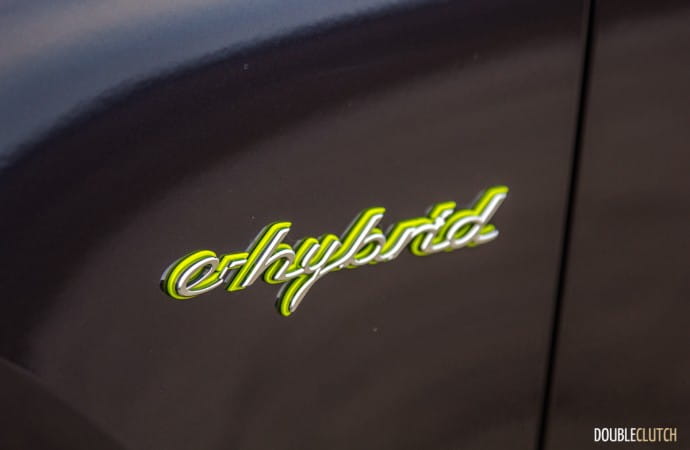 More than a decade after the original model debuted, the Cayenne still uses an evolution of the same styling. The fascia is very obviously a Porsche, with elegant design throughout. The daytime running light system uses the same four-LED design as other Porsche models, and the taillights on this particular model have been lightly smoked ($750) to set off the rear end nicely. E-Hybrid models from Porsche are immediately identified by the fluorescent green brake calipers, which on this test vehicle are complemented by the deep purple Purpurit Metallic paint.
Power comes from a supercharged and intercooled 3.0L V6, which alone is 333 horsepower and 325 lb-ft. of torque. This powertrain works in symphony with a permanent-magnet synchronous electric motor with 95 horsepower and 229 lb-ft. Combined output for this powertrain is 416 horsepower and 435 lb-ft., which is available right between 1,250RPM and 4,000RPM. This will haul the Cayenne to 100km/h in less than six seconds, which is by no means slow for a 5,200 lb. SUV. Power delivery is impeccably smooth, with little indication of transition between full electric and hybrid mode.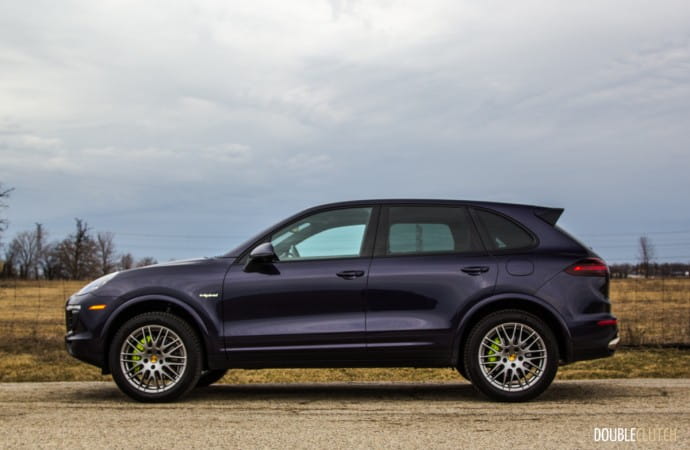 In fact, with an interesting electric motor whir at all times while the Cayenne is on, the only real way to tell what mode it's in is the tachometer, which will sit at "0" when in all-EV mode. While most automatic models from Porsche offer the brilliant dual-clutch PDK transmission, the Cayenne S E-Hybrid's engine is more suited to the eight-speed Tiptronic S gearbox. It offers manual shift mode, paddle shifters, and automatic start/stop feature at idle.
For a sport-utility vehicle, the Cayenne S drives like a Porsche should. Steering is electrically assisted, but provides adequate feel and there is a good amount of weight to the wheel. Body roll is evident if taking corners at higher speeds, but the Cayenne is stiffer than the Mercedes-Benz GLE 450 AMG (reviewed here) and far more engaging to drive. It's also far more planted than the Volvo XC90 T8 Twin-Engine (reviewed here) and more composed with better body control and a superior suspension setup.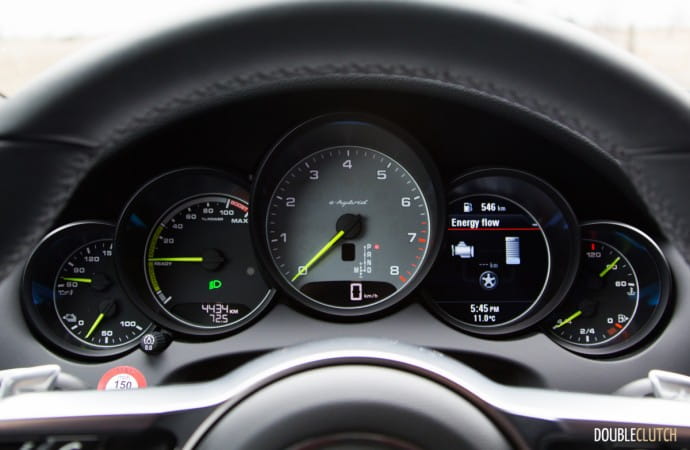 The stiffer suspension leads to commendable handling too, with good steering response and excellent on-center feel. Precision is exactly the department in which the Porsche DNA becomes very evident, with undeniable engagement far superior to many other crossovers and SUVs. The regenerative brake feel on the Cayenne is something that will take some getting used to. For one, Porsche purists will be thrilled to observe the presence of some actual feel (albeit very little). The pedal feels good to use and the braking overall is more linear than the vast majority of hybrid and EVs, many of which have agitating brake feel (or lack thereof).
It's difficult to provide an objective projection on fuel economy for this vehicle, as it varies so much depending on driving style and charging habits. On purely electric mode, we saw as much as 33km in one go, and the car charges in three-and-a-half hours using 240V and the provided 3.6kW charger. There is an optional 7.2kW charger equipped on this test vehicle that chops this down to under 90 minutes if supported by the outlet. On 91-octane premium fuel, and a longer daily commute than the EV-only mode would work with, our test average was about 8.7L/100km.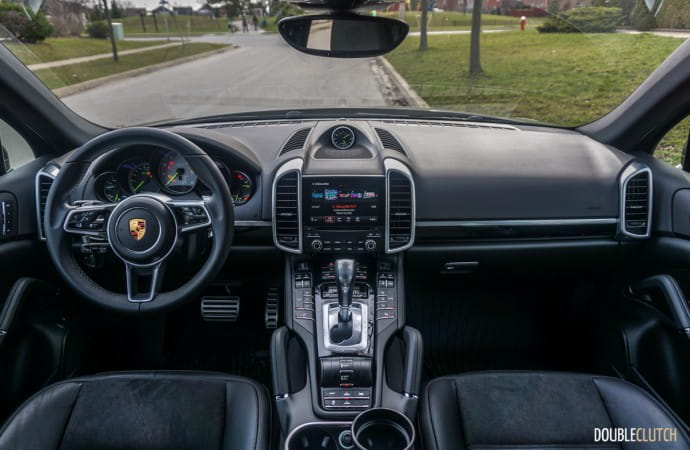 The cabin of the current generation Porsche Cayenne stands out from its rivals and is a true reminder of the "sport" part of the sport-utility-vehicle. The dashboard is designed nicely, with some subtle indications differentiating this model from its fully gasoline-powered counterparts. The instrument cluster has an "E-Hybrid" logo in the center of the tachometer, and a power gauge, identifying whether the car is running on EV, hybrid, or gasoline power, has replaced the analog speedometer. The needles are green to match the calipers, along with the center-mounted analog clock.
Dashboard and instrumentation layout isn't far off from anything else currently offered by Porsche, with a plethora of buttons and seemingly endless climate control settings. The adaptive suspension and Sport/E-Charge buttons are very obviously placed, and the presence of actual buttons over an all-touch setup is welcomed. Connectivity is through the latest version of PCM (Porsche Communication Management), which boasts crisp graphics and lightning-quick speed. This vehicle is also compatible with Apple CarPlay, for seamless smartphone integration.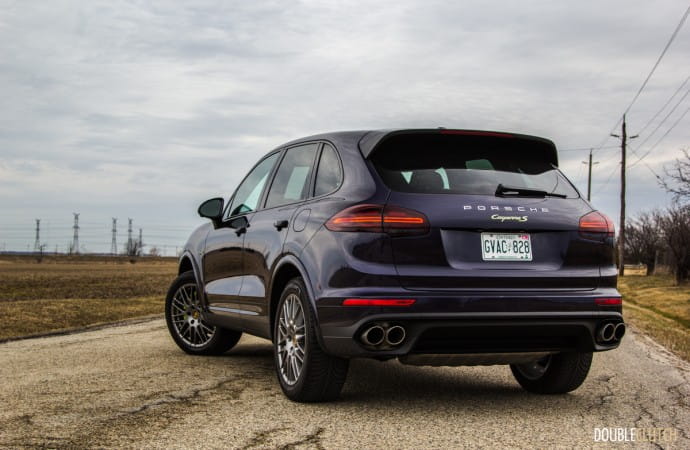 This particular Platinum Edition is equipped with seats semi-upholstered in suede, which looks and feels great. They are very comfortable and bolstered quite aggressively for an SUV. There are grab handles on either side of the front center console that have been a Cayenne signature item since the first-generation model – this is a unique touch and we like it. Legroom front and rear is generous, and headroom is a non-issue even with the optional panoramic sunroof. Vehicles with Porsche Entry and Drive have a faux key fob fixed where the key would otherwise go, a slightly cheap touch in an otherwise luxurious interior.
The Platinum Edition of the Cayenne S E-Hybrid starts at $92,100, which is only a small jump up from the base E-Hybrid, at $89,400. Our test vehicle had the Purpurit Metallic paint ($3,590), a panoramic sunroof ($2,120), heated rear seats ($600), Porsche Entry & Drive ($1,020), LED headlights ($2,370), and a few other options. The total sticker hit $110,000. Porsche does offer some unique option choices, but on the Platinum model, things like the panoramic roof and an intelligent key system should be taken for granted. When all is said and done though, considering the green vehicle rebate currently offered in Canada, the Cayenne is worth its cost of entry.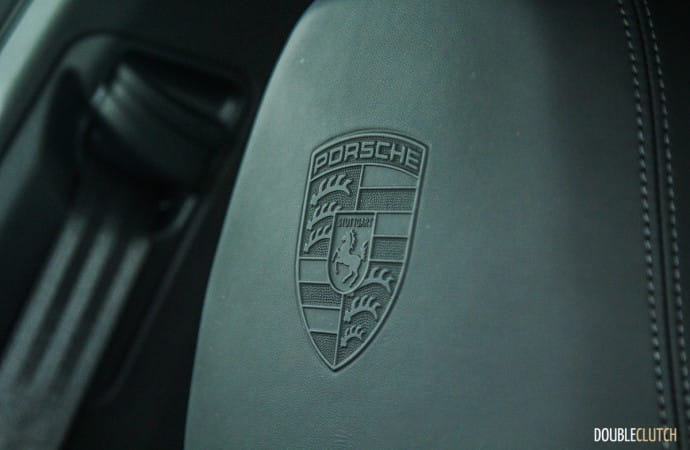 The Porsche Cayenne can be had for as little as $68,900 for a base model and go up well over $200,000 for a decked-out Turbo S. With virtually unlimited permutations of powertrain and customization options, there's a special one for every buyer. This 2017 Porsche Cayenne S E-Hybrid Platinum is an eco-friendly out-of-the-box choice that's perfectly suited for growing families and those with short daily commutes. It packs plenty of power and efficiency for long trips and will do virtually everything asked of it, but when it comes to short jaunts and the typical family lifestyle, this SUV stands right out.
2017 Porsche Cayenne S E-Hybrid Gallery
See Also: