The 911 delivers a unique experience with every single turn of the key.
This is the kind of thing dreams are made of. I still remember when I was about two, and my grandparents bought me my first scale model – a 964 Carrera Cabriolet. It took a beating, but somewhere archived in my parents' basement, that very model still exists. Since then, my passion for cars evolved in the same way the Porsche 911 did, but my flame for the car was never put out. There were faster cars out there, and there were prettier cars out there – it didn't matter. This was the one I wanted, and for 2017, Porsche has given it a full overhaul.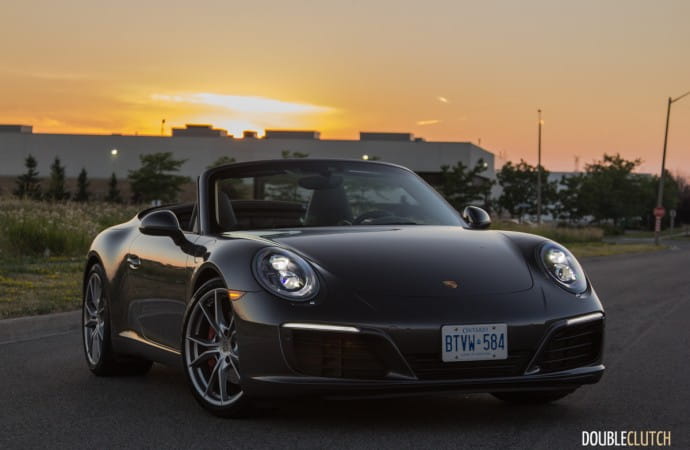 It just so happened that our week with the 2017 Porsche 911 Carrera S Cabriolet fell on the same week as our Creative Director's wedding, so the car was observed by many onlookers. This is a good thing, because the new model, codenamed 991.2, is quite possibly the most beautiful new car on sale today. It employs the same iconic Carrera styling that has evolved ever so slightly over the decades, but with the required tweaks to keep the car modern and relevant. Unique to the new car is a revised rear end with new taillights and a grille over the engine compartment to send air to the intercoolers. The daytime running lights are still the four-LED setup that Porsche started using recently.
The biggest change to the 911 is in the rear, where the powertrains are all new. This is the subject of quite a bit of controversy across Porsche fans, because the brand has decided to go with an all-turbocharged lineup. That's right, the regular Carrera variants also pack turbochargers rather than just reserving boost for the Turbo and Turbo S. This Carrera S is powered by a 3.0L flat six-cylinder engine, twin turbocharged, and with less displacement than the outgoing motor. The power numbers more than make up for this, though – the S has 420 horsepower at 6,500RPM and 368 lb-ft of torque at 1,700RPM.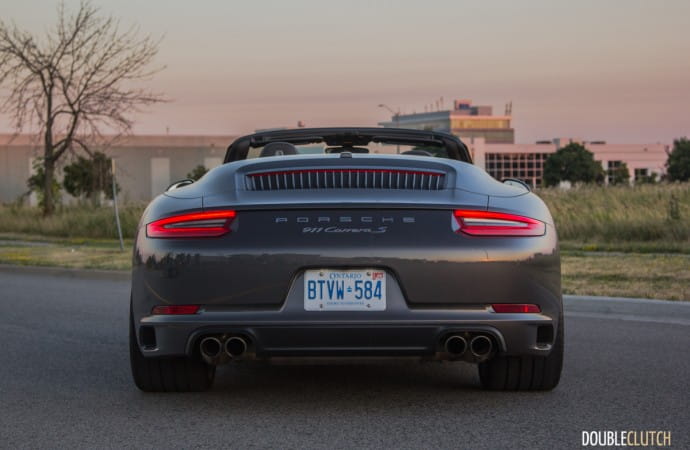 What a motor it is – just firing up the ignition immediately reminds you that this is no ordinary car, it's a 911 Carrera. The 3.0 may not sound quite as aural as the outgoing model, but my god, this thing is an animal. Our car was equipped with the seven-speed PDK dual-clutch automatic and the Sport Chrono pack, which means it will hit 100 km/h in just 4.1 seconds, on to a top track speed of 304 km/h. Some armchair critics on the Internet are claiming that turbocharging has resulted in the 911 losing a lot of its charm; these people could not be more wrong. The standard Carrera uses 13.1psi of boost, whereas the Carrera S tested here ups that number to a healthy 16psi.
Power delivery is immediate and is met with that unmistakable flat-six roar from behind you. This noise is amplified even more with the top down, and it's pretty loud even though our car was not equipped with the Sport Exhaust option (a must have for the purist). The turbocharged engines help significantly with power in the midrange – the outgoing 3.4L huffed and puffed below 4,000RPM. Between 3,000RPM and redline, the boosted six pulls hard. PDK's instantaneous shifts help keep this car faster than a seven-speed manual model, and there is also a launch control feature equipped.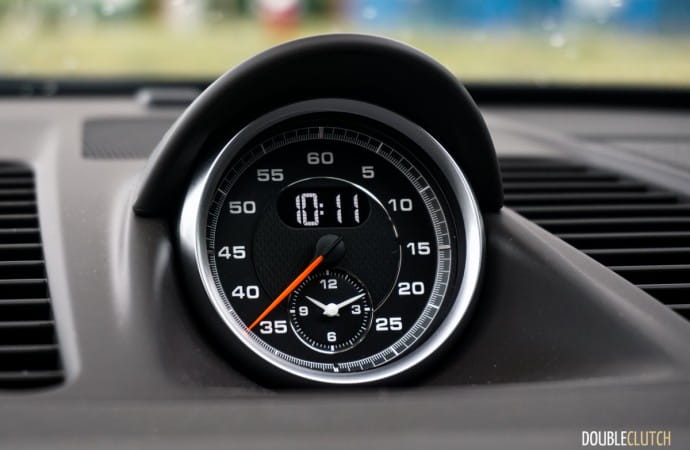 With a rear-mounted engine, rear-wheel-drive, and some of the best steering calibration around today, the 911 Carrera S is truly one of the most involving drivers' cars on the road today. There's a reason they choose to stick with the same recipe for so long – it just works. The wide tires and excellent steering help hustle the car around on-ramps at high speed with the perfect amount of balance. There's just no hesitation anywhere, and even the turbocharger lag is virtually unnoticeable.
The car's behavior can be tweaked via a drive mode wheel located on the steering wheel. The system alters the electronic dampers (PASM), throttle response, transmission shift points, and the stability control system. It defaults to "Comfort", but there are also "Sport" and "Sport Plus" modes available, along with a full "Individual" setting that can be configured. In the center of this controller is a button to enable the "Sport Response" mode, which instantly knocks the car into its sportiest settings for a quick 20-second boost mode. This is ideal for quick passes or that short stretch of curvy back road.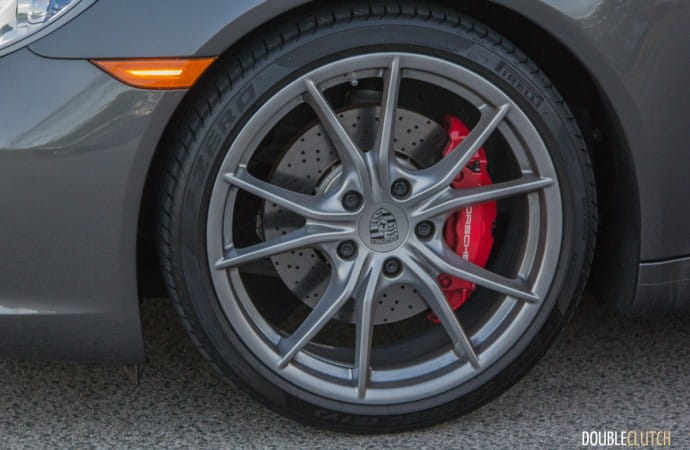 Porsche rates the Carrera S Cabriolet with PDK at 10.8L/100km in the city and 8.4L/100km on the highway, and has a fuel tank capacity of 63L liters. These numbers are entirely possible to match, but only if the car is driven in the most conservative manner possible. The Carrera S is a driver's car, and when driven in a spirited manner, add 2L/100km to both numbers. Throughout my test, I averaged 12.8L/100km over about 500km of driving. This is mostly city use, but there were a few highway jaunts. Our test took place on 93-octane fuel.
The interior of the 2017 Carrera gets a bit of a refresh, which is centered around the new PCM infotainment system. The setup now gets Apple CarPlay along with a plethora of new apps to enhance use of your wireless device. The screen has decent graphics and is visible even in direct sunlight. Those using old wired mobile music devices such as our iPod Classic are out of luck, as PCM offers limited functionality in this regard. The majority of the center stack's buttons are used for climate control and vehicle dynamics settings. Some may criticize, saying there are far too many buttons, but I'd much rather have physical buttons than have to control everything with a touch screen.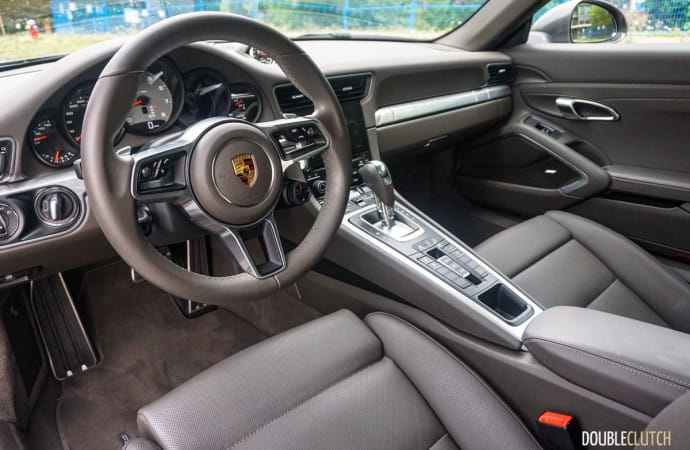 The 911 Carrera S Cabriolet is priced at $132,200 in Canada. Of course, it's impossible to buy a Porsche without options, but ours was equipped in a decent way. The Agate Grey Metallic with matching interior is $820, PDK is $3,660, Bose Surround Sound system for $1,820, the Power Sport Seats are $2,650, Sport Chrono Package (must have!) is $2,790, and the multi-functional heated wheel is $540. Lastly, for $4,540, a Premium Package Plus adds keyless go, LED headlights, auto-diming mirrors, and heated/ventilated seats. The total sticker on our car with PDI was $150,105.
The 2017 Porsche 911 Carrera S Cabriolet is not only a sensational driver's car, it's an easy car to live with. There are plenty of other sports cars to be had at that price, including the Audi R8 (reviewed here) and even the Aston Martin V8 Vantage. While both of those cars are exceptional in their own right, the 911 offers day-to-day usability, minimal driving fatigue, and an enjoyable experience with every single turn of the key. The Carrera is the car that every single boy dreams about as a child, and once adulthood sets in, it's likely one of the most perfect cars to relive that dream on every single commute to work, year round. Make mine Guards Red with the Sport Exhaust, please!
2017 Porsche 911 Carrera S Cabriolet Gallery
See Also:
First Drive: 2017 Porsche 911 Carrera