Nissan has done an excellent job at upgrading overall interior appointments from the previous generation model.
When looking into purchasing a hefty pickup truck, some of the following things come to mind; What kind of engine does it have? What can it tow? How terrible is it on fuel? Well, for many years, the majority of buyers would be posing those questions within the walls of local Chevrolet/GMC, Ford, and Ram dealers. After all, the notion of the pickup truck is quintessentially American, so it makes sense that buyers would aspire for an American-made marque.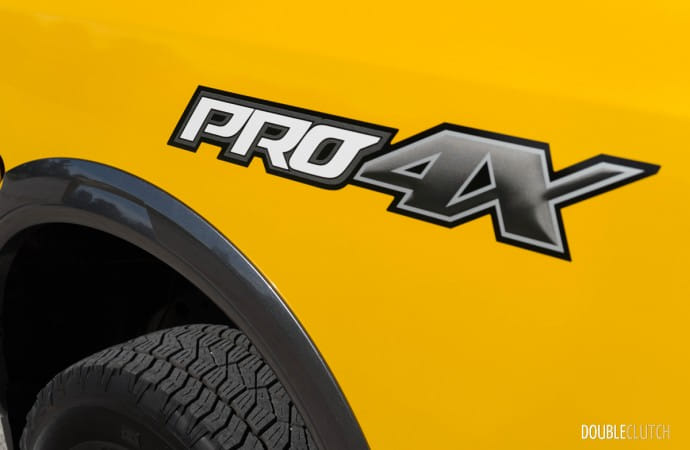 In this particular case, Nissan is looking to stir the kettle with an all-new iteration of the Titan XD. It's meant to stand as a middle ground for those looking to haul heavy loads, without having to jump into the brutish 2500-series trucks that the American brothers produce. The question is, how will the new 2017 Nissan Titan XD PRO4X stand against these well-established American titans of the pickup truck segment?
What really made this new truck shine in the eyes of truck enthusiasts around the world, is the announcement that diesel variants would be fitted with a 310 horsepower/555 lb-ft 5.0L Cummins V8. Potential buyers would no longer have to flock to the Ram 1500 to take advantage of these once-exclusive engines. However, we are not here to discuss the diesel Titan today. I got behind the wheel of a new Titan, fitted with a beastly 5.6L, 32-valve V8 Endurance-series gasoline engine.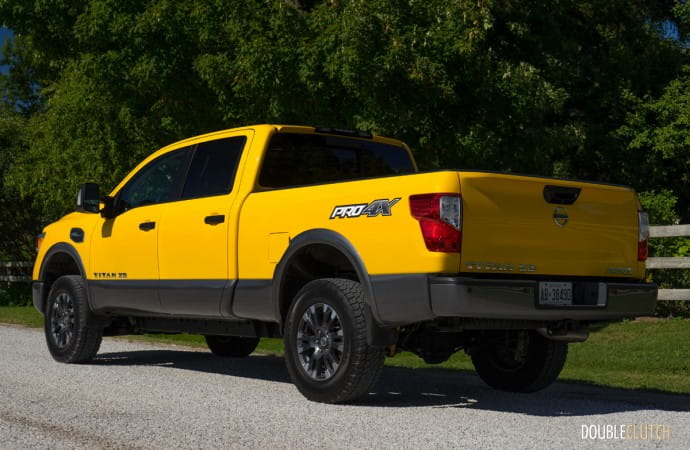 At first glance, the PRO4X truly looks like the kind of truck that would hold its own out on the back countryside trails. It came to us sporting 18-inch two-tone allow wheels with 275/65-series all-terrain tires, Bilstein off-road shock absorbers, and more than enough ground clearance for those tricky spots. One of the most noticeable aspects of our tester was the two-tone exterior Solar Flare paint ($335). This bright yellow finish, combined with the lower panels painted in a darker charcoal colour, creates a nice contrast that makes this truck impossible to miss when driving down the highway, or any road for that matter.
I'm okay with this because off-road trucks are supposed to have that exciting flash sets them apart. Other than the obvious "PRO4X" stickers matted to the sides of the bed, unique to this model is a body-colour matched front grille with gloss black inserts, unique to the PRO4X as opposed to the otherwise standard chrome grill on other Titan XD models.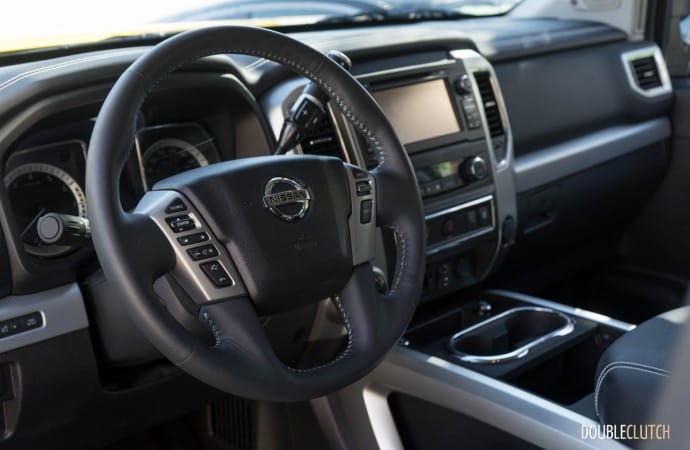 Behind that grill we find the gasoline-powered V8 as mentioned before. This monster produces 390 horsepower and 401 lb-ft of torque, with maximum torque unleashed at 4000RPM. This new engine is an evolution to the previous VK56DE V8 which was equipped on the previous generation Titan. The new V8, dubbed the VK56VD, produces 73 more horsepower than the old engine. The seven-speed automatic transmission does decent job at keeping up with acceleration demands, though sometimes it displayed confusion on acceleration.
Overall, spirited acceleration felt a little sluggish as if the gearbox needed a few seconds to realize what was going on and choose gears accordingly. On a side note, on full throttle application, the Titan does produce a pretty nice exhaust note with an unexpected raspy-ness that will undoubtedly produce smiles from the driver and any passengers.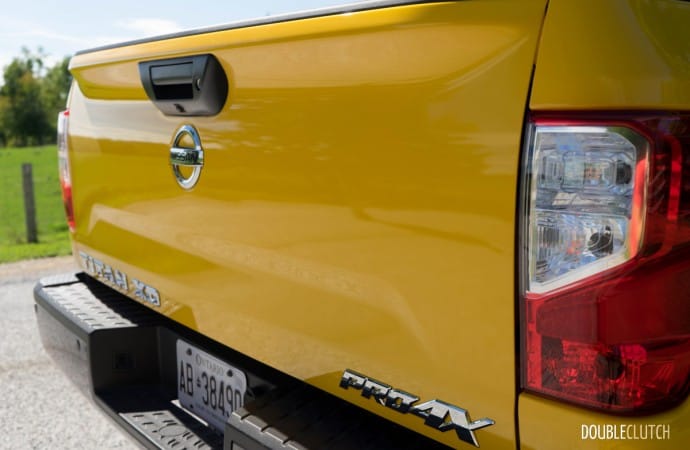 As one would expect with a heavy, V8-powered pickup truck, be ready to get to know your local gas station attendant, as this new Titan very much enjoys drinking fuel. During my week with the truck, I attained an average 16.1L/100KM, and that was on a good day. I'm sure it is possible to attain better fuel economy with softer driving habits, though without pushing the truck too hard and driving as one usually would, expect the average rating to hover around the 18L mark. This is in a combined cycle with plenty of highway use mixed in.
Driving the new Titan XD is far from an unpleasant experience. On the highway, it's more than comfortable for long-distance hauls. The suspension does a great job at providing a smooth ride, despite the firm Bilstein shocks used. While in regular city limits, the Titan XD's size becomes evident, but that's to be expected from a truck of this magnitude. I'd expect parking to become a bit of a challenge, but with a number of assists, including Nissan's SurroundView monitor camera system with bumper sensors, standard equipment on the PRO4X, this truck becomes relatively simple to position.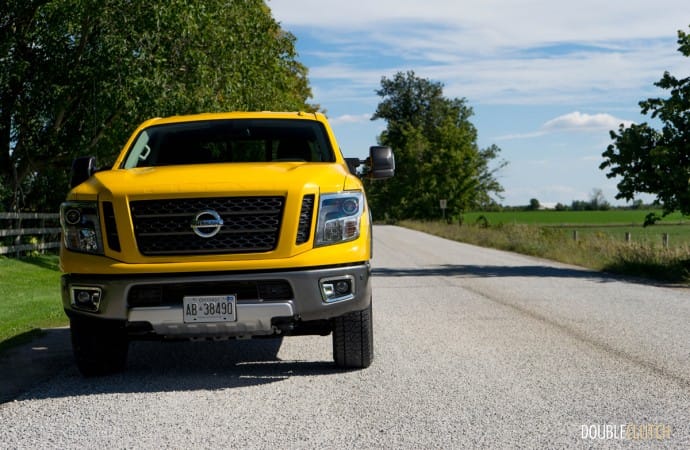 Working our way toward the rear of the Titan, the bed in question measures 6'6 in length and can fit a 4' cargo item between the two wheel arches. It's also important to note that the Titan XD's bed does come with two built-in cargo boxes similar to the Ram's (reviewed here) signature RamBox option. Though these cargo stowage compartments do prove to be convenient for smaller items, they take up a considerable amount of usable space in the bed. With that said, the V8 gas Titan can support a total of 2,594lb, which is 500 pounds more than the diesel variant. This is due to overall weight of each engine, with the diesel weighing more than the gas motor.
On the inside of the Titan XD, Nissan has done an excellent job at upgrading overall interior appointments from the previous generation model (which has been around since the early 2000s). In the cabin we can find a multitude of upgraded plastics and leathers that are pleasing to the eye, along with a well-organized center console that makes media controls easy for the driver to manipulate. Nissans PRO4X Luxury Package, which comes in at a staggering $7,750, is the only package worth checking off, considering most features come standard. This package includes heated and cooled front seats, heated steering wheel, heated rear seats, power tilt steering wheel with memory, remote engine start, auto dimming mirrors, NissanConnect services with navigation, and a few other small things.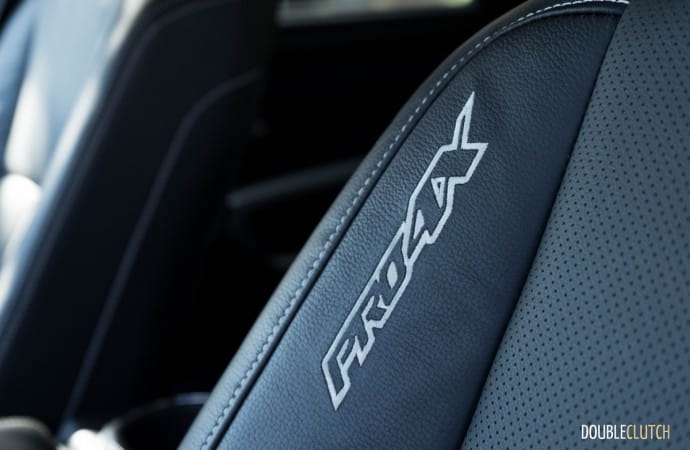 With a base price of $57,450 for the PRO4X, our tester's added options brought the MSRP to $64,535. The 2017 Nissan Titan XD PRO4X proves to be a truck that acts as a great compromise between a true heavy-duty 2500 truck and the 1500 segment. It's truly perfect for those who don't want to sacrifice the amenities and convenience of 1500-series trucks, but sleep better knowing that if and when more ability is needed, the Titan XD is ready to go.
2017 Nissan Titan XD PRO-4X Gallery
See Also:
2016 Nissan Titan XD Platinum Reserve