Its practicality makes it a very easy crossover to live with, regardless of what you choose to use it for.
The Nissan Pathfinder has come a long way from its beginnings as a simple and rugged off-road SUV. The Pathfinder rode the 4×4 craze of the 1990s right into the current trend towards refined crossovers. The Pathfinder is one of the few nameplates that have made the complete evolution from traditional SUV to crossover. Now in its fourth generation, as a family crossover the Pathfinder is much more in line with what today's families are seeking in a reliable hauler. Nissan has made few updates for 2017, so I spent a week with this fully loaded 2017 Nissan Pathfinder Platinum to see just what it has evolved into.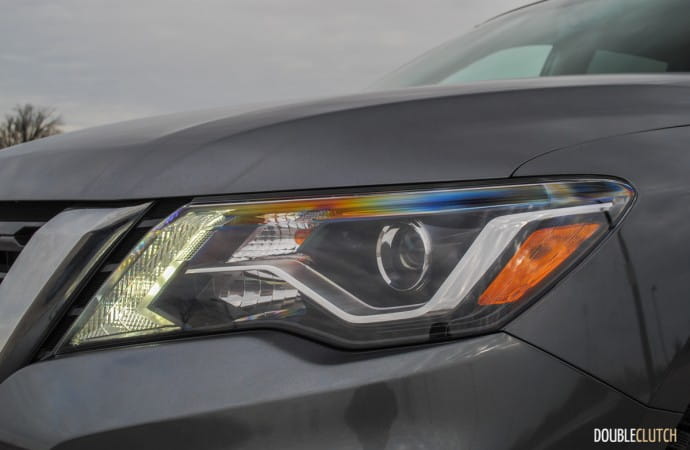 On the outside, the current Pathfinder is a large departure from its roots as a compact and rugged off-roader. With its long swooping lines, you could say the Pathfinder has a very agreeable appearance, although personally I find it a little bit slab-sided looking. It definitely has a minivan-like stance with its tall roofline and relatively low step-in height. For a quick spotting tip, the 2017 Pathfinder has taillights that are almost entirely red (except for a small reverse light) whereas the older model years of this generation have a larger clear section.
Climbing up into the driver's seat of the Pathfinder, you'll quickly forget any reservations you might have about the exterior. My particular tester is a top of the line Platinum model, which wears a price tag of $48,500. At this price it comes with all the latest bells and whistles to keep a whole family comfortable and entertained. Up front, the leather seats are heated and cooled, although the leather does feel a bit plasticky. The steering wheel is also heated, and the faux carbon fiber trim adds some brightness across the soft-touch dash and door panels.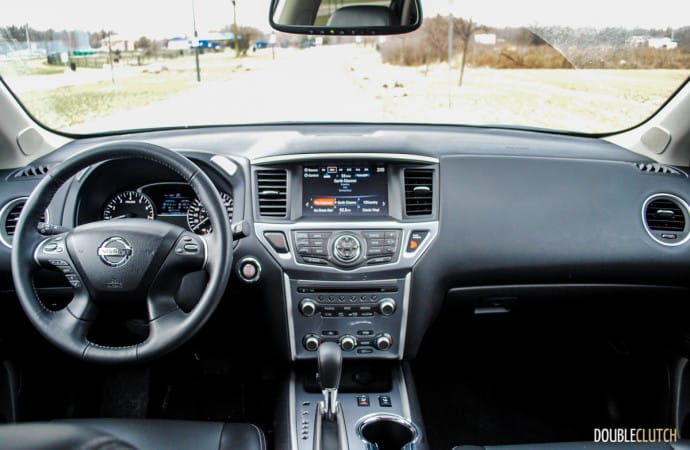 There is plenty of storage up front too with a deep centre console and door pockets. At the back there's plenty of headroom across both the second and third rows, and the second row can slide to your preference. Both rows fold flat when you need to take on some more serious cargo, and the tall roof height makes accommodating cargo easier than many other crossovers. There's even a very handy storage compartment built into the floor to keep valuables, easily accessible regardless of seating configuration.
The Pathfinder Platinum is loaded with interesting gadgets, but sometimes it's the simpler things that stand out. For instance, the dual glass sunroofs can really brighten up the otherwise dark interior. I also really like the infotainment controls, which can be done through the touchscreen, or actual buttons located conveniently on the dash. It's a very old system that's showing its age, especially when comparing to other rivals such as the Honda Pilot (reviewed here), but simplicity often just works.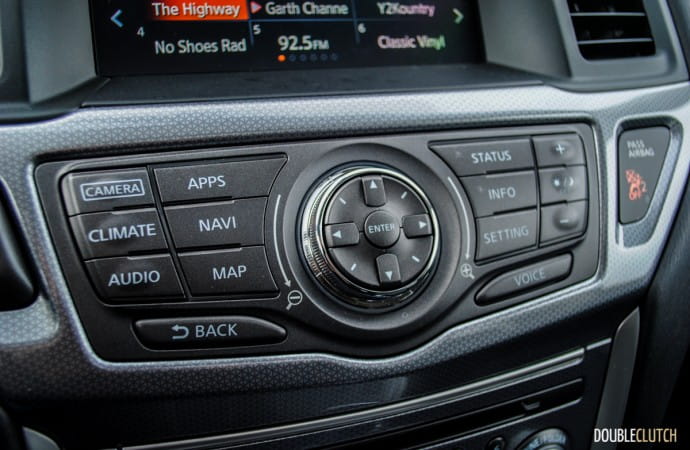 After living with the Pathfinder every day for a week I also began to appreciate some of the conveniences the 'minivan-esque' styling allows for. The low and flat floor makes exiting and entering very easy, and loading the rear cargo area is also just as easy with the low bumper. Visibility from the driver's seat is also fairly good for a vehicle this size, and the turning radius is surprisingly tight making city driving a little less nerve racking.
I feel similarly about the Pathfinder's driving experience as I do about its exterior appearance; adequate but not exciting. The Pathfinder's only engine the 3.5L VQ-series V6, and for 2017 has been upped from 260 to 284 horsepower. It's mated to a beefy version of Nissan's Xtronic CVT transmission. The engine actually offers plenty of low-end power which helps the Pathfinder feel responsive and quick in the city. However, the engine is let down by the CVT when tasked with higher RPM merging and passing. There are lots of revs and noise, but it's definitely not quick on the draw. All of that said; the extra 24 horses are definitely felt over the previous model year.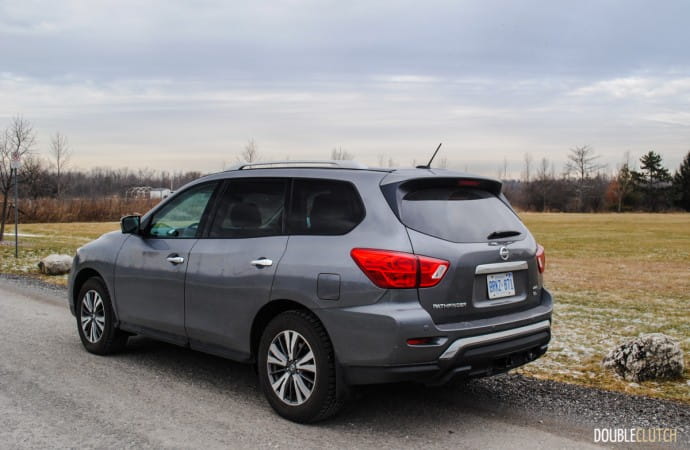 The other aspect of the driving experience that let me down a little bit is the steering and handling. The steering is extremely light, which is fine, but there's almost no detectable connection to the road, which doesn't inspire confidence overall. The suspension also tends to wallow into corners and body roll is notably more pronounced than many competitors. The trade-off here is that ride quality is exceptional and the softer suspension does a great job absorbing the city's potholes.
One throwback to the Pathfinder's lineage is the fact that it offers a true 4×4 mode in addition to the 2WD and automatic 4WD modes. I didn't get a chance to try it in any off-road situations, but the fact that Nissan offers the only true 4×4 mode in the segment definitely lends some credibility. Interestingly, the Pathfinder's 2WD mode is actually front-drive based, which is not necessarily a bad thing for most drivers. It also means that getting traction in the snow or ice rarely calls for anything more than 2WD (provided you've got a good set of tires installed).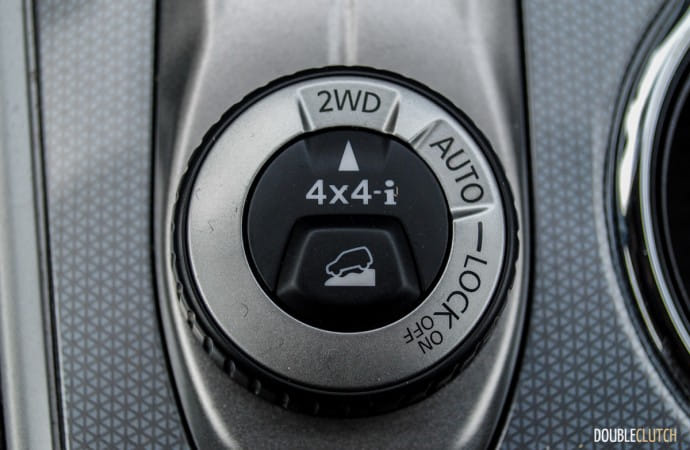 Speaking of capability; the extra power Nissan has squeezed out of the 3.5L V6, along with some suspension tweaks, has allowed for the towing capacity to increase from 5000lb. last year to an impressive 6000lb. for 2017. This means it will easily handle a small family camper, or even a decent sized boat.
Out on the highway the big Nissan is relaxing and confident to drive, and even after spending a couple hours in the driver's seat I stepped out feeling great. My only complaint in that respect would be the level of noise in the cabin. Both tire and wind noise is louder than I would have expected for a vehicle of this stature and refinement. To be fair though, my test vehicle was wearing aggressive Toyo winter tires, which may have been a factor in road noise.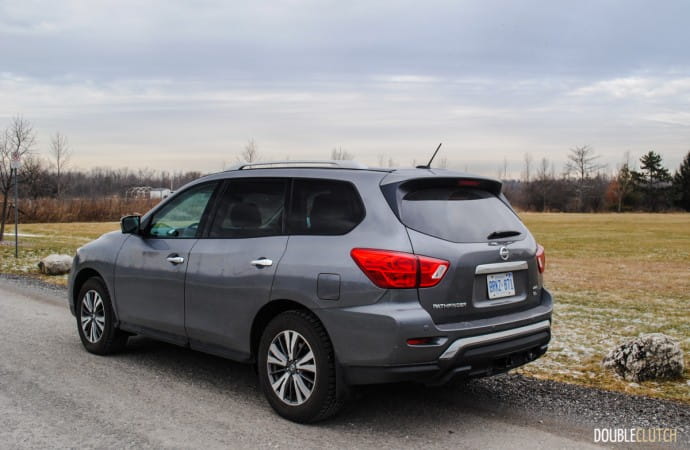 In my week's worth of commuting, I averaged 11.5L/100km in combined driving. Considering the Pathfinder's size and capabilities I'd say that actually a very good figure. As much as I dislike the CVT in this application, it's hard to argue much with those results. If fuel economy is a prime concern, the Pathfinder just might have an edge on its competitors when it comes to real-world consumption.
The Pathfinder may have lost a bit of its mojo over the years in favour of actual market demand, but its practicality makes it a very easy crossover to live with, regardless of what you choose to use it for. That said, the cost of a fully equipped Platinum like this one, and the fact that the it doesn't stand out as an immediate leader in the segment, suggests you really owe it to yourself to shop around. It's certainly a competitive offering from Nissan, and having been around a few years, likely well sorted mechanically.
2017 Nissan Pathfinder Platinum Gallery
See Also:
2016 Jeep Grand Cherokee Laredo