The GT-R remains in a class essentially all to itself, and it's how Nissan wants it.
The advancement of technology can also be extended to automobiles. Cars have become more and more advanced, with more horsepower and better efficiency than ever before. They've also become significantly safer, stepping away from the old adage that heavier steel was always better in every case. Smarter engineering and materials have saved countless lives and reduced emissions by several orders of magnitude. It's this technology and new thinking that has also allowed cars to enhance the driving experience – at least following the vision of the automaker.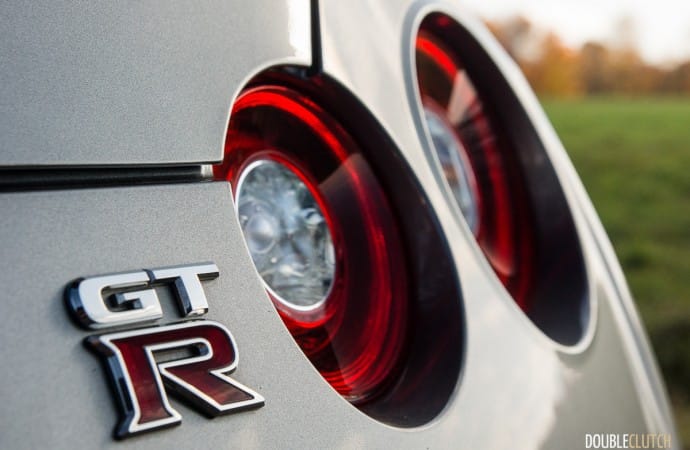 Cars of the past forced their drivers to do everything, from steering and throttle inputs, to weight balance, to keeping the shiny side up. While new cars have essentially become creatures of convenience, how much computer intervention is too much? We got a chance to play with the poster child of electronics in the automotive industry: the 2017 Nissan GT-R Premium.
The GT-R isn't a new car; anybody who has spent any time playing Gran Turismo (or any car-related video game, for that matter) can attest to. At the time, the Nissan Skyline GT-R, in all its three most relevant generations, was forbidden fruit. These all-wheel drive turbocharged coupes were not imported to the North American market, until the R35-generation landed in North America in 2008. It became a much larger and heavier car, with a lot more power to match.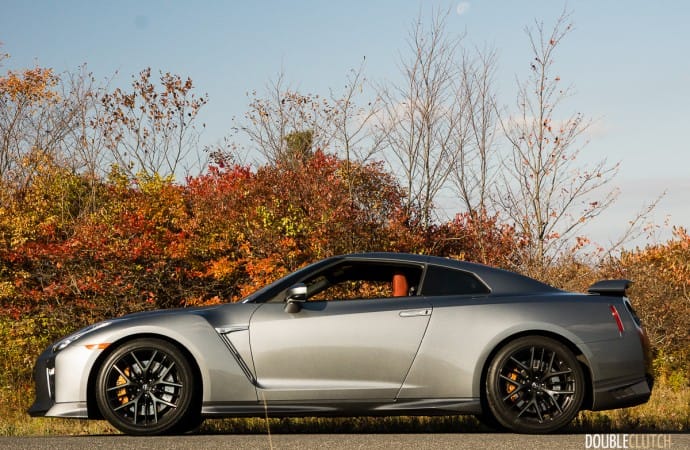 Gone are the days of the svelte and cleanly-designed sports coupes – Nissan is out to take supercars down with brute force, combined with meticulous and precise Japanese engineering. As part of a media convention in New York State at the Monticello Motor Club, I got the chance to take the GT-R out on some public roads for a quick shakedown. Track time wasn't permitted for this track monster, unfortunately.
Enthusiasts may be eager to note that the GT-R hasn't really changed much since its inception – the car you can buy on the showroom floor today basically remains on the same platform as it has for eight years now. Nissan has instead updated the car in a more incremental way, adding power and improving refinement in several areas. Originally starting out with 480hp, the hand-assembled, twin-turbo 3.8L V6 in the current 2017 GT-R now delivers 565 horsepower. This stems from more turbo boost, an improved intake tract design, better exhaust flow, better fuel injectors, and an updated computer tune – among other incremental updates. Torque is now rated at 467 lb-ft, available between 3300-5800RPM. In other words: it's a fat midrange punch that's almost addicting to tap into, all the time.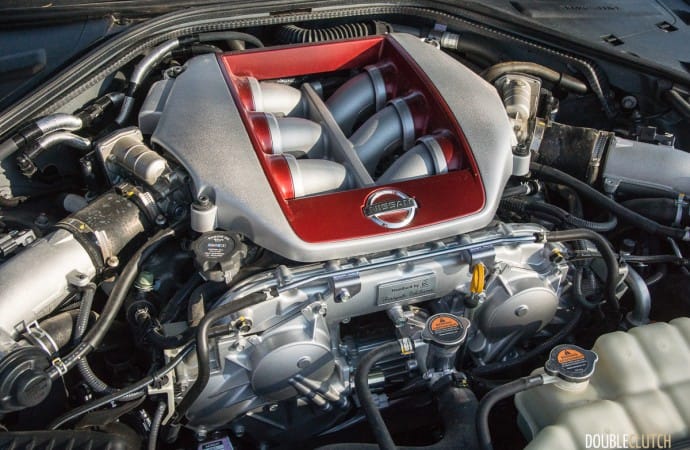 What makes the GT-R nameplate famous is not just the big horsepower, but rather the traction, and how all of that power is delivered to the ground. Power is sent through a rear-mounted six-speed dual-clutch transaxle. Power is smartly moved around to all four wheels, with the front axle able to receive up to 50% of available torque. Living on the bleeding edge (for 2008) means ferocious power delivery and firm gear changes, but refinement and comfort wind up further down the priority list. If you're as much of a nerd as I am, hearing all the whines, whirrs, clicks, and clunks from the driveline is immensely satisfying.
Details in the most Japanese of ways is what the GT-R is all about. I don't think I can call the GT-R a classically pretty car, but it looks this way because of relentless focus on engineering and function, rather than pure form. A comfort machine the GT-R is not: the ride is rough, thanks to firm springs and dampers, as well as 20-inch wheels. The GT-R is also not a quiet car – the aggressive compound of the sticky Dunlop tires generates quite a bit of howl at highway speeds. This isn't to suggest the GT-R isn't liveable on the street; it is, but if you're looking for fast comfort, you're better off looking elsewhere.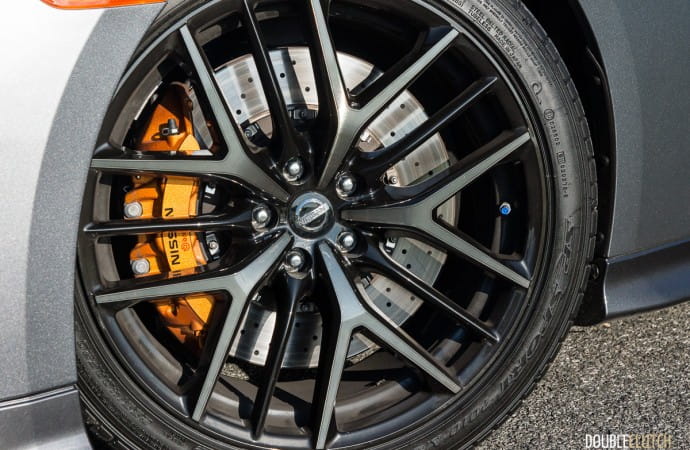 More little details: those 20-inch wheels feature knurling on the bead seat in order to reduce the likelihood of the tire spinning on the actual seat of the wheel, and massive two-piece brake rotors offer increased thermal limits when undergoing continued abuse at the track. A wide array of informational screens show the driver various parameters, like boost pressure, oil temperature, transmission oil temperature, and even brake pedal position (out of 100%). It's also interesting how these gauges look like they were designed by the creators of the Gran Turismo series – because they actually were.
All this talk about technology, engineering, and specifications can sometimes cloud your vision even before you set off, in the Nissan GT-R. The Recaro seats hug you close, the dark interior and relatively small side windows cut you off from the outside world – or whomever you're passing. Pressing the red engine start button, the V6 roars to life and settles into a smooth idle. Selecting Drive, the GT-R gets moving confidently and quite comfortably, in a way that belies its 565hp rating. Once you dip into the throttle some more, the floodgates open, and what they say about pure power being able to corrupt… is absolutely true.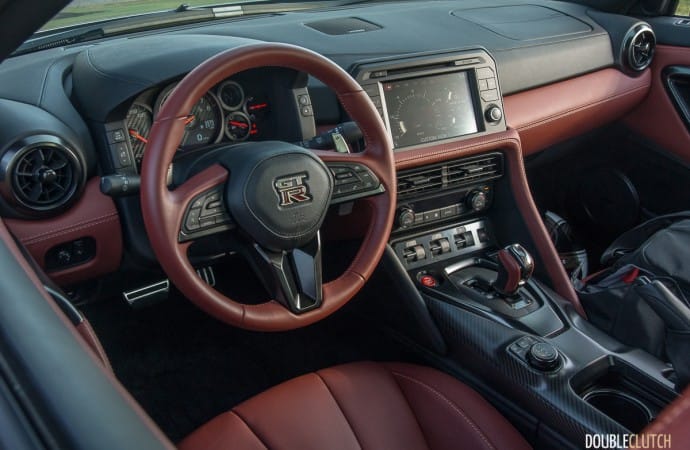 The tachometer sweeps quickly towards redline and the world around you becomes a blur, as you reach high speeds in literally no time at all. Nissan says the GT-R will hit 100km/h from a stop in under three seconds, which is still impressive territory for any performance car today. It'll also pull all the way to 315 km/h – close to that important 200mph (320km/h) milestone. The GT-R isn't just about acceleration from a stop, or top speed, but many other aspects of performance driving. Those big brakes haul all that weight (1784kg/3933lb.) to a stop, and the double-wishbone front suspension with Bilstein variable dampers all around ensures optimum grip on and off the track.
The Nissan GT-R is a sports car that was bred to thrive at the track. Not being able to stretch its legs is akin to keeping a cheetah locked up in a cage. As a result, you get a lot of that feeling when you're just tooling along in stop-and-go traffic. The car will do it, but you can feel it's never really happy. The reality is: modern cars have become so powerful and so fast, that it's difficult to approach the limits in a safe, and controlled manner. The GT-R happens to be one of the best poster-children for this new movement, with a relentless focus on specifications and performance figures that not only look great in magazines, but also serve as a halo product where numbers are memorized by enthusiasts and Internet racers in perpetuity.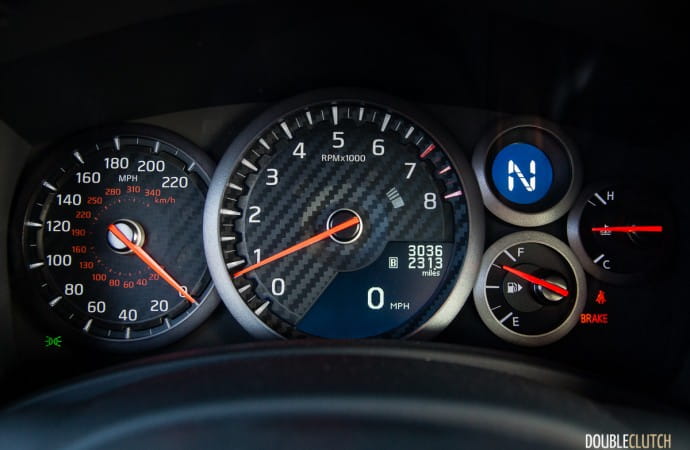 It really depends on what your approach is, in regards to speed. What the Nissan GT-R does is harness today's most advanced technologies to best assist the driver in going fast. The all-wheel drive system, turbo boost, and hand-built attention to detail all play a role in chasing those lap times. However, a growing movement of enthusiasts are going in a different direction altogether: driving pleasure through sensory overload – specifications be damned. I consider myself to be in this latter group – huge horsepower figures don't always do it for me. Because of this, the GT-R has never been on my radar.
I didn't expect that getting behind the wheel of the GT-R would completely change my mind, but the way it builds an almost terrifying amount of speed is what's most impressive. The grip is seemingly endless, and even on some curvy upstate New York roads, the GT-R manages to shrink around you, and defy physics and actually feel light on its feet. I can certainly understand the appeal behind the GT-R, and respect it and what Nissan has done, for its unique take on pure performance. Short of a Tesla Model S (reviewed here), there aren't many vehicles on the road today that can accelerate like the GT-R can.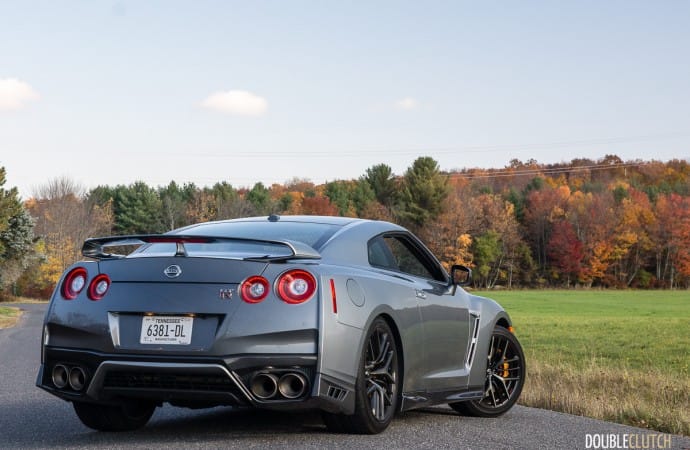 GT-R pricing has been one point of contention in the past few years. While it has been a well-known value king, its pricing has continued to creep up at an almost significant rate. Back in 2009, Nissan announced a base price of $81,900. Fast-forward to 2016, and the number for the base "Premium" trim now starts at $125,000. It can be argued that the additional power, chassis refinement, and interior updates all contribute to the higher price tag, but a delta of over $40,000 between the two cars (which are fundamentally the same), is not something that can be easily dismissed. On the other hand, the $125,000 price tag is still a bargain, no matter how you look at it. If you're feeling even more adventurous, the Track Edition stickers at $149,100, and it adds a different set of forged 20-inch wheels, carbon fibre aerodynamic bits, more aggressive Recaro seats, and an even-firmer Nismo suspension upgrade.
The price increases that we have seen throughout the years may be Nissan's effort to attempt to break-even on all that expensive engineering. The 2017 Nissan GT-R Premium remains in a class essentially all to itself, and it's how Nissan wants it. They have Infiniti to prop-up the luxury-end of the market, but there's only one GT-R to serve as the performance flagship for the entire family of companies. Even from a stint on some public roads, it goes from being hard to understand, in theory, to becoming easy to respect once you actually get behind the wheel. One also starts to understand how it has essentially lived on for so long, and the fact that it has been shamelessly slaying monster supercars makes everything even more impressive.
2017 Nissan GT-R Premium Gallery
See Also:
2016 Dodge Challenger SRT Hellcat