One step ahead of the competition with a superior engine displacement and competitive price.
The 2017 Kawasaki Ninja ZX-6R gets a new colour scheme this year, giving a fresh look to a bike that has performed so well that it hasn't needed any major changes since 2013. As we all know, the ZX-6R features a 636cc engine, which is accomplished by having a longer stroke – making for a motor that's ahead of the competition by a notable 37cc. With optional ABS and power modes / traction control standard, the biggest decision in purchasing the ZX-6R is the colour?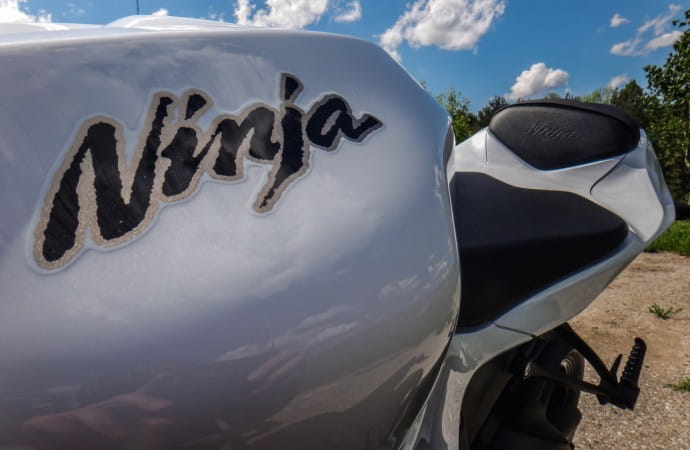 The new "Pearl Blizzard White / Flat Raw Titanium" has subtle green accents that hold true to Kawasaki's roots, giving the ZX-6R a sharp new look that's sure to stand out. There are two price points for the 2017 ZX-6R; the non-ABS version for $11,699 (as tested), and secondly the ABS version which retails for $12,699.
The 636cc engine is an inline four-cylinder, which offers track day power yet is very street friendly. With the ability to change between power modes, you're further able to cater to the contrast of city and track riding by using the "F" setting for full power, and the "L" setting for low power, giving you the ability to choose whether or not you want to tame the beast. The three-mode KTRC (Kawasaki Traction Control) allows you to pick between setting "1" being minimal traction assistance, and "3" being maximum traction assistance, leaving setting "2" somewhere in between.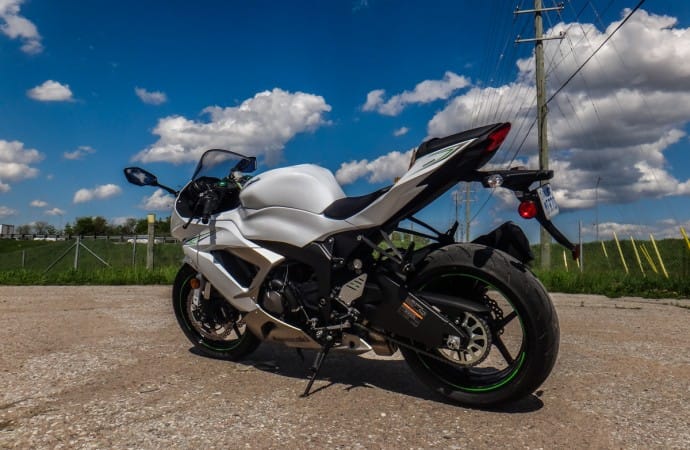 You're also able to completely turn off the KTRC. I managed to play with the KTRC, and must say there is a significant difference between the settings. I found myself riding when the weather turned south and I started getting rained on. I quickly switched to the KTRC 3 setting, and I could turn the throttle wide open on the wet pavement, I was able to accelerate confidently and quickly, with no wheel slip whatsoever.
One thing I wasn't fond of is how you're unable to change between both power settings, and traction settings while "on the fly". You either have to completely roll off the throttle or pull in the clutch lever before you're able to switch between settings. I was also disappointed to see that there isn't a stock steering damper, nor is there an option to get one from factory.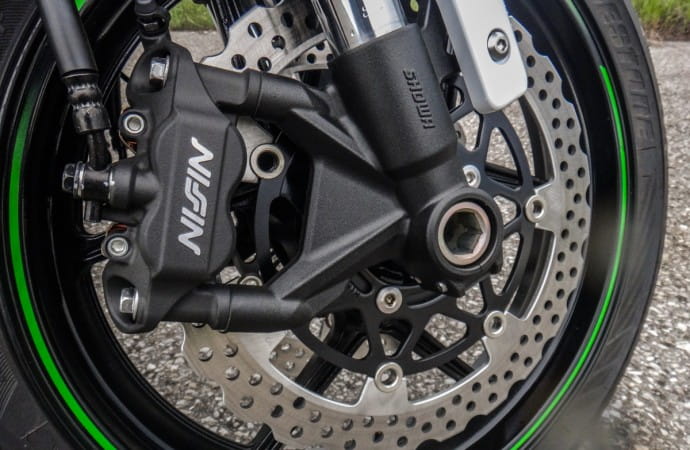 As with all super sport bikes, the riding position is forward-biased and aggressive. The shape of the fuel tank allows your knees to stay quite tight to the bike, which is comfortable and helps with reducing wind drag while riding on highways. The ZX-6R features an "Eco" range, which looks like a little triangle with each letter of eco forming one corner of the triangle. I found it quite challenging to ride in the "Eco" range while on highways, I had to stay in a tucked riding position to reduce wind resistance, or decelerate to stay within range.
As expected, there is no fuel gauge on the ZX-6R, which seems to be the case with most super sports. If you're familiar with riding super sports, you either have to reset your trip meter every time you fuel up, or wait for the low fuel light which turns on when you have roughly 3.5 liters of fuel left.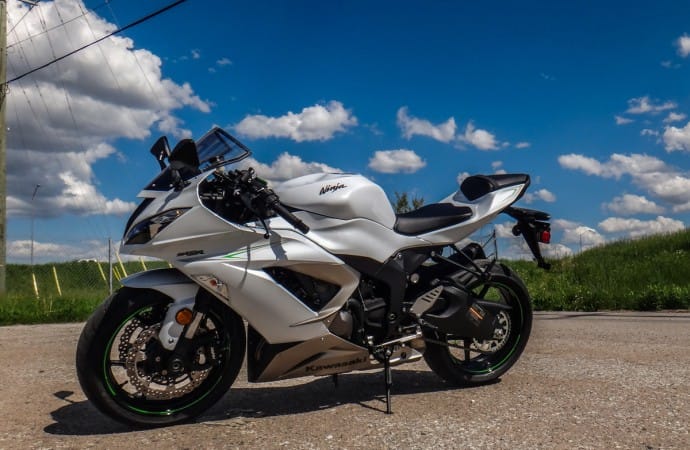 The ZX-6R comes with 17" wheels and Bridgestone Battlax tires. Dual front brakes feature 4 piston Nissin monobloc calipers, with 310mm petal style floating rotors offer plenty of bite for stopping. One notable feature the ZX-6R has is the Showa SFF-BP (separate function fork big piston) inverted front forks, which offer broad adjustability and progressive damping. The clutch lever side has preload adjustment, and the throttle side has dampening adjustments. The projector style headlights look really sharp, and compliment the ram air intake nicely.
There's something familiar about riding the ZX-6R when you first get on it. It's fairly comfortable as far as super sport bikes go, very maneuverable even at low speeds, and has tons of jam at the turn of your wrist. The clutch has a light pull, so getting stuck in traffic won't be a workout. It's easy to get comfortable with the maneuverability of the Ninja right off the hop, and, speaking of hop, the ZX6-R features a FCC clutch with assist and slipper functions. This helps to minimize wheel hop when downshifting, which is great because chatter of the rear tire when approaching a corner isn't a very comforting feeling.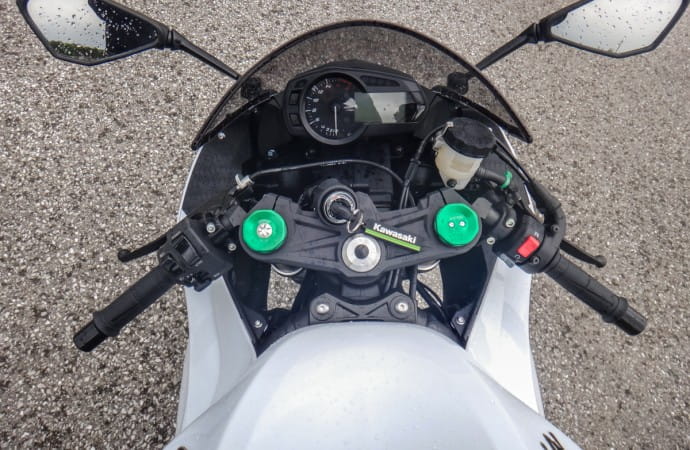 All in all the 2017 Kawasaki Ninja ZX-6R is a great super sport that may just be one step ahead of the competition with its superior engine displacement and competitive price point. The unchanged design can attest to the ZX-6R's success, quality, and reliability while adding to the overall appeal of a great bike that's proven itself on the track time and time again.
2017 Kawasaki Ninja ZX-6R Gallery