The default option for those who think the Toyota Prius' styling is a bit too polarizing.
In the world of purpose-designed hybrid electric vehicles, the 2017 Hyundai IONIQ is a new effort by the Korean automaker in order to do battle with the king of the class, the wonderfully-engineered but quirky looking Toyota Prius (reviewed here). Both are designed from the ground up as hybrids, and place priority on fuel economy and smart engineering above all else. Cars like these challenge the norms of the automotive industry, and often are design efforts that are fairly outside the box. Hyundai has three variants of the IONIQ – a regular hybrid electric vehicle (HEV), a plug-in hybrid (PHEV), and a full battery electric (BEV). Although all three variants will be tested, a fully-loaded Limited with Tech HEV version was the first to find its way into the DoubleClutch.ca Magazine test fleet for a week.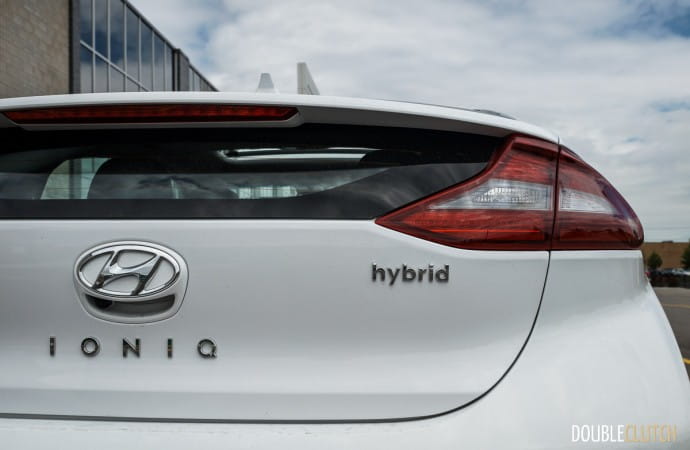 Although the IONIQ's entry-level Blue trim is equipped with plenty of basics and starts at $24,299, the top dog Limited with Tech goes for $31,749. For this, you get a forward collision warning system with autonomous braking, a blind spot detection system with rear cross-traffic alert, adaptive cruise control, heated rear seats (with leather all around and driver's memory), pushbutton start, wireless phone charging, an eight-inch touch screen with navigation and Android Auto/Apple CarPlay, bi-xenon HID headlighting, and to top it all off, there's an eight-speaker Infinity premium audio system. By comparison, the Hyundai is a bit costlier than the top Touring trim of the Toyota Prius ($30,425), but does have a couple advantages, such as the rear heated seats and premium audio. Consider it a draw.
Powering the hybrid version of the IONIQ is a 1.6-litre inline four cylinder engine doing duty on the gasoline side of things. On its own, it puts out 104 horsepower at 5,700RPM and 109 lb-ft of torque at 4,000RPM. Combined with a 42 kW electric motor, total system output rises to 139 horsepower and 195 lb-ft of torque. Battery capacity is 1.56 kWh, and is of the lithium-ion type in lieu of the older nickel metal hydride technology. Fuel capacity is 45 litres.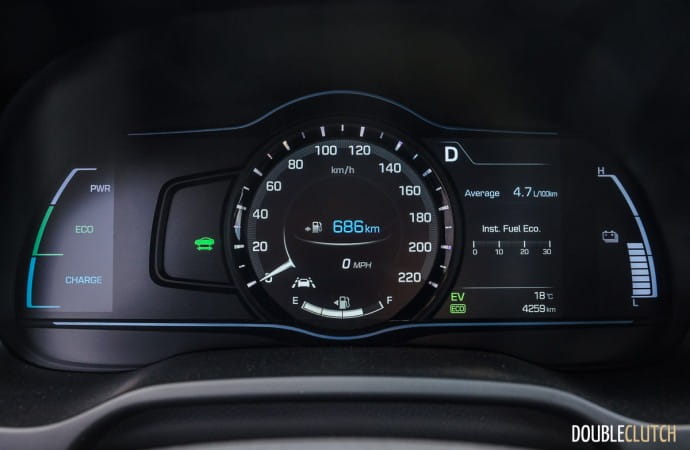 Nominal fuel economy ratings for the Hyundai IONIQ set city consumption at 4.3L/100KM, and highway consumption at 4.4L/100KM. Base models do a bit better with 4.2 and 4.1L/100KM respectively, likely due to a little less curb weight. Observed economy over a week on test didn't meet the rated figures unfortunately, with 4.6L/100KM achieved in a mix of various driving. This was a bit disappointing, as the spring weather during testing meant that the use of fuel-sapping air conditioning wasn't needed. By paying attention to the hybrid system's status (not necessarily full blown hypermiling techniques), it's often possible to beat the rated figures in real world driving. In similar conditions, the current-generation Toyota Prius reviewed (rated for 4.4L/100KM city, 4.6L/100KM highway) returned a much more impressive 3.8L/100KM.
On the road, the Hyundai IONIQ manages to feel relatively light on its feet, with a 1,477 kilogram (3,256 pound) curb weight. Its 195/65R15 low rolling resistance all-season tires don't really do it any favours in the handling department, and grip levels are comically low in the name of fuel economy. The cabin isn't the quietest environment, due to minimal noise insulation in order to keep weight down. While not quite as good as the Prius in this regard, highway cruising still stays fairly reasonable and the IONIQ definitely doesn't reach tin-can status. Seat comfort is average, and there's a generous 750 litres of cargo space behind the rear seats.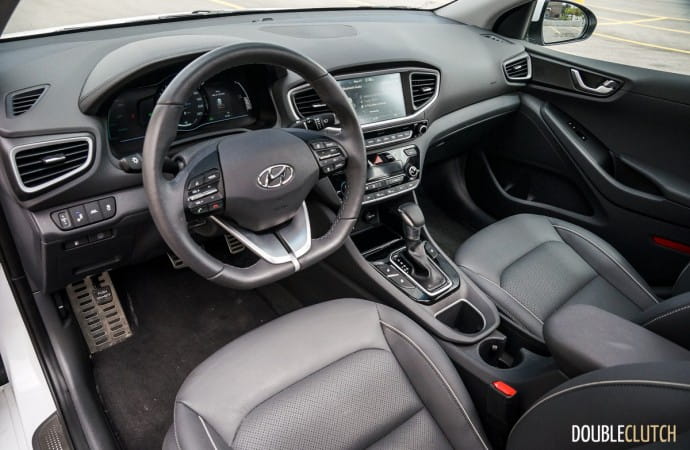 In terms of interior design and features, the interior of the IONIQ is much more conservatively styled than its Prius archrival. It's basically an Elantra (reviewed here) inside with some tweaks here and there – there's an eco-conscious gauge cluster and hybrid system information in the 8-inch infotainment, and the navigation and Android Auto/Apple CarPlay are also straight out of the Elantra.
The multimedia interface is reasonably straightforward and Hyundai puts plenty of buttons on the centre stack for main functions, including nav, phone, media, and radio band. The heating and air conditioning controls are also easy to use and intuitive, and feature a Driver-Only mode in order to reduce unnecessary energy consumption for when only one person is in the car. In terms of materials, an abundance of piano black trim looks snazzy, but may not age too well due to susceptibility to scratches.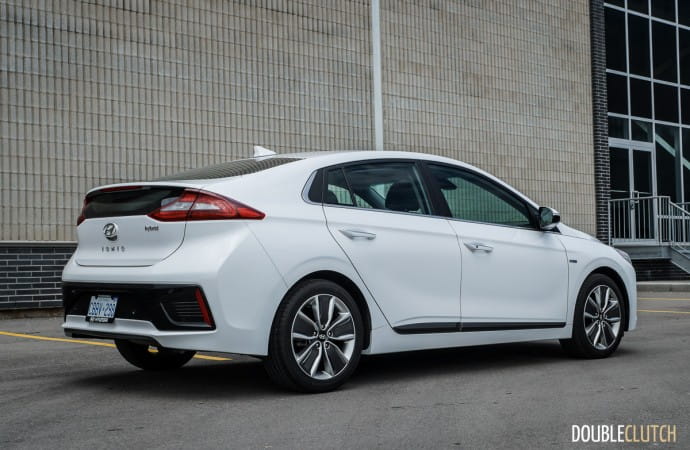 All in all, the 2017 Hyundai IONIQ in plain hybrid form is a solid contender in its class. For those who do a lot of city driving and are looking for a relatively affordable daily runabout that saves money at the pumps, the IONIQ is a good choice. It's practically the default option for those who think the Toyota Prius' styling is a bit too polarizing. Relatively speaking, the Toyota features better technical design under the skin, and also wins on overall premium feel. The IONIQ reigns supreme as a value proposition, and has more features than the Prius. Taking into account other new contenders such as its platform-mate Kia Niro (reviewed here) and upcoming 2018 Toyota Camry Hybrid, the IONIQ has its work cut out for itself, but stands tall as a competitive choice that should not be overlooked.
2017 Hyundai IONIQ Hybrid Gallery
See Also:
First Drive: 2017 Kia Niro Hybrid