The 2017 Hyundai Elantra is fully redesigned and better than before!
The 2017 Hyundai Elantra comes with a fresh, rejuvenated look both inside and out. Making its Canadian debut at the Montreal Auto Show this week, the six generation of the Elantra features a more aerodynamic design with sophisticated styling, new fuel-efficient powertrains and better ride quality, and safety than ever before.
This generation features a redesigned fascia that places lights in a horizontal formation over the previous generations more vertical look. The signature grille of Hyundai is present on this model alongside vertical LED daytime running lights. The body lines of the car have a sleeker flow to them, with certain features of the body (i.e. underbody panelling, lower rear bumper spoiler, redesigned rear decklid) contributing to a 0.27 coefficient of drag, improving the overall efficiency.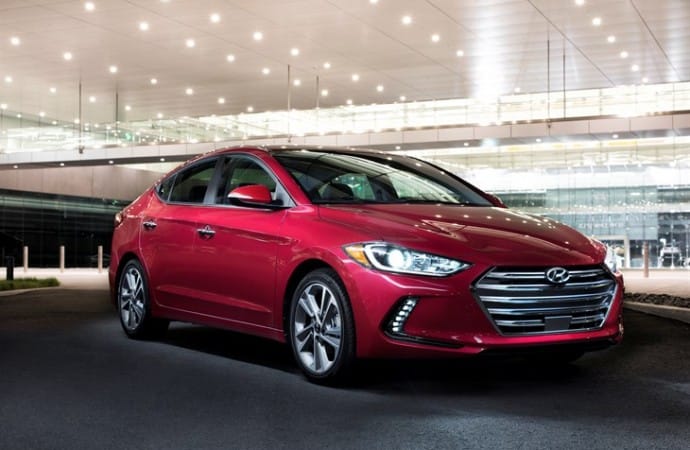 The interior of the new Hyundai Elantra incorporates a modern design with driver-oriented features. The centre stack hosts a 4.2″ screen which presents important information to the driver. Essentially, the interior is redesigned to be more ergonomic and functional, but also features an aspect of environmental friendliness with SoyFoam cloth or leather seats.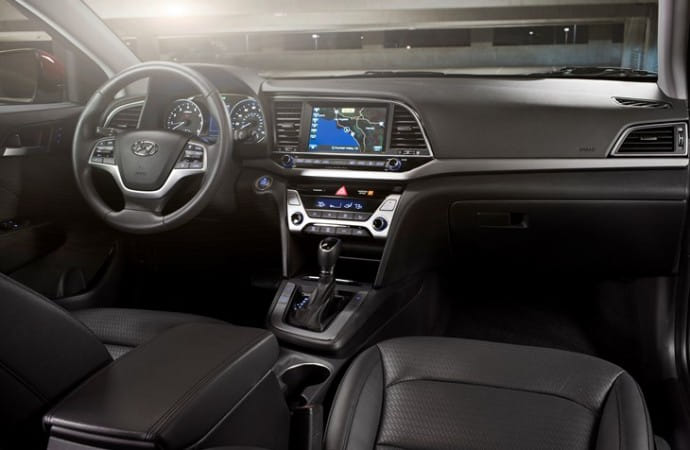 Featuring high-strength steel and aluminum, the 2017 Elantra is more rigid and light than the previous generation. These improvements help bring better ride quality, handling, durability and performance. The Elantra comes with one powertrain option in Canada. A 2.0 Liter, 4-Cylinder (producing 147HP and 132lb.-ft of torque) on the SE and Limited trim line which features friction-reducing and cooling components engineered to enhance fuel economy and maximize performance. Also in line with performance, the new Elantra features a drive-mode select which adjusts vehicle characteristics to suit driving style (i.e. Eco, Normal, Sport).
Safety and technology features are also improved. The 2o17 Elantra is available with a number of driving aids such as pedestrian detection, autonomous stopping/collision avoidance and corrective steering assistance features (i.e. lane assist). New headlamps include optional Dynamic Bending Light (which is adaptive cornering lights), high beam assist (which adjusts the intensity of the light for oncoming drivers) and Smart Cruise Control (similar to adaptive cruise control).
It is likely Hyundai will release an updated Elantra Coupe and GT sometime in the near future.